Staff Spotlight featuring Walker Brooke, Ticket Sales Account Executive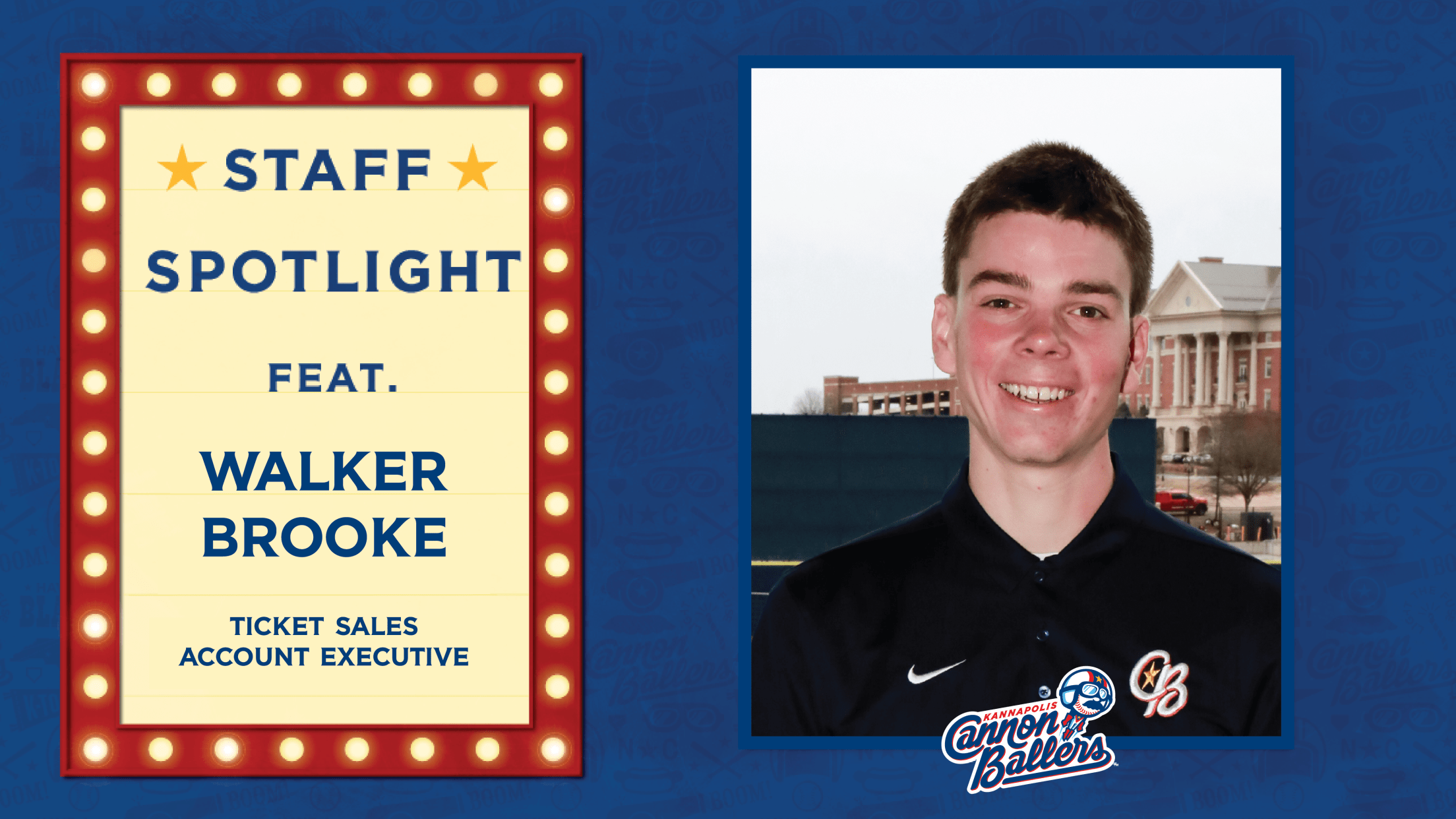 Walker Brooke | Ticket Sales Account Executive | Birthday: 2/18 | Hometown: Pittsburgh, PA A Pittsburgh, Pennsylvania native Walker enters his first season as Ticket Sales Account Executive with the Kannapolis Cannon Ballers. Walker is a University of Oklahoma alumnus where he earned a Bachelor of Business Administration in Finance
Walker Brooke | Ticket Sales Account Executive | Birthday: 2/18 | Hometown: Pittsburgh, PA
A Pittsburgh, Pennsylvania native Walker enters his first season as Ticket Sales Account Executive with the Kannapolis Cannon Ballers.
Walker is a University of Oklahoma alumnus where he earned a Bachelor of Business Administration in Finance and minor in Sport Management. During his time at Oklahoma, Walker worked in the Athletic Department as a Communications Intern.
What would your perfect room look like?
My perfect room would have some type of view where I could watch the sunrise or sunset. I am someone who really enjoys watching sunrises and sunsets and loves taking pictures. Another element of my room would be pictures of my friends and family that bring back some happy memories! My room would also include a mini version of an old school manual scoreboard, like the one they have at Wrigley Field.
What's the farthest you've ever lived from home?
The farthest I have lived from home was Norman, Oklahoma while I was attending school at the University of Oklahoma. Although, this was a home away from home because my grandparents live a mile from the campus and I had grown up visiting them with my family in the summer.
What is something special about the place where you grew up?
The view when you come out of the Fort Pitt tunnels and see the skyline of the city is one of the special things about Pittsburgh. We are known as the "City of Bridges" because we have more bridges than any city in the world, including Venice.
Where is the most relaxing place you've ever been to?
The most relaxing place that I have been is either when I would go up to the Michigan side of Lake Michigan in the summer or when I went out to Kauai, Hawaii with my family for spring break. I also find peace in the mountains though too, it is nice to just step back and enjoy nature.
What would be your ideal way to spend the weekend?
The ideal weekend would be spending it with friends and family either attending a sporting event or going for a hike depending on what time of year it was. Growing up in Pittsburgh, I got to experience a true fall (in the Northeast) which is one of my favorite times of year, because I love watching the leaves changing color and the cooler temps that come with the fall.
What are you looking forward to in the coming months?
I am excited for my first season with the Kannapolis Cannon Ballers and working in Minor League Baseball. I am eager to have an impact on the community and provide a first class experience for our fans! Being able to be part of a new brand and new team is something that excites me too.
Why did you decide to work in baseball?
I decided to work in baseball because I fell in love with the game at an early age. I played Little League baseball and grew up going to Pittsburgh Pirates games. At my first ever Pirates game, I learned how to score a game and ever since it is something that I have enjoyed doing. Also, I went to spring training games in Arizona on several different occasions during my Spring Break which grew my interest. I also really enjoy the family fun atmosphere at the ballpark.
What is your favorite baseball memory?
This is a tough one because I have witnessed some pretty memorable games over the years. If I had to pick one though, it would have to be when I was fortunate enough to attend Game 3 of the 2013 NLDS when the Pirates hosted the St Louis Cardinals and beat them to take a 2-1 lead in the series. That playoff game was incredibly special for me because it was the first time the Pirates had had a winning season and made the playoffs since 1992 (snapping their streak of 20 consecutive losing seasons). I had been going to games my whole life and for them to make a run to the postseason and witness one of their playoff games in person was pretty special. The way the city came together that season was so cool to watch! As for games I didn't witness in person, it would probably be Game 7 of the 2001 World Series when the Diamondbacks beat the Yankees to win the World Series and become the youngest franchise in history to win a World Series or when Randy Johnson threw a perfect game for the Arizona Diamondbacks against the Atlanta Braves. Both these games are memorable for me because even though I am from Pittsburgh, the Diamondbacks have always been my favorite team.
What's one thing most people don't know about you?
One thing that most people don't know about me is that I was diagnosed with Celiac Disease which means I cannot have anything that contains wheat, rye, barley, or oats), when I was only 18 months old. I can play the piano.
When you were a kid, what did you want to be when you grew up?
An airline pilot
What three words would your friends and family use to describe you?
Hard working, outgoing, and kind
What was your first job?
Being the Public Address Announcer for the field hockey and lacrosse teams as well as keeping stats for my high school basketball team
Describe the best experience you have ever had at a sporting event.
This is another tough one because that playoff game I attended between the Pirates and Cardinals was one of the best experiences of my life. To be complete, here is my best non baseball experience: I had an incredible experience at March Madness in 2016, during my Freshman year at the University of Oklahoma, when I volunteered with the NCAA to work 1st and 2nd round games of March Madness. The games were being played at Chesapeake Energy Arena in Oklahoma City. It was the final game of the day and Northern Iowa (#11 seed) was taking on the University of Texas (#6 seed) and I witnessed Paul Jesperson from Northern Iowa hit a half-court buzzer beater to knock off Texas. This was incredible because I had always wanted to be at a March Madness game where a team hit a buzzer beater to complete the upset. Also, it was a fun game to watch because former NFL star Kurt Warner, a Northern Iowa alumnus, was in attendance. Two days later, I witnessed another incredible finish when Texas A&M was down 12 with 44 seconds left against Northern Iowa and came back force OT. They would go onto win the game in double OT. It was a great ending to an incredible week. A close second would be when I worked in the Athletic Department at the University of Oklahoma and I was able to attend/work my first Red River Rivalry game between OU and Texas in Dallas my sophomore year (2017) and we won the game!
If you weren't working in baseball what would be your other career path?
If I wasn't working in baseball, I would most likely be working for a company in the financial services industry.