Aviators blow early lead, fall 14-5 to Aces
Reno overcomes 3-0 deficit, then breaks 5-5 tie with nine unanswered runs to even series with Las Vegas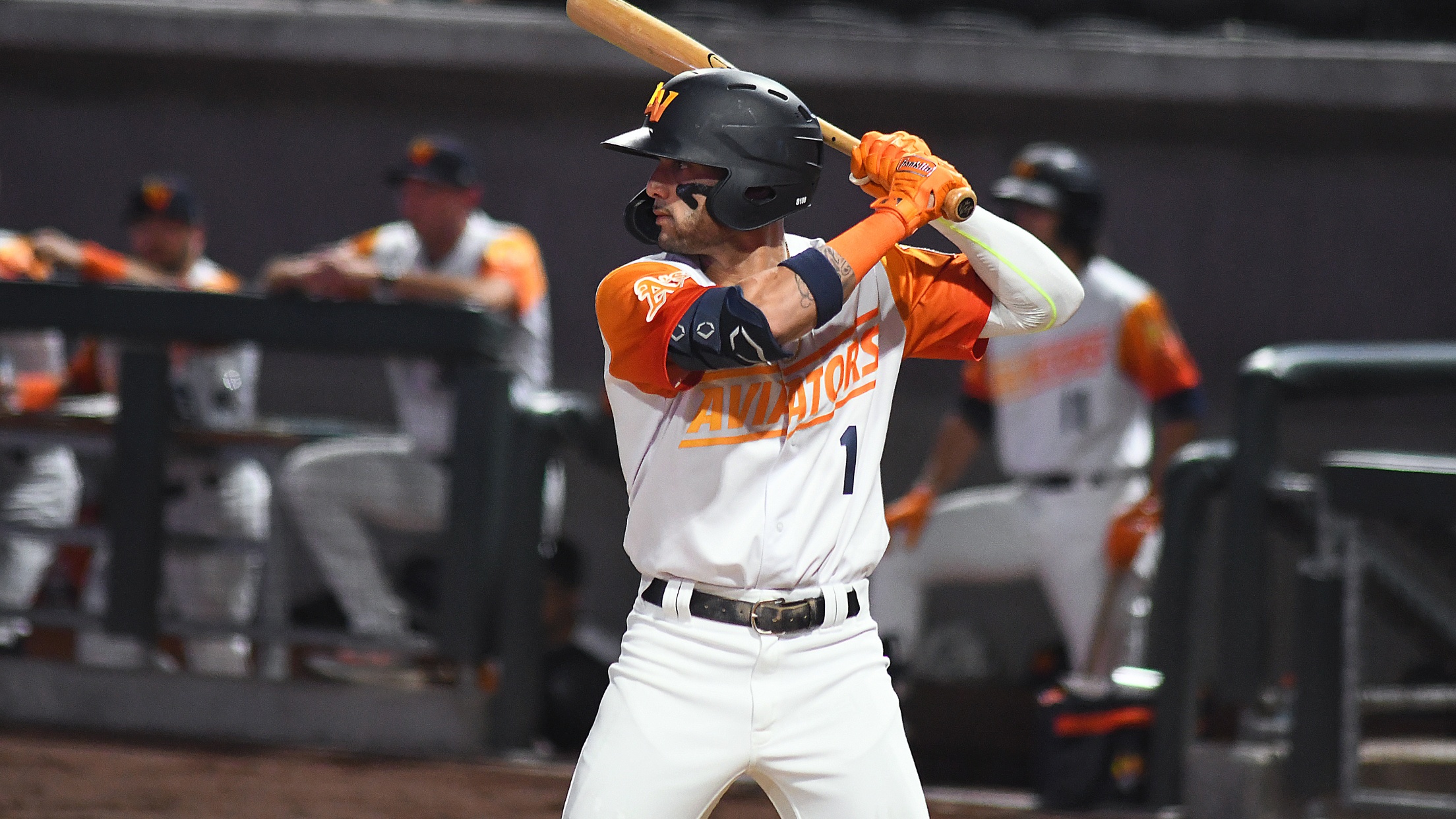 Luis Barrera went 2-for-5 with a run and an RBI in the Aviators' 14-5 loss to Reno on Sunday at Las Vegas Ballpark. One of the right fielder's hits was a triple, his team-leading sixth of the season. (Steve Spatafore | Las Vegas Aviators)
There was a time not so long ago when all the Aviators seemingly had to do to ensure a Sunday victory was show up to the ballpark. Through the first 16 weeks of the 2021 season, they went 13-3 on Sundays, including winning nine of 10 from June 20-August 23.
There was a time not so long ago when all the Aviators seemingly had to do to ensure a Sunday victory was show up to the ballpark. Through the first 16 weeks of the 2021 season, they went 13-3 on Sundays, including winning nine of 10 from June 20-August 23.
Alas, Las Vegas' Sunday magic appears to have vanished.
After suffering a pair of one-run Sunday losses during their recent 12-game road trip to Albuquerque and Sugar Land, Texas, the Aviators last night squandered an early lead to the Reno Aces at Las Vegas Ballpark, then got steamrolled 14-5 before a crowd of 6,882.
The Aces (63-47) collected 17 hits — including six doubles and two home runs — while five Reno relief pitchers held Las Vegas scoreless while yielding just four singles over the final four innings. The instate rivals have now alternated victories in the first four games of their six-game series.
Early on, it looked like the Aviators (60-52) were going to get back on the winning Sunday track and pick up their second consecutive victory, as they jumped out to a 3-0 lead two innings into the contest. Third baseman Vimael Machín (first-inning RBI single) and center fielder Mickey McDonald (second-inning two-run single) came up with the big hits.
However, Reno's bats woke up in the top of the top of the third, when it sent nine batters to the plate and scored five times against Aviators starting pitcher Homer Bailey. Aces third baseman Drew Ellis (bases-loaded double) and first baseman Cooper Hummel (two-run homer) were drove in all five runs in consecutive at-bats to give Reno a 5-3 lead.
Las Vegas quickly rallied to tie it, though, when Machín led off the bottom of the third with a single, right fielder Luis Barrera followed with a triple off the wall in dead center field and catcher Aramis Garcia followed with a sacrifice fly.
Not only did those end up being the Aviators' final runs of the night, but they also ended up being their final productive at-bats, as they went on to strand a runner on second base in each of the next four innings (among a total of seven runners left on base from the fourth through the seventh innings).
Conversely, Reno came up with one big hit after another, scoring two runs in the fifth, two in the sixth, four in the seventh and one in the eighth to open a 14-5 lead. Over that four-inning stretch, the Aces collected 10 hits (including three doubles and a home run) and stranded only two baserunners. While the offense did its damage, Reno's bullpen completely stymied the Aviators' offense, allowing just three baserunners — on two infield singles and a fielding error — in the last four innings.
After Barrera's leadoff single in the seventh, Aces relievers Jesus Liranzo, Ty Tice and Jordan Weems — who began this season with the Aviators — retired the final nine Las Vegas hitters in a row.
GAME NOTES: Barrera (2-for-5), Machín (2-for-4) and McDonald (2-for-5) were the only Aviators to record multiple hits. McDonald has picked up multiple hits in three straight games, going 7-for-13 with seven RBI, while Machín improved to 6-for-14 in the series. … Barrera's third-inning triple was his sixth of the season, which is tied for second among Triple-A West players. ... Shortstop Pete Kozma reached on an infield single in the fifth inning to extend his hitting streak to nine games, during which he's batting .303 (10-for-33). Kozma has six hitting streaks of five games or more this season, including four of at least nine games. … Bailey surrendered seven runs on eight hits and one walk while striking out four in five innings. … The first six batters in Reno's lineup had multiple hits and combined to go 13-for-28 with nine runs and 10 RBI. All nine batters scored at least one run. … Las Vegas, which ranks second to the Aces in Triple-A West in runs scored this season, hasn't scored more than six runs in 13 straight games. … Reno leads the season series 13-9 (6-4 at Las Vegas Ballpark).
STILL BEST IN THE WEST: The Aviators continue to lead all of Triple-A West (formerly the Pacific Coast League) in home attendance. Through 58 dates at Las Vegas Ballpark, the Aviators have welcomed 374,574 fans for an average of 6,458 per contest. Both figures lead the 10-team league, with El Paso ranking second in total attendance (333,385 in 52 games) and per-game average (6,411).
ON DECK: Las Vegas and Reno return to Las Vegas Ballpark at 7:05 p.m. Monday for Game 5 of their six-game series, with A.J. Puk scheduled to take the mound for the Aviators for the first time since being optioned from the Oakland A's last week. The hard-throwing southpaw is 2-3 with a 6.08 ERA in 26 games (one start) with Las Vegas this season.
Individual tickets are available through the team's ticketing page. Note that Monday's radio broadcast will move from the Aviators' regular home of Raider Nation Radio 920-AM to Fox Sports Radio 98.9-FM/1340-AM.
Follow us on Twitter, Instagram and Facebook @AviatorsLV, and follow Aviators beat writer Matt Jacob on Twitter @MattRJacob.