Aviators End Regular Season With 3-2 Win Over Tacoma
Jorge Mateo homers as Las Vegas finishes with 83 victories and the best winning percentage in franchise history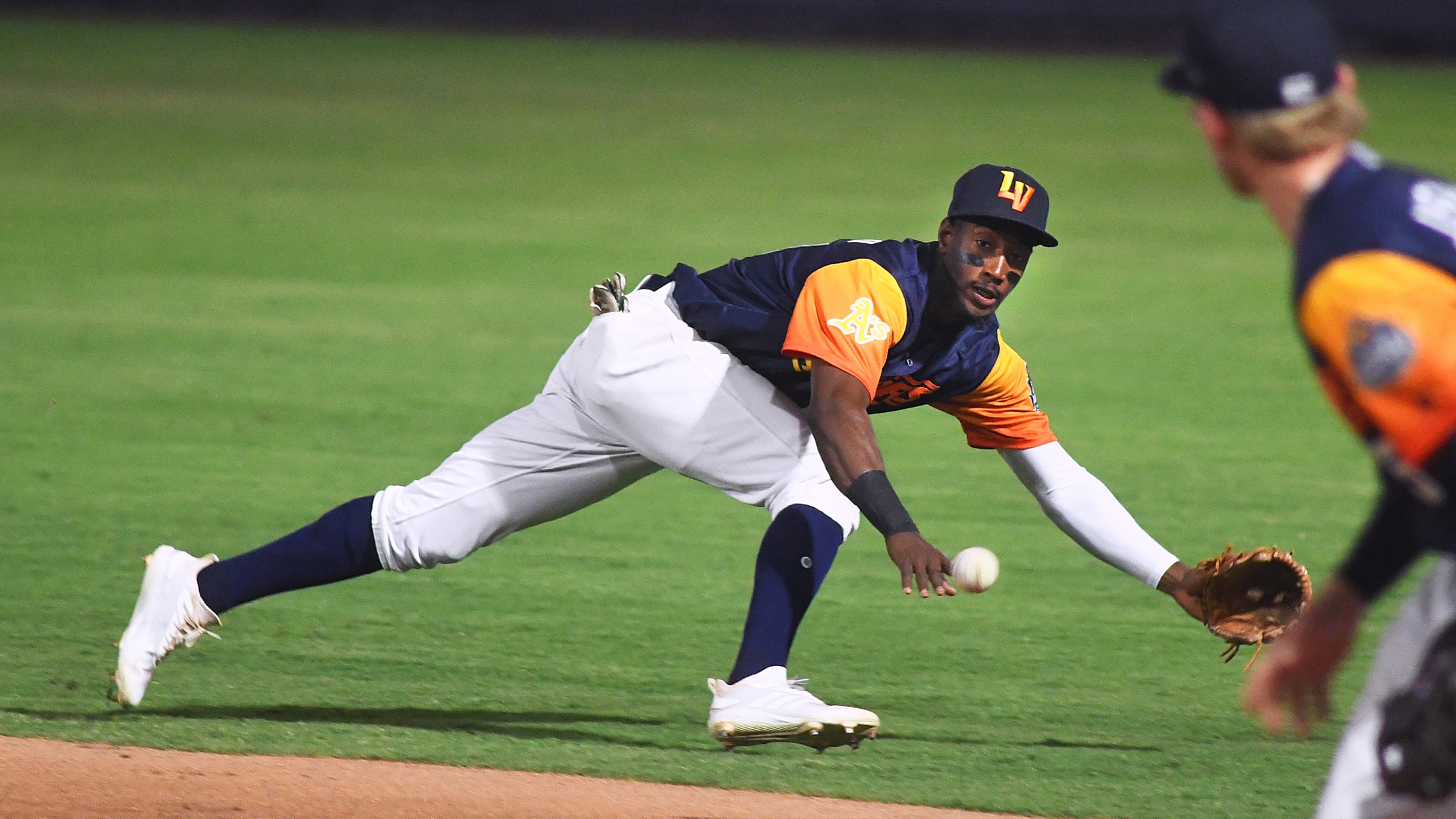 Shortstop Jorge Mateo went 2-for-4 with a double and his 19th home run of the season in the Aviators' 3-2 win over Tacoma on Monday.
There was never any doubt that the 37th season of Triple-A baseball in Southern Nevada was going to be extremely memorable. With a brand-new team name and logo, and a sparkling new state-of-the-art ballpark nestled against the backdrop of the spring mountains in Summerlin, the Las Vegas Aviators' inaugural campaign
There was never any doubt that the 37th season of Triple-A baseball in Southern Nevada was going to be extremely memorable. With a brand-new team name and logo, and a sparkling new state-of-the-art ballpark nestled against the backdrop of the spring mountains in Summerlin, the Las Vegas Aviators' inaugural campaign was destined to be one for the history books.
Then the first pitch was thrown in early April, and the unforgettable moments - both on and off the field, both individually and team-related - began to accumulate in bunches. The most significant of those numerous accomplishments occurred Sunday night, when the Aviators defeated the Tacoma Rainiers 8-1 to clinch the Pacific Coast League's Pacific Southern Division in the 139th game of a 140-game season.
It marks the 11th time in franchise history that Las Vegas has earned a spot in the PCL playoffs, and the first since consecutive appearances in 2013 and 2014.
After celebrating their division title late into the night, the Aviators returned to Las Vegas Ballpark on Monday afternoon and closed out their inaugural regular season with a 3-2 victory over Tacoma before a sellout crowd of 9,511. With the win, Las Vegas finished 2019 with an 83-57 record, good for the second-best mark in the 16-team PCL, just one game behind Round Rock (84-56).
Those 83 victories matched the 1983 Las Vegas Stars for second-most wins in franchise history, trailing only the 2002 Las Vegas 51s, who went 85-59. Also, the Aviators' .593 winning percentage is the best in team history.
Of course, those impressive achievements are part of a lengthy list of individual and team-related highlights that made the 2019 regular season one that the Aviators' players, coaches, staff and fans will long remember. Among those highlights:
- As a team, the Aviators led the PCL with 50 triples and a .902 OPS, and tied with El Paso with 926 RBI. Las Vegas also ranked second to El Paso in batting average (.298, compared with .299 for El Paso), runs scored (959, nine fewer than El Paso); hits (1,487, nine fewer than El Paso); home runs (250, eight fewer than El Paso); and doubles (314, six fewer than El Paso). The 250 homers obliterated the franchise record of 184 set in 2001 and matched in 2004.
Also, four Las Vegas players ranked in the top 10 in the league in hits, paced by Sheldon Neuse's league-high 158 hits. Dustin Fowler and Jorge Mateo tied for second (154), while Joseph finished tied for eighth (142).
- Joseph also ranked second in the PCL with a .371 batting average, fifth in both doubles (35) and on-base percentage (.421), and sixth in OPS (1.006).
- First baseman/outfielder Seth Brown finished second in the league in home runs with a career-high 37, just one behind Reno's Kevin Cron, and also tied for third in runs (101), and ranked third in slugging percentage (.634), fourth in RBI (104) and seventh in OPS (.986).
- Outfielder Mark Payton had a career-high 30 homers, 30 doubles and 97 RBI. He ranked eighth in the PCL in the latter category, and also placed second in slugging percentage (.653), third in OPS (1.053), fourth in batting average (.334) and seventh in extra-base hits (63).
- Neuse also set career highs in homers (27), doubles (31, tied for 9th in the PCL), runs (99, 5th in the PCL) and RBI (102, 5th in the PCL).
- In addition to his hit total, Mateo led the PCL with 14 triples, which also set a franchise record. The shortstop also ranked eighth in stolen bases (24) and tied for ninth in runs (95).
- Aviators starting pitcher Paul Blackburn, who posted a team-best 11-3 record before his callup to the Oakland A's on Sunday, led the PCL with a .785 winning percentage and ranked second in victories, second in WHIP (1.26) and fourth in ERA (4.34). Also, relief pitcher Brian Schlitter finished tied for fifth with 11 saves.

- For the first time in Las Vegas history, four players hit more than 20 homers: Brown (37), Payton (30), Neuse (27) and Fowler (25). Two other players (Mateo and Franklin Barreto) finished with 19.
- Blackburn and Mateo were named PCL All-Stars; Payton twice won PCL Player of the Week honors; Parker Dunshee earned PCL Pitcher of the Week last month; and Barreto was named PCL Player of the Month for June. Also, skipper Fran Riordan won PCL Manager of the Year; head trainer Brad LaRosa won PCL Athletic Trainer of the Year; and head groundskeeper Collin Doebler won PCL Sports Turf Manager of the Year.
- Last but not least, Las Vegas Ballpark quickly became the crown jewel in all of Minor League Baseball, not to mention the place to be for Southern Nevada baseball fans. By the end of the season, the ballpark had been recognized with several national awards, and when factoring in Monday's sun-drenched Labor Day crowd, the Aviators drew a total of 650,934 fans for 70 home games. That figure shattered the previous record of 387,815 set in 1992 and led all of Minor League Baseball, as did the team's per-game average of 9,299.
Not only that, but 47 of the 70 games were official sellouts, and there were 23 crowds in excess of 3,000.
The yearlong support didn't go unnoticed by the man running the show in the Aviators' dugout.
"The fans have been unbelievable, coming out en masse every game and supporting us," Riodan said. "The excitement and energy they brought every day was such a great experience for both the players and the coaching staff. It's been a lot of fun, and a lot gratitude goes out to the people who been supporting us all year."
And the best part? There's more to come, as Las Vegas Ballpark is guaranteed to host at least one playoff game: After the Aviators and River Cats play the first two games of their best-of-5, first-round playoff series in Sacramento, the teams will head south for Game 3 on Friday night. If necessary, Games 4 and 5 will also be at Las Vegas Ballpark.
Should the Aviators get past Sacramento, they would host Games 1 and 2 of the PCL Championship Series, scheduled for September 10 and 11.
"We've had a really good team all year," Riordan said. "And to be able to play playoff baseball in our first year in Summerlin in front of our fans means a lot. We're going to enjoy it, and we hope our fans do, too."
GAME NOTES: Mateo doubled and hit his 19th homer, a solo shot in the fifth inning, and Alfonso Rivas had an RBI triple as the two players at the top of the Aviators' lineup both finished 2-for-4 in Monday's 3-2 victory. Five Las Vegas pitchers - Shea Cotton, Trey McNutt, Brian Schlitter, J.B. Wendelken and Miguel Romero - combined to scatter 10 hits and two walks. McNutt (5-2) earned the victory, while Romero picked up his third save. … Payton singled in the sixth inning to end the regular season with an eight-game hitting streak, during which he went 15-for-32 (.469) with seven multi-hit games. … With his triple and single Monday, Rivas is now 13-for-32 (.406) in eight games since being promoted August 26 from Class-A Stockton (California). He hit safely in all eight games, finishing with multiple hits in four of them. ... After El Paso fell 8-4 at Sacramento on Monday, the Aviators ended up winning the PCL's Pacific Southern Division by three games.
PLAYOFF ROTATION SET: Riordan said Daniel Mengden, who was slated to start Monday's finale but was held back after the team wrapped up the division title Sunday, will get the ball in Game 1 of the series against Sacramento on Wednesday. Mengden split the season between Las Vegas and the parent Oakland A's, and the right-hander finished the regular season 4-3 with a 4.22 ERA in 13 games (10 starts) for the Aviators.
Following Mengden, right-hander Dunshee (4-5, 5.38 ERA in 20 games, 19 starts) will pitch Game 2, while southpaw Jesus Luzardo (1-1, 3.19 ERA) is slated to go in Game 3 at home.
First pitch for the first three games of the series is 7:05 p.m.
Catch every Aviators playoff game on NBC Sports Radio 920-AM, and follow us on Twitter @AviatorsLV.