Aviators rally once again, knock off River Cats 6-3
Las Vegas mounts second straight come-from-behind victory, evens series with Sacramento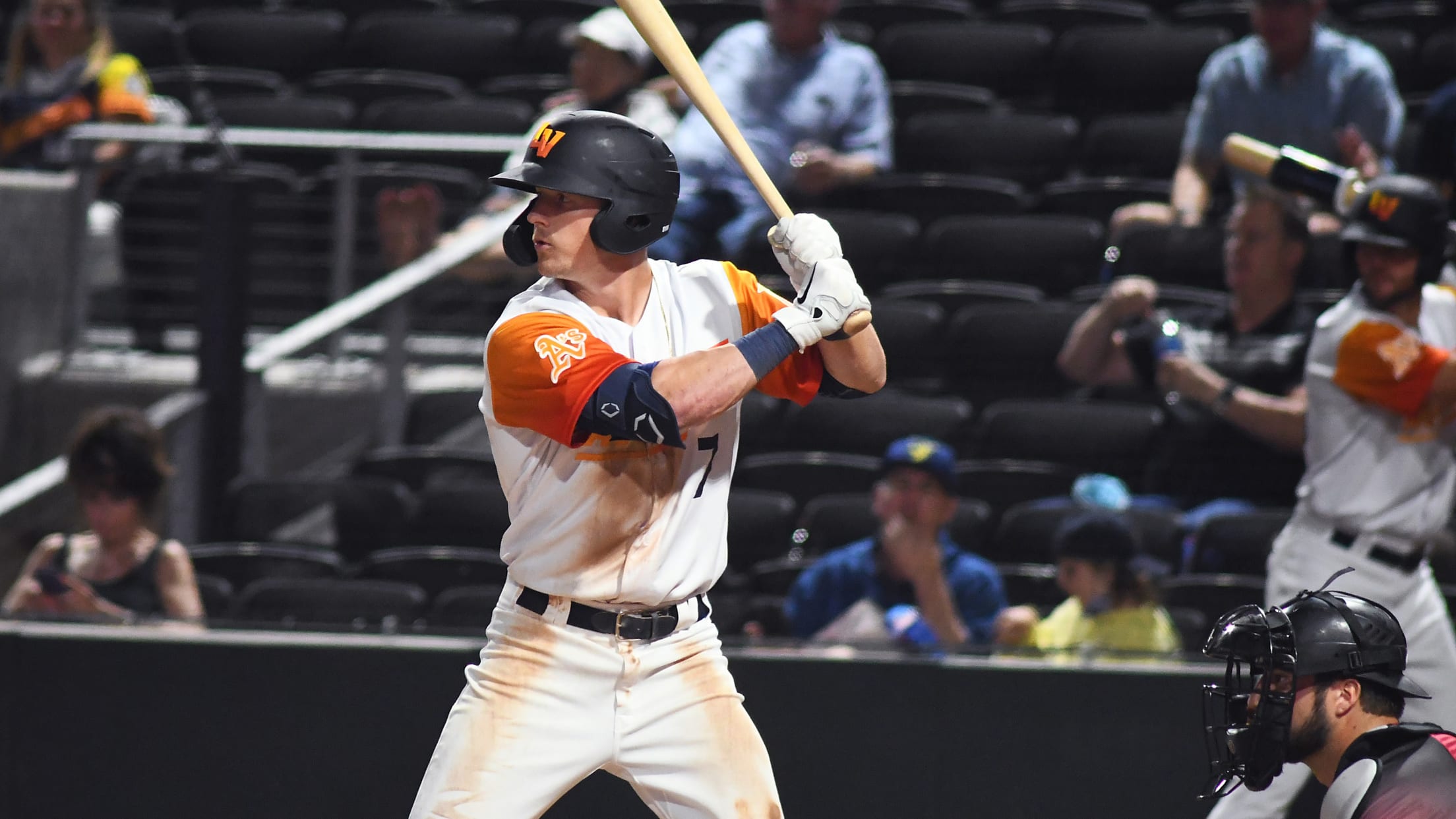 Throughout the 2019 season, Aviators manager Fran Riordan raved about his team's never-say-die attitude, frequently defaulting to the same adjective to describe his players: resilient. Four games into the 2021 season, it looks like Riordan might have another resilient group on his hands. Some 15 hours after rallying from a
Throughout the 2019 season, Aviators manager Fran Riordan raved about his team's never-say-die attitude, frequently defaulting to the same adjective to describe his players: resilient. Four games into the 2021 season, it looks like Riordan might have another resilient group on his hands.
Some 15 hours after rallying from a four-run ninth-inning deficit to stun the Sacramento River Cats 11-10 in 10 innings, Las Vegas played the comeback game yet again Sunday, climbing out of a 3-1 hole en route to a 6-3 victory before a Mother's Day matinee crowd of 4,488 at Las Vegas Ballpark.
It was by far the Aviators' most complete performance of the young season, as Jacob Wilson (solo homer) and Luis Barrera (2-for-4, two runs) paced the offense while starting pitcher Paul Blackburn and two relievers scattered seven hits and kept the River Cats (2-2) off the scoreboard in every inning but the third.
While not nearly as dramatic as Saturday night's victory when Las Vegas (2-2) scored four runs with two outs in the bottom of the ninth, Sunday's game still required some impressive two-out magic from the Aviators — as well as a critical defensive miscue by the River Cats.
After Wilson belted a solo home run with two outs in the fourth inning to trim Sacramento's lead to 3-2, Las Vegas tied the game in the sixth when Barrera led off with a triple to deep right-center field and Nate Mondu immediately brought him home with a sacrifice fly. After Pete Kozma grounded out for the second out, the Aviators put some pressure on Sacramento relief pitcher Shun Yamaguchi (0-1) when Frank Schwindel reached on an infield single, Wilson walked and Gregg Deichmann laced a single to right that scored Schwindel with the go-ahead run.
Yamaguchi then appeared to escape further damage when he got Las Vegas catcher Carlos Perez to hit a fly ball that pushed River Cats left fielder Jason Krizan to the warning track. However, as Krizan neared the wall and stuck out his left arm to make the catch, the ball popped out of his glove. With two outs, Wilson and Deichmann were both running on contact and easily cruised home with two insurance runs, capping the Aviators' second four-run inning in as many days.
After managing just two baserunners following the third inning (on a walk and a single), the River Cats' offense woke up in the eighth, when the first two hitters against reliever Domingo Acevedo reached base on an error and a double. But Acevedo wiggled out of the jam, striking out Joe McCarthy, retiring Justin Bour on a foul pop and fanning Chadwick Tromp.
Acevedo then worked around a two-out double in the ninth, striking out Sacramento's Thairo Estrada to lock down the victory and his first save.
BLACKBURN SOLID IN DEBUT: Except for a bizarre five-batter stretch in the third inning, Blackburn had a sensational season debut. The veteran right-hander, who led the Aviators with 11 victories in 2019, retired eight of the first nine River Cats he faced (on just 26 pitches) and seven of the last nine he faced (on 39 pitches).
In between, though, Blackburn gave up three runs on three hits and two walks — all with two outs in the third. In total, he surrendered five hits and three walks over five innings while throwing 89 pitches (56 for strikes). All 15 outs Blackburn recorded were either groundouts (10) or strikeouts (five).
GAME NOTES: After giving up five hits, including a grand slam, in Thursday's season opener, Las Vegas right-hander James Naile was outstanding in relief of Blackburn. He retired all six batters he faced, striking out two to earn the victory. … Acevedo struck out three and walked none in his two innings of relief. … Barrera, who served as the designated hitter Sunday after starting in the outfield in the first three games, has hit safely in all four games. He's now 8-for-18 (.444 average) with a home run, a triple, five runs, four RBI and one stolen base. … the Aviators are 6-for-13 with runners in scoring position the last two days after starting the season 3-for-28 in such situations. … The River Cats scored 24 runs in the first 24 innings of this series. However, they've tallied just three (all in the third inning Sunday) over the last 12 frames. … Both teams combined for 15 strikeouts Sunday, bringing the four-game total to 81. That means nearly 38 percent of the recorded outs in this series have been strikeouts.
ON DECK: The Aviators and River Cats return to Las Vegas Ballpark at 7:05 p.m. Monday for the fifth game of their season-opening six-game series. Las Vegas will hand the ball to 6-foot-9 right-hander Brian Howard, who spent much of the 2019 season at Double-A Midland (Texas), where he went 8-8 with a 3.25 ERA in 23 starts. He struggled after a late-season promotion to Triple-A Las Vegas, going 0-1 with a 13.81 ERA, but he did notch 16 strikeouts in 14 1/3 innings.
Howard will be opposed by Sacramento southpaw Phil Pheifer, who pitched at all three minor-league levels in 2019, going 6-8 with a 2.98 ERA in 30 appearances (18 starts).
COVID-19 PROTOCOLS REMINDER: Plan on attending an upcoming Aviators game at Las Vegas Ballpark? Remember: Face coverings are mandatory and must be worn at all times, even while seated, unless actively eating or drinking. Fans are also asked to practice social distancing when walking about the concourse and/or at the concession stands. Also, hand sanitizer stations are available throughout the ballpark.
More information on Las Vegas Ballpark's health and safety guidelines and security restrictions can be found here.
Catch every Aviators game throughout the season on Raider Nation Radio 920-AM, and follow us on Twitter, Instagram and Facebook @AviatorsLV.