Staff Spotlight: Emily Bettys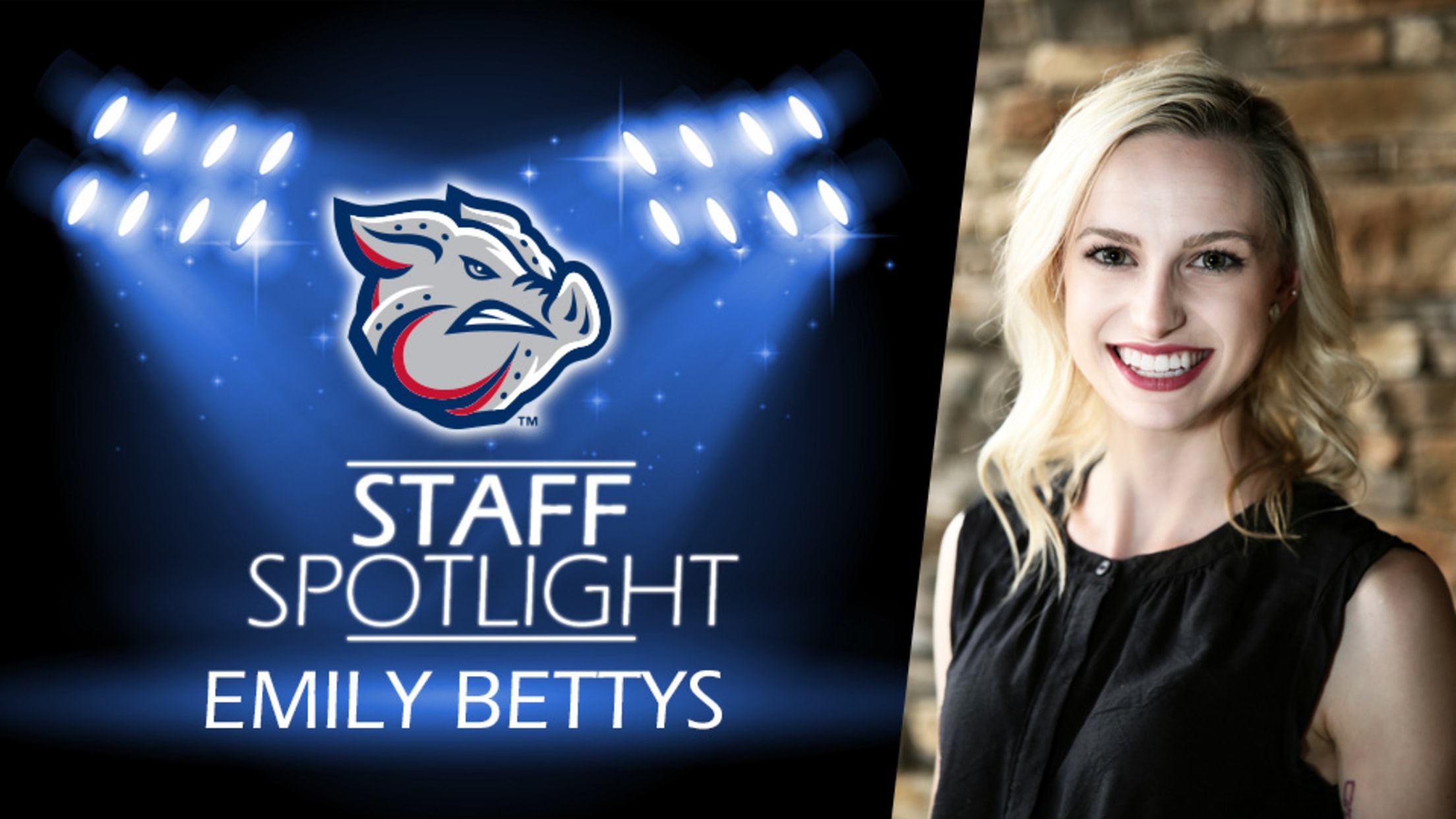 Emily Bettys joined the IronPigs front office staff in September. Originally from Pennsburg, a small town in Montgomery County, she studied Liberal Arts at Montgomery Community College and started her career working for the Greater Lehigh Valley Chamber of Commerce. Emily and her husband moved to the most northern tip
Emily Bettys joined the IronPigs front office staff in September. Originally from Pennsburg, a small town in Montgomery County, she studied Liberal Arts at Montgomery Community College and started her career working for the Greater Lehigh Valley Chamber of Commerce. Emily and her husband moved to the most northern tip of the Lehigh Valley three-and-a-half years ago to be closer to work! They have two rescued fur children by the names of Churchill and Warden that require all the snuggles and all the attention!
What was the main reason that interested you into becoming a member of the IronPigs?
I was really looking for an organization that gives back to the community, and IronPigs does just that!
What does your job entail?
My position is responsible for overseeing the IronPigs Charities. IronPigs Charities is the nonprofit arm of the Lehigh Valley IronPigs, which supports educational and recreational opportunities for Lehigh Valley youth. We focus on facilitating community grants, sports programs and unique fundraisers to give back to disadvantaged children or those with disabilities in the surrounding communities.
What have you enjoyed most about being a member of the IronPigs front office?
It is only the beginning of week three for me, but I love how friendly and welcoming everyone has been! I feel like every time I turn around; I am meeting someone new!
What's your favorite part about Coca-Cola Park?
The energy the fans bring to the stadium! I spent countless years in competitive cheerleading, and there is nothing more motivating or unique than being amongst a crowd of hundreds to thousands of people all in one spot, sharing the love and passion for the same sport.
Do you have any goals you are looking to accomplish throughout your first season?
I am looking forward to getting creative with some of the events and fundraising initiatives IPC has done in the past, but most importantly finding a way to adapt them to the new norm without losing site of our mission. I would love to come up with at least one new fundraising idea this year to benefit our Community Grants.
Quick Hitters
If you can live anywhere, where would it be: New York City – I love the hustle and bustle and that there is always something to do!
Walk-up song: Champion by Bishop Briggs
Favorite outside activity: Visiting wineries
Favorite holiday: Christmas
Ketchup or Mustard? Mustard is disgusting, so definitely ketchup!
Favorite candy: Peanut butter M&M's
Favorite Food: pasta, pasta, and more pasta!
Favorite Restaurant: The Shelby
Favorite Non-alcoholic beverage: Starbucks vanilla sweet cream cold brew topped with vanilla cold foam
Fall, Winter, Spring or Summer: I am always cold, so summer is my preferred season!
Favorite Day of the Week: Friday
Favorite Color: Purple