Redbirds Announce 2021 Schedule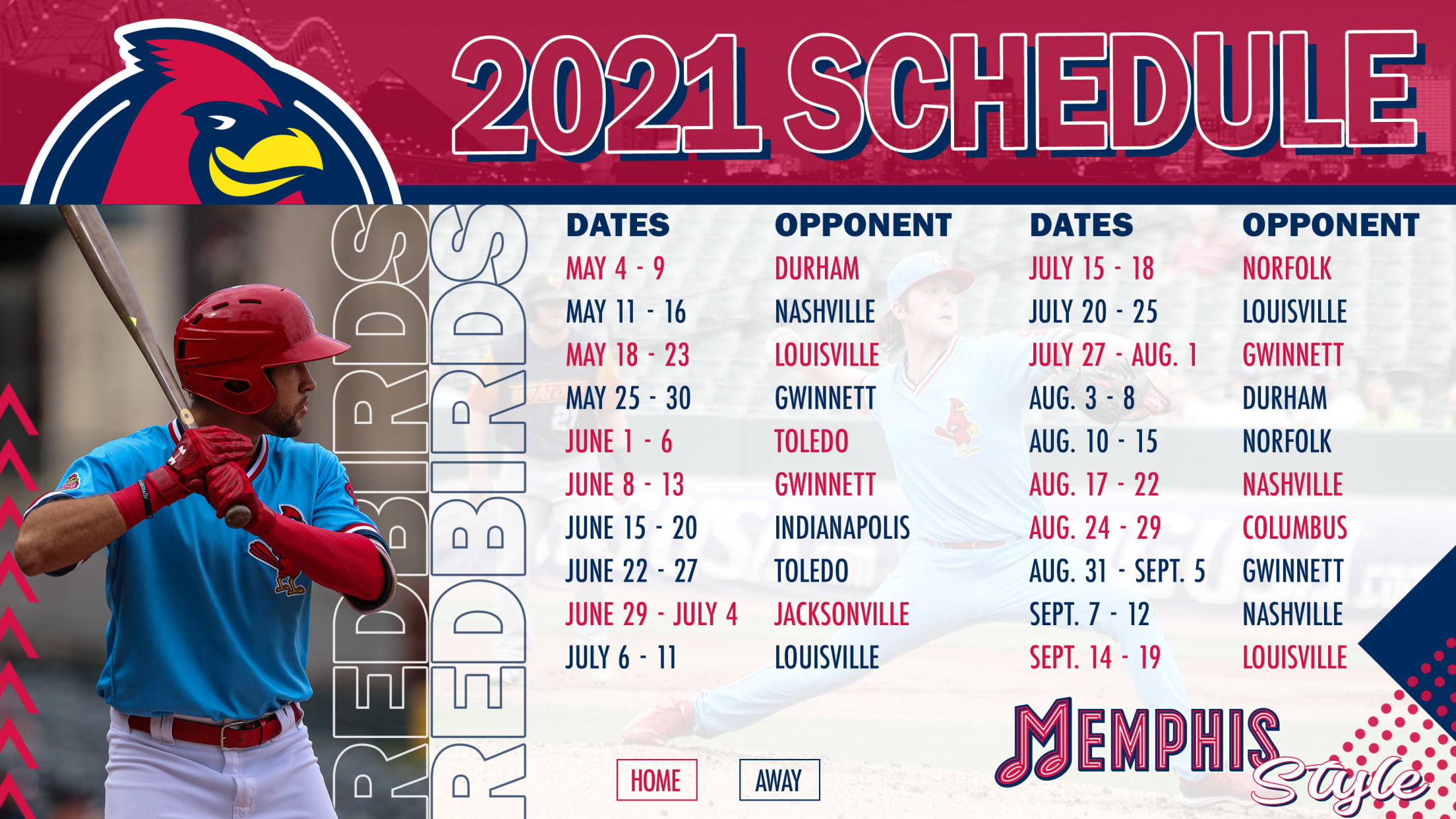 MEMPHIS, Tennessee—Major League Baseball has announced the Memphis Redbirds' 2021 Schedule featuring 60 home games including 10 Saturday dates, plus games on Mother's Day and the Fourth of July. The 2021 Season spans from April to mid-September with Opening Night in downtown Memphis set for Tuesday, May 4 against the
MEMPHIS, Tennessee—Major League Baseball has announced the Memphis Redbirds' 2021 Schedule featuring 60 home games including 10 Saturday dates, plus games on Mother's Day and the Fourth of July. The 2021 Season spans from April to mid-September with Opening Night in downtown Memphis set for Tuesday, May 4 against the Durham Bulls
As part of MLB's new model for the minor leagues, the Redbirds' season will be played in six-game series against members of the Triple-A East Division. In addition to creating some new exciting regional rivalries, the new geographical alignment will feature greatly improved travel for the teams and for visiting fans. The Redbirds will welcome a familiar foe in the Nashville Sounds, while others will make their first trip to AutoZone Park including Indianapolis, Gwinnett Stripers, Durham Bulls, Louisville Bats, Toledo Mud Hens, Jacksonville Jumbo Shrimp and Norfolk Tides.
Redbirds Home Schedule
May 4-9 Durham Bulls (Tampa Bay Rays)
May 18-23 Louisville Bats (Cincinnati Reds)
June 1-6 Toledo Mud Hens (Detroit Tigers)
June 8-13 Gwinnett Stripers (Atlanta Braves)
June 29-July 4 Jacksonville Jumbo Shrimp (Miami Marlins)
July 15-18 Norfolk Tides (Baltimore Orioles)
July 27-Aug. 1 Gwinnett Stripers (Atlanta Braves)
Aug. 17-22 Nashville Sounds (Milwaukee Brewers)
Aug. 24-29 Columbus Clippers (Cleveland Indians)
Sept. 14-19 Louisville Bats (Cincinnati Reds)
"On behalf of the entire organization, we cannot wait to have baseball return to AutoZone Park," Redbirds President Craig Unger said. "The release of our 2021 schedule by Major League Baseball is no doubt a welcome development for our great fans, business partners and downtown Memphis as a whole. We are looking forward to welcoming everyone back and introducing several new teams to Memphis in addition to resuming our rivalry with Nashville."
After a pause in 2020 due to the COVID-19 epidemic, Opening Night in April will be the first game played since September of 2019, over 500 days between events. The 2021 campaign will be the 23rd season of play for the Redbirds since the team's inception in 1998 and the 122nd in the history of professional baseball in Memphis dating back to 1877.
Fans interested in supporting the Redbirds during the 2021 season can secure the best seats at the lowest price through one of several Season Membership options. For more details, or to place your deposit, visit the link HERE.
Additional information on the upcoming 2021 season, including single-game ticket availability, game times and promotions, will be announced in the coming weeks.