Redbirds, 901 FC, AutoZone Park Announce Strategic Partnership with Terminix
Local Company to Activate with Terminix Terrace, Fireworks Series, Soccer Jerseys, and More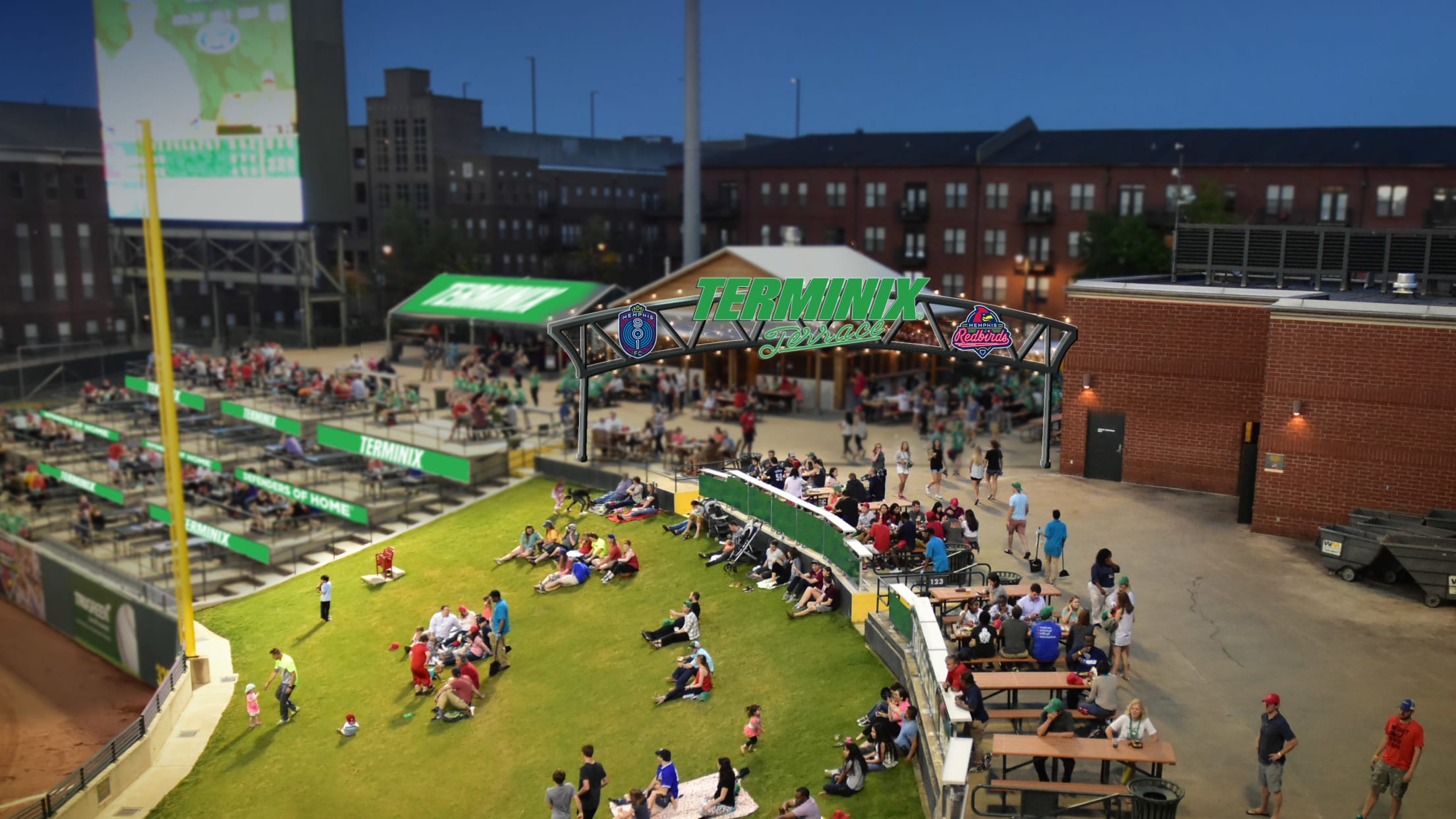 MEMPHIS, Tennessee - The Memphis Redbirds, Memphis 901 FC, and AutoZone Park have announced a substantial partnership with Memphis' own Terminix, a leading provider of termite and pest control services and a ServiceMaster company.As part of the multi-year agreement, Terminix will:- have naming rights for the brand-new "Terminix Terrace" being
MEMPHIS, Tennessee - The Memphis Redbirds, Memphis 901 FC, and AutoZone Park have announced a substantial partnership with Memphis' own Terminix, a leading provider of termite and pest control services and a ServiceMaster company.
As part of the multi-year agreement, Terminix will:
- have naming rights for the brand-new "Terminix Terrace" being branded and activated at AutoZone Park in the right field picnic area
- provide Saturday night entertainment for Redbirds fans during "Terminix Saturday Fireworks Shows"
- provide fans the chance to win prizes during Redbirds games if the Memphis pitcher strikes out the opponent's "Pest of the Game"
- be the front-of-jersey sponsor for Memphis' professional soccer team, Memphis 901 FC, which is entering its inaugural USL Championship season next month
"We are thrilled to team up with a local company like Terminix for this major partnership," Redbirds and 901 FC President Craig Unger said. "When ServiceMaster moved its 1,200 employees to Downtown Memphis and set up its headquarters just two blocks from AutoZone Park, we immediately sought ways we could synergize our Memphis institutions. We think fans will very much enjoy having The Bluff City's own Terminix involved in multiple ways at AutoZone Park this year and beyond."
"We're proud to call the vibrant community of Memphis home," said Matthew Stevenson, president of Terminix Residential. "Making a difference for our neighbors is important to us and we want to extend our presence from our recently opened downtown headquarters to support other community organizations just down the street."
"This combined sponsorship allows us to reach not only the 1.2 million households in Memphis and the surrounding area, but also allows us to expand into new market segments and demographics," said Matthew Loos, vice president of sales effectiveness and marketing for Terminix. "The USL surpassed 2 million in attendance in 2018, and we are excited for this opportunity to expand our diverse and growing customer base across the United States and Canada."
Terminix Terrace
To be branded and activated in the right field picnic area, the Terminix Terrace will be home to picnics and gatherings during all events at AutoZone Park. The Terminix Terrace will have an entry archway that will signal the excitement that awaits all fans who head that way during their time at AutoZone Park. Group outings in the Terminix Terrace can be booked by calling AutoZone Park representatives at (901) 721-6000.
Terminix Saturday Fireworks Shows
Saturday night fireworks after Redbirds games are famous throughout the region, and they will head to a new level as "Terminix Saturday Fireworks Shows" beginning in 2019. Fans will be talking for days about these postgame fireworks spectaculars, and a package that includes tickets to all 12 Terminix Saturday Fireworks Shows in 2019, the St. Louis Cardinals exhibition game, the Triple-A National Championship Game, the Memorial Day Celebration, the Independence Day Celebration, and more, is now available.
Terminix Pest of the Game
Ever wished you could exterminate that pesky pest from your home? The Redbirds feel the same way when that certain hitter comes to the plate, and now, fans will win when the Redbirds strike out the opponent's "Pest of the Game." Be on the lookout for t-shirts heading into the crowd when that "Pest of the Game" is exterminated!
Memphis 901 FC Front-of-Jersey Sponsorship
One of the most high-profile parts of a soccer team is its uniform, or "kit," and the front-of-jersey sponsor is immediately recognizable in-venue, on television and internet broadcasts, through pictures, and as people are wearing the kits to support their team. Terminix is recognized as "Defenders of Home," and these jerseys will springboard 901 FC's mission to "Defend Memphis." Additional details on the reveal date for the kits will be available at a later date.
---
About AutoZone Park
AutoZone Park is the home of Triple-A Baseball's Memphis Redbirds and Memphis 901 FC of the USL Championship and is celebrating its 20th anniversary in 2019. Over 10.7 million fans have passed through its gates since its debut in the spring of 2000, and the venue is home to numerous conventions, meetings, receptions, charity races, and more each year, in addition to sports.
About Terminix
Terminix is the leading provider of termite and pest control services in the United States. Headquartered in Memphis, Tenn., Terminix services approximately 2.8 million residential and commercial customers in 47 states and 18 countries. Terminix provides pest control services and protection against termites, rodents and other pests. Terminix is a business unit of ServiceMaster Global Holdings, Inc. (SERV), a leading provider of essential residential and commercial services. Terminix is the Official Pest Control Partner of Minor League Baseball™. To learn more about Terminix, visit www.Terminix.com.
About ServiceMaster
ServiceMaster (NYSE: SERV) solves the homeowner's dilemma. Every day, we visit tens of thousands of homes and businesses through our extensive service network of expert professionals. Our well-recognized brands include AmeriSpec (home inspections), Copesan (commercial national accounts pest management), Furniture Medic (furniture and cabinet repair), Merry Maids (residential cleaning), ServiceMaster Clean (janitorial and residential floor cleaning), ServiceMaster Restore (disaster restoration), Terminix (termite and pest control), Terminix Commercial (commercial termite and pest control). Like, follow or visit us at facebook.com/ServiceMaster, linkedin.com/ServiceMaster,twitter.com/ServiceMaster, or servicemaster.com. ServiceMaster is the Official Home Services Provider of Minor League Baseball™.