Redbirds Split Twin Bill With Dodgers
Series Heads Back To Memphis Tied 1-1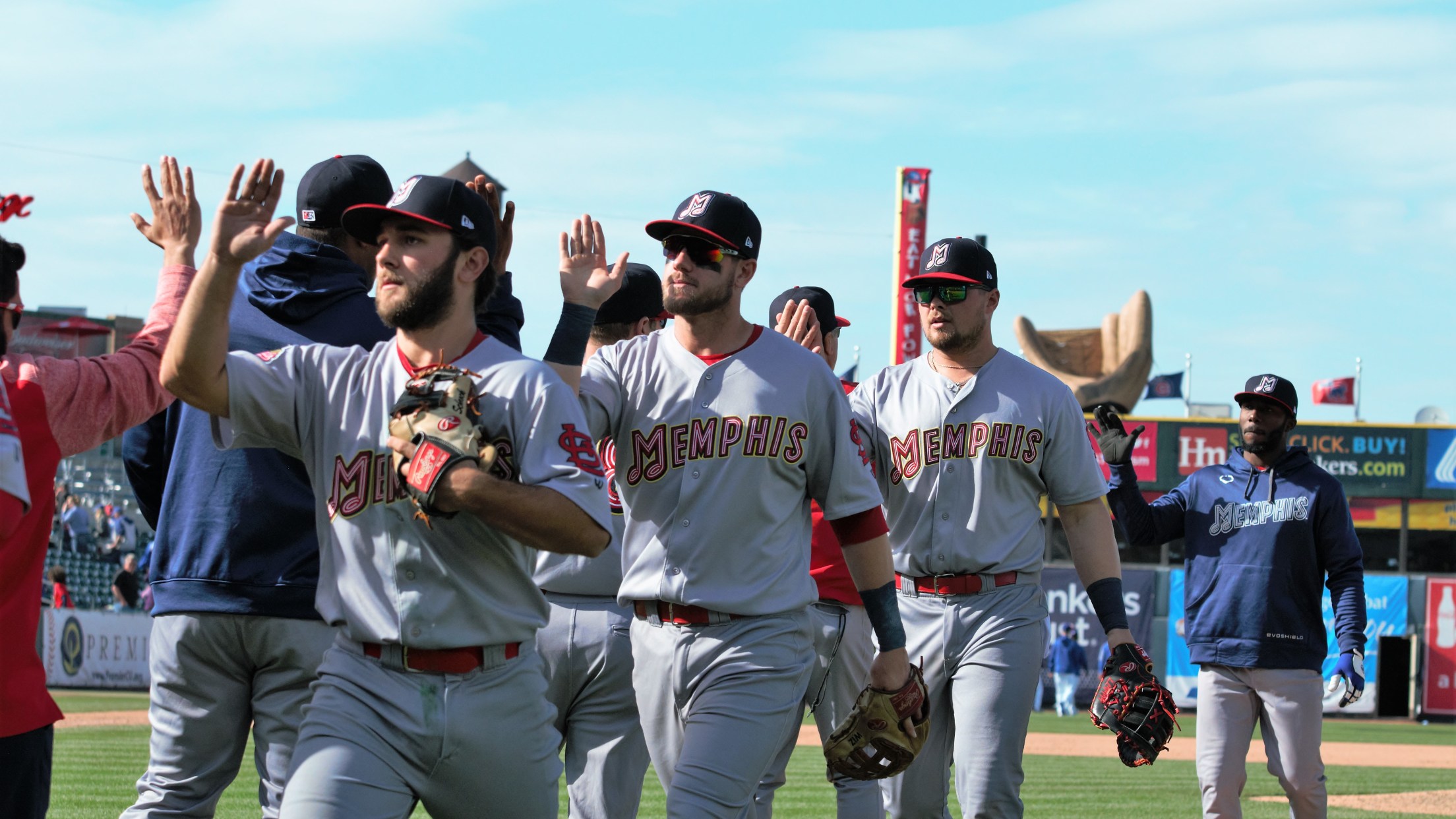 (Brian Philbrick/Memphis Redbirds)
OKLAHOMA CITY, Oklahoma - The Memphis Redbirds (1-1) split their doubleheader with the Oklahoma City Dodgers, Thursday night in Oklahoma City. Memphis mounted a late comeback in game one, and fell just short of completing the comeback in game two. The series heads back to Memphis tied at 1-1. Game
OKLAHOMA CITY, Oklahoma - The Memphis Redbirds (1-1) split their doubleheader with the Oklahoma City Dodgers, Thursday night in Oklahoma City. Memphis mounted a late comeback in game one, and fell just short of completing the comeback in game two. The series heads back to Memphis tied at 1-1.
Game 1: Memphis 4, Oklahoma City 2
The 'Birds mounted a late comeback, topping the Oklahoma City Dodgers in game one of the American Conference Championship Series by a score of 4-2.
Memphis starter Kevin Herget was phenomenal in his five innings of work. He threw four no-hit innings before allowing a run in the fifth inning. He finished with a final line of five innings pitched, allowing just one run on one hit and three walks, while striking out six batters. Reliever Giovanny Gallegos threw the final two innings for Memphis. He allowed one run on one hit, while striking out four batters to earn the win.
The 'Birds scored two runs in both the sixth and seventh innings to snag the win. With Memphis trailing 1-0 in the sixth, outfielder Randy Arozarena hit a go-ahead, two-run single with two outs. After the Dodgers tied the game in the bottom of the sixth, Memphis completed the comeback in the final inning. Alex Mejia and Lane Thomas each drove in a run in the frame via a fielder's choice and a force out.
Game 2: Oklahoma City 5, Memphis 4
The Memphis Redbirds dropped game two of their doubleheader with Oklahoma City 5-4, Thursday night. By splitting the doubleheader, the series will head back to Memphis tied at 1-1.
The Redbirds out-hit the Dodgers 8-to-7 in the game, but went just 3-for-11 with runners in scoring position. Alex Mejia went 2-for-3 with a double and two RBI in the game. Lane Thomas went 2-for-4 driving in a run, as well. Steven Baron drove in the other Memphis run.
Memphis starter Tyler Lyons threw four innings, taking the loss in the game. He allowed three runs on four hits and one walk, while striking out two batters. He allowed two home runs in the game, including a home run to lead off the contest. He later allowed a two-run home run.
Edward Mujica allowed two runs on three hits in 0.2 innings immediately following Lyons' departure from the game. Tommy Layne and Conner Greene combined to throw the final 1.1 innings, striking out two batters.
Memphis and Oklahoma City will now head to Memphis to finish the series. Game three will be played tomorrow at 7:05 p.m. at AutoZone Park. Games four and five will be played on Saturday and Sunday, if necessary. Redbirds playoff tickets are on sale now and can be purchased at www.memphisredbirds.com/playoffs.
[Empty Body]