Akron joins Bowie in Double-A Northeast Finals
Fermin's game-tying blast rallies RubberDucks to last playoff spot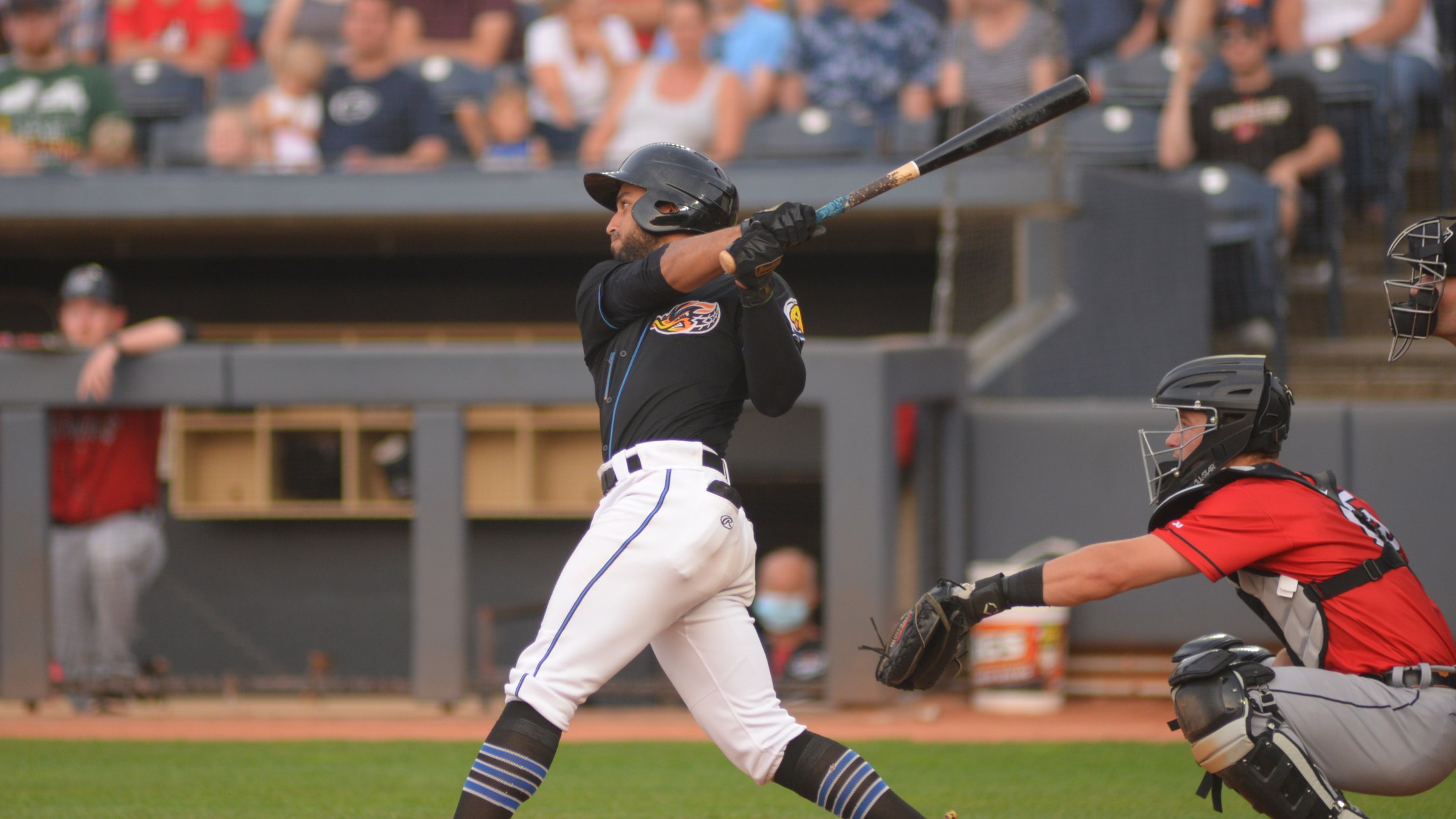 Jose Fermin's game-tying three-run homer helped lift the RubberDucks to victory. (Lianna Holub/MiLB.com)
Sept. 19
For two days in a row, Akron faced elimination in the Double-A Northeast.
The RubberDucks were four games deep into a six-game series with Somerset, and the Patriots had taken three of the first four contests. The Minor League newcomer needed one win to knock the Indians' affiliate out of contention.
On Saturday, Akron fell behind early before a four-run inning fueled a comeback effort. On Sunday, it was déjà vu all over again for the RubberDucks, who scored five unanswered runs after being no-hit through six innings. With a four-run eighth, Akron defeated Somerset, 5-4.
A leadoff triple by Bryan Lavastida and a wild pitch plated Akron's first run of the game in the seventh. In the next inning, after Will Brennan drew a one-out walk and Brayan Rocchio singled, Jose Fermin flipped the script. He crushed a game-tying three-run dinger on the first pitch he saw to even the score at 4-4. It was his sixth home run of the season and his 75th hit, second-best on the team.
Lavastida drew a walk in the next at-bat, and a wild pitch sent him to second. Cleveland's No. 2 prospect George Valera laced a single to left, and Lavastida scored to give Akron the lead. Logan Allen, who posted a 2.85 ERA and a 0.88 WHIP this year, closed the door in the ninth.
The RubberDucks will face the Bowie Baysox, who clinched their spot less than an hour before the conclusion of the Akron game.
Lavastida, Cleveland's 13th-ranked prospect, amassed an impressive .291/.373/.466 slash line in 29 Double-A games, driving in 17 runs and working 12 walks. Valera played 23 games with the club, hitting .267 and recording 22 RBIs. Lefty Juan Hillman was efficient before being promoted to Triple-A, posting a team-best 10 wins with a 3.77 ERA in 107 1/3 innings, a mark that also led the club, while Dakody Clemmer appeared in 35 games and tallied a 3.40 ERA with 62 punchouts and a .181 average against in 50 1/3 frames.
In other clinching news:
Bowie punches Double-A Northeast ticket: The Baysox seized their opportunity on the final day of the regular season by rallying to defeat Altoona, 7-5. Using a three-run inning highlighted by Cody Roberts' go-ahead two-run single, Bowie controlled its own fate, just needing to win to clinch the spot.
Five pitchers helped lock down the berth in the final game -- starter Mickey Jannis, who allowed all of Altoona's runs; Logan Gillaspie, who fanned seven in three scoreless innings; Morgan McSweeney; winning pitcher Tim Naughton and Diogenes Almengo. Each of the final three pitchers went one frame and struck out two batters and the closer picked up his 16th save.
The secret to the Orioles affiliate's success was third baseman Patrick Dorrian, who led the club in homers (22), RBIs (67), walks (69), hits (98), doubles (22) and games (112). His .836 OPS was second to only Adley Rutschman's .901 OPS among all qualified players. Baseball's top overall prospect played 80 games for the Baysox before being promoted, hitting 18 homers and having only two more strikeouts (57) than walks and RBIs (55).
After dominating in High-A, baseball's top overall pitching prospect Grayson Rodriguez continued his dominance for Bowie, posting a 2.60 ERA in 79 2/3 innings (a team-leading 18 starts) with 121 punchouts, an 0.87 WHIP and a .165 BAA. Almengo appeared in a club-best 39 games, converting 16 of 20 save attempts and going 6-3 with a 3.40 ERA.
Northwest Arkansas earns Double-A Central berth: The Naturals needed a win, some luck and a tiebreaker to get into the playoffs. The Royals' Double-A affiliate got all three to clinch a spot in the Double-A Central, starting with a 9-4 win over Springfield. Four different players drove in seven runs over the final two innings to seal the deal.
Clay Dungan, who led the club in runs (74), hits (128) and games (108), laced a two-run double in the eighth to pad the lead. The infielder also finished top three on the team in doubles (tied for second with 17), RBIs (third with 56), and steals (second with 28). Fourth-ranked Royals prospect MJ Melendez swatted 28 of his Minor League-leading 38 home runs with Northwest Arkansas in 79 games while slugging .628 with a team-best 18 doubles and 65 RBIs. Brewer Hicklen led the team in stolen bases (40) and walks (52).
Jon Heasley, Kansas City's 14th-ranked prospect, led the way on the mound. In 22 outings (21 of them starts), he compiled a 7-3 record and a 3.33 ERA with a team-leading 120 strikeouts over 105 1/3 innings. Southpaw Josh Dye was a shutdown presence out of the bullpen, with 68 strikeouts in 60 2/3 frames (38 appearances), a 2.32 ERA, a 1.17 WHIP and a perfect 9-for-9 record in save attempts.
Montgomery takes spot in Double-A South Finals: It was an anticlimactic finish in the Double-A South as the Biscuits were awarded the chance to take on the Mississippi Braves after rain made the field conditions unplayable for its doubleheader against the Birmingham Barons. The Biscuits needed one win to clinch.
Third-ranked Rays prospect Xavier Edwards played a big part in Montgomery's success this season. He was one of four Biscuits to hit over .300 with a .302 average, 19 stolen bases, 27 RBIs and 36 walks in 79 games. No. 28 prospect Ruben Cardenas led Montgomery in dingers with 15, and his 47 RBIs tied No. 30 prospect Ford Proctor for second-most on the squad. The backstop played in a team-best 97 games and drew the most walks (63).
On the hill, No. 18 prospect Tommy Romero was lights-out in 11 games with the club before being promoted. He fanned 75 batters in 48 innings and allowed just 10 earned runs to post a 1.88 ERA and a 0.96 WHIP. Alex Valverde played a versatile role, making the start in 10 of his 30 outings while leading the team in strikeouts (92) and converting three of four save attempts.
In a similar role, Tobias Myers posted a 3.32 ERA in 10 starts (13 appearances), fanning 81 batters in 59 2/3 innings and posting a 0.99 WHIP. Shane Baz, the organization's top pitching prospect who is set to make his Major League debut on Monday, gave up only nine earned runs while holding opposing batters to a .190 average across 32 2/3 innings (seven starts) with Montgomery, good for a 2.48 ERA.
Cedar Rapids clinches High-A Central spot: Needing either a win or a Lake County loss, the Kernels left nothing to chance with an 11-0 blanking of Peoria to clinch a playoff berth. DaShawn Keirsey led the clinching effort by blasting two of Cedar Rapids' four homers and driving in three runs, while five different pitchers combined for the shutout.
The Twins affiliate will face the Quad Cities River Bandits for the High-A Central crown.
Two of the organization's Top 30 prospects, Aaron Sabato (No. 16) and Yunior Severino (No. 27), made the most of their time with the Kernels after their August promotions. Severino led the club with a .321 average in 35 games, posting a .907 OPS with 43 hits, 12 doubles, 17 RBIs and 20 walks. In 22 games, Sabato topped Cedar Rapids with a 1.015 OPS, blasting eight homers and doubling three times. Outfielder Michael Helman hit the most dingers (17), drove in the most runs (57), swiped the most bases (21) and played in the second-most games (111).
Though he spent most of the season battling an elbow injury and only made five starts at High-A, 10th-ranked prospect Matt Canterino was nothing short of dominant. He posted a 0.86 ERA, allowed only two earned runs and fanned 43 batters in 21 innings. Starter Ben Gross led the club in strikeouts (106) and innings (82) before getting called up to Double-A. Zach Featherstone, who converted from an outfielder to a pitcher in 2017, had a career year, posting a 2.13 ERA and converting nine of 10 save chances with 93 strikeouts and a .149 average against in 55 innings (40 appearances).
Down East will play for Low-A East crown: The Wood Ducks needed a win and a Salem Red Sox loss to clinch their spot in the Low-A East Finals. It unfolded that way exactly, with Salem falling victim to a Delmarva comeback in a 9-7 loss and Down East cruising to a 5-2 victory over Charleston. The game was a preview of what's to come in the Low-A East Championship Series, as the Rangers' affiliate will take on the RiverDogs for the trophy.
The Wood Ducks seized a 3-0 lead in the first inning and never looked back. Keyber Rodriguez drove in two runs on a 2-for-3 day to finish his season with a .271 average, including 100 hits, five homers, four triples, 19 doubles and 63 RBIs. Aaron Zavala, the 38th overall pick of the 2021 Draft, played in just 15 Low-A games and amassed a slash line of .302/.433/.434 with seven RBIs and 10 walks. Eighth-ranked prospect Luisangel Acuna led the team in dingers (12), runs (77) and RBIs (74), while outfielder Jayce Easley drew a team-high 78 walks and led the Minors in stolen bases with 70.
Righty hurler Nick Krauth was the only starter to pitch more than 100 innings (102 2/3), posting a 4.30 ERA and fanning 79. Spencer Mraz converted seven of 10 save opportunities, striking out 44 in 31 2/3 innings before being promoted to High-A, while Eudrys Manon saved six of seven games with a 2.78 ERA, a 1.06 WHIP and no home runs allowed in 22 2/3 innings.
Sept. 16
Down 1-0 in the bottom of the sixth inning, Wichita found themselves in a tough spot against Arkansas ace Matt Brash. Though the Wind Surge had compiled four hits and three walks through the first five innings, they had nothing on the scoreboard to show for it.
So when Wichita loaded the bases with two outs, they made sure they didn't waste the chance.
After working a 3-2 count, Ernie de la Trinidad laced a single to right that plated the tying and go-ahead runs. A throwing error by the catcher on a pickoff attempt scored the third run of the inning for the Twins affiliate. The Travelers attempted to mount a comeback in the ninth, and with the winning run at the plate with two away, reliever Adam Lau induced a first-pitch flyout to seal Wichita's 3-2 victory and clinch the Central's first playoff berth. Chris Vallimont, who led the Wind Surge in strikeouts with 130, hurled 5 2/3 one-run innings and fanned four.
Shortstop Jermaine Palacios led the Surge in hits, runs and homers, with 103 knocks, 68 runs scored and 19 dingers in 107 games. Second to Palacios in hits was catcher Roy Morales, who was one of four Wichita players to bat above .300, with a .310 average, 14 doubles, 33 RBIs and 34 walks in 85 games. Though he played just 47 games with the Wind Surge before his promotion, Twins No. 8 prospect Jose Miranda more than made his mark with a .345 average, .996 OPS, 13 home runs, 17 walks and 38 RBIs. Similarly, outfielder B.J. Boyd made the most of his 66 games with Wichita before his promotion, batting .319 and driving in 62 runs, a mark that still leads the team.
Righty Jordan Balazovic had an up-and-down year, but the Twins' top pitching prospect still pitched to a 3.62 ERA with a 102-to-32 strikeout-to-walk ratio in 97 innings (20 starts). Workhorse Austin Schulfer compiled 105 innings across 23 starts for Wichita, also fanning 102 batters and allowing only six home runs all year. From the 'pen, the organization's No. 26 prospect, Jovani Moran, had a standout season before being promoted, surrendering just 14 hits across 20 appearances, good for a 1.91 ERA. Southpaw Zach Neff was reliable out of the bullpen, making a team-leading 31 appearances and holding batters to a .208 average in 52 2/3 innings.
In other clinching news:
Grasshoppers earn High-A East berth: Greensboro punched its ticket to the postseason with a 5-2 victory over Hudson Valley. After getting shut out through six innings, the Pittsburgh affiliate broke out in the seventh with four runs, powered by Matt Gorski's go-ahead, two-run homer, and never looked back. Grant Ford, who logged 76 innings on the year and is third on the team in strikeouts with 91, made his 10th start in 25 appearances in the clincher.
Third baseman Jared Triolo led the Grasshoppers in several categories: games (105), hits (124), doubles (28) and RBIs (77), while Pirates No. 4 prospect Nick Gonzales put together an impressive freshman season with a .302 average, 95 hits, 23 doubles, 17 homers, 53 RBIs and a team-leading four triples. His .950 OPS is second among qualified players behind outfielder Matt Frazier, who holds a .314 average in 75 games. Fellow outfielder Lolo Sanchez proved to be pivotal on the basepaths, as he swiped the most bags (30), drew the most walks (55) and scored the most runs (78).
On the mound, Quinn Priester, the organization's top pitching prospect, continued to develop into the hurler the Pirates knew they drafted 18th overall in 2019. The 21-year-old accrued a 3.04 ERA in a team-leading 20 starts (97 2/3 innings) with just eight homers allowed, a .225 BAA and a team-best 98 strikeouts. Reliever Will Kobos has been an unstoppable force out of the bullpen, touting a 2.16 ERA with 68 strikeouts and a 1.01 WHIP while holding opposing batters to a .129 average in 27 appearances.
Spokane punches High-A West ticket: Led by a seven-run inning that was capped off with a grand slam from Kyle Datres, Spokane cruised to an 11-4 win over Everett to clinch the second and final playoff spot in the High-A West. The Colorado affiliate will face Eugene, which clinched its postseason spot on Wednesday.
Outfielder Brenton Doyle, the Rockies' No. 7 prospect, showed off all his tools in 97 games for Spokane. The 2019 fourth rounder put together a .279/.336/.454 slash line, leading the team in hits (109) and runs (70) while swiping a career-best 21 bags. He also stands second on the team in homers (16), and third in RBIs (47). Before getting the call to Double-A Hartford in mid-August, No. 6 prospect Michael Toglia smacked 17 long balls and drove in 66 runs in 74 games.
No. 10 prospect Chris McMahon led all Spokane hurlers in innings pitched by a wide margin -- his 114 1/3 frames is 14 2/3 more than Helcris Olivarez's second-place mark. In those 22 outings (20 starts), McMahon struck out 119 batters and racked up 10 wins, both team-leading marks. Right-hander Dugan Darnell was lights-out from the bullpen, converting 14/15 save opportunities while fanning 63 batters with a 0.91 WHIP and a 2.43 ERA in 40 2/3 innings.
Sept. 15
The first playoff berth in the High-A West has been locked down by the Eugene Emeralds.
The Giants' affiliate made the cut with a 6-0 blanking of the Dust Devils and a subsequent loss by the Everett AquaSox on Wednesday.
Six pitchers combined on the shutout, starting with San Francisco's No. 6 prospect Seth Corry. The 22-year-old left-hander struck out five while allowing two hits and two walks over 2 1/3 innings. He was followed by Travis Perry, 28th-ranked Blake Rivera, Conner Nurse, Austin Reich and Chris Wright.
Offensively, No. 9 Jairo Pomares and No. 30 Brett Auerbach belted home runs while Ismael Munguia collected three hits and scored twice.
Munguia proved to be a force for Eugene all season, leading the squad with a .338 average. Tyler Fitzgerald also has paced the Ems with 70 runs (second-best in the league) and 62 RBIs (fourth-best). The power in the lineup belongs to Sean Roby, whose 19 homers are tied for the league lead with Everett's Cade Marlowe, while the speed has been the domain of Simon Whiteman with 17 stolen bases.
On the mound, No. 27 prospect Kai-Wei Teng stands fifth in all of the Minors with 130 strikeouts. He's amassed that total over 88 2/3 innings. (Chris McMahon of Spokane, second in the High-A West, has fanned 119 in 114 1/3 frames.) Travis Perry leads Eugene in wins with 10, while Chris Wright has anchored the bullpen with 16 saves.
Sept. 11
The Low-A Southeast Finals are set.
Needing just one win heading into Saturday's game, Bradenton took care of business with a commanding 8-1 victory over Clearwater at BayCare Ballpark.
Trip to the postseason? Clinched. ☑️ pic.twitter.com/P5baEa9v2j

— Spenser Smith (@TheSpenserSmith) September 12, 2021
The Threshers got on the board first in the fourth inning, but the Marauders powered their way right back. Alexander Mojica crushed a solo blast to left field in the fifth and Endy Rodriguez put the club ahead for good with a two-run moonshot to left-center in the sixth. The 19th-ranked Pirates prospect finished 3-for-5, falling a triple shy of a cycle.
A three-run jack by Ernny Ordonez capped a four-run frame for Bradenton in the seventh.
It seemed fitting that Rodriguez powered Bradenton's clinching victory since the backstop has been driving the Marauders' success all season. Rodriguez leads the team in total hits (102), triples (five), doubles (24), RBIs (67), average (.292), OBP (.382) and slugging (.497). Pittsburgh's 12th-ranked prospect Hudson Head paces the club with 15 long balls and 66 walks, trailing only Rodriguez in runs (67) and doubles (16). The speed of Maikol Escotto has proven to be a factor for the team all year long, the 20th-ranked prospect leads the squad with 22 stolen bases, stands second in walks with 53 and third with 58 runs.
Right-hander Adrian Florencio anchored Bradenton's pitching staff all season. In 19 games (18 starts), he has posted a 2.53 ERA, a 1.07 WHIP and a .198 average-against with 115 strikeouts over 89 frames. Luis Ortiz has provided a 1-2 punch on the mound with a 3.24 ERA in 21 appearances (18 starts), fanning 108 over 83 1/3 innings. And before getting called up to High-A Greensboro, Enmanuel Mejia was as reliable as they come out of the bullpen – not allowing an earned run while whiffing 35 over 26 1/3 frames.
In other clinching news:
San Jose makes Low-A West playoffs: Luis Matos has fueled San Jose all season and he did so once again as the Giants booked a ticket into the postseason, where they will meet the Fresno Grizzlies. In Saturday's 9-2 win over the Ports, he finished a triple shy of the cycle, plating two runs and scoring two more. San Francisco's No. 3 prospect tops the Low-A West division in total hits (130) and RBIs (77) while standing tied for second in doubles (31). Matos leads the club with 73 runs and a .304 batting average.
Before being called up to High-A Eugene on Aug. 4, MLB Pipeline's No. 5 overall prospect Marco Luciano was also a force over San Jose's first 70 games of the season. The top Giants prospect clubbed 18 home runs while driving in 57 runs and batting .278 at Low-A.
A pair of the organization's top prospects left their respective marks on the mound -- fifth-ranked Kyle Harrison and No. 23 Prelander Berroa. The latter tops the circuit with a 3.28 ERA and ranks third in strikeouts with 133. In 23 starts, Berroa has held opponents to a .213 average over 96 innings. Harrison has posted a 3.36 ERA, whiffing 149 over 93 2/3 frames in 23 starts. Additionally, No. 25 Carson Ragsdale has led all Low-A West hurlers with 162 strikeouts over 108 2/3 innings.
Sept. 9
All the Hot Rods needed was one victory.
Bowling Green went into Thursday's doubleheader against Winston-Salem looking to punch its ticket to the postseason in the High-A East. The Tampa Bay affiliate did so with a 3-2 victory.
Alika Williams got his team off to a good start with a solo shot to left field in the first inning, his fourth homer of the year and third with the Hot Rods.
In the fourth, Jordan Qsar plated a run with a groundout and Logan Driscoll laced an RBI single for a 3-0 lead. That lead looked to be enough with Bowling Green's best pitcher, Evan McKendry, on the mound. The righty scattered three hits and a walk while striking out four over five scoreless innings.
The Dash tried to rally after McKendry left the game, scoring in the sixth on a wild pitch by reliever Angel Felipe and on a groundout by Luis Curbelo, but Felipe neutralized the threat with a three-pitch strikeout. With the tying run on second in the seventh, Felipe fanned Jose Rodriguez looking to seal the Hot Rods' 76th win of the season.
Outfielders Grant Witherspoon and Qsar have fueled Bowling Green's offense most of the season, leading the team in several categories, including RBIs (67 and 61 respectively), doubles (18 apiece) and hits (96 and 80 respectively). Both have slugged 20 homers, trailing only first baseman Evan Edwards (22). Curtis Mead, the Rays' No. 14 prospect, has compiled a .278 average with 21 extra-base hits and 31 RBIs in 51 games for the club.
Before getting called up to Double-A Montgomery in mid-July, right-hander Jayden Murray posted a 7-1 record and a 1.72 ERA in 12 starts, notching 53 strikeouts while allowing only five homers in 57 2/3 innings. Sixth-ranked Taj Bradley picked up some slack with a 2.20 ERA and a 35-to-8 strikeout-to-walk ratio in 28 2/3 innings. And McKendry has held opposing batters to a .209 average with 11 of his 20 outings in relief spanning 58 2/3 innings.
In other action
Mississippi became the first Double-A club to clinch a playoff berth with its 4-3 win over Montgomery at home Thursday. The M-Braves have been led by No. 72 overall prospect Shea Langeliers for much of the summer; the catcher ranks fifth in the Double-A South with 19 homers and ninth with an .814 OPS. Mississippi's arms as a group have led the circuit with 3.54 ERA and 11 total shutouts during the 2021 return to play. Nolan Kingham (2.18 ERA in 10 starts) and Hayden Deal (3.61 ERA in 22 appearances, second-best among Double-A South qualifiers) have been two of the club's stars in that department.
Sept. 8
Leading by four runs with the bags juiced, Gavin Stupienski made sure the final few innings would be free of drama.
The Kansas City prospect's grand slam capped a five-run sixth inning as Quad Cities clinched the top seed in the High-A Central with a 9-3 win over visiting Peoria at Modern Woodmen Park.
The victory was the 71st of the season for the River Bandits, who punched their ticket into the playoffs on Tuesday despite a 6-4 setback to the Chiefs.
Nursing a 4-1 lead entering the sixth, the first four Quad Cities' batters reached, punctuated by Eric Cole's bases-loaded RBI single. Stupienski got ahead in the count, 1-0, before depositing his fourth home run of the season over the fence for the first grand slam of his career. Royals' No. 30 prospect Michael Massey stroked a run-scoring ground-rule double and Maikel Garcia tallied three RBIs on two hits, including an RBI triple to open the scoring.
Mitch Ellis picked up the win in relief, allowing a run on three hits and three walks while striking out three in 3 2/3 innings. Kansas City's 2021 fourth-round Draft pick Caden Monke followed by fanning three and walking one over 2 1/3 hitless frames.
Quad Cities has been one of the strongest teams in the Minors in 2021. Massey has paced the team offensively, batting .288/.352/.543 with 50 extra-base hits, 21 homers and 85 RBIs. The pitching staff has been led by southpaw Anthony Veneziano (6-4) with a 3.66 ERA, a 1.21 WHIP and 125 strikeouts in 91 innings spanning 21 starts.
Sept. 7
Low-A Fresno rode a five-run sixth inning to an 11-5 win over Modesto, securing its first postseason berth since 2018, when the club was Houston's Triple-A affiliate. Zac Veen's first season as a professional ranks as an unqualified success. MLB's No. 53 overall prospect has been one of the Minors' top talents, batting .303 with a .911 OPS, 44 extra-base hits, 79 runs, 74 RBIs and 36 stolen bases in 101 games. Rockies No. 8 prospect Drew Romo (.329/.358/.462) proved to be a strong complement to Veen, powering one of the best offenses on the Low-A West circuit.
Breiling Eusebio provided a spark after returning from High-A Spokane. The 24-year-old was unbeaten over 11 starts, going 5-0 with a 3.19 ERA and a 1.15 WHIP while whiffing 64 in 59 1/3 innings. Robinson Hernandez has carried the load in the back of the bullpen, saving 14 games while sporting a 2.85 ERA in 38 appearances.