Brewers Light Up Osprey For 13 Runs To Even Series
Five Run Fifth Inning Puts Helena In Front For Good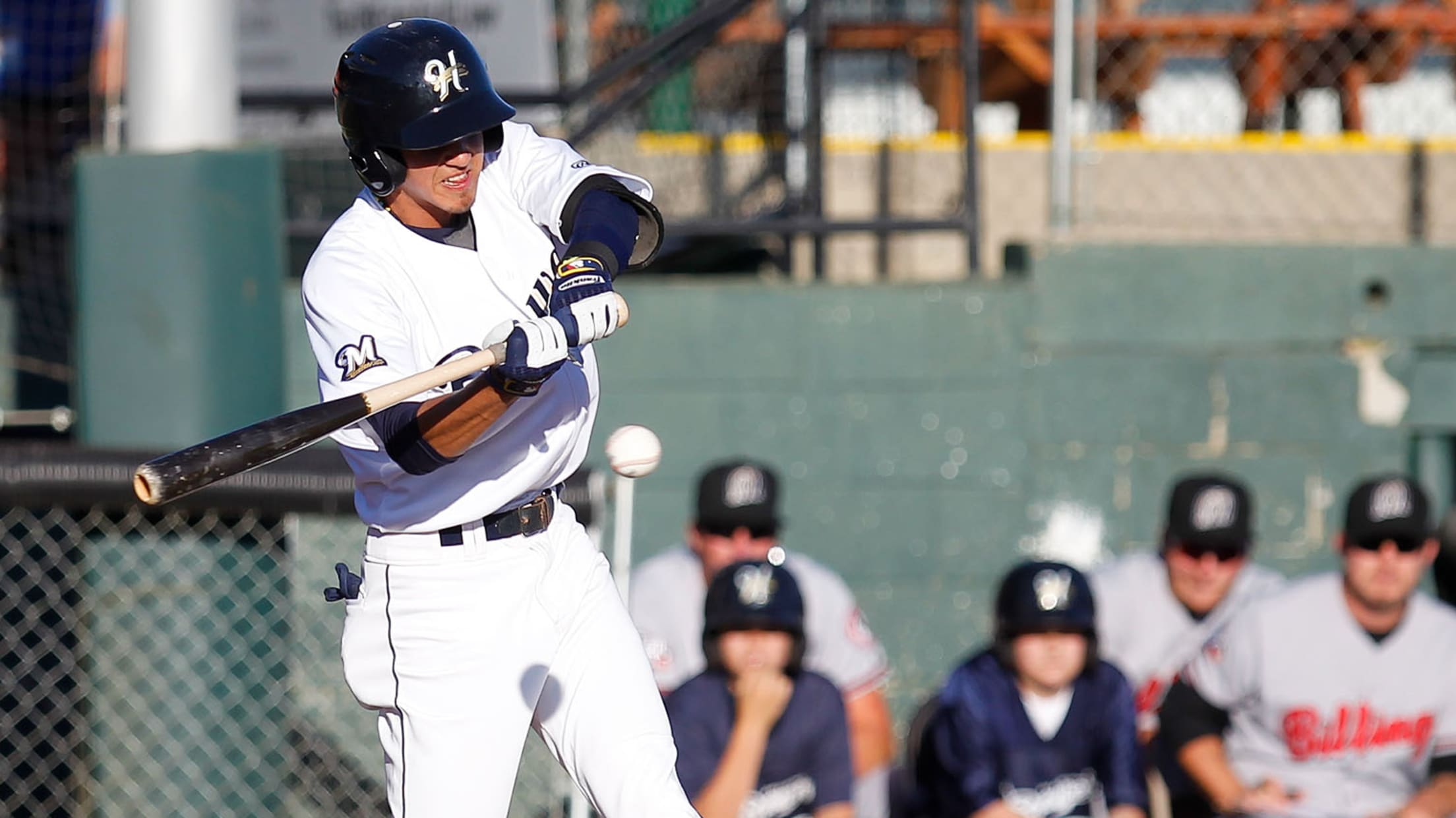 MISSOULA, MT - The Helena Brewers (3-2) last night were held to under five runs for the first time all season. They made up for it and more tonight against the Missoula Osprey (2-2), scoring a season high 13 runs and knocking out a season high 17 hits, routing the
MISSOULA, MT - The Helena Brewers (3-2) last night were held to under five runs for the first time all season. They made up for it and more tonight against the Missoula Osprey (2-2), scoring a season high 13 runs and knocking out a season high 17 hits, routing the Osprey 13-6 at Allegiance Field.
Helena's biggest explosion came in the fifth inning, when they turned a 4-3 deficit into an 8-4 lead. It marks the second time in 2018 that the Brewers have scored at least five runs in an inning. The Brewers also hit a season high three home runs.
Scott Sunitsch got the start for Helena, and pitched two scoreless innings. The Brewers took the lead with a two run second, thanks to a solo home run from Nick Egnatuk and an RBI single from Jean Carmona. Helena added on a run in the third as a leadoff triple from Yeison Coca scored on a ground out from Antonio Pinero.
However, the lead evaporated in the bottom half of the third, as Buddy Kennedy hit a two run home run for the second straight night. Cesar Garcia tied the game with an RBI double, and David Sanchez gave the Osprey the lead with a double of his own.
Yet the fifth inning would be the defining moment of the game for the Brewers. Against Missoula starter Pedro Zorrilla (0-1), Carmona & Coca started the inning with consecutive singles. Pinero then smacked a double down the line, scoring both to put Helena back in front 5-4. Chad McClanahan followed with a two run blast to right, his first of the year, to extend the lead to three and end the night for Zorrila. The Brewers added on more in the inning on a double steal, making it an 8-4 score. Helena scored a run in the seventh and a run in the eight, and put the game on ice with a three run Robie Rojas home run in the ninth.
Roberto Delgado (W, 1-1) got the win out of the bullpen for Helena, pitching 2.1 innings of scoreless baseball. With the score 9-6 in the bottom of the seventh though, the Osprey had the tying run coming to the plate in the form of David Sanchez. JT Hintzen then entered, striking out Sanchez to end the threat. Hintzen finished the game for his first save, notching five strikeouts in a scoreless 2.1 innings of work.
The two teams play the rubber game of the series tomorrow as Max Lazar makes his second start. The Osprey will counter with righty Marcos Tineo. First pitch is scheduled for 7:05 PM.
Your Brewers return home on Friday for a six game home stand beginning with a three game series against the Billings Mustangs. Get your tickets by visiting the ticketing page of helenabrewers.net.