Chisholm building on strong season in AFL
No. 3 D-backs prospect led Arizona system with 25 home runs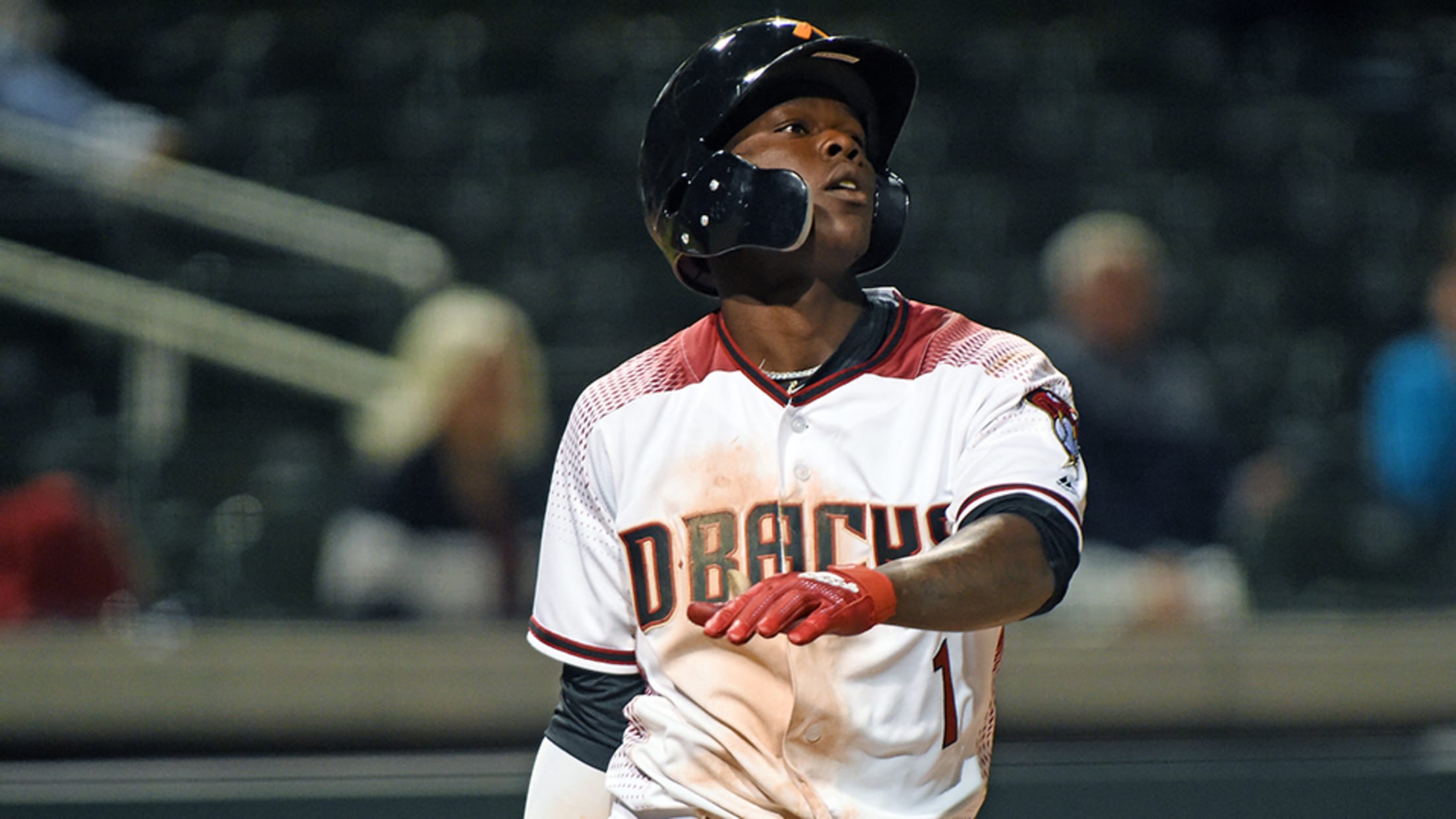 Jazz Chisholm batted .329 over 36 games following a July 19 promotion to Class A Advanced Visalia. (Brian McLeod/MiLB.com)
Let there be no mistake about it: Jazz Chisholm is comfortable letting people know that he wants to be the best player on the diamond. But at the same time, he's aware of how much he has to learn -- how much work he has to do -- before he
Let there be no mistake about it: Jazz Chisholm is comfortable letting people know that he wants to be the best player on the diamond. But at the same time, he's aware of how much he has to learn -- how much work he has to do -- before he gets to that point.
Luckily for him, he has a Rolodex overstuffed with trusty advisors he can go to for advice on busting out of a slump, or whenever he's looking for a brain to pick. Considering that list of contacts includes some ballplayers who are enshrined in Cooperstown, Chisholm makes the most of his opportunities to chat them up.
"Trevor Hoffman is one of the Hall of Famers I talk to often -- more often than not," Chisholm said. "And talking to him when I got to play under him at the World Baseball Classic for Great Britain, I feel like he helped me with my game just by talking to me as a person. He was telling me all of the failures we're going to have. Even pitchers fail; hitters are definitely going to fail."
And that's the mentality the third-ranked D-backs prospect has taken into this year's Arizona Fall League. Chisholm is using the opportunity to learn from his Salt River Rafters teammates from other systems while measuring himself against a higher level of competition.
In his limited action this autumn, the 20-year-old has stacked up well compared to just about anybody. Through six games, Chisholm has posted a team-best .444 batting average and .704 slugging percentage with two home runs and six RBIs. He's also put together four multi-hit showings.
This comes on the heels of a solid last couple of months of the season with Class A Advanced Visalia in the California League. After 76 Class A games in the Midwest League, the shortstop earned a promotion on July 19.
"It was a great opportunity, especially to play with the guys I played with the year before [in Kane County] -- they went straight to the Cal League this year," Chisholm said. "That I got to play with them again made it more fun ... and I was enjoying myself."
During his 36 games in the Cal League, Chisholm recorded a .329/.369/.597 slash line with 10 homers and 18 extra-base hits. The native of the Bahamas was even better during the last 25 games, hitting .346 with six homers and 21 RBIs as Visalia reached the Cal League Finals. With his swing, which has plenty of natural loft, Chisholm thrived in the hitter-friendly conditions of the circuit. By the end of the year, he had amassed an organization-best 25 homers over 112 games.
With the emphasis in today's game on launch angle and exit velocity, Chisholm focuses on the feel of his swing rather than the numerical values of how he's hitting the ball.
"It kind of comes natural to me," he explained. "I've always had a bit of lift in my swing, but I don't really try to. At the same time, it's just something I've been doing through the years."
Though there were some tough weeks at the plate in the Midwest League -- like when he hit .221 over 27 games in May -- Chisholm never really felt off his game or fettered at the plate during the season. He understood that some things wouldn't bounce his way and that if he kept to his approach, eventually the numbers would even themselves out. Sure enough, they did. And when it was all said and done, Chisholm had earned himself a spot among Arizona's Organization All-Stars.
"You've got to understand that if you go 1-for-3, 1-for-10, 1-for-15, you can bounce right back with a 4-for-4 game," he said. "Going through that slump and talking to all the guys like Orlando Hudson and all of the guys that we've got -- they always help. I talked to Dee Gordon this year when I was struggling a little bit and he said, 'Yeah, man, we're going to struggle.' So getting all the help from these guys has been amazing and talking to these guys that have struggled -- Hall of Famers telling me they've struggled -- has really helped me."
But just getting onto the field and playing through 112 games was an accomplishment in and of itself for Chisholm. After playing 29 games in 2017, a right knee injury sidelined him for the remainder of the season. For someone who enjoys playing the game as much as Chisholm does, the time away from the field was tough.
"I love baseball so much that it was just so much fun to be out there [again] with the guys that I'd played with the year before or the year before that," Chisholm said of his full season. "It was a lot of fun being out there smiling every day. I never took the smile off my face because of how much I love the game, and I'm playing as hard as I can and having fun like I'm still a kid in Little League."
On top of being healthy, Chisholm matured over the course of the season. D-backs vice president of player development Mike Bell took notice.
"Jazz really grew up this year," Bell told MiLB.com last month. "He matured off the field and as a player with his discipline and knowledge during the game."
Chisholm said that's been part of a process he's been going through since high school. At Life Prep Academy in Kansas, he was competing against players two years older than him.
"Just being out there a little bit more and playing with an older group of guys helped me mature," the 20-year-old said. "Everyone thinks of me as their little brother. ... They help me, they teach me, I learn from them a lot. And I don't think I'd be here without the help of those guys. I wouldn't be as mature as I am in the game if it wasn't for these guys."
As the 2019 season looms on the horizon five months from now, Chisholm is excited to build off what he accomplished at the end of this year and in the AFL. But he also knows he can't get too antsy. For him to succeed, less is more.
"One thing our coaches with the Diamondbacks tell me is that I'm way better when I try less in everything I do -- running, throwing, fielding, hitting," he said. "The less I put in, the more I get out. That's one thing I try to do, is stay calm and not try to overdo anything, because that's where I start to fail. It makes it easier for me when I don't try to overdo things, because then I make it a game again.
"I want to be the best and you have to work hard. But at the same time, don't overwork yourself. Don't get over-aggressive and don't overdo things."
Andrew Battifarano is a contributor to MiLB.com. Follow him on Twitter, @AndrewAtBatt.