On the Road: Reading's venerable turtle
Hunsicker, 67, still donning mascot suit for the Fightin Phils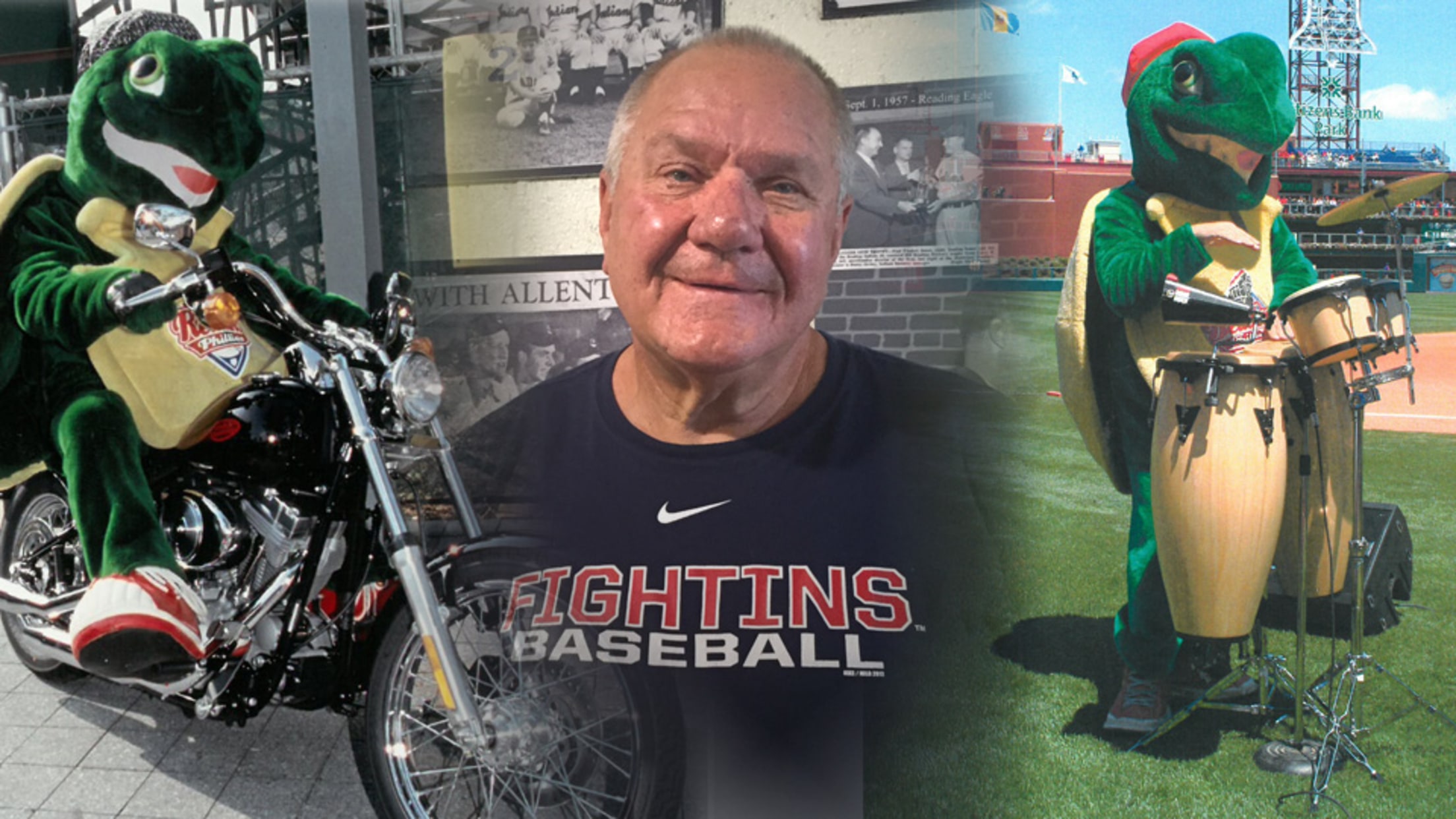 Tom Hunsicker didn't make his mascot debut until his late 40s. At age 67, the retired bread truck driver is still going strong as Change-Up the Turtle.
Retirement often gives people the opportunity to fully pursue their passions and interests. For example, 67-year-old Tom "Hunts" Hunsicker enjoys dressing up as a turtle and playing the bongos.
Retirement often gives people the opportunity to fully pursue their passions and interests. For example, 67-year-old Tom "Hunts" Hunsicker enjoys dressing up as a turtle and playing the bongos.
At FirstEnergy Stadium, home of the Double-A Reading Fightin Phils, Hunsicker has logged more than 1,000 performances as mascot Change-Up the Turtle. While assuming this reptilian alter-ego -- as he has done for nearly two decades -- Hunsicker can be found doling out high-fives, signing autographs and serving as a supplementary percussionist in the five-member Fightin Phils Mascot Band.
"It never makes any sense to me why I do what I do," he said prior to last Wednesday's ballgame. "I always loved the [Phillie] Phanatic. And acting crazy with the [mascot] head on, it's a lot better than making a fool of yourself not with the head on."
Hunsicker does what he does, in large part, because it keeps him close to his two sons. Scott secured an internship with the Eastern League club in 1992 and is now in his 11th season as general manager. Scott's younger brother, Todd, currently serves as the team's director of educational programs, music and game presentation. Todd also moonlights as Quack the Duck, playing rhythm guitar and singing alongside his turtle-costumed father in the aforementioned mascot band.
"When Scott first started working here, my wife and I were living down in Conshy [Conshohocken] and Roxborough," said Hunsicker, referencing a pair of Philadelphia-area neighborhoods. "When the summers came, unless we came to a game, we didn't see him."
During this time, Hunsicker drove a bread delivery truck for Stroehmann's Bakeries. Scott, also speaking prior to Wednesday's game, said this was a job his father "wasn't too enamored with."
"It was a good job," Scott continued. "It sent me and my brother to college. But he didn't love it, which is a huge reason I ended up here [with the Reading Fightin Phils]. He said 'Just take the job. Who cares how much it pays? Just do it.'
"So fast-forward to a couple years after I was here. We were going to go from one mascot [Screwball] to more than one mascot. And I was having that conversation with my Dad, and he was like 'Dude! I want to be a mascot!'"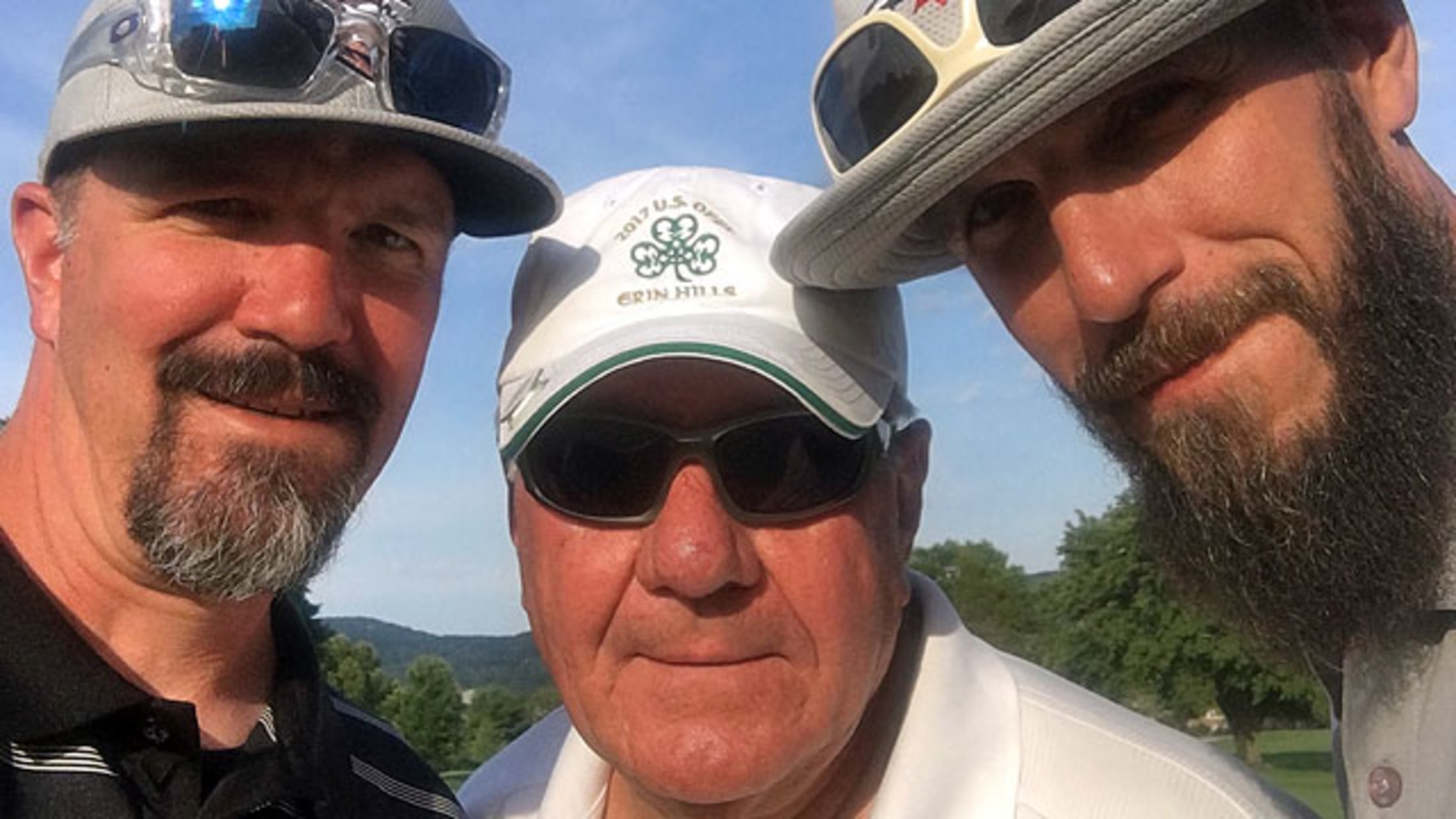 Hunsickers, from left to right: Fightin Phils GM Scott; Tom (Change-Up the Turtle); Todd (Quack the Duck)
Hunsicker was in his late 40s at this point, hardly a typical age for one to begin a mascot career. He'd begin work at the bread plant at 2 a.m., sleep for a few hours after making his deliveries, drive to the ballpark, don the mascot suit, return home, take a quick nap and then do it all over again. He credits his long tenure as a delivery driver with giving him the requisite stamina to don a mascot suit, especially at such an advanced age.
"It could've been 25 years riding in a hot Stroehmann's truck with the windows up, in North Philly," said Hunsicker. "I think if I had been sitting at a desk in an air-conditioned office, I wouldn't have gotten used to being a mascot -- as adept at it."
But adept he was, and remains. He retired from Stroehmann's over a decade ago but is still going strong as a mascot performer.
"It's pretty easy, in my opinion, to interact with the fans and stuff like that," he said. "I have signature moves that I use. I like to find the oldest lady I can possibly find, kiss her hand. I run into poles and things like that. And just try to see every person possible. ... No matter how long it takes. No matter how hot you are. Never leave, never turn down an autograph."
Hunsicker has suited up as a variety of characters in the Fightin Phils' mascot stable through the years, but Change-Up the Turtle remains his go-to costume.
"As I got older they'd stick me in Change-Up. I ended up buying my own suit, because of other people's sweat. That's the main reason," he said. "And I've been playing bongos in the mascot band for only one year less than I've been a mascot. I get to play with Todd, he plays rhythm guitar and sings dressed as the duck. We're definitely garage band-style."
Tweet from @ReadingFightins: It's Mascot Band Day! Enjoy the @NationalPenn Mascot Band during pregame tonight! See ya there! #Fightins pic.twitter.com/yqkdO30Gfm
Hunsicker said that, all these years later, he takes "pride that I can still do it and have fun doing it." He's doing it this season -- his 19th with the club -- despite undergoing knee replacement surgery this past March.
"I feel like they're paying me to go to the gym. This is my gym," he said, adding that he'd like to work as a mascot past the age of 70 "if I possibly can."
"There's a pleasure seeing the eyes of a kid, a kid that you wave at specifically. Pointing them out, waving at them, coming back to them when they call you. Where else can you get a feeling like that? Pure joy.
"It's great, it's fun and it's been worth every bead of sweat. Every bead of sweat."