Prospect Roundup: Games of April 25
Rays' Adames keeps hits coming; Jays' Alford starting to fly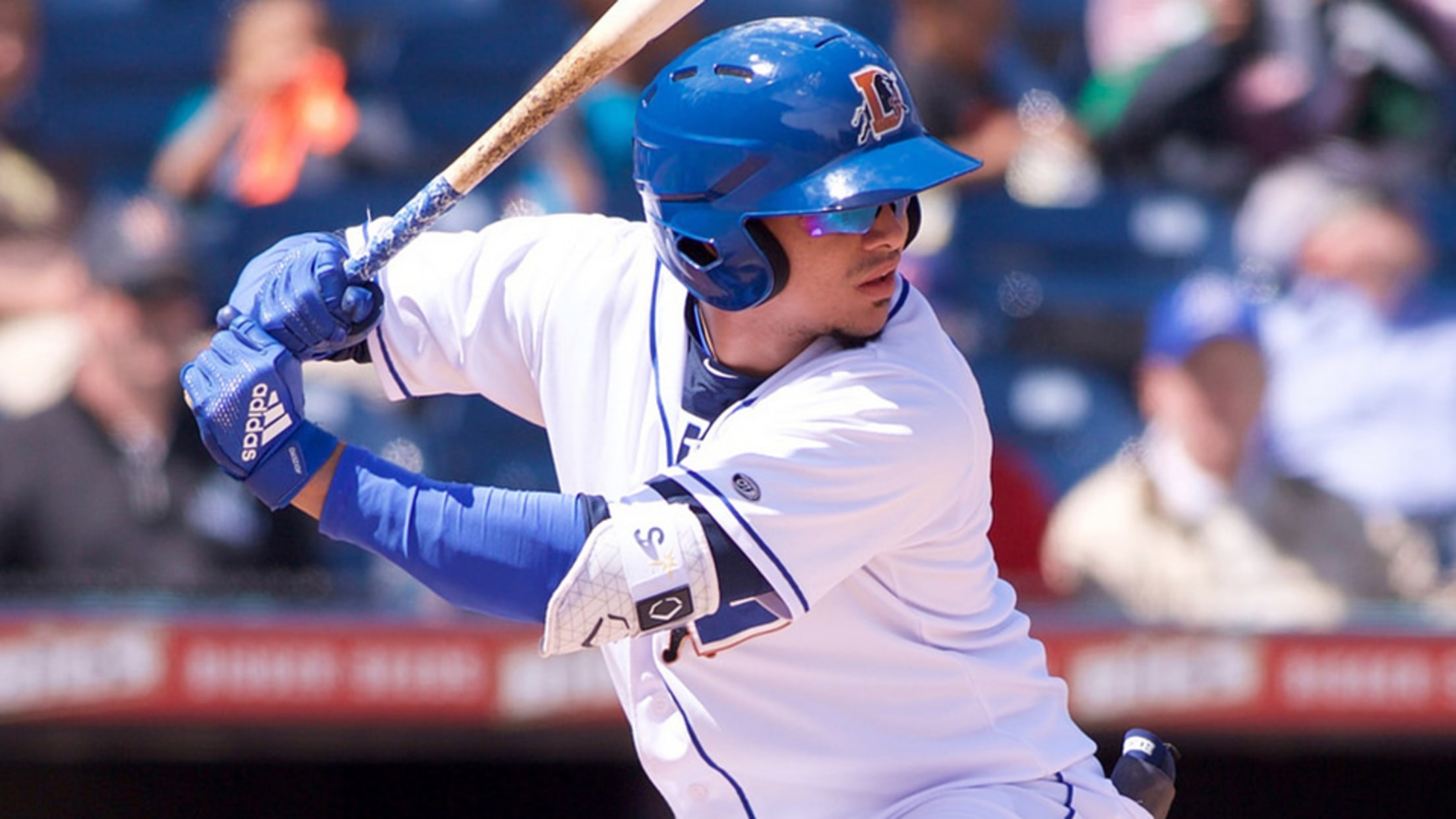 Willy Adames ranks third in the International League with a 1.035 OPS through 18 games. (Chris Robertson/KZONEimages)
Theme of the nightHow much longer?No. 10 overall prospectMichael Kopech turned in another gem for Triple-A Charlotte on Wednesday. The 21-year-old right-hander struck out eight and allowed one earned run on one hit and two walks over six frames against Louisville. He now has a 2.14 ERA, 1.00 WHIP, .189
Theme of the night
How much longer?
No. 10 overall prospect
Michael Kopech
turned in another gem for Triple-A Charlotte on Wednesday. The 21-year-old right-hander
struck out eight
and allowed one earned run on one hit and two walks over six frames against Louisville. He now has a 2.14 ERA, 1.00 WHIP, .189 average-against, 29 strikeouts and seven walks in 21 innings and his 34.1 percent strikeout rate is second-best among qualified Triple-A pitchers. Kopech likely could have begun the season in the Majors, but with his improved control, he should be a major piece of Chicago's rotation soon. It's getting to the point where we might have to start asking about
Vladimir Guerrero Jr.
as well. Now the top-ranked prospect still playing in the Minors, the 19-year-old third baseman is tearing up Double-A pitching. He went 3-for-4 with three RBIs Wednesday, adding to what's already
a New Hampshire record for run production in April
and pushing his season line to .353/.407/.529 in 17 games. Sure, it could be just a hot start. But everything -- from scouting reports to stats to the eye test -- suggests that Guerrero is capable of hitting anywhere. How much longer he'll be in Double-A is becoming a legitimate question.
Who stayed hot
Rays SS Willy Adames, Triple-A Durham: 2-for-3, 2B, BB --
Two days after hitting for the cycle, the Rays' No. 2 prospect kept things going by reaching in three of his four plate appearances in a 5-2 loss to Buffalo. He now has hits in eight straight games, during which he's 15-for-29 (.517) with six extra-base hits, five walks and only three strikeouts. Adames started slowly in his first Triple-A season, hitting just .210 with a .642 last April -- something he chalked up to trying to push too hard. He's learned to focus and is now closer to the Majors than ever with a .355/.455/.581 line in 18 games this month.
Adeiny Hechavarría
has been serviceable as Tampa Bay's shortstop, but Adames is the future and should be arriving soon.
Who needed this one
Blue Jays OF Anthony Alford, Triple-A Buffalo: 2-for-3, 2B, RBI, R, BB, K, CS --
Injuries continue to nag the Blue Jays' No. 3 prospect. This time, it was a hamstring strain that cut short an impressive spring and kept Alford from playing for Buffalo until last Friday. He started 2-for-14 (.143) in his first three games but broke out against Durham on Wednesday. The 23-year-old outfielder notched his second multi-hit game and his double was his second extra-base hit of the season. He was, however, caught stealing for the third time in five games. Alford is 0-for-3 on the basepaths, a sign perhaps that he's still getting up to speed. The arrivals of Curtis Granderson and
Randal Grichuk
this offseason, along with the emergence of
Teoscar Hernández
, complicate Alford's route back to the Majors, but if he can stay on the field, he has the tools to help the big club.
The unexpected
Royals 1B Nick Pratto, Class A Lexington: 3-for-6, 2 R, 2 BB, K, 2 SB in doubleheader --
The 2017 first-rounder is off to a hot start in his first full season. He has hits in six straight games and is batting .338/.400/.500 in 18 games overall. To see him reach base five times over the course of a doubleheader isn't suprising, but his two stolen bases -- the second and third of his season -- offer a new wrinkle. The first-base prospect gets a 40 grade from MLB.com for his speed on the 20-80 scouting scale. Nobody's told him though. Pratto has 13 career steals in 70 games. MLB.com's No. 4 first-base prospect has work to do before being considered a stealing threat along the lines of Paul Goldschmidt, for instance, but he's showing the athleticism to make it a possibility.
Best matchup
Ian Anderson vs. Taylor Trammell:
Florida and Daytona offered a fun matchup between the No. 3 and 35 picks in the 2016 Draft, and though they only squared off twice, there was no doubt who came out on top. Anderson got Trammell to fly out to left in the first inning, but the Tortugas center fielder won the war with solo homer the other way to right center to lead off the third inning. It was the third homer of the season for the No. 43 overall prospect, who is hitting .275/.390/.522 in 19 games. Anderson didn't finish the frame and was charged with five earned runs on seven hits and two walks in just 2 2/3 innings in his club's 11-2 loss. Despite their Draft status, Trammell has climbed past Anderson (No. 51) in the prospect rankings. Power is his only offensive tool that is still considered merely average, but if he can continue to tap into it, his stock will rise even further.
Who strengthened their promotion case
Yankees LHP Justus Sheffield, Double-A Trenton: 6 IP, 4 H, 3 R, 1 ER, 1 BB, 8 K, 94 pitches, 58 strikes --
The Yankees' No. 3 prospect gave some a jolt when he tweeted that he was
"New York bound"
Wednesday, but it was just to watch his parent club play. Earlier in the day, the 21-year-old left-hander made his case for promotion on the field, fanning at least eight for the third straight start and lowering his season ERA to 2.86 through four outings. He's tied for the Eastern League lead with 30 strikeouts and has held opposing batters to a .165 average over 22 innings. His control continues to improve; after walking six in his season debut, he's allowed only five free passes in his last three starts. Sheffield has pitched 115 1/3 innings for Trenton dating back to last season and looks ready for the challenge of Triple-A.
Others of note
Twins 3B/2B Travis Blankenhorn, Class A Advanced Fort Myers: 2-for-4, 2 HR, 2 RBI, 2 R --
The Twins' No. 14 prospect notched his first two-homer game since July 25, 2016 with Rookie-level Elizabethton. He's shown power potential in the past, but with a .576 slugging percentage and four homers in 18 games with the Miracle, the the potential is becoming a reality.
Nationals OF Juan Soto, Class A Advanced Potomac: 2-for-5, HR, 2 RBI, 2 R --
The Nationals' No. 2 prospect may have gone 0-for-5 in his Class A Advanced debut, but on Wednesday, he showed the special bat that pushed him to the Carolina League so quickly. With his first P-Nats homer under his belt, Soto has gone deep six times in 18 games. That's already a career high, topping his five in the Gulf Coast League in 2016.
Rays OF Jesús Sánchez, Class A Advanced Charlotte: 2-for-5, HR, 2B, RBI, 2 R, K --
The Rays' No. 4 prospect has gone deep twice in his last three games and now ranks second in the Florida State League with a .632 slugging percentage through 19 games.
Padres LHP Adrian Morejon, Class A Advanced Lake Elsinore: 5 IP, 2 H, 1 R, 1 ER, 1 BB, 5 K, 76 pitches, 46 strikes --
The Padres' No. 6 prospect seems to be settling in after an aggressive jump to the California League. This was his best start yet, with only three San Jose hitters reaching base as his WHIP dropped from 1.70 to 1.38 in his fourth Storm outing.
Sam Dykstra is a reporter for MiLB.com. Follow and interact with him on Twitter, @SamDykstraMiLB.