Prospect Roundup: Games of April 30
Astros' Tucker keeps hits coming; Stewart pushing for Detroit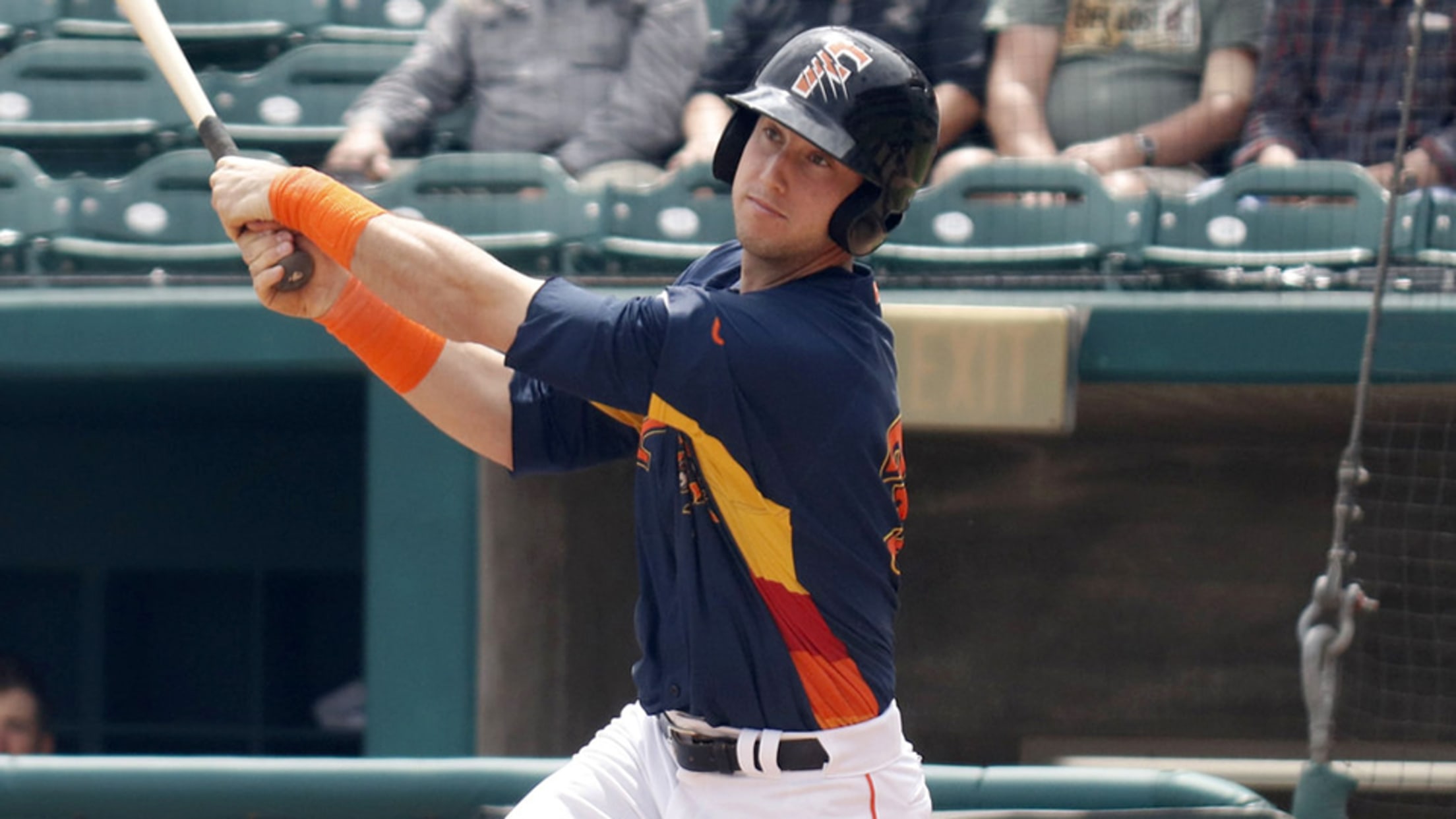 Kyle Tucker ranks second in the Pacific Coast League with nine doubles through 22 games for Fresno. (Jesus Sepulveda/Fresno Grizzlies)
Theme of the nightDon't see that every day: Despite the Carolina, Florida State, Midwest and South Atlantic Leagues being off, the last day of April featured both a triple play and a three-homer game. Double-A Springfield didn't just turn a triple play; it turned a 4-6-3-1-5 triple play that featured
Theme of the night
Don't see that every day:
Despite the Carolina, Florida State, Midwest and South Atlantic Leagues being off, the last day of April featured both a triple play and a three-homer game. Double-A Springfield didn't just turn a triple play;
it turned a 4-6-3-1-5 triple play
that featured a manager entering the field of play, a dead ball and a break for an umpire meeting. Oh, it also ended the game. Later that night,
Mike Freeman
connected on
three homers
for Triple-A Iowa. That's notable enough for anyone, but especially for a player who had hit only 21 career blasts in nine Minor League seasons and had never gone deep more than once in his previous 842 games. Strong evidence that anything is possible in Minor League Baseball.
Who stayed hot
Astros OF Kyle Tucker, Triple-A Fresno: 3-for-4, 2 2B, 3 RBI, 2 R, BB, K --
Make that two straight three-hit games for the Astros' No. 2 prospect. Tucker went 3-for-5 with a homer, a double and three RBIs Sunday at home against Tacoma and produced a very similar line a day later at Salt Lake, trading the long ball for another double and a walk. In those two games alone, Tucker raised his season line from .253/.337/.361 to .293/.371/.457, and his wRC+ is up to 114 through 22 games. At 21, the left-handed-hitting slugger is the second-youngest regular in the Pacific Coast League but is already proving to be an above-average hitter. There's little doubt Tucker can be even more of a menace in the circuit, especially in the power department -- four of his 11 extra-base hits have come in the last two days.
Who needed this one
Rangers RHP Ariel Jurado, Double-A Frisco: 7 2/3 IP, 6 H, 1 R, 1 ER, 1 BB, 5 K, 1 HR, 94 pitches, 65 strikes --
With his gem at Corpus Christi, Jurado dropped his ERA to 2.74 and his WHIP to 1.04 through four starts (23 innings). However, this is the 22-year-old right-hander's third straight season in the Texas League, and Jurado's stock has dropped with his marked inability to break out of Double-A. He posted a 4.59 ERA, 1.43 WHIP and .302 average-against in 157 innings last season with just 5.5 K/9. He's missed even fewer bats so far in 2018 (4.7 K/9), but Monday was a step in the right direction. With a 5.53 FIP and .217 BABIP, these early positive results could flip quickly as Jurado's results normalize to meet his peripherals. But for a former borderline top-100 prospect now clinging to the top 20 in his own system, Jurado will take positive news where he can find it.
The unexpected
Padres RHP Chris Paddack, Class A Advanced Lake Elsinore: 6 IP, 3 H, 0 R, 0 BB, 7 K, 75 pitches, 55 strikes --
Paddack's last start was on July 18, 2016 before undergoing Tommy John surgery. More details from Paddack's start in Vincent Lara-Cinisomo's story
here.
Best matchup
Beau Burrows vs. Austin Hays:
This could also go to Corbin Burnes vs. Dustin Fowler, but that was covered more thoroughly in Nathan Brown's writeup of
Fowler's near cycle.
Instead, Monday's Eastern League matchup between Erie and Bowie featured two of MLB.com's top 100 prospects. With Burrows's plus fastball and Hays's slugging potential, this had the chance to be a real power-on-power matchup. Instead, the ball never left the infield in the three matchups between the two. The SeaWolves starter got his fellow righty to ground out to third, pop up to second and reach base on an infield single to third. Burrows finished with his first quality start of the season, allowing two earned runs on seven hits and a walk while fanning six in six innings, while Hays ended the night 1-for-5 with a strikeout. It hasn't been a dream return to Double-A for either prospect -- Burrows has a 3.66 ERA and 1.32 WHIP while Hays is hitting .221 with a .645 OPS -- but both have promise.
Who strengthened their promotion case
Tigers OF Christin Stewart, Triple-A Toledo: 2-for-2, HR, 3 RBI, 2 R, BB --
The Tigers couldn't have asked for a better performance from their No. 10 prospect to close out his first month at Triple-A. The 24-year-old outfielder went 12-for-19 (.632) with two homers, a triple, three doubles and eight RBIs in his last five games and is now hitting .311/.404/.568 with four long balls in 21 games. Power has always been Stewart's strongest tool, but the most promising development is that he's making a lot more contact. His strikeout rate has dropped from 24.9 percent last season at Double-A Erie to 14.6 percent so far with Toledo. Outside of
JaCoby Jones
, Detroit has struggled to find much production out of the left field spot, ranking 26th in baseball with a -0.3 WAR at the position. Stewart isn't on the 40-man roster yet, and with the Tigers not expecting to contend, they'll give Rule 5 pick
Victor Reyes
every chance in the outfield, but the Mud Hens slugger is doing all he can to break through.
Others of note
Marlins OF Monte Harrison, Double-A Jacksonville: 3-for-4, 2B, 2 R, K --
Miami's top prospect was featured in the "Who stayed hot" slot for Sunday's games and only got hotter with three more hits Monday. In his last 10 games, Harrison is hitting .375/.405/.700 with two homers and seven doubles.
Blue Jays 3B Vladimir Guerrero Jr., Double-A New Hampshire: 2-for-4, 3B, 2 R, BB, 2 K --
The Minors' favorite teenager finished his first month in Double-A with a .380/.442/.582 line over 20 games. His 1.024 OPS is second in the Eastern League, trailing only Peter Alonso's 1.282.
Mariners 1B Evan White, Class A Advanced Modesto: 3-for-5, HR, RBI, R, K --
The Mariners' No. 2 prospect connected on his first homer of the season in his third straight multi-hit game. After a rough start to his first full season, White has his line up to .286/.382/.377, and increasing his power will be a key as the season progresses.
Sam Dykstra is a reporter for MiLB.com. Follow and interact with him on Twitter, @SamDykstraMiLB.