Stacking up some of the biggest burgers in MiLB
National Hamburger Day offers reason to dig into team offerings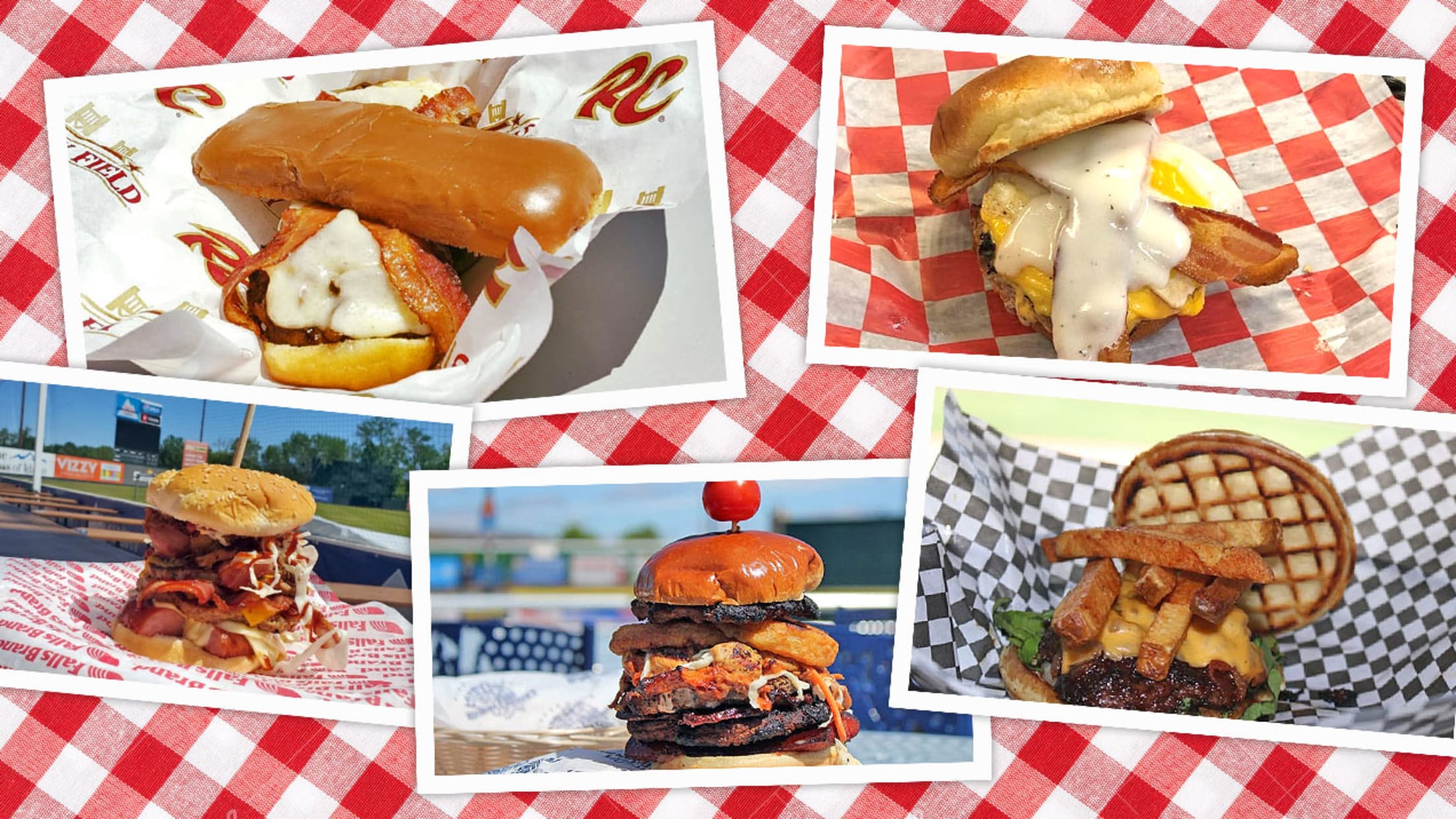 On National Hamburger Day, MiLB.com takes a look at the most outrageous burgers served at Minor League ballparks across the country.
On National Hamburger Day, MiLB.com takes a look at the most outrageous burgers served at Minor League ballparks across the country.
Moo-ve over hot dogs -- we're showing off a different ballpark staple today.
May 28 serves as National Hamburger Day, and if you're looking for a plain and simple, standard burger, well ... you might be disappointed. But if you're searching for creative and, at times, outright absurd concoctions, you've come to the right place.
For a long while, teams across the Minors have been proud to showcase some unique concession creations -- and burgers are certainly no exception. From brunch burgers to themed toppings and massive meat patties, Minor League clubs have upped the ante when it comes to what qualifies as a burger.
But if you don't believe us, see for yourself. Our first entry should do all the convincing you need.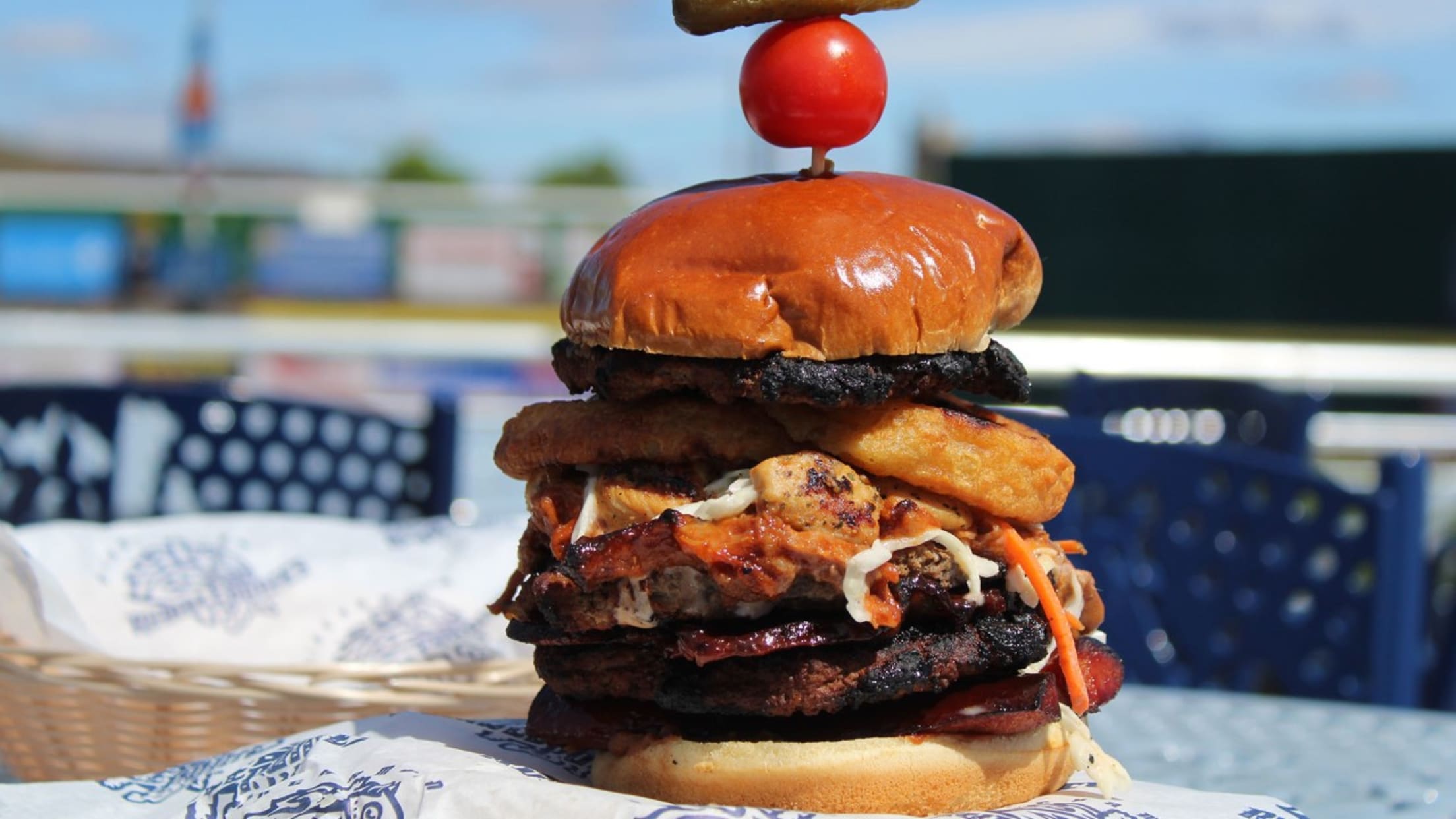 The appropriately named Belly Rumbler Sandwich comes courtesy of the Double-A Binghamton Rumble Ponies. This burger contains three one-pound patties, but that's only the beginning. Also stacked in between a Felix Roma Roll is: a layer of bacon, baked beans, kielbasa sausage, beef brisket, pulled pork, coleslaw, spiedies (marinated meat cubes -- a Binghamton must), two onion rings. That's enough to make you full just reading it.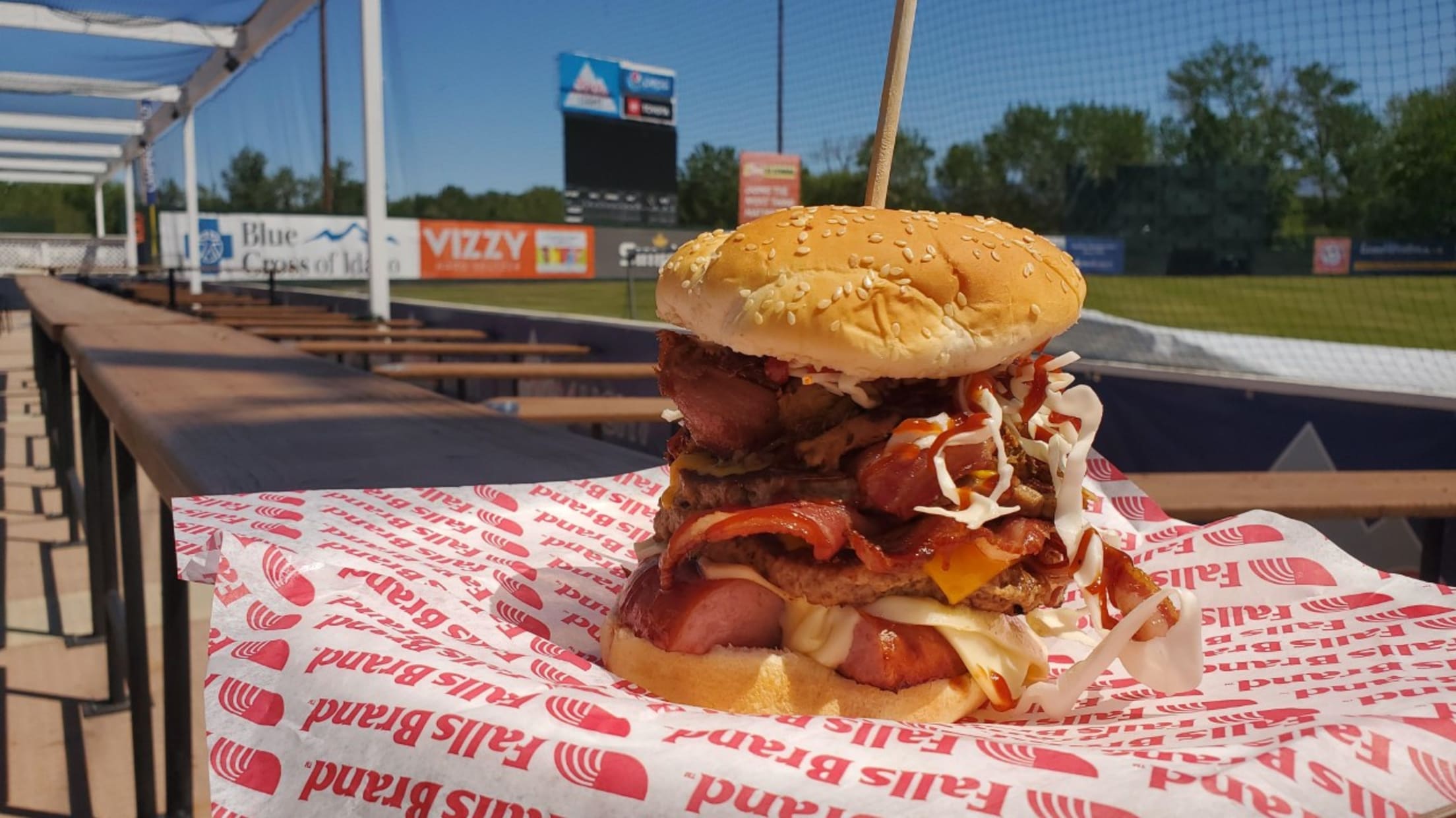 The Class A Short Season Boise Hawks have a more "modest" -- and we use that term lightly -- approach when it comes to their signature burger. The Hawkzilla features a two-third-pound beef patty along with heaps of thick-cut bacon and American cheese, all atop a kielbasa sausage. And if that's not enough, it's all crowned with a slathering of white American cheese and sliced cabbage. Oh, and some Idaho pulled pork, because why not?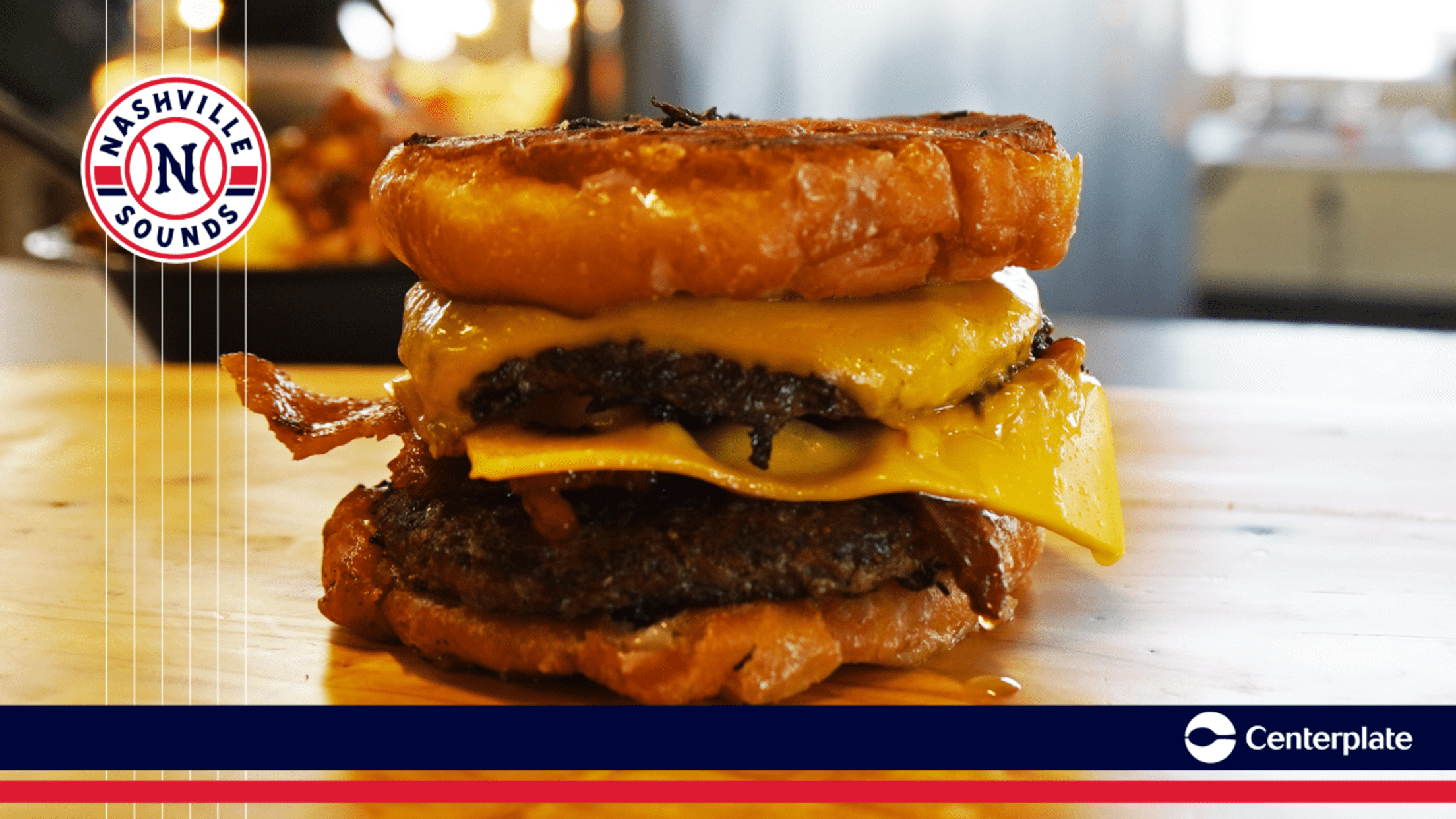 The Triple-A Nashville Sounds boast two submissions available at First Horizon Park. First -- for those of you with a sweet tooth -- the Honeybun Burger: two quarter-pound beef patties and four slices of American cheese sandwiched between two griddles Honeybun pastries. If you prefer something more savory -- or you just really like cheese -- no worries. You can always order a Grilled Cheese Burger, which comes exactly how it sounds, or maybe twice as nice as it sounds. Two grilled cheese sandwiches serve as "buns" for two quarter-pound patties, with four additional slices of cheese mixed in. That brings the grand total to eight (yes, eight!) slices of cheese.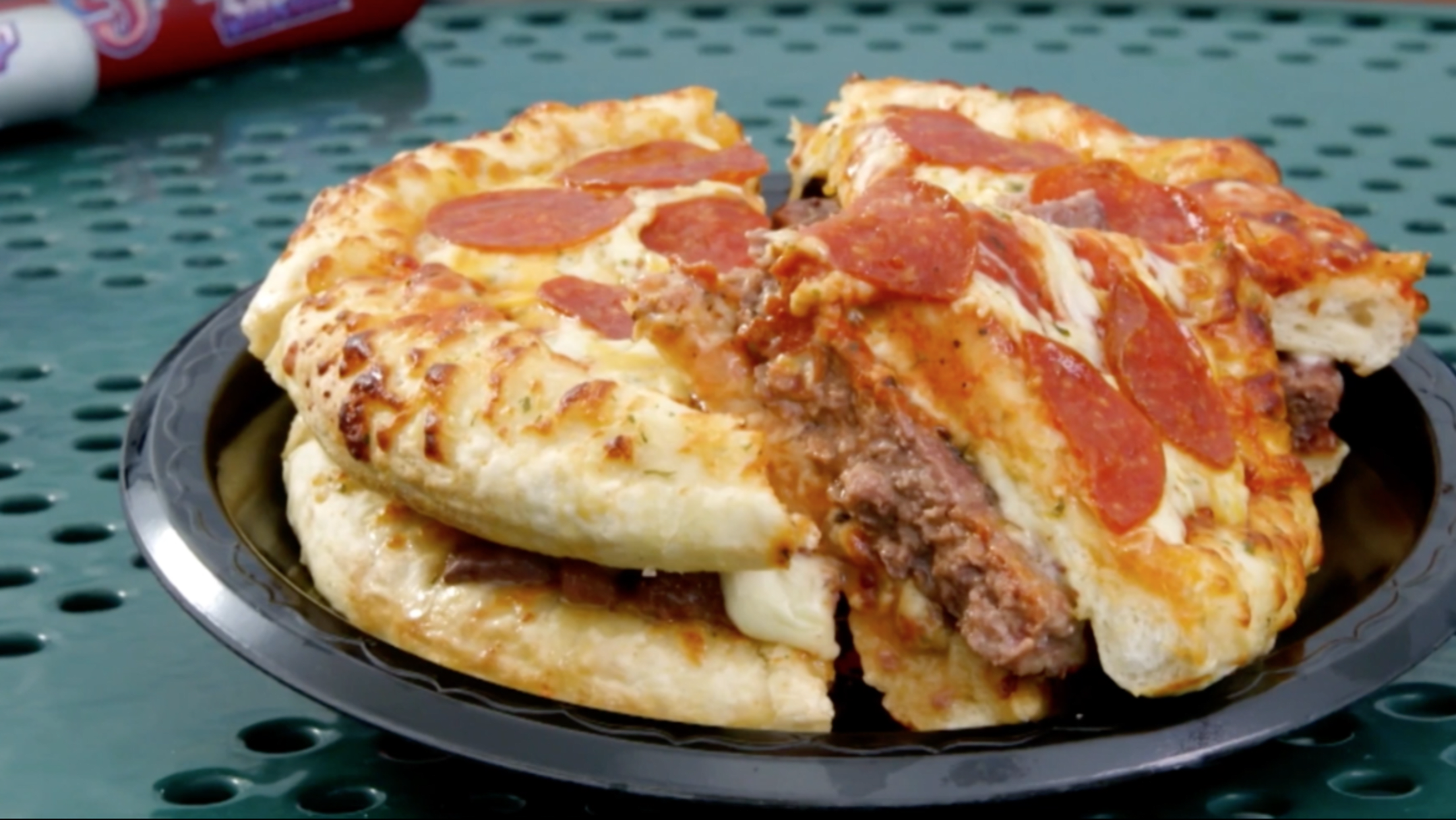 If you're one of those people who can never decide what to eat at the ballpark, have no fear. The Double-A Jacksonville Jumbo Shrimp have combined two fan favorites into one. The Bold City Burger Pie is the perfect meal for someone who wants both a burger and a pizza. A one-pound beef patty, covered with two slices of pepper jack cheese, is served between two eight-inch pepperoni pizzas. The order comes with the disclaimer: "Sharing is recommended."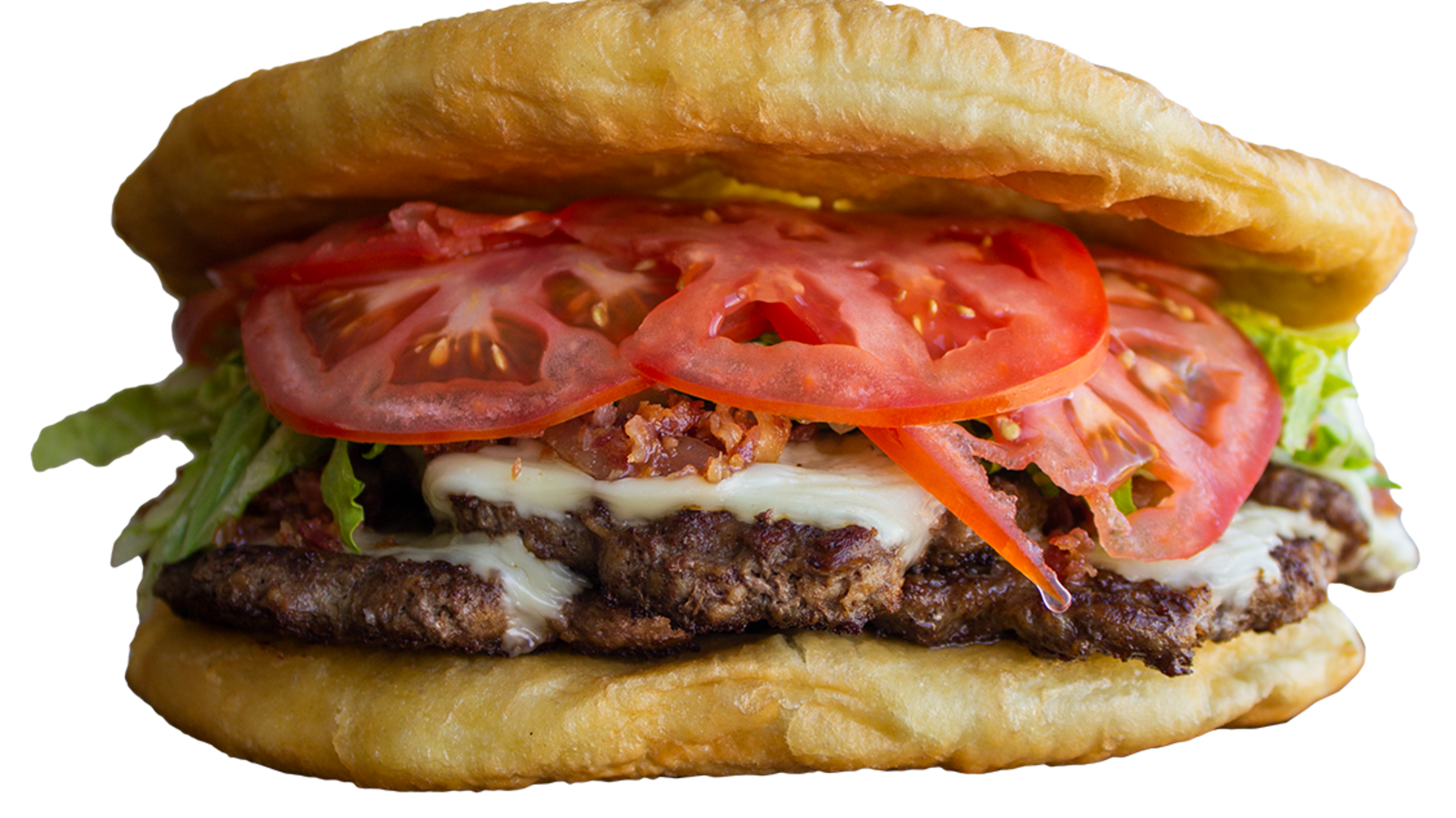 Perhaps you find yourself at a Double-A Portland Sea Dogs game and, coincidentally, you haven't eaten in a week. What should you order? The Fried Dough Burger should do the trick. Stacked between two pieces of fried dough are exactly eight burger patties topped with cheese, lettuce, tomato and bacon crumble. You probably won't need to eat for another week after, either.
Maybe you're not a total burger person, preferring breakfast as your meal of choice. The question for you is, why not both? Teams across Minor League Baseball have compiled dozens of brunch burgers and donut buns. Let's dig in.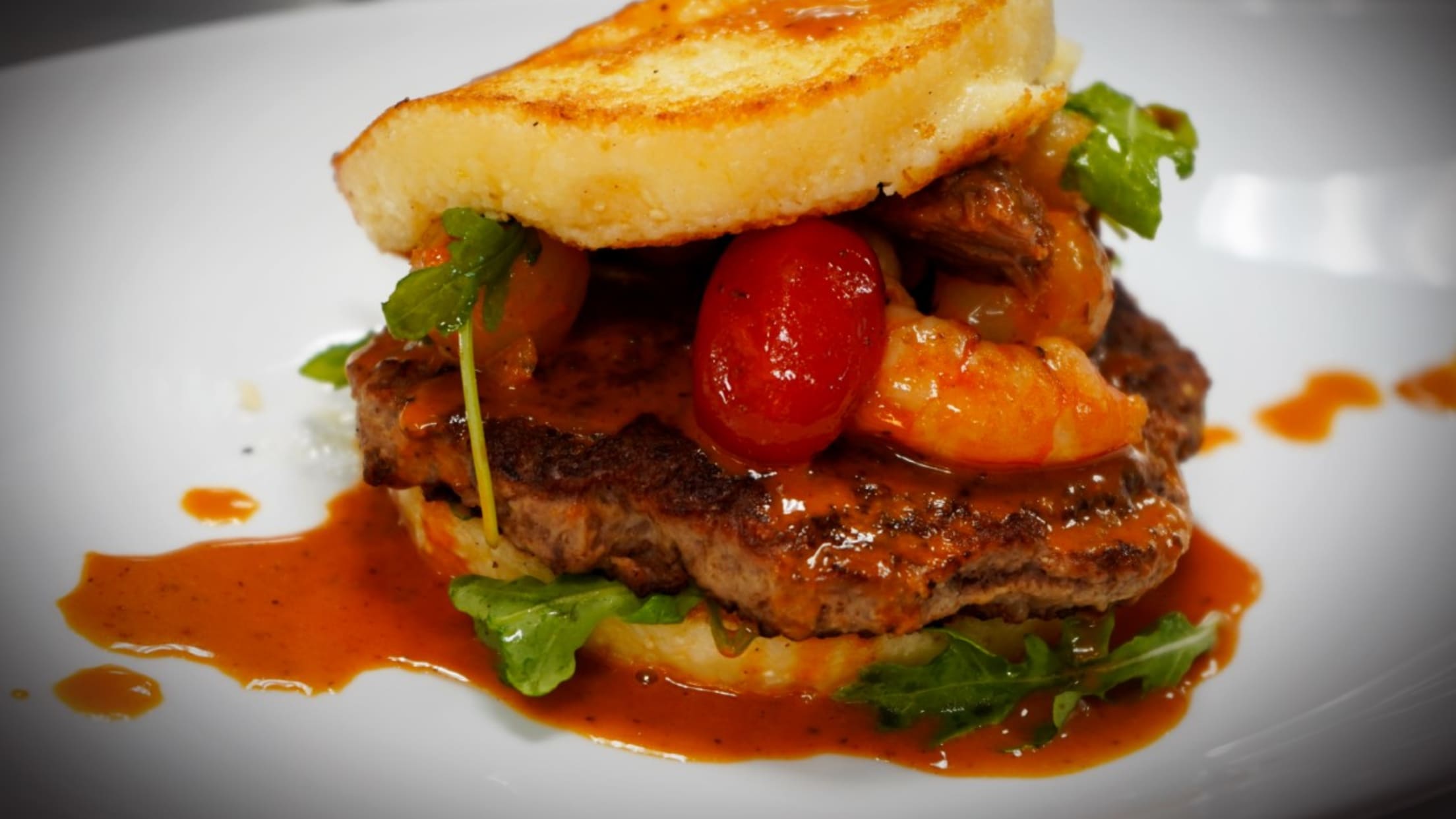 First up: The Smokin' ChuckTown Brunch Burger, via the Class A Charleston RiverDogs. This burger features both an all-beef patty and smoked beef brisket, along with shrimp, smoked tomatoes, onions and Bloody Mary mix. Then there's the bun, which pays homage to the town's signature dish. Since shrimp n' grits are a necessity in nearly every Charleston restaurant, the RiverDogs made sure to incorporate the iconic pair into their burger. The grits are slow cooked and placed in bun-like molds overnight, tying the burger together.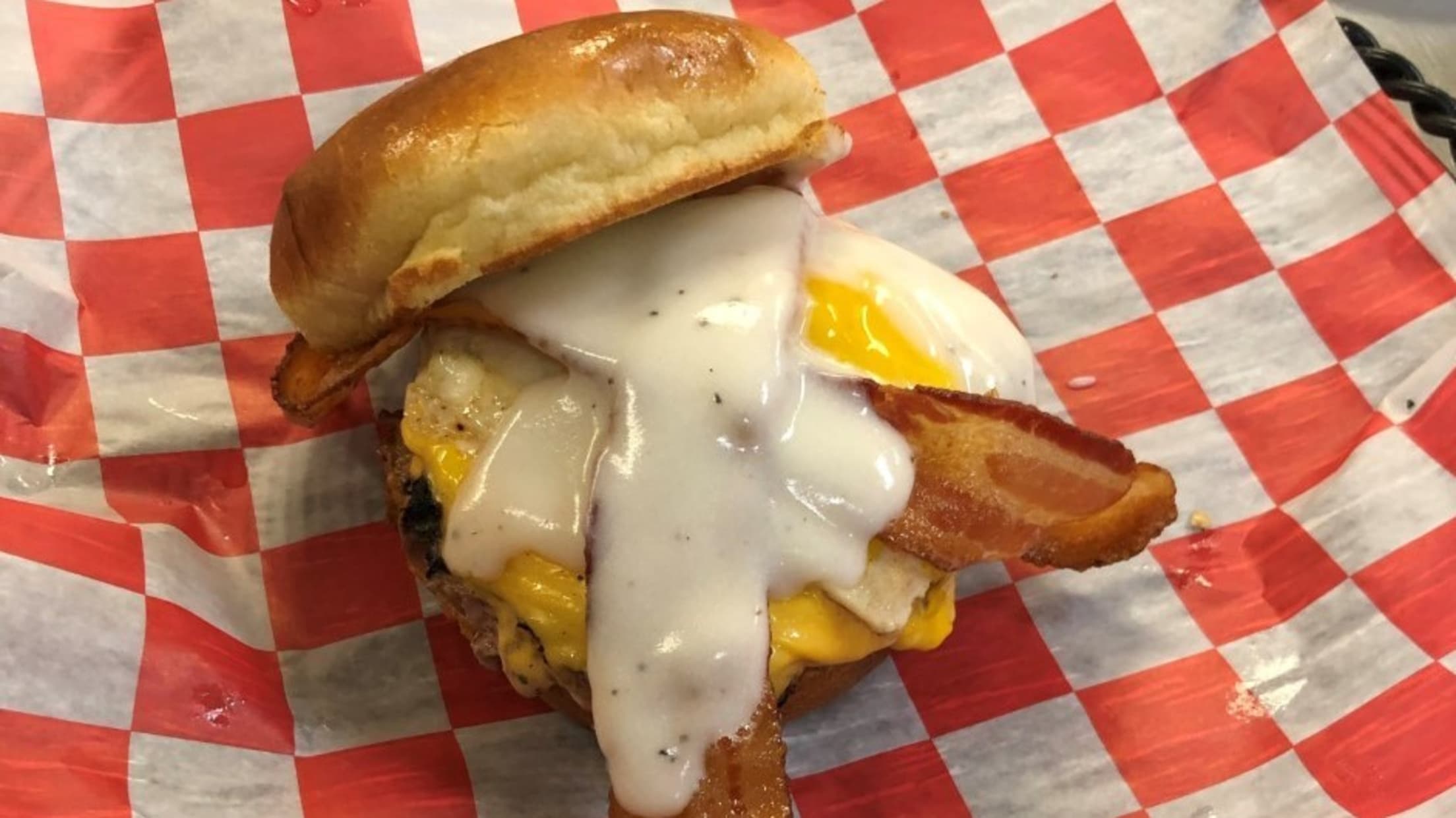 The Class A Peoria Chiefs offer a full breakfast with their burger. The Rise-n-Shine burger comes with a traditional patty topped with American cheese. It also features a fried egg, bacon and gravy -- your perfectly basic, standard breakfast!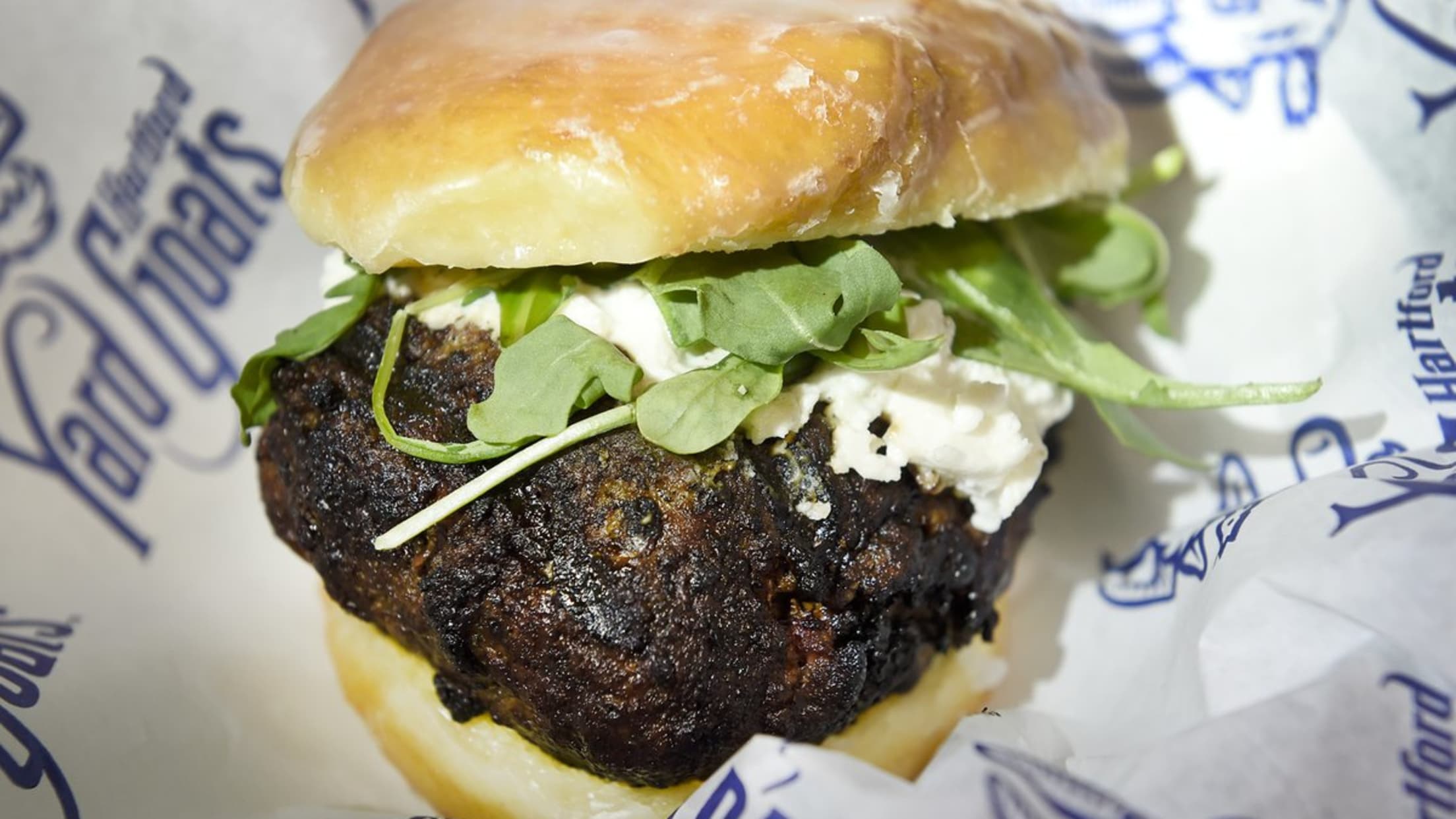 The Glazed and Grazed burger comes courtesy of the Double-A Hartford Yard Goats. A classic burger along with arugula and goat cheese make up the middle, while two glazed donuts serve as the buns for that sweet and savory 1-2 punch.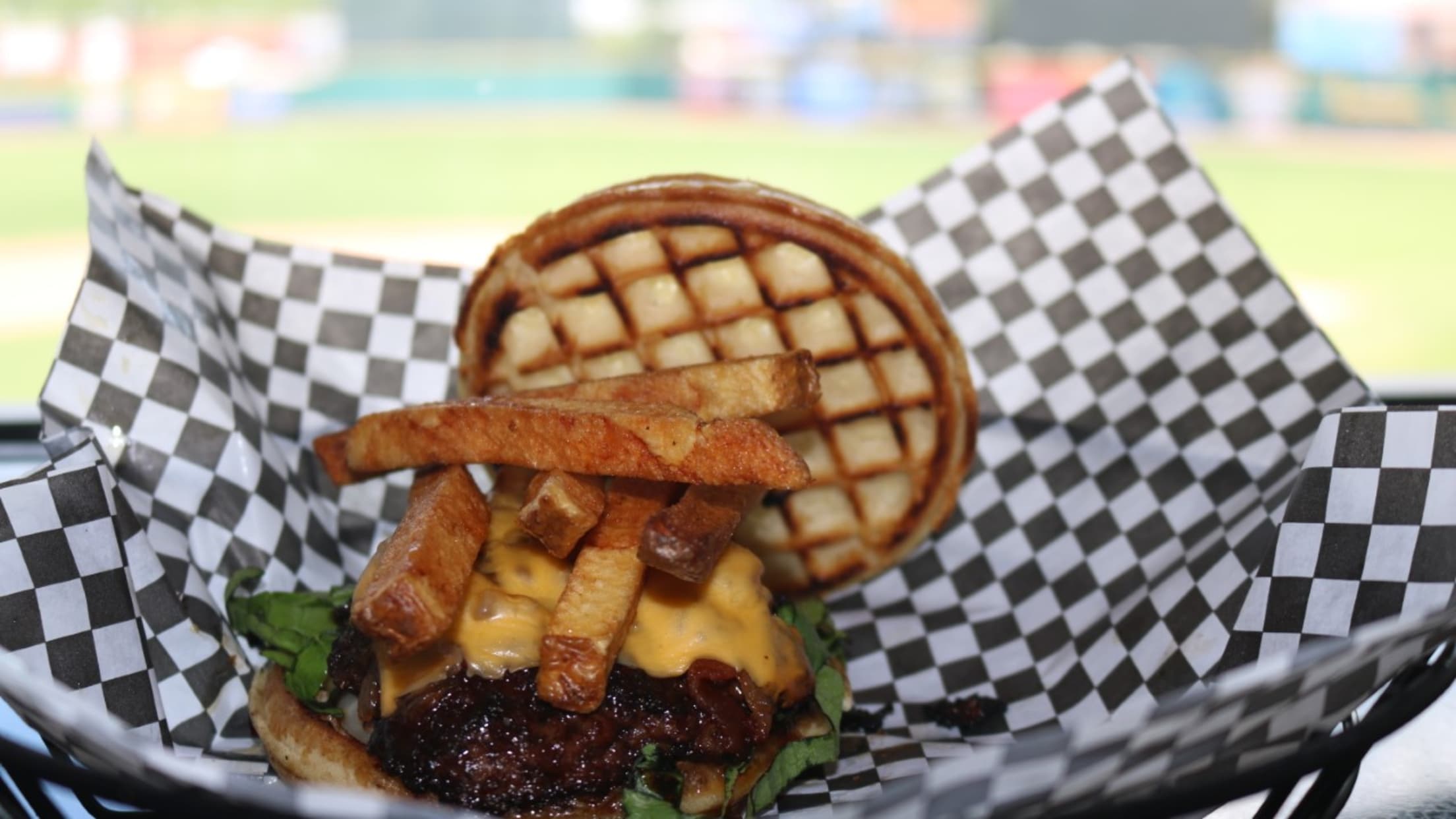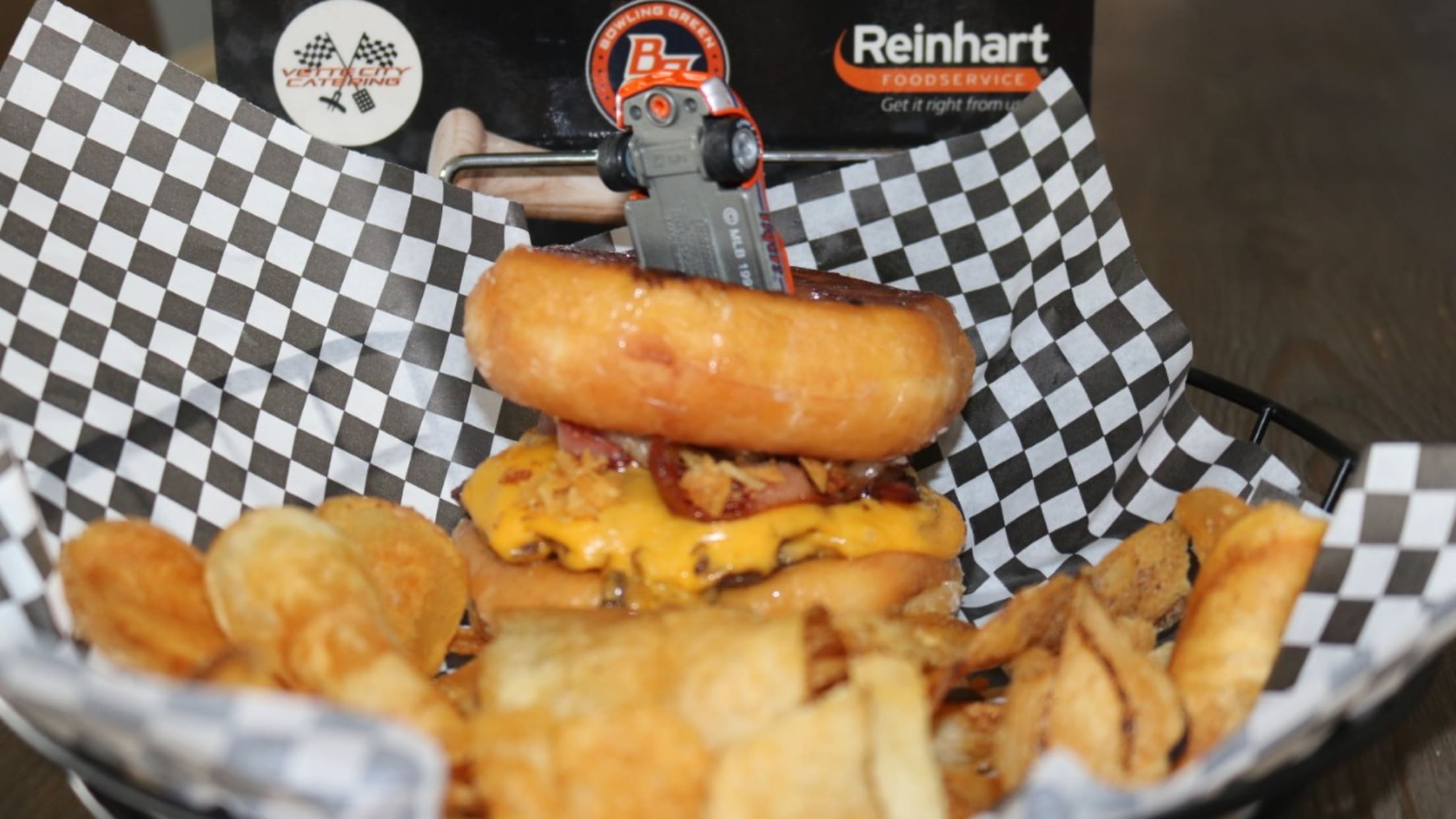 Class A Bowling Green debuted their Eleven burger on "Stranger Things" Night -- a tribute to the popular Netflix show. The burger consists of a third-pound patty, cheese and french fries, all mashed between two Eggo waffles. Additionally, the Hot Rods paid homage to the town's history when they played a game as the Bowling Green Sinkholes in commemoration of the Corvette Museum Sinkhole. (Yes, a sinkhole opened up under the National Corvette Museum on Feb. 12, 2014, swallowing eight Corvettes). On a theme night nodding to that event, the team debuted the Sinkhole burger. It features the standard burger with cheese and bacon, stuffed between two glazed donuts and a miniature toy car.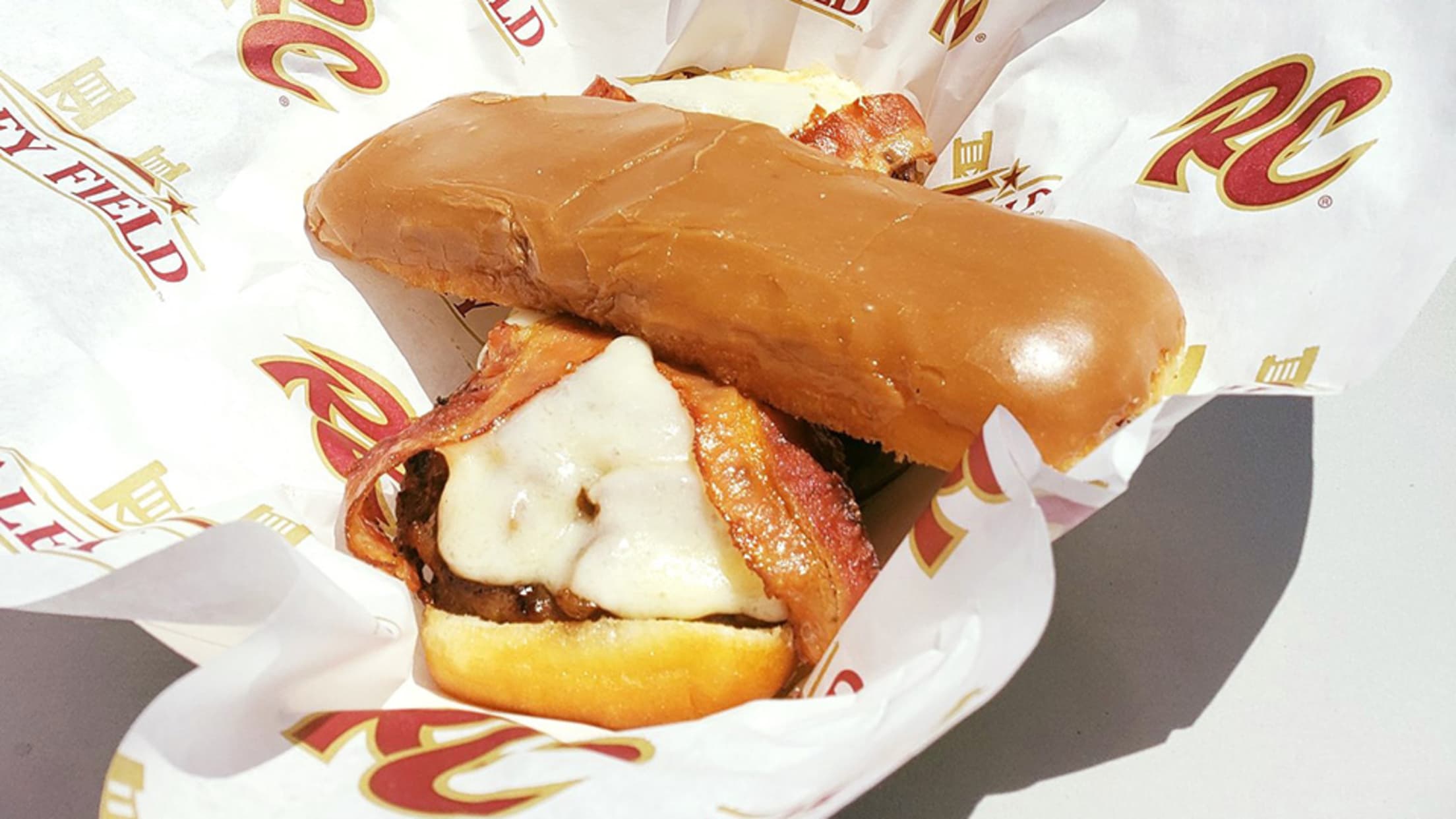 If none of those breakfast options sound appealing, you can always enjoy a special twist on a classic from the Triple-A Sacramento River Cats. The Bourbon-Bacon Maple Bar Donut Cheeseburger debuted at Sutter Health Park last season. It boasts three slider patties, whiskey onions, bacon and havarti cheese, all sandwiched between a maple bar.
Can't get enough of these glorious grill masters? Here are a few "tamer" options. And by tame, we mean *slightly* less excessive.
For those wanting a closer look at our brand new "Tumbleweed Burger" - here ya go!

Featuring a green chile bun with a grilled Angus burger, ghost pepper cheese and a large poof of red chile cotton candy. pic.twitter.com/WKBAh5whUV

— Albuquerque Isotopes (@ABQTopes) April 2, 2019
Take the Triple-A Albuquerque Isotopes and their Tumbleweed burger. This spicy creation features a grilled Angus patty and ghost pepper cheese. Things really heat up as it's topped with red chile cotton candy!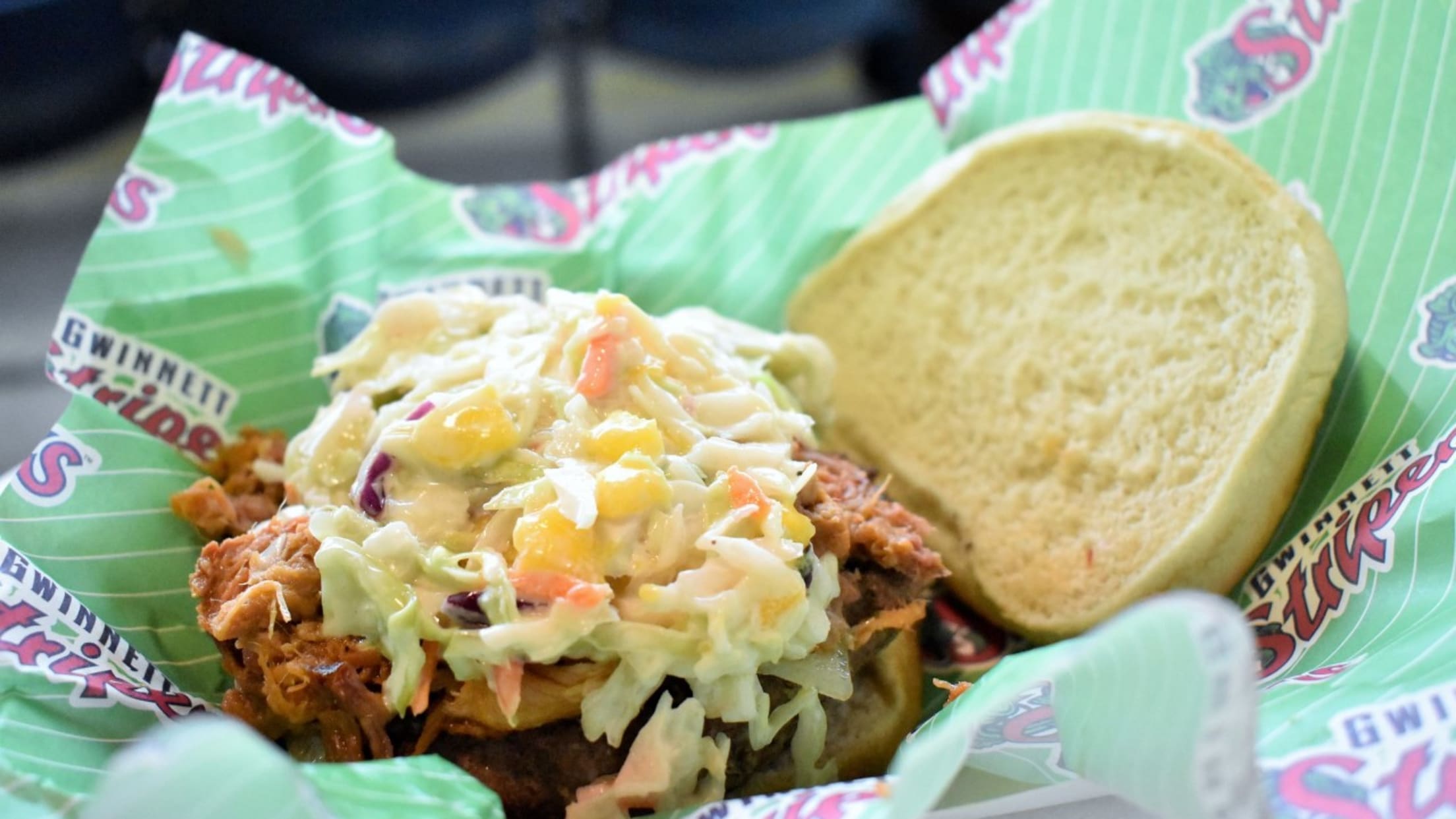 Inspired by the flavors of their home state, the Triple-A Gwinnett Stripers delivered the Southern Burger, featuring a grilled patty piled high with pulled pork, house-made mango coleslaw and peach-infused barbecue sauce for the perfect Georgia treat.
Who wants a #Thanksgiving #Burger? pic.twitter.com/9Msyiqf3iZ

— South Bend Cubs (@SBCubs) November 25, 2019
The Class A South Bend Cubs' Thanksgiving Burger is perfect for those who crave the holiday season in the summertime. It comes with all your favorite holiday fixings, including mashed potatoes, gravy, stuffing and cranberries.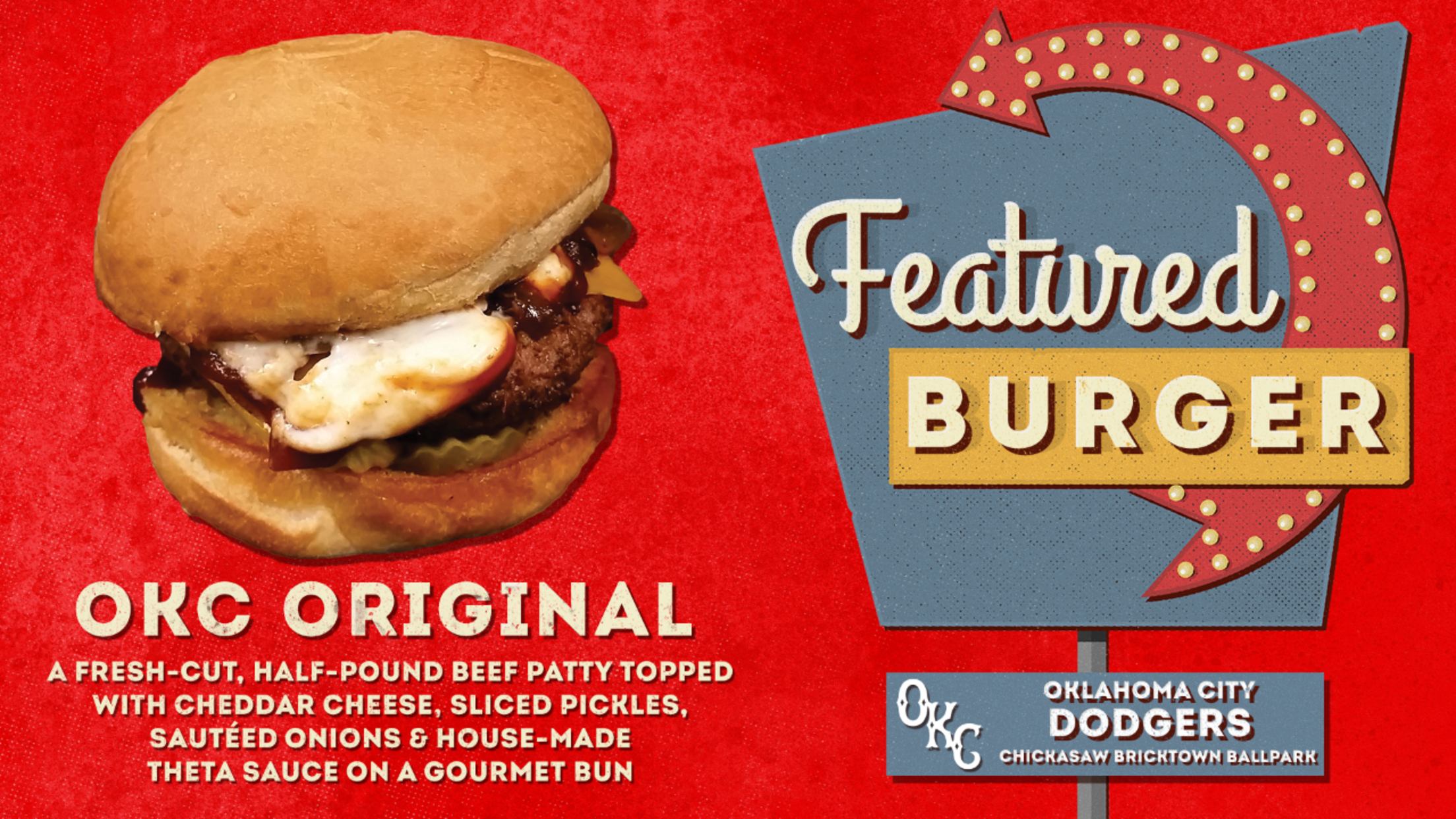 The Triple-A Oklahoma City Dodgers' "OKC Original" Burger packs a punch. This half-pound patty comes with cheddar cheese, sliced pickles, homemade sauce and a hearty serving of sauteed onions.
Welcome to PNG Field, home of the Curve Burger. Can I take your order? #NationalHamburgerDay 🍔 pic.twitter.com/uBYKv0dYQd

— Altoona Curve (@AltoonaCurve) May 28, 2019
The Curve Burger may look standard, but if you ask the people of Double-A Altoona, they'll tell you it's the best burger in baseball. Many around the Minors would agree ... and we'd be remiss to leave it out!
Katie Woo is a contributor to MiLB.com. Follow her on Twitter @katiejwoo.