Surprise! Wings' Curtis nails hidden-ball trick
Third baseman catches Knights' Smith straying from bag for out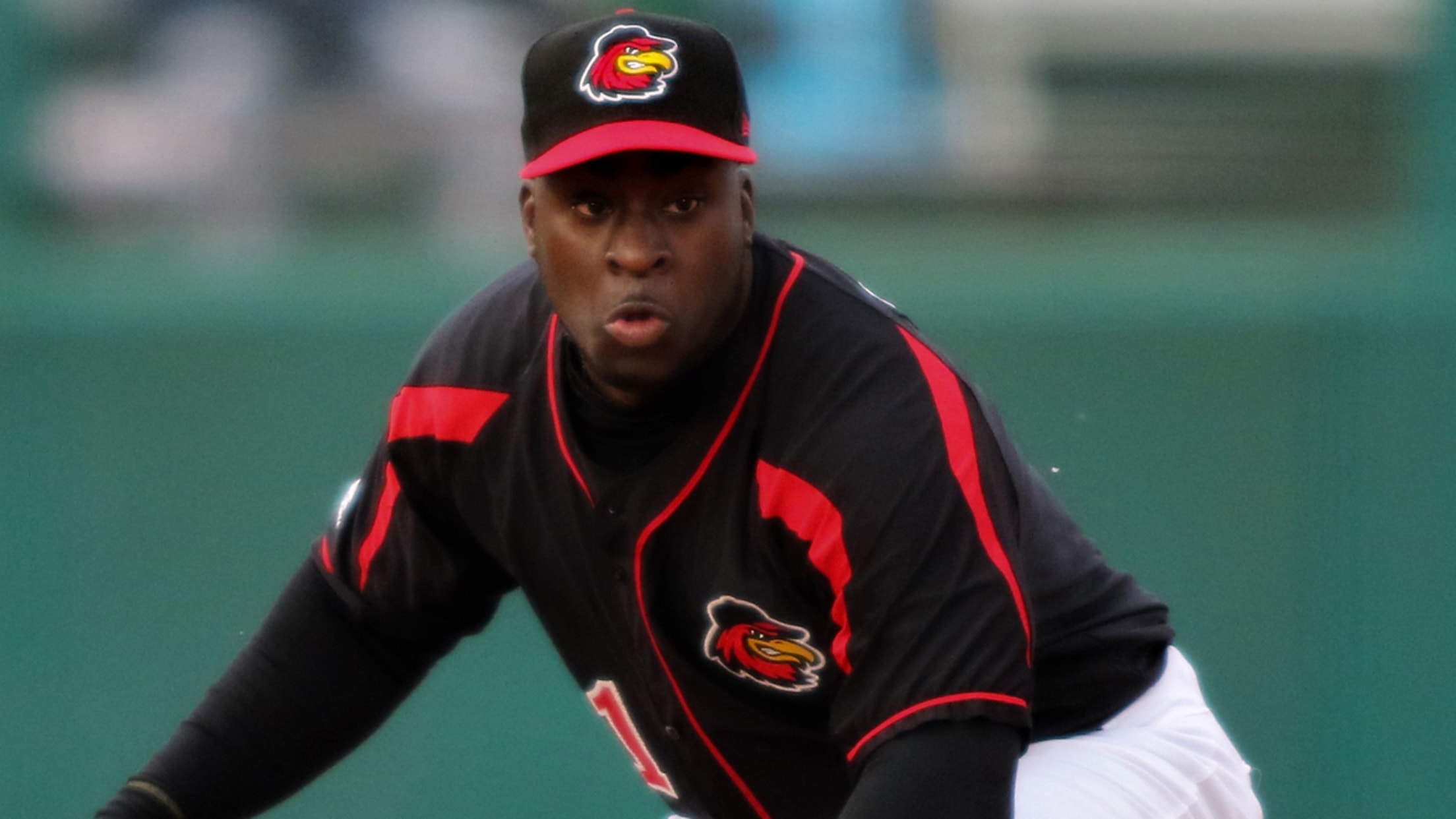 Jermaine Curtis signed with the Twins in January after spending last year with the Athletics. (Joe Territo/Rochester Red Wings)
The most important conversation in the field for the Triple-A Red Wings on Tuesday required no words.After giving up an early lead in the fourth inning, Rochester third baseman Jermaine Curtis and relief pitcher D.J. Baxendale used a moment of unspoken connection to short-circuit a Charlotte rally. Curtis successfully executed
The most important conversation in the field for the Triple-A Red Wings on Tuesday required no words.
After giving up an early lead in the fourth inning, Rochester third baseman Jermaine Curtis and relief pitcher D.J. Baxendale used a moment of unspoken connection to short-circuit a Charlotte rally. Curtis successfully executed a hidden-ball trick to surprise Charlotte's Kevan Smith at third base, and Baxendale used the swing in momentum to get out of the frame in the Red Wings' eventual 5-3 loss to the Knights.
"They had a rally going, and I figured it was the perfect time," Curtis said. "I try at least once or twice a year, and it usually works best when there's a big situation. There was a runner on first and second, they hit a line drive into left. I went to cut it off at third base, and so it was bases loaded. The score was 4-3 at that time with one out, so I knew it was a big situation and no one was paying attention to me."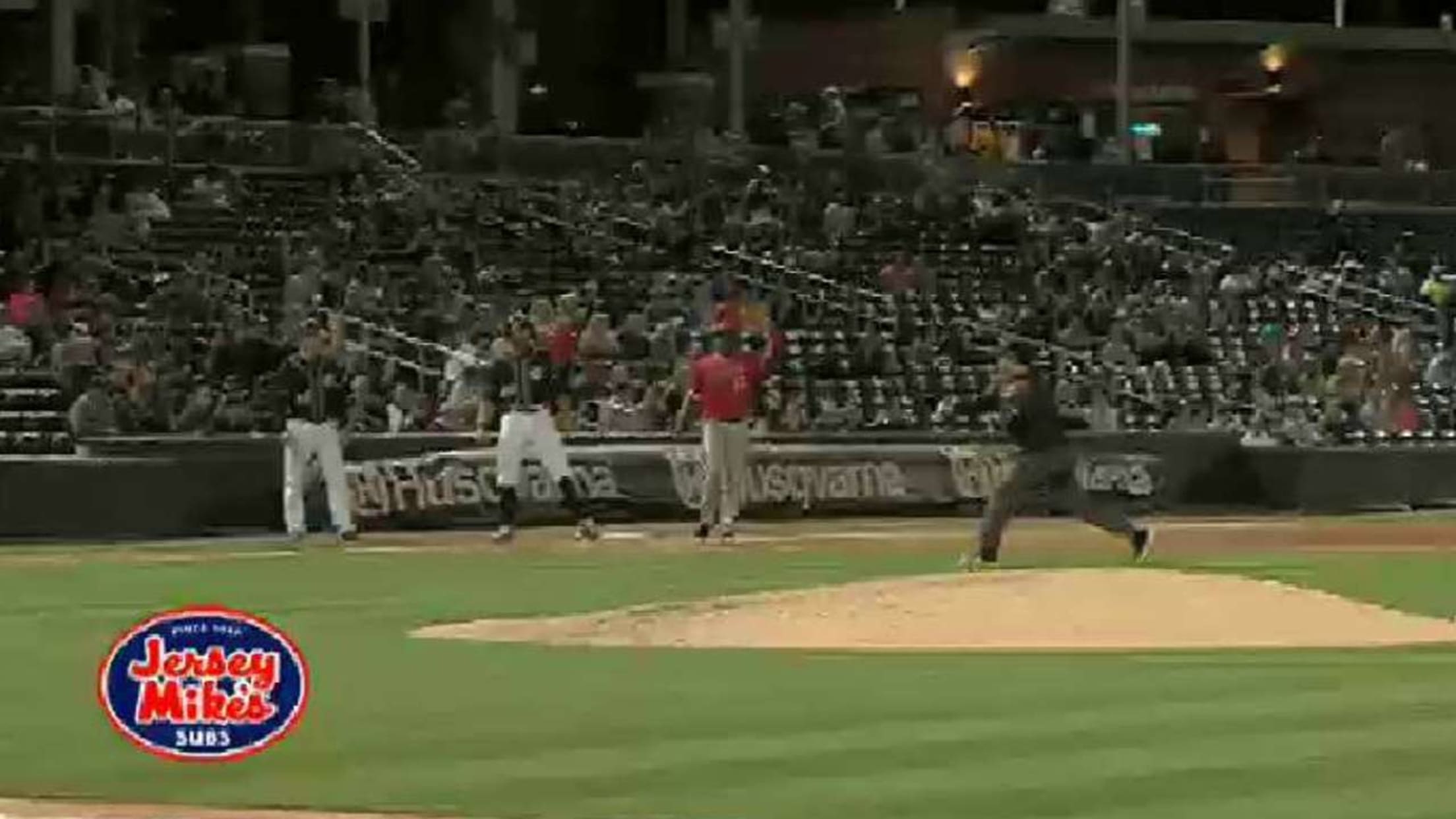 His pitcher was.
Baxendale entered with one out in the fourth, immediately after an RBI single by No. 30 White Sox prospectDaniel Palka plated Chicago's No. 15 Charlie Tilson with the go-ahead run. With two men aboard, Patrick Leonard greeted Baxendale by lining a single to left to load the bases with Palka on second and Smith at third -- or so the Knights assumed.
As Curtis cut off the throw back to the infield, he caught Baxendale's eye.
"I just hid it in my glove, and then I turned around and looked at D.J. Baxendale," Curtis said, "and it was like we were on the same page. He knew what I was thinking and I knew what he was thinking."
"I gave up the hit, and I noticed the guy wasn't going to score, so I kind of shut it down," Baxendale added. "I was in between home and the pitcher's mound. Jermaine caught the ball and kind of gave me a look and then gave me, like, the air throw and put the ball in his glove. I noticed that the coach (Knights manager Mark Grudzielanek) and the guy on third base weren't really paying attention, so I fake caught it and tried to slow walk around the mound, act like I was regathering myself."
Gameday box score
After miming the throw back to his pitcher, Curtis had to non-verbally cue another performer in the spontaneous moment of baseball theater.
"The umpire (Scott Costello), he was looking at me, and I just showed him the ball as I was walking to the bag," the third baseman said. "He just started walking my way, and Baxendale was the biggest actor and the key to this because he did not go on the mound. He just walked around the mound and stood there like he was rattled."
Had the righty gone to take his place atop the hill, the moment would've been for naught. Rule 6.02(a)(9) of the Official Baseball Rules says, "If there is a runner, or runners, it is a balk when the pitcher, without having the ball, stands on or astride the pitcher's plate or while off the plate, he feints a pitch."
Baxendale knew.
"I come from a baseball family," said the pitcher, whose father, Greg, has been a scout for Cleveland and a collegiate coach. "I've kind of been stressed with the rules, so I knew as soon as he kept the ball, I had to stay off the dirt and just kind of sell it, walk around, stretch a little bit, just do anything I can to make that guy take that extra step off, make him think I'm getting ready to pitch. I was probably 10 to 15 feet off the mound, and then making that slow walk up toward the mound, I think that made him feel comfortable over at third, just enough to take that step off.
"It all fell into place spontaneously."
Curtis watched and waited.
"He kind of just got it," the third baseman said. "He didn't go on the mound. He basically just took his time to give me enough time to get over to bag and just wait.
"No one yelled anything, and mind you, in my head, it took a long time for the guy to get off the bag. In my head I'm like, 'Man, should I throw it back?' Baxendale was just acting. He just kept walking behind the mound like he was rattled, like he was frustrated. He just bought me enough time."
What felt like an eternity to Curtis might have taken seconds, but the gap between Smith's foot and the third-base bag finally appeared.
"The third-base coach and the runner were chit-chatting the whole time, so they weren't paying attention to me at all," Curtis said. "I literally was standing like six feet away from the bag just waiting to see if he was going to get off the bag. Finally he just took one step off the bag as he's still talking to the coach, and I just ran and tagged him.
"It was great because it killed their rally."
Confusion briefly ensued. Rochester shortstop Gregorio Petit thought Curtis had been ejected from the game. Grudzielanek and Smith asked the umpire what had happened. Curtis wasn't surprised. Though he said the trick hasn't worked for him in a game in three or four years, it's never far from his mind.
"It always works because in pro ball, no one thinks they're going to do a hidden-ball trick," he said. "It's always during big situations. I don't try it if a guy just hits a triple. I try it like in that scenario where there's runners at first and second. It could've been a big inning, and they're not paying attention to me. They're not paying attention to anyone. They're just happy like, 'Oh, let's get the next guy up.'
"A lot of credit goes to D.J. Baxendale because in pro ball, not enough pitchers know to do that. We don't practice it. We never practice it. My hat's off to D.J. Baxendale."
A bases-loaded, one-out situation turned into a less-threatening first-and-second, two-out setup. Baxendale fanned Casey Gillaspie to end the inning.
"[My mind-set] completely changed," the reliever said. "I came into the game in a pretty tough situation, and they had just taken the lead, 4-3. I was basically told to get the two outs and get us out of that inning and go as long as I could after that. You give up the hit as soon as you come in, I know for me as a reliever, my least favorite thing to do is give up inherited runners. The guy on third became my responsibility and I take that to heart. Jermaine getting that out kind of gave me a little more confidence to push forward.
"It makes my job a lot easier when guys are trying to make plays like that. We've got a bunch of those guys on our team right now. We've got (outfielder) Nick Buss, threw a guy out at the plate the other night. Those are always huge, and we've also got (catcher) Willians Astudillo who had the unbelievable no-look pick in Spring Training that was all over the place. We've got a lot of guys with some creative minds. Any way you can get an out, that's always huge."
Back in the dugout, the pitcher and third baseman finally discussed their moment.
"He was like, 'I knew what you were thinking, and you knew what I was thinking. We were on the same page,'" Curtis said. "We both were on the same page, and we didn't say one word to each other out there. And mind you, this is my first year with the Twins, and I haven't played with any of these pitchers. I don't know if they know what to do or not. He knew exactly what to do."
An appreciative Baxendale gave his thanks.
"We always say there's outs to be made, whether it's a pickoff, anything like that, making a good pitchout, giving your catcher a chance to throw," he said. "Jermaine showed me another wrinkle tonight, the hidden-ball trick."
Tyler Maun is a contributor to MiLB.com. Follow him on Twitter @TylerMaun.