Adam English Named Gwinnett Stripers' Vice President and General Manager
English embarks on first GM role following six seasons with Triple-A Sacramento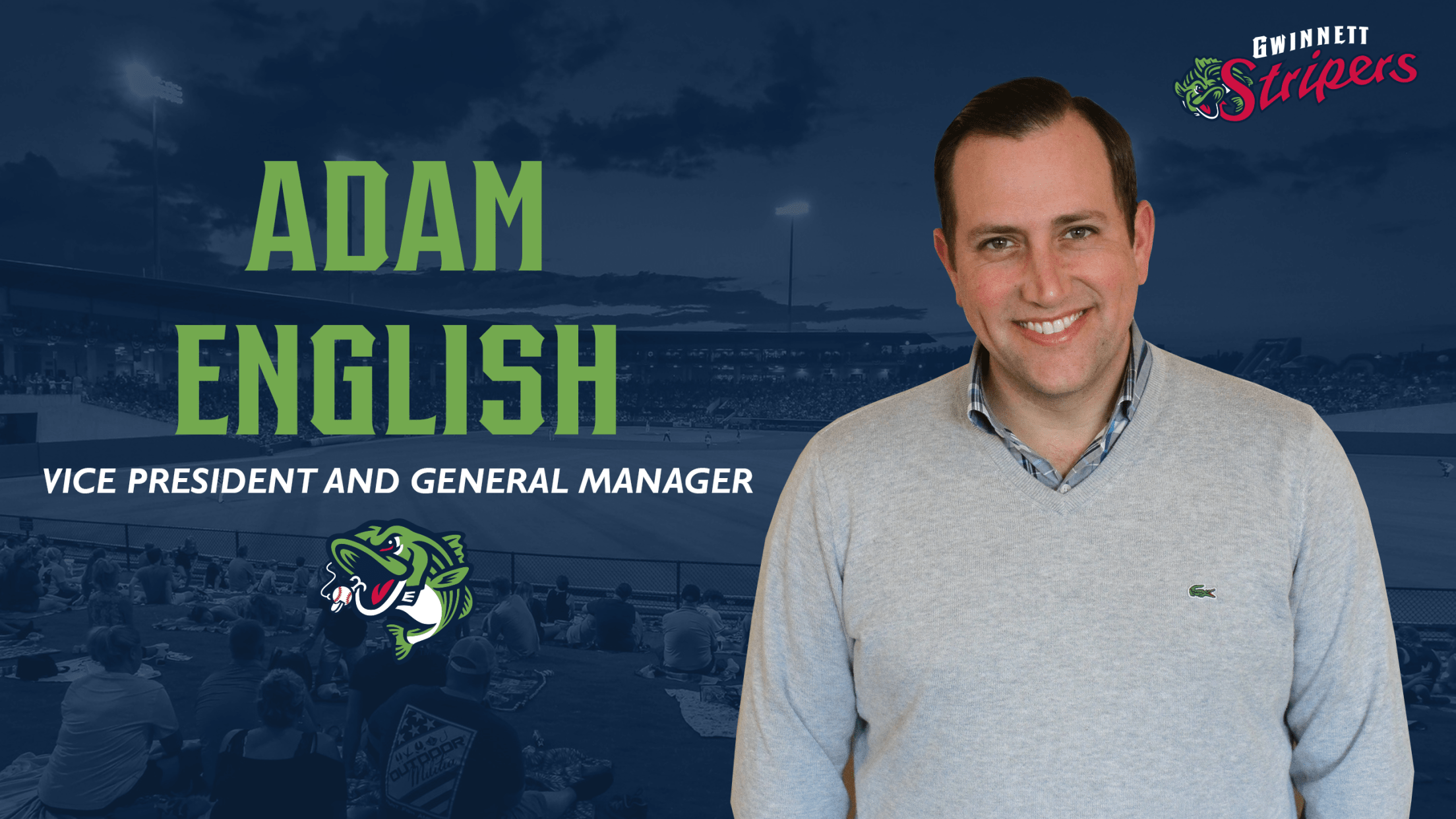 LAWRENCEVILLE, Ga. - The Gwinnett Stripers, Triple-A affiliate of the Atlanta Braves, have announced the hiring of Adam English as the club's new Vice President and General Manager.English joins the Stripers for his first role as a General Manager following six seasons leading the ticket sales department for the Sacramento
LAWRENCEVILLE, Ga. - The Gwinnett Stripers, Triple-A affiliate of the Atlanta Braves, have announced the hiring of Adam English as the club's new Vice President and General Manager.
English joins the Stripers for his first role as a General Manager following six seasons leading the ticket sales department for the Sacramento River Cats (Triple-A, San Francisco Giants). Hired as Sacramento's Director of Ticket Sales in 2013, he advanced to Senior Director of Ticket Sales and Service in 2015 and spent the last two seasons as the Vice President of Ticket Sales and Service.
During his tenure, the River Cats drew 3,598,210 fans to Raley Field for an average of 8,466 per game. Sacramento ranked in the top five in Pacific Coast League attendance in each of his six seasons, and led the 16-team circuit in total attendance in 2013 (607,329), 2014 (607,839) and 2015 (672,354). In 2016, the River Cats were named by Forbes as the most valuable franchise in Minor League Baseball.
A native of Lexington, Ky., English enters his 14th season in professional baseball in 2019. His previous experience includes three seasons as the Director of Ticket Sales (2010-11) and Assistant General Manager (2011-13) for the Lexington Legends (Class-A, Kansas City Royals) and four seasons as a Ticket Sales Manager for Ripken Baseball (2006-10). English holds a Bachelor of Business Administration degree from Transylvania University in Lexington.
"I am thrilled and honored to join the Gwinnett Stripers and the Atlanta Braves organization," said English. "Our goals will be twofold: creating new and innovative ideas that bring more fans to beautiful Coolray Field; and increasing our community outreach to make the Stripers a stronger member of Gwinnett County."
English was hired to be the third General Manager in Gwinnett's 10-year history following a two-month process led by Atlanta Braves' Executive Vice President of Minor League Affiliates and Strategic Planning Chip Moore.
"We are excited to welcome Adam to the Gwinnett Stripers and into the Braves organization," said Moore. "His proven success and leadership experience is impressive and we look forward to him leading the Stripers for many years to come."
The Gwinnett Stripers open the 2019 season at Coolray Field on Thursday, April 4 with a 7:05 p.m. game against the Norfolk Tides. Memberships for 2019 are on sale now by calling the Coolray Field Ticket Office at 678-277-0340. For more information, visit GoStripers.com/memberships.