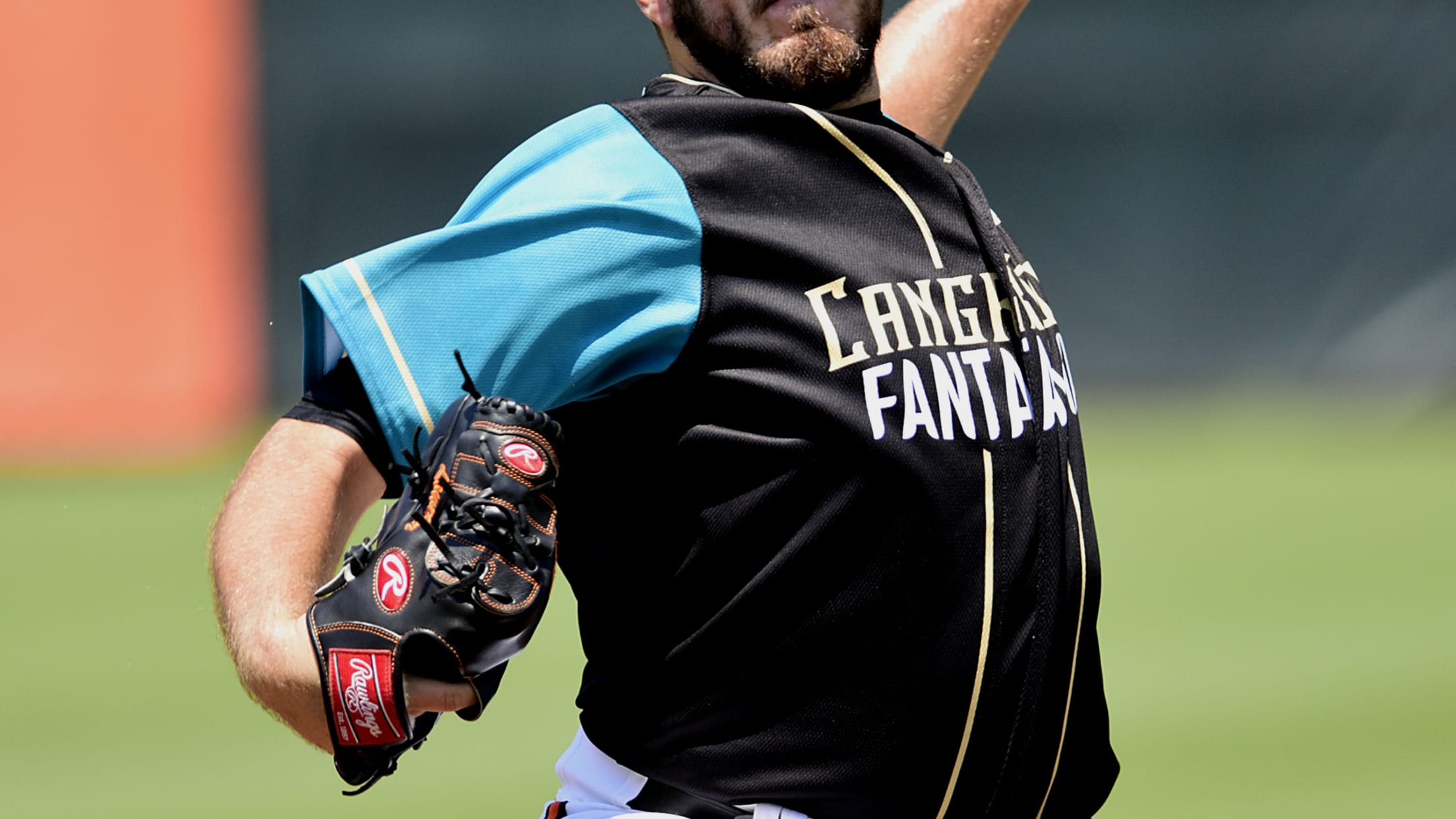 (Bill Vaughan)
Meet the Lowthers: a homegrown midwestern family with roots dug deep into the suburban Cleveland neighborhoods and villages of northeastern Ohio. --First, there's dad. The Lowther last name has been an athletic staple at Cuyahoga Heights High School over the past couple decades. An athlete at Urbana University back in
Meet the Lowthers: a homegrown midwestern family with roots dug deep into the suburban Cleveland neighborhoods and villages of northeastern Ohio.
--
First, there's dad. The Lowther last name has been an athletic staple at Cuyahoga Heights High School over the past couple decades. An athlete at Urbana University back in the day, the family's patriarch has coached practically ever since.
"It was my dad's dream to coach his sons," said Lowther. "Once my brother got out, he stopped coaching and was able to travel around and watch us.
"He was always in coach mode. He separates them well, but especially once he was my coach, it was always coach mode. We would always be talking about football, baseball, and basketball. He was a physical education teacher, too, so teaching would turn into coaching and it kind of rolls with his personality.
"He's laid back. When I was younger, I had a temper and he wanted to make me better. We have the same personality. When I was younger and didn't understand things and he was trying to force it on me, you are reluctant with your parents as a kid.
"When I got older, our relationship got better. I started to understand why some things happened more. His ability to step back and hand me off to different coaches and let me do my own thing so I could figure it out for myself was something that helped us. The distance when I went off to college also helped out because the communication had to be there if I wanted to talk to him. I grew there and our relationship got better."
Certainly, being the coach's kid had plenty of perks for the young Lowther. Growing up in such a small town and a small school district provided some unique challenges, though.
"I moved to Brooklyn Heights when I was a sophomore in high school, but I literally went from Brooklyn to Brooklyn Heights, which was about just five minutes down the road just to get into the school district where my dad coached," said Lowther. "It really just a move that made the most sense to us and all of my friends lived there. It was just easy.
"I had a very small high school and a very small graduating class. It was a very tight knit community. Everyone knows everything about anyone who passes through the town, especially me going to the high school where my dad coached for 20+ years. It was a little intimidating, but it has always been a dream of mine to play for my dad.
"There were times where my dad was a teacher in the Cleveland public school system, so he would get out a little later and I would be running practice until all of the coaches could get there. I was doing that and I really enjoyed it. I think it really helped out the team cause it brought us together because we had that communication between the players and the coaches."
--
Then, there's mom: a dream #1 fan and supporter extraordinaire.
"Mom was always around. She was the number one supporter," said Lowther. "Even when she comes to games here, it could be a packed crowd and she's the only voice I hear. There were football games in high school where the band was playing and I'm on the field in the middle of a huddle and she would be screaming. My mom would be the only thing that I could hear.
"She is always there and you can always hear her. Sometimes, if the radio announcer messes my name up, she would go up to the booth and yell at them. She gets a very deep love for certain players on the team. Obviously, I only pitch once a week and she will come to games. She knows the game. She has been around it enough.
"Whenever Rylan [Bannon], TJ [Nichting], Mason [McCoy], or really anyone on the team is hitting, she will cheer for them and you will hear her. It is really cool to have such big support from them, especially her or my grandparents. It's that kind of that ability to always be there is what she is amazing at."
Exhibit A: Draft Day 2017.
"My draft day experience was on a Monday night," said Lowther. "I was talking to my advisor and he said what we were looking at. We knew it was probably going to be second day unless someone took a chance at the end of the first day. My mom still wanted to have a big party. The first day (of the draft) was Monday at night and every other day was during the afternoon. My mom invited everyone she has ever talked to. She has a lot of friends and supporters, and everyone comes over to our house.
"We are all eating and drinking and having a good time. It was 11:15 p.m. and I got a text from my advisor and the only thing it said was '74.' I didn't know what it meant and he said 'Orioles, 74.' At that point, it was around the 68th pick and I wasn't expecting the Orioles to be in it and out of nowhere it was 74 to the Orioles. I told everyone to gather everyone around because there were only 75 picks in the first day. We really waited until the last second to do it and when it was called we all went nuts. My mom was crying and it was really cool because my whole family came over, including everyone who helped me along the way.
"After I got picked, I couldn't sleep, I went out by the fire with my dad and he couldn't believe it. He was in a cloud and he never thought in our wildest dreams that it would happen. We sat there until five in the morning with my dad and some of my old coaches. I talked to them on a different level than when they were my coach, which was really cool for me."
--
There's also another Lowther male in the house. That's Brett, Zac's younger brother.
"He is about to turn 21. He is going to junior college back home and is playing baseball and is doing very well," said Lowther. "I think that height is about the only thing that is similar. He's skinny, 6'2", has blond hair and blue eyes. He was a quarterback for football and a point guard for basketball, catcher in baseball.
"Honestly, I don't know if we could be more opposite. He was an all-star in baseball, basketball and football and he had his picking of what he wanted to do in college and picked baseball. We were completely different but as we get older, we are becoming more similar.

"I was always around my dad growing up with sports and stuff and he was always with my mom. Then, once I got out, obviously my dad was doing more stuff with him so we were close in a competitive way, so we weren't that close. We have definitely gotten closer now that he has done some of the things that I have done, such as graduating high school, going to all-star games, going to college and play baseball. We have gotten a lot closer over the years. He is my best man at our wedding, so I am very excited for that."
--
Yes, Zac is a spoken-for man. He is getting married, which introduces the newest addition to the family. The lucky lady is Bri and wedding bells are starting to ring a little louder.
"It was last All-Star Break and I moved up halfway through the season, so I didn't make an All-Star game, but I got to go home," said Lowther. "At the end of Spring Training (2017), I bought a ring. One of our best friends is a photographer back home and I was able to propose to my girlfriend at the time, where her parents we able to get their wedding photos done, so It was really special.
"We went to high school together, but everyone does their own thing when they go off to college. She was one of three people that I remained in contact with. When I got to college, it kind of worked out. She went to the junior college where my brother goes to right now. She played softball for two years and then she went to Ohio State. During my last year at Xavier, she was at Ohio State, so it made the trip even closer.
"She was my best friend in high school. I had a huge crush (on her) in high school, but never told her. She was always with someone and I was with someone. As we grew up, we still remained in contact because we were such good friends. As time went on, I had to say something. She actually said it first. Hey, we should get together." I was surprised because I didn't know she felt that way. Everything worked out at the right time for us. Growing up separately and then being able to come together was much needed."
Then, there was the moment where Zac realized Bri was the one.
"She drove nine hours and tricked me out in Cape Cod," said Lowther. "I was playing in a game in summer of 2016 out on the Cape (with the Brewster Whitecaps). I got a text from her saying 'hey, I'm going to my mom's.' She lives in Erie Pennsylvania, which is about two hours from our house. She told me that she was going to a waterpark all day. She was not texting me and it was around 7 p.m. and I get a call from her. I was like 'why is she calling me? She knows I'm at the game.'
"She goes "turn right." I looked to my right and she starts waving and I said 'Oh my God.' At that moment, (I realized that) it takes a little bit to do that. It was easy to have that feeling (that she was the one)."
--

Last, but not least, is Zac himself: a guy who has grown and matured with sport right along side. Life has changed in a small amount of time, but the left-hander has already taken some life lessons from the game that has become more than an after-school activity in Ohio.

"Since 2017, it has been a lot of mental and character development and I want to learn a lot about the game and compartmentalize as well as anyone," said Lowther. "Baseball is a game and it's my job, but, at the end of the day, I have a lot of responsibilities outside of baseball. Being able to grow as a person has helped me grow as a baseball player.
"Baseball is always going to be a big priority for me, but eventually I am going to have a family and I need to establish one thing at a time and grow from there. Being able to see that development from who I was when I got drafted shows that I am able to adapt. I'm always going to want to learn what can help me on and off the field. That's is something that I'm always going to do."