Promo Preview: Into the void in Lake Elsinore
Storm's annual 'Nothing Night' eliminates everything but baseball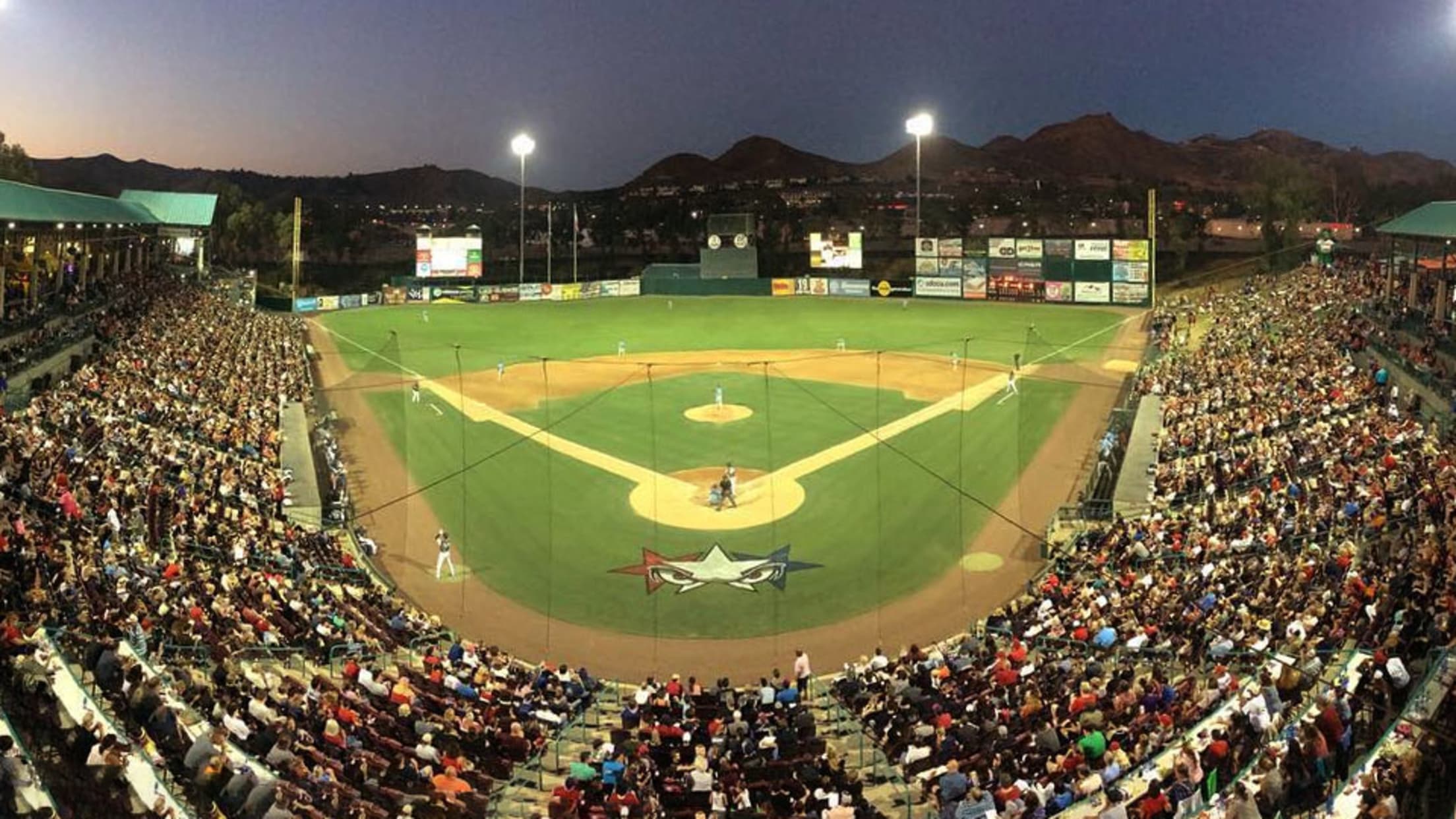 On Nothing Night, Lake Elsinore doesn't sell tickets to enter The Diamond or charge fans for parking. (Lake Elsinore Storm)
If you're not able to attend Monday's Lake Elsinore Storm game, then you'll be missing a whole lot of nothing.
If you're not able to attend Monday's Lake Elsinore Storm game, then you'll be missing a whole lot of nothing.
Monday is Nothing Night, the Storm's annual attempt to present a baseball game with as few accoutrements as possible. On this very special evening, the Class A Advanced San Diego Padres affiliate doesn't sell tickets or charge for parking. Thunder the mascot is nowhere to be found. The videoboard and PA system are turned off, and there are no between-inning games and contests. After this considerable amount of fat is trimmed from the ballpark experience, just about all that's left is the baseball game itself.
Monday marks the 10th time that the Storm will have staged Nothing Night. But in keeping with the essence of the evening, they don't plan to commemorate this milestone anniversary.
"There'll be nothing," said Storm general manager Raj Narayanan. "If we did anything, it'd be something. So the big plan is nothing."
According to Narayanan, Nothing Night was the brainchild of former Storm president Dave Oster and/or former general manager Chris Jones.
"It depends on who you talk to. I'm sure they both take credit for it," he said. "When it first started, my understanding is that the staff put couches on the concourse, sat down and enjoyed themselves. They didn't even open the bathrooms, they brought in porta-potties. But since then it's gotten so big. Over the last couple years we've been approaching 5,000 people, so now we have to open the bathrooms and stuff.... We have opened concessions, and sell beer, because we started getting complaints from people that they wanted to buy food, and we can't turn down revenue. It's not like we're a multi-million dollar company.... But really, that's been the only change in this whole mess."
But if Nothing Night is a mess, it's an endearing one.
"We don't have a National Anthem [singer]. Our fans get up and just start singing, and that's the cue for both teams to get out there and stand," said Narayanan. "The fans have kind of taken over.... There's an element of the fan base that looks forward to it. We definitely have more fans that are into the game. The cheers are louder than they are normally. It really brings out the baseball purists."
In keeping with the theme, the Storm do virtually nothing to promote Nothing Night.
"We do one Facebook post, that just says 'Nothing Night' with the game and time," said Narayanan. "The fans take it from there and blast it out for us."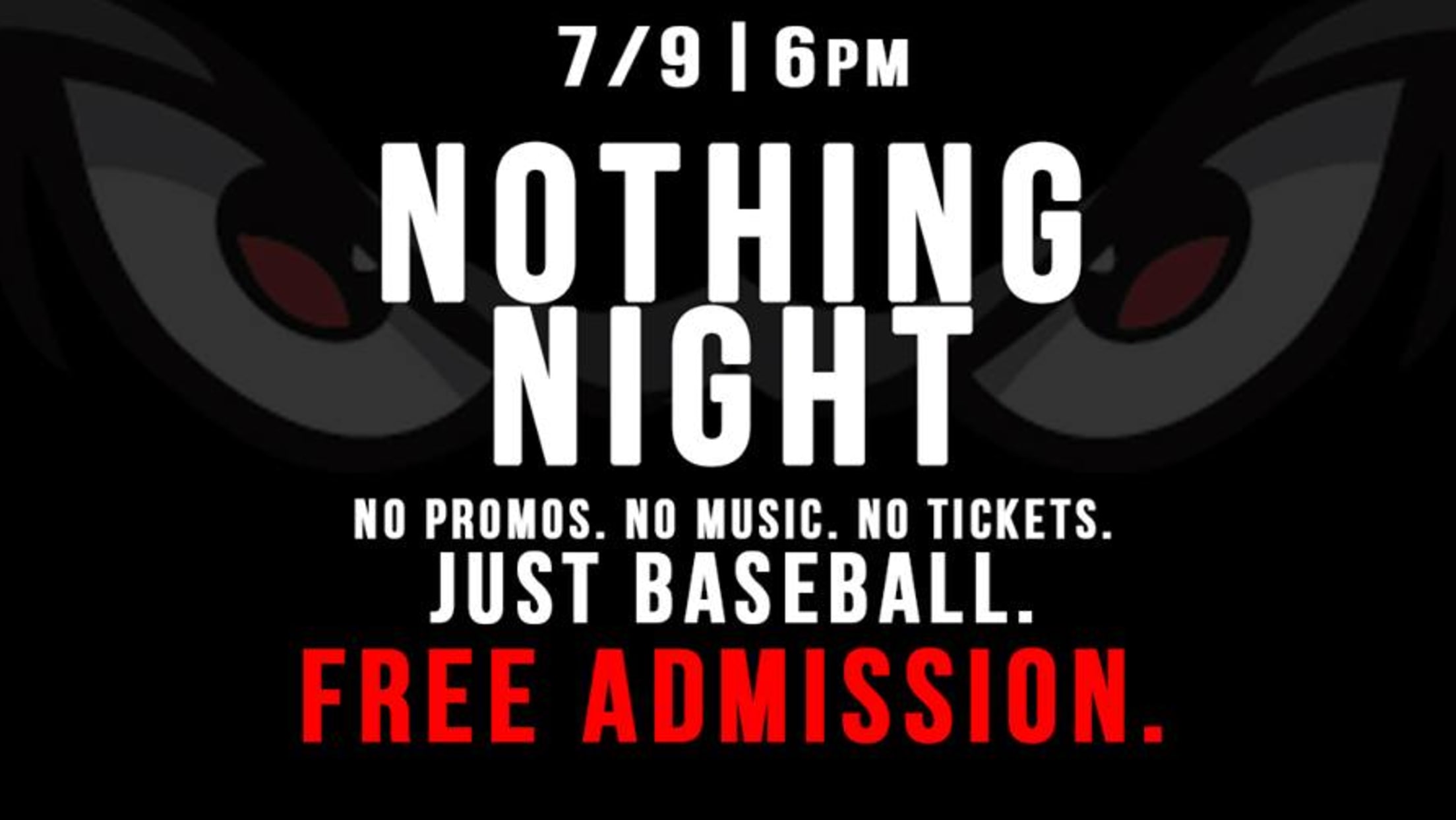 Lake Elsinore's success with Nothing Night has inspired other teams to follow suit. The San Jose Giants, for instance, staged their own iteration on July 5.
"When Inland Empire did theirs, they called us and asked questions. There have been other teams that have reached out, and that's been kind of cool to see," said Narayanan. "I've seen a couple teams submit it [to Minor League Baseball] for promo of the month. OK, take credit for it. That's okay."
While it's impossible to expand upon nothingness, the promotion has inspired the Storm to conceptualize similarly heady nights at the ballpark.
"We've talked about doing more of them, but then Nothing Night would start to lose its allure," said Narayanan. "The only thing to come of it was in 2014. I was sitting around with Oster during Nothing Night. We had over 4,000 people there. 'Okay, how do we top this, dude?' 'What about Everything Night?'"
Everything Night is now a Storm tradition as well, with the team ending the season with an evening at the ballpark that encompasses elements of every previous promotion.
"There were a couple guys who said, 'What about doing a Something Night in the middle of the season, but that fizzled," said Narayanan. "Let's keep it all or nothing.... Nothing has become something and now we have everything. It's awesome. It's awesome to see."