Sean Kazmar Jr. Getting Another Chance in 2021
His 17th season cancelled by the pandemic in 2020, Kazmar relishes the opportunity to compete again this year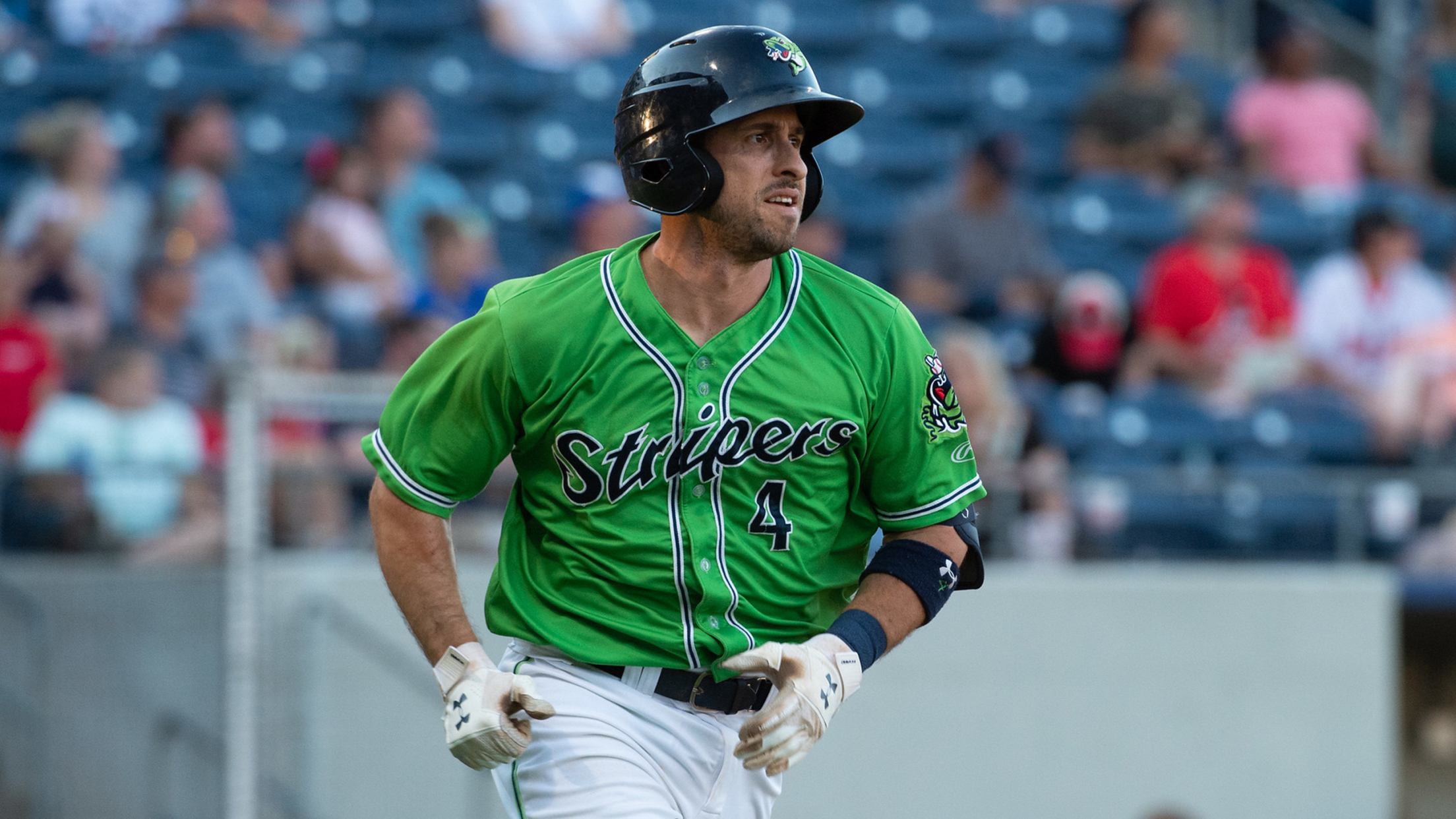 Sean Kazmar Jr. has spent each of the last seven seasons with Gwinnett, playing in a club record 667 games in that span. (Bernie Connelly)
If you have attended a Gwinnett Stripers game over the past seven seasons, you've more than likely seen Sean Kazmar Jr. in his element. His jersey caked in dirt after a diving play on the infield. A slight waggle to his bat as he waits on a pitch to drive.
If you have attended a Gwinnett Stripers game over the past seven seasons, you've more than likely seen Sean Kazmar Jr. in his element. His jersey caked in dirt after a diving play on the infield. A slight waggle to his bat as he waits on a pitch to drive. His knack for coming through in the clutch, delivering a key hit or defensive gem when the team needs it most.
Nobody has spent more time sporting the Gwinnett uniform than Kazmar, who leads the franchise with 667 games played. Longevity isn't the only calling card for the 36-year-old; he has also been one of the Stripers' most productive hitters, leading in career hits (620), runs (279), total bases (882), doubles (127), and RBIs (270).
He would have further bolstered those numbers in 2020, likely his eighth year with the Stripers. But like so many others across the globe, his plans were dashed by COVID-19. The pandemic forced the cancellation of the minor league season, keeping him from playing organized baseball for the first time in – by his estimate – over 30 years.
"Well, I think you've got to look back towards 1987, 1988," said Kazmar. "I know, it's crazy. I've literally played more-or-less year-round since I was four years old, since I started playing ball. It's been a while since I've had that long of a layoff, for sure."
A Sudden Halt
Kazmar began 2020 in the same way he has each of the previous seven years, traveling to Florida for Atlanta Braves Spring Training. For the third straight February he was invited to Major League camp, giving him an outside chance at making the Braves' 26-man roster in his 17th professional campaign.
He played in 13 of Atlanta's first 23 Grapefruit League games, batting .238 with one home run and six RBIs. On March 12 at the Detroit Tigers, he entered the game as a defensive replacement at first base and went 1-for-2, smacking a decisive two-run double in the ninth inning of a Braves' 5-3 victory.
It was the high-point of his Spring, but little did he know, it was also his last at-bat of the season. By the evening of March 12, the rising threat of COVID-19 had changed the entire sports landscape. With the NBA and NHL having already suspended their seasons, Major League Baseball followed suit and canceled all remaining Spring Training games. Within days, players were sent home with no idea when they would start the regular season.
Kazmar, who had his wife Jennifer and young sons Sean III and Jackson staying with him in Florida, was suddenly instructed to pack up his family and drive over 2,200 miles back to their home in Phoenix, Arizona.
"I think the thought was that it would be a few weeks, maybe a month max, and we'll hop right back into things and try to get most of the season in," he recalled. "It didn't really work out that way."
Playing the Waiting Game
Back home for an unknown timeframe, Kazmar did the only things he could do, heed the health guidelines of the Braves training staff and continue to prepare for the season.
"The people I spoke with said 'treat it like an offseason, but you're not going to really take a break.' I immediately took this thing very seriously. As a family, we literally stayed at home for months. I didn't even see my mom, who is an hour away, for a few months. We really wanted to be careful and try to make sure we were following all the protocols."
As days stretched into weeks, the Kazmar family settled into a cautious lifestyle that was becoming commonplace across the country. Jennifer supported the household by working her full-time job at Western Governors University remotely, some days logging up to 11 hours on the computer. Sean was awake sometimes as early as 5:00 a.m., tending to the early-rising one-year-old Jackson and preparing four-year-old Sean III for hybrid-learning preschool. The family would drive together to the preschool, with Jennifer multi-tasking on her laptop in the passenger seat. Once they returned home and fed Jackson, Sean was able to turn his focus to baseball.
"I'm usually gone anywhere from 2-4 hours working out at a local place that a buddy owns," said Kazmar of his training schedule. "Then I get home, sometimes the little one is sleeping, but 95% of the time both boys are ready to rock as soon as I get home."
It's a routine he jokingly calls "Groundhog Day," but one he sees as the bright spot of the pandemic.
"I'm glad it happened, to watch their development, a lot of the milestones I might have missed being on the road or being at the field," he said. "I'm definitely blessed. If there's anything good that came out of it, it's the all the family time that we got to have. I owe it all to my wife and the amazing job she's done keeping us afloat throughout this year."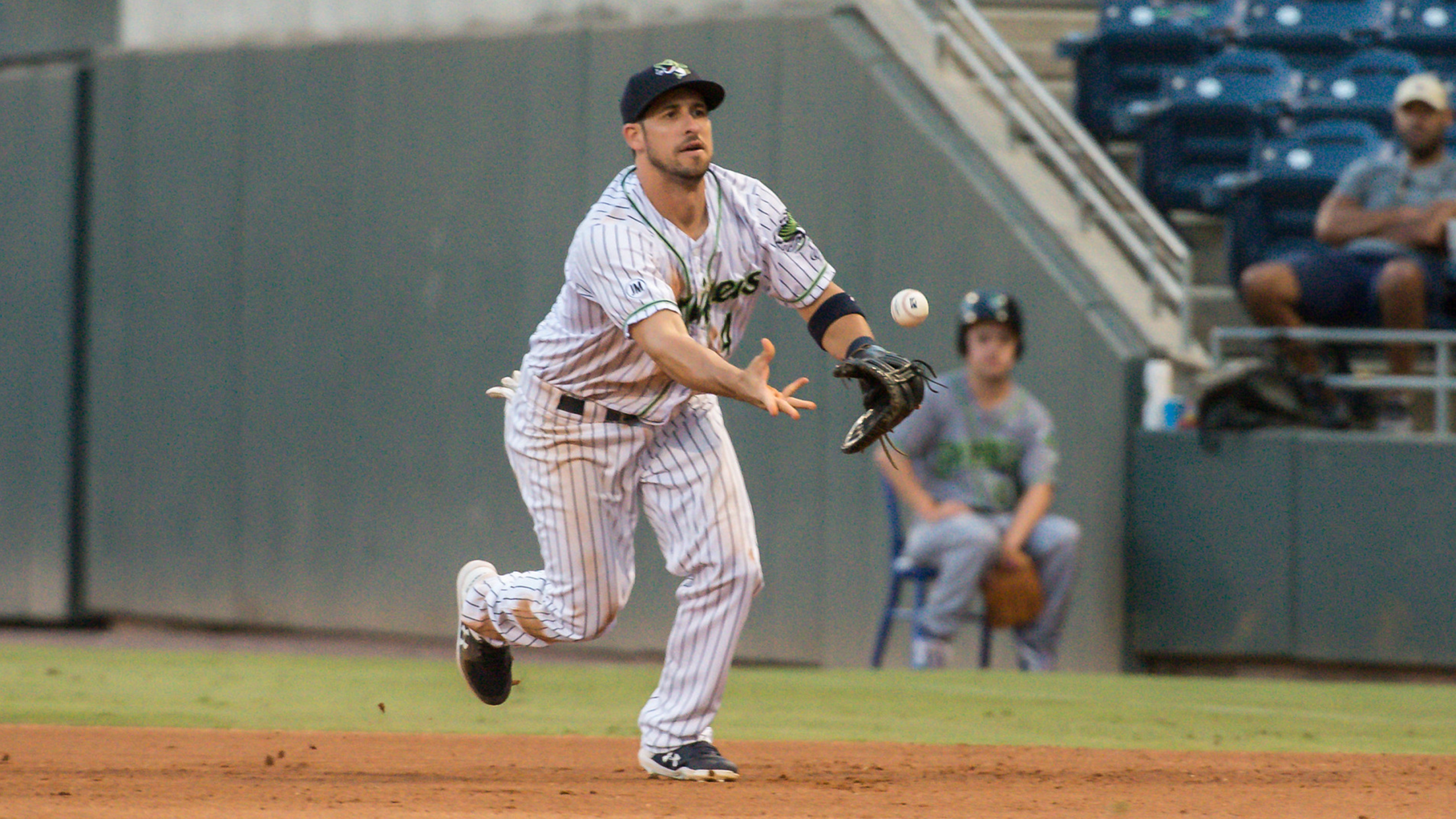 As spring turned to summer, Kazmar continued to stay physically ready for a baseball season nobody was certain would happen. At least he had a mentor nearby in former Gwinnett hitting coach Bobby Magallanes, who guided several Stripers players to breakout years in 2019 before being promoted to the Braves' Major League staff.
"I've been so fortunate (to work with Bobby)," said Kazmar. "We live a mile from each other. I have a good buddy who opened up his own spot and there's only a handful of pro guys that are usually in there every morning. We've been fortunate enough to have Bobby come in and I've been able to hit with him on multiple occasions. As far as yesterday (February 9), I was able to hit on the field, take batting practice. I talked to him last night, telling him how great I felt and how thankful I am for him to have me where I'm at today."
A Season Lost
After months of consternation, Kazmar and the rest of professional baseball finally learned the fate of the 2020 season on June 23. It was exciting news for some, and devastating for many others.
MLB and the MLB Players Association agreed on an abbreviated 60-game schedule, but confirmed that there would be no minor league season. Each Major League club was to whittle their entire organization down to a 60-player "pool" for the year, with only those players eligible to appear in the big-leagues. Those not active on expanded 30-man MLB rosters were to report to Alternate Sites to stay in game-shape.
Due to the size limitations of the roster and the need to utilize some of those spots for younger, developing prospects, Kazmar was one of many veterans not included on Atlanta's list of 60.
"I was definitely shocked," he admitted. "One, that there wasn't going to be a minor league season. Being realistic and seeing what was going on around the world, I understood it. But, playing baseball for 32 straight years, I never thought it would be possible to have it taken away, in a sense. The competitor in me wanted to get out there and be with my teammates, be with the guys, compete and get to play some baseball. Once I found out and it hit me that I wasn't going to be out there, it was tough."
For a guy in baseball's twilight years, Kazmar knew the pandemic might not just shut down one season, but possibly his career.
"It crossed my mind for the next few months that, man, that could be it," he said. "The more I spoke with teammates, former coaches, current coaches, I think they could tell the desire that I still had to keep going. If the opportunity presented itself to where I was able to come back, I didn't want it to end like that."
Committed to keep his career going despite no assurances it would, Kazmar continued to balance his training regimen with his family duties. Meanwhile, the self-described diehard Braves fan since he "first picked up a bat" became just that, a fan. He watched vicariously as friends and former Gwinnett teammates powered Atlanta all the way to the National League Championship Series.
"I watched every game, honestly, because I do have good friends and teammates that were still playing," he said. "I spoke with Austin Riley a handful of times. I talked to Bobby (Magallanes) pretty often, he kept me updated on how everyone was doing. But yeah, I was hanging on the edge of my seat during that whole playoff run. I'm so proud of how far guys like Riley (have come) and the year that Dansby Swanson had. Being able to play with those guys in years past, Ozzie Albies and Ronald Acuña Jr. are just amazing to watch. It helped me out to be able to watch ball every day."
Coming Back
Not long after the Braves' deep October run ended achingly in Game 7 of the NLCS, Kazmar became eligible for free agency. He reached out to Atlanta's front office to communicate his desire to return to the organization for 2021. There was no guarantee the feeling would be mutual, however, especially with the pending creation of a new, streamlined Minor League Baseball system that would mean fewer teams and less jobs.
But it's evident that Braves' Player Development has long appreciated the leadership, pride, and dedication Kazmar brings to the table and how that positively influences his teammates. On December 7, Atlanta moved quickly to ink him to a one-year minor league deal.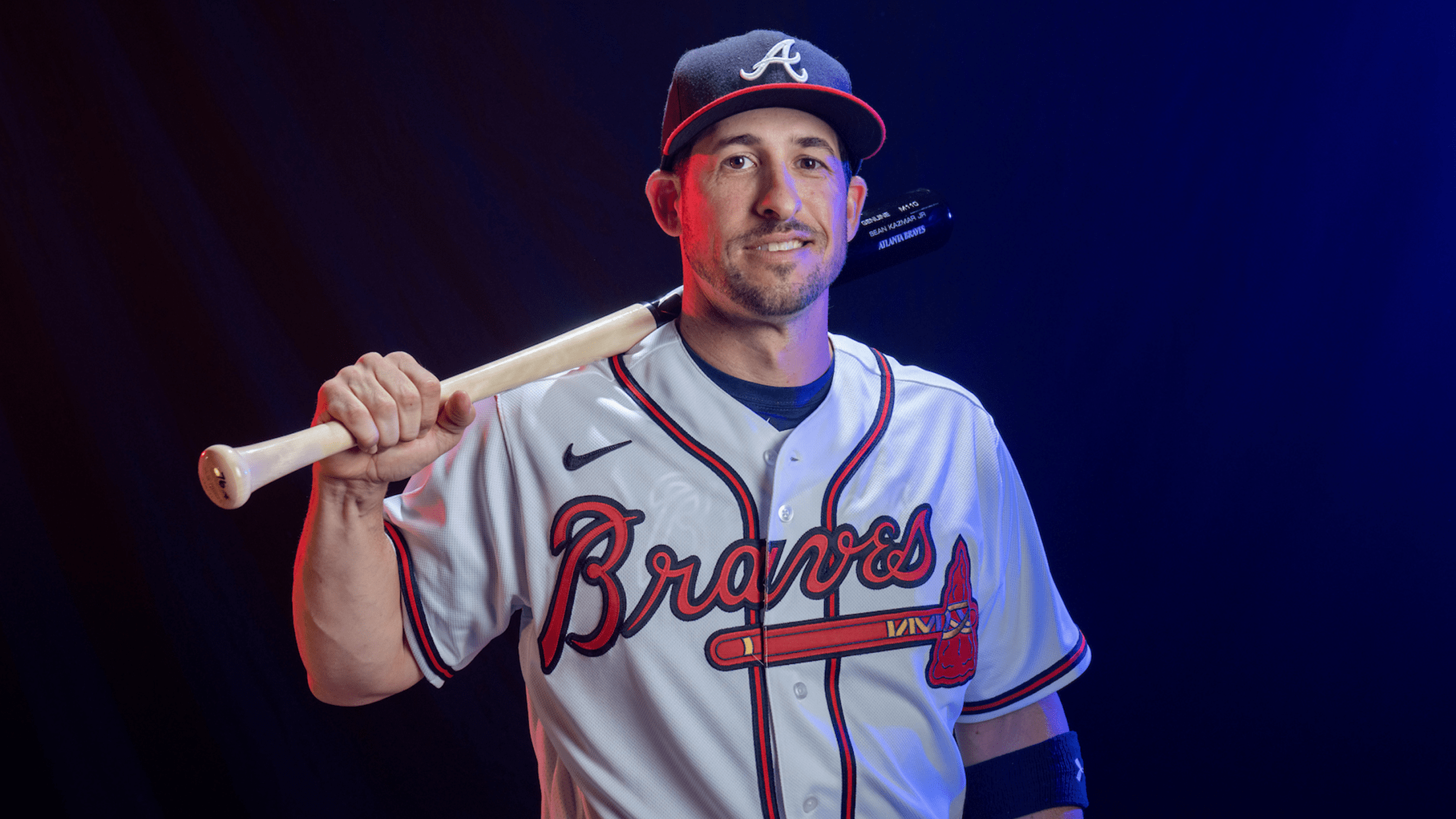 "I'm extremely fortunate," he said. "I tell everyone that I've spoken to since I've signed back just how thankful I am to the Braves organization for giving me this opportunity to continue to live my dream and play this game that we all love. I know of hundreds of guys who are still sitting there and waiting for a job and it's really tough to see."
For Kazmar, rejoining the Atlanta organization isn't just about prolonging his own career and possibly getting a shot at the Majors for the first time since his 2008 debut, it's about being involved in the success of the Braves as a whole. It's a goal he's had since times got tough in 2015.
"The year I got there in 2013, the Braves were a playoff team. I think it was 2015, they finished fourth in the division and you saw a rebuild starting in the minor league system. Going through that and seeing the players, seeing the personnel that they brought in, man, I just wanted to be a part of it. I wanted to see it through. That's one of the things I told Ben Sestanovich (Braves Assistant General Manager, Player Development), if there's interest, I'm certainly interested in seeing the majority of that Major League team that I've played with (get to the World Series). I would love to play such a very small, minimal part in that. Knowing I've helped a few of those guys, whether it's on the field or off the field, just talking to them, helping them out in any way, just feeling a part of it."
Entering 2021, Kazmar is right back where he was one year ago, with an invite to Braves Spring Training and a chance to compete for a roster spot. Since the last time he put on a uniform, like so many of us, he has lost and gained. He lost his livelihood for a full year, but he gained the satisfaction of watching his family grow. He could have lost his dream permanently, but he gained one more shot to play the game he loves.
When he wears the uniform again this season – be it Braves or Stripers – he'll shed the challenges of the last year to be rejuvenated by baseball's youthful simplicity once more.
"I'll feel like a little kid, like I do every time I put on a uniform," said Kazmar. "I'm so excited just to get out there and see the guys. There's nothing better than team camaraderie. Mainly just the fact that I get to compete. I just want a live at-bat in a game, and just get that feeling. There's no other feeling like that, competing on a field."
UPDATE: Kazmar got his first live at-bat of the spring in the Braves' Spring Training opener on February 28 at the Tampa Bay Rays. In the top of the seventh inning, he crushed an offering from right-hander Yacksel Rios out to left field for a two-run home run, tying the game at 7-7. It was the first homer hit by a Braves player in 2021, and a memorable first plate appearance for Kazmar after nearly a year out of action.