Around the Minors: The week of Aug. 1-7
Sights and sounds from action across Minor League Baseball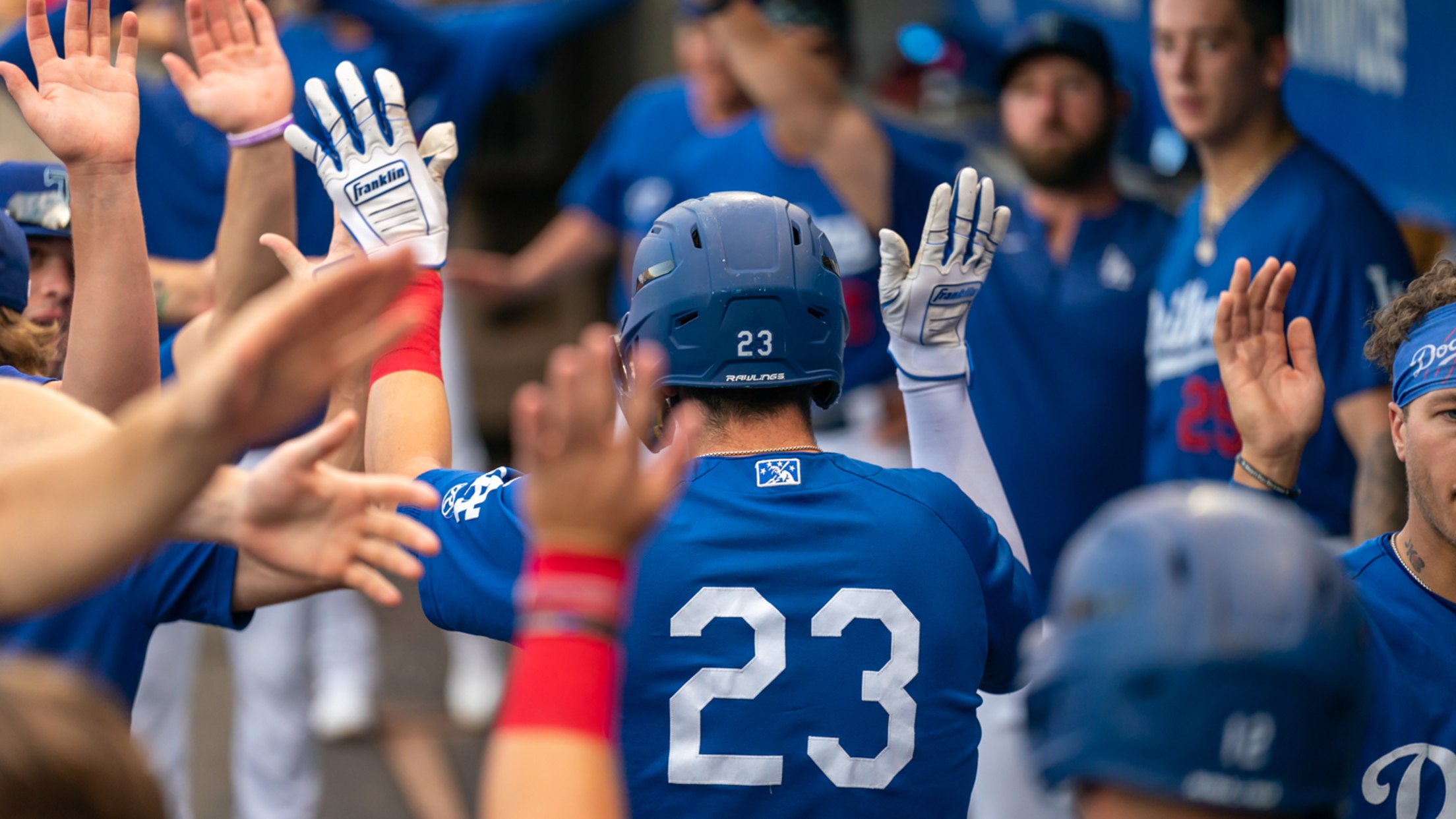 Dodgers prospect Brandon Lewis celebrates with his Double-A Tulsa teammates after belting a home run. (Tim Campbell/MiLB.com)
Aug. 7
Lawlar and order
It will be a year ago, later this month, when Jordan Lawlar's professional debut lasted two games before having to undergo season-ending shoulder surgery, but now the player is fully healthy and showing the potential the D-backs saw in him last year.
The No. 2 D-backs prospect has impressed in his second stint at the High-A level and continued that by going 4-for-6 with one homer, four RBIs and three runs in High-A Hillsboro's 14-11 win over Everett.
Lawler had some initial struggles when he originally was promoted in July when he slashed .095/.136/.190 in six games, which led him to being sent down to Single-A for three games. The second callup has been much different as he has improved his numbers in his 11 games back at High-A, where he is slashing .244/.289/.410. Full story »
Like a good neighbor, @jordanlawlar is there.

An extra insurance run by Jordan Lawlar via the long ball!!#OneVine pic.twitter.com/Qi8OXYiKZl

— Hillsboro Hops (@HillsboroHops) August 8, 2022
Leaving the Yard
Michael Toglia's 23rd home run of the season held twice the significance.
The No. 9 Rockies prospect set career and team single-season records with his second-inning blast in Double-A Hartford's 6-3 loss to Reading. Though 2022 is just the Yard Goats' fifth season of existence, the mark of 22 homers had been set just a year ago by Elehuris Montero.
Toglia had done the same in 2021, although just five of them came with Hartford after he hit 17 home runs with High-A Spokane. After finishing July hitting .221, Toglia has come out of the gates in August raging hot, hitting .417 with three homers in six games.
Soaring (and whiffing) once again
Matthew Liberatore was back on his "A" game on the mound.
The Cardinals' No. 2 prospect had a rough outing in his last start, getting tagged for five runs in three innings of work. The 22-year-old bounced back, matching a career high with 10 strikeouts while allowing one run on two hits in six innings in Triple-A Memphis's 2-1 win over Jacksonville.
The lefty was dealing at the start as he struck out the first four batters he faced. Liberatore finished the night with 99 pitches -- 62 of them strikes.
He lowered his ERA to 4.77 and brought his K tally to 85 in the 77 1/3 innings he has pitched in Triple-A this season.
Rumbling right along
By all accounts, Brett Baty is enjoying his time with Double-A Binghamton, but trading upstate New York zip codes looks likelier with each passing day.
Baseball's No. 18 overall prospect slugged his 19th homer and drove in three runs during his third multihit effort in four games in the Rumble Ponies' 8-6 loss to Somerset. Baty added a pair of walks as he continues a torrid stretch that dates back to June 1. The 22-year-old has gone deep 16 times in that span, including six in his past 10 games.
With top overall prospect Francisco Álvarez already with Triple-A Syracuse, Baty is making his own push. The Texas native improved his slash line to .312/.406/.544 with 41 extra-base hits and 59 RBIs in 89 games.
Ronny Mauricio -- baseball's 49th-ranked prospect -- ripped a three-run homer, his 21st of the season, which is a new career high.
On the level
New rung of the ladder, same old Tyler Soderstrom.
The Athletics No. 2 prospect's slash line of .260/.323/.513 in High-A prompted his callup to Double-A. Soderstrom proved he was worthy of the promotion, going 3-for-5 with one double and two RBIs in Double-A Midland's 6-5 win over Arkansas.
The 20-year-old's productive game started early with a single and an RBI double in his first two at-bats. Soderstrom topped it off with an RBI infield single in the seventh inning.
The catcher's productive day at the plate improved his slash line to .304/.292/.565 in his five games at the Double-A level.
All four two
Colton Cowser could not be stopped in the batter's box.
The No. 3 Orioles prospect has had two multihit games this month. Cowser made it three as he went 4-for-5 in Double-A Bowie's 18-1 win over Harrisburg.
The 22-year-old had a productive day at the plate as he had four hits that were all singles. The outfielder's impressive game brought his slash line to .289/.419/.484.
It was not a one-man show as Connor Norby played a huge part in the Baysox win. The No. 10 Orioles prospect had a four hit game as well, topped with a long ball as he went 4-for-5 with one homer.
Double trouble
Four games, five hits and all of them doubles. Triston Casas has gotten quite familiar with second base at Polar Park.
The second-ranked Red Sox prospect extended his doubles streak to four games, adding a second one for good measure in Triple-A Worcester's 9-3 loss to Durham. Casas doubled to right field with two outs in the fourth inning and brought home a run with another in the eighth.
The first baseman's initial return from an ankle injury suffered in May was nondescript, as he hit .216 with a .691 OPS in nine games in July. Since the calendar has flipped to August, however, Casas is hitting .286 with a .924 OPS and the five doubles in six games.
Aug. 6
Homers in four straight games? It's only Natural
CJ Alexander was a member of an uncommon type of trade when the Atlanta Braves dealt him and two other prospects to the Royals in exchange for the 35th overall pick of the 2022 Draft. To say he's been enjoying his time with his new organization, though, might be an understatement -- the third baseman clubbed homers in four straight games for Double-A Northwest Arkansas, with the latest dinger coming in the Naturals' 9-2 loss to Tulsa.
Facing Drillers lefty Lael Lockhart, the 26-year-old swung and missed at the first offering from the southpaw, but didn't make the same mistake twice. Alexander hacked at the next pitch and sent it soaring over the right-field fence to plate the only two Northwest Arkansas runs of the game. The lefty slugger isn't normally one to homer off a fellow lefty, either -- only four of his 20 dingers this year have come against a southpaw, including the one he hit during this powerful four-game stretch.
Through the first 17 games with his new club, Alexander is sporting a .257/.284/.529 slash line with five dingers and 19 RBIs.
What can Brown do for you?
If you're the Cubs, the answer to that question is: Shut down an opposing lineup. Recently acquired Ben Brown made his Cubs organization debut and whiffed nine over five one-run innings to earn the win in Double-A Tennessee's 5-3 victory over Rocket City at Toyota Field.
The right-hander yielded one run on four hits and two walks, while he struck out the side in the second and third innings. Brown exited after tossing 52 of his 75 pitches for strikes.
The 11th-ranked Cubs prospect was acquired from the Phillies at the Trade Deadline in the deal that sent All-Star reliever David Robertson to Philadelphia.
Throwing Gass
It might have been Robert Gasser's Double-A debut, but the left-hander looked like it was just business as usual. The eighth-ranked Brewers prospect tossed five scoreless frames to set the table for Biloxi's 5-3 victory over Mississippi at Trustmark Park.
Gasser worked around two hits and a pair of walks while fanning five. The 23-year-old faced the minimum (10) over the final 3 1/3 frames of his outing, thanks to a pair of double plays by the Shuckers' defense. Gasser exited after throwing 44 of his 69 pitches for strikes.
The University of Houston product spent the first portion of his season with Single-A Fort Wayne, where he posted a 4.18 ERA and struck out 115 over 90 1/3 innings pitched. He was then a key figure in the deal that sent All-Star closer Josh Hader to San Diego at the MLB Trade Deadline. Saturday not only marked his Double-A debut, but also his first appearance in the Brewers' organization.
Two top Phillies prospects dominate … on the same day!
If the Philadelphia faithful are looking for reasons to be excited about the team's future, look no further than High-A Jersey Shore, where the organization's top two pitching prospects, Andrew Painter and Mick Abel, both dominated in a doubleheader sweep of Hudson Valley.
First up was the second-ranked Abel, who whiffed eight batters in six scoreless innings en route to the BlueClaws' 8-2 win. It was the second consecutive shutout appearance for Abel, as he tossed six scoreless innings in his previous outing as well.
The 20-year-old retired nine of the first 12 batters he faced before allowing his first hit in the fourth inning. In total, the right-hander worked around three hits and three walks in the strong performance, tossing 61 of his 93 pitches for strikes. MLB's No. 53 overall prospect lowered his season ERA to 3.64 and raised his strikeout total to 102 across 84 frames this year.
As if the Renegades didn't go through enough in Game 1, they were completely shut down in Game 2. Painter, ranked as the Phillies' top prospect, struck out 11 batters and allowed just three baserunners all game on two singles and a walk in the 2-0 victory. It was the first time in Painter's career that he's gone seven innings.
The 6-foot-7 hurler fired just five pitches in the first frame and retired the first eight batters he faced -- striking out half of them -- before a two-out single ended his bid at a perfecto. That's when the 19-year-old beared down, striking out seven of the next 16 batters and keeping Hudson Valley off the board for good. Painter needed just 79 pitches to complete his outing, with 56 of them going for strikes. The righty has racked up 109 punchouts in 68 1/3 innings this year while posting a 1.32 ERA.
Look out below!
Maybe it wasn't such a good idea to get a house that close to a ballpark -- you know, in hindsight. Zach Zubia nearly parked a baseball on the yard of a neighboring home in High-A Beloit's 2-1 victory over Cedar Rapids at Perfect Game Field.
Zubia crushed the seventh pitch of his at-bat in the seventh inning out of the park. And we do mean, out-of-the-park! The ball traveled an estimated 465 feet at 108 mph and nearly landed on the lawn of a nearby house.
The jack was the Marlins' prospect's first at the High-A level and Zubia is now 5-for-15 with four RBIs and three runs scored through his first four games with the Sky Carp.
The Martian flashes his tools
Jasson Domínguez made his impact felt beyond the plate in High-A Hudson Valley's 8-2 loss to Jersey Shore in Game 1 of a doubleheader at ShoreTown Ballpark.
The third-ranked Yankees prospect broke up a shutout with his second dinger since joining the Renegades -- his 11th of the year. The 19-year-old switch-hitter sent a moonshot beyond the left-center-field wall from the right side for a two-run blast. He also sent a line drive to right for a single in the fifth, before successfully swiping his third bag for Hudson Valley.
The speedster has 22 total stolen bases on the year.
Aug. 5
New org, same Wood
It was three days ago when James Wood was traded from the Padres to the Nationals as part of the Juan Soto/Josh Bell deal, and he showed why the future is bright for the organization with the young players they received.
The No. 4 Nationals prospect impressed in his first game with the organization on Friday, as he went 4-for-6 with a homer, three RBIs and a stolen base in Single-A Fredericksburg's 10-9, 10-inning loss to Down East.
The numbers have been impressive for Wood this season as he slashed .337/.453/.601 with a 1.054 OPS in the California League before trade sent him to the Carolina League at the same level. The move has not stopped the 19-year-old from producing right away with his new team. Full story »
What a debut for James Wood!

RECAP: https://t.co/9FGthkMoiX#WeAreFXBG

— Fredericksburg Nationals (@FXBGNats) August 6, 2022
*Hillcats claw back
*Single-A Lynchburg had a large hill to climb in its game against Myrtle Beach. The Hillcats rallied for a seven-run ninth inning en route to their 14-13 victory over the Pelicans.
The Guardians affiliate first chipped away after trailing 9-0 the first two innings. They entered the ninth inning just six runs back, with the score 13-7
The inning started off wild as two consecutive walks were issued. Right fielder Cesar Idrogo brought in the baserunners on a single driven to right field. Then, shortstop Yordys Valdes plated a run with a single to left field, followed by a RBI-groundout by Richard Paz. The Hillcats continued to pile on the runs with a first-pitch RBI single up the middle by Junior Sanquintin. The rally was capped off by Joe Donavan with a two-run double to center.
Save that baseball!
It was a night that won't soon be forgotten for Jace Jung. Making his pro debut, the first-round selection of the Tigers (No. 12 overall) in this year's Draft notched his first career hit in High-A West Michigan's 11-9 victory over Lansing at Jackson Field.
In his final at-bat of the game, in the eighth, the 21-year-old stepped up to the plate with one on and two outs against right-hander Calvin Coker. After swinging through a fastball for strike one, Jung saw another heater and did not miss it. He sent the ball into left and it found some grass for a single.
The Texas Tech product also played all nine innings at second base where he did not commit an error.
Jung's older brother, Josh is on rehab assignment in the Rookie-level Arizona Complex League. The Rangers' No. 2 prospect went deep as he works his way back from a torn labrum.
Heads-up Lookout
Elly De La Cruz has made a habit of showing up on highlight reels with his tape-measure home runs, but his latest dinger allowed him to showcase a pair of other tools -- speed and creativity.
Playing in his 13th game with Double-A Chattanooga since his July promotion, the No. 3 Reds prospect (MLB's No. 47 overall) came to the plate with one out in the fifth inning and belted a Scott Blewett fastball to straightaway center field, at first appearing like another one of De La Cruz's trademark blasts. Though it merely one-hopped the wall, his wheels took over and powered him to third base.
As if the triple wasn't exciting enough, things took a turn when De La Cruz, noticing a lackadaisical relay throw from the cutoff man, bolted for the plate. Birmingham third baseman D.J. Burt did his best to nab De La Cruz but the long strides of the 6-foot-5 shortstop were enough to beat the ball home. Full story »
Perfect Angel
After being limited to just two starts in July, Nick Mondak got off to a perfect start in August. And we mean that literally. The Angels left-handed prospect faced the minimum 15 over five frames without allowing a baserunner while striking out three. But it was not enough as High-A Tri-City's bullpen faltered in a 10-4 loss to Vancouver at Nat Bailey Stadium. Mondak exited after tossing 42 of his 55 pitches for strikes. The 24-year-old was originally slated to go three or four innings due to his pitch count restrictions, but his efficiency allowed him to get through five. This marked the second straight appearance where the St. John's product yielded one run or fewer.
Aug. 4
What Brown (and Whitley) can do for you
While entering the dog days of summer, Hunter Brown continues to bring the heat on the mound.
MLB's No. 81 overall prospect fanned nine batters and only allowed two hits in 5⅓ innings en route to Triple-A Sugar Land's 2-1 victory over Round Rock. His nine strikeouts allowed him to take the lead in the Pacific Coast League.
The fastball command was prominent in Brown's outing, as 43 of his 73 total pitches were thrown for strikes. The No. 1 Astros prospect entered the game in the fourth inning and immediately dominated, striking out seven of the first 10 batters he faced. He only allowed two knocks in the seventh with two consecutive singles. Brown exited in the ninth after allowing two walks.
Meanwhile, Forrest Whitley, the fourth-ranked Astros prospect, returned to the rotation after leaving his last start on July 10 with shoulder inflammation. The 6-foot-7 24-year-old started the game and tallied three strikeouts in 1⅔ scoreless innings. Whitley has held batters he's faced scoreless in four of his last five outings. Full story »
Drillers strike offense
Football season is only barely getting underway, but that didn't stop Double-A Tulsa from putting up multiple touchdowns on Northwest Arkansas.
And at the center of it all? Who else but the Drillers' quarterback, Andy Pages. The Dodgers' No. 4 prospect (MLB's No. 45 overall) was a home run shy of the cycle, going 4-for-6 with three RBIs in Tulsa's enormous 23-7 win.
Despite a lot of early action, the game was even at six runs apiece through four innings. From that point on, the Naturals were outscored 17-1, allowing seven runs in the fifth and 10 runs in the seventh and eighth combined.
Pages began his night 0-for-2 but led off the fifth with a double down the left-field line and nearly had another in the same frame, as he smacked a fly ball off the wall but was nabbed by a strong throw from Naturals left fielder Tyler Gentry. After a single in the seventh and 20 runs already having crossed the plate, Pages tripled to deep right-center in the eighth to bring in two more. The next batter, Justin Yurchak, singled in Pages for Tulsa's 23rd and final tally of the night.
Found the power switch!
What's been a subpar year for Jose Rodriguez in terms of home runs has perked up noticeably over the past week.
The No. 3 White Sox prospect went deep for a second consecutive game and for the third time in four contests during Double-A Birmingham's 6-5 win in 11 innings over visiting Chattanooga.
Rodriguez, who hit 14 homers across three Minor League levels in 2021, had one in his first 87 games this season.
Although his numbers to date haven't measured up to his .301/.338/.469 slash line of a year ago, the 21-year-old shortstop has established career highs with 54 RBIs and 38 stolen bases. Rodriguez is batting .269 with a .702 OPS.
Wacha got? A milestone, for starters
Michael Wacha has come close to experiencing a no-hitter several times in the Majors, but had never seen one come to fruition until his outing with Triple-A Worcester.
What began as a rehab start for the Red Sox righty ended in historic fashion for the WooSox, who achieved their first no-hitter in club history en route to a 12-0 win over Durham at Polar Park. Wacha and right-handers Andrew Politi and Chase Shugart combined on the historic feat behind a bevy of run support in a rout of the first-place Bulls.
"You don't get those opportunities very often, and to be a part of them is exciting," Worcester pitching coach Paul Abbott said. "It's an exciting moment to be watching baseball, to watch it happen."
Appearing in what could be a one-start rehab assignment, Wacha struck out eight over the first 4 2/3 innings. Politi hurled the next 2 1/3 hitless frames, and Shugart went the final two innings to close out the no-no. Shugart received a huge defensive assist from left fielder Devlin Granberg, who dove to his right to reel in Josh Lowe's sinking liner for the final out. Full story »
We'll say it ... Baty is going Batty
Mother Nature is about the only thing that can stop Brett Baty at the moment.
Baseball's No. 18 overall prospect continued his torrid hitting, slugging two-run homers in his first two at-bats before severe weather suspended the game between Double-A Binghamton and Somerset. The contest will resume Friday at 4 p.m. ET with the Rumble Ponies leading, 10-1, with one out in the top of the third inning.
Regardless of the score and the stoppage in play, Baty's two homers will count when the game resumes, giving him -- for now -- five in his past seven contests and 15 since June 1.
The secret to his recent success isn't much of one at all.
"I've been staying within myself and doing a lot of extra [batting] cage work," Baty said. "Just working on different things like recognizing pitches earlier, which helps to lay off ones out of the zone and doing damage to ones in the zone. I'm taking things one at-bat at a time." Full story »
Back to the present
Drew Gilbert had to travel back in time to record his first professional home run ... kind of.
Making his debut for the FCL Astros Orange in the resumption of a suspended game from July 22, Houston's first-round pick (28th overall) led off the top of the sixth inning -- and his career -- with a bang, drilling a home run to right-center off FCL Mets pitcher Joander Suarez. Technically, the game was played before Gilbert signed his contract with the Astros on July 26. The Astros Orange won, 10-4.
In the regularly scheduled contest between the two teams, the former Tennessee Volunteer continued to make his presence known, collecting a pair of singles, a stolen base and an RBI while leading off as the designated hitter in the 3-2 loss.
In 58 games this year before the Draft, Gilbert slashed .362/.455/.673 with 11 home runs and 70 RBIs.
Astros first-rounder Drew Gilbert recorded his first pro homer today ... in a game that started before he was a professional.

The @Vol_Baseball product went deep in his first at-bat and went 3-for-6 with a SB.

Stats for all #MLBDraft picks: https://t.co/svhuiocgNl pic.twitter.com/tYQJA0aJnP

— MLB Pipeline (@MLBPipeline) August 4, 2022
Aug. 3
Exit, stage left
Lehigh Valley's Coca-Cola Park sits approximately 103 miles from Citi Field ... or just a little farther than the home run Francisco Álvarez hit in his latest outing.
Baseball's top prospect unloaded on a monstrous blast that cleared the left-field fence, the bleachers, the billboards ... and pretty much anything else in its path. Unfortunately for Triple-A Syracuse, the long ball counted for just a single run in the club's 6-1 loss to Lehigh Valley.
It was the fourth homer in the past nine games for Álvarez, who began his Triple-A tenure 2-for-23. The burly backstop has gone 10-for-38 with seven extra-base hits and 11 RBIs since.
Álvarez led off the seventh inning with the Mets trailing, 6-0. IronPigs right-southpaw Michael Plassmeyer made one of his few mistakes, throwing a first-pitch fastball that soared off Álvarez's bat and out of the stadium entirely, so far in fact, no one is quite sure where the ball actually landed.
The thief of Rockies fans' hearts
Stolen base numbers are up across the Minor Leagues. Zac Veen is among those taking advantage.
In two quick moments at Avista Stadium, baseball's No. 20 overall prospect swiped a pair of bags to reach 50 for the season, setting a new career-best mark, in High-A Spokane's 8-5 win over Eugene.
Veen walked with one out in the bottom of the first inning and stole second base to put himself in scoring position. Then, he swiped third, coming home on an RBI groundout by Colorado's No. 14 prospect Warming Bernabel.
The 20-year-old came into pro ball, after being selected ninth overall in 2020, with his 60-grade hit tool as his calling card, but his wheels have become a powerful force as the season has gone on. Veen stole eight bases in April and eight in May followed by 12 steals in June and 18 in July. With three so far in August, the outfielder has five stolen bases over his last three contests. Full story »
Top Rockies prospect Zac Veen reached 50 steals tonight, the eighth Minor Leaguer to hit that mark this year. No MiLB season has had eight or more players reach 50 SB since 2015. It's August 3.

— Tyler Maun (@TylerMaun) August 4, 2022
The first (and second) Noelvi
Talk about an early return on investment.
In only his second game since being acquired by the Reds in the blockbuster deal that sent ace Luis Castillo to Seattle, Noelvi Marte looked exactly as advertised -- mashing a pair of long balls and driving in four runs -- for High-A Dayton to power a 14-5 victory over Peoria at Day Air Ballpark.
One night after going 0-for-4 in his Dragons debut, the 20-year-old started things against the Chiefs 0-for-2 before finding his footing. Marte stepped in against Peoria starter Inohan Paniagua with a runner on second and no out in the fifth inning and took a pitch outside for ball one. The next offering was a hanging curveball that Marte did not miss -- mashing the ball beyond the wall in left-center field for his first hit, homer and RBIs with his new organization.
In his final at-bat in the eighth, MLB Pipeline's No. 17 overall prospect was facing another 1-0 count, this time against Edgar Manzo. The right-hander attempted to sneak a high fastball past the Dominican Republic native, but to no avail. Marte clobbered it to center for his second two-run tater of the game. Full story »
Endy over Endy
For over three years, Endy Rodriguez had just one four-hit game as a pro, until he finally matched it on July 24. Then, 10 days later, Rodriguez not only tied his career mark but added the exclamation point with a towering ninth-inning home run -- his fifth knock of the evening.
The Pirates' No. 5 prospect was the catalyst in High-A Greensboro's 8-7 win over Bowling Green, with the solo blast -- his 16th homer of the year -- ultimately the difference. Rodriguez had also driven in a run in the first inning with a single and later added his 23rd double of the year, tied for second-most in the South Atlantic League.
The 22-year-old, acquired from the Mets prior to the 2021 season, currently sports a .950 OPS in 86 games, trailing only Brewers farmhand Jakson Reetz among Minor League catchers with at least 300 plate appearances this year.
For the second time in 10 days, No. 5 @Pirates prospect Endy Rodriguez set a season high in hits for the @GSOHoppers.

This time, he added a home run in the ninth for his first career FIVE-hit game: https://t.co/zKCk6RIDQJ pic.twitter.com/Wg4YtVfaRE

— MLB Pipeline (@MLBPipeline) August 4, 2022
A Saintly debut
This time last year, Mikey Perez had yet to begin his professional career after Minnesota selected him in the 15th round of the 2021 Draft.
Now he's got a Triple-A homer under his belt.
Promoted from Single-A Fort Myers on Tuesday, the 22-year-old took full advantage of his unique opportunity, belting a pinch-hit home run to cap St. Paul's five-run ninth inning during a 9-7 win over Omaha.
The UCLA product opened the season in the Florida State League, where he hit .225 with a .703 OPS, 29 extra-base hits, eight homers and 37 RBIs in 81 games for the Mighty Mussels.
Shake, Rattlers and roll
Zavier Warren and Jackson Chourio could not be stopped in the batter's box.
The No. 18 Brewers prospect had his first multihomer game of his career as he went 4-for-5 with two homers and five RBIs in High-A Wisconsin's 8-6 win over Quad Cities.
The 23-year-old's productive night started early as he hit an RBI double to center field in the first inning. The power surge came in his next two at-bats as he hit a two-run shot to center field in the third inning and another two-run long ball in the fourth inning.
But it was clearly not a one-man show as Chourio played a huge part in the Rattlers' win. The No. 1 Brewers prospect has had multiple multihit games, but had only had two four-hit games once this season. Chourio made it three as he went 4-for-6 with three runs scored.
The 18-year-old's productive night happened early as his four hits were singles in his first four at-bats of the game. The outfielder's night brought his slash line to .327/.375/.585.
Prick up your ears
It's not heaven, but for baseball fans, it's close.
Following the success of last year's inaugural MLB at Field of Dreams game featuring the Yankees and White Sox, a pair of Minor League clubs will get their chance to play in the cornfields of Dyersville, Iowa.
While the Cubs and Reds prepare to wade their way through the cornstalks on Aug. 11, a couple High-A Midwest League clubs will take to the field first. The Quad Cities River Bandits, a Royals affiliate, will play host to the Cedar Rapids Kernels (Twins) on Tuesday, Aug. 9 at 7 p.m. ET on MLB Network and MiLB.TV.
MLB Network's Harold Reynolds will call the game along with Jon Morosi and Greg Amsinger. Full story »
"Hey, is this heaven?"

High-A Cedar Rapids and Quad Cities will get a chance to find out in the @MiLB Field of Dreams Game.

Here's everything you need to know: https://t.co/4TKpHOHrFc pic.twitter.com/DL3qyncr8Z

— Minor League Baseball (@MiLB) August 3, 2022
Riding the Cyclones to a cycle
Although he grew up 78 miles away, Tyler Osik had never been to Coney Island before.
But after combining for seven knocks in his first two games -- including hitting for the cycle in the second contest -- at High-A Brooklyn's famed home -- the White Sox prospect was right at home. Osik's milestone came in Winston-Salem's 8-0 victory at Maimonides Park.
"It feels amazing," he said. "Especially because I'm from Long Island, and to do it in front of my family and friends is so cool."
With 10-15 familiar faces in the crowd for Game 1 of the series, Osik went 3-for-4 with a home run. The following day, the Central Florida product had five to six family members and friends there to watch him hit for the cycle for the first time in his life -- and it only took eight total pitches. Full story »
Aug. 2
Bearing some muscle
The No. 3 and 4 batters are always on pitchers' watch lists, and Yanquiel Fernandez and Juan Guerrero proved to be a nightmare for opposing pitchers in Single-A Fresno's 20-5 win over San Jose.
The tandem combined to go 5-for-12 on the night with seven RBIs and four extra-base hits.
Guerrero, Colorado's No. 22 prospect, began the hitting parade with a leadoff triple to right field in the second inning. Fernandez, the Rockies' No. 16 prospect, came all the way around to bat in a six-run second and notched a bases-clearing triple to right of his own.
Fernandez followed with a two-run single to right to give his team an 11-0 lead while matching a career high with a season-high five RBIs by just the third inning. Guerrero took the reins with a leadoff double to center and found himself up to the plate again to crack a two-run triple to right to close out a seven-run sixth.
A view through the Jairo-scope
This is the kind of damage the Giants know Jairo Pomares can do.
San Francisco's No. 6 prospect starred in High-A Eugene's 11-3 win over Spokane, homering as part of a four-hit night. Giants' No. 7 prospect Patrick Bailey also went deep for the Emeralds, and No. 3 prospect Luis Matos drove in a run with a double at Avista Stadium.
But the headliner was Pomares, who was part of the Giants' bountiful 2018 international signing class alongside top prospect Marco Luciano and Matos. The home run was the 11th in 74 games at Eugene this season for the soon-to-be-22-year-old outfielder (Pomares turns 22 on Thursday), who also clubbed six in 26 contests at the level in 2021.
But Pomares' raw approach has dragged down his overall production. He's hitting just .236/.309/.418 through 74 games, due in large part to his 105-26 strikeout-to-walk ratio. Still, it's an improvement over the 33-1 mark Pomares posted in his first taste of High-A last summer.
Offense comes early for the @EugeneEmeralds as they put 11 runs on the board. LF Jairo Pomares goes 4-5 2B, R, 2RHR & 2 1B and CF Luis Matos goes 2-5 RBI 2B, BB, 3 RBI 2B for a total of 4 RBI.
FINAL:
EUG: 11
SPO: 3

— Alex Naveja (@AlexJNaveja) August 3, 2022
Leveling up
Sal Frelick is carrying over his success to the next level.
In his first game at Triple-A, Milwaukee's second-ranked prospect left his footprint on Nashville's 8-3 win over Norfolk.
The first-round (15th overall) selection in the 2021 Draft notched his first hit with the Sounds in his first at-bat, a leadoff double to left field on the first pitch of the game. His second at-bat saw a similar result, an RBI single to left in the second. After a walk in the fifth, the left fielder logged his third hit of the night with a single to right, ending 3-for-5.
The 22-year-old has jumped multiple levels in 2022 alone. He began with High-A Wisconsin for 21 games before being promoted to Double-A Biloxi on May 3. Following 52 games with the Shuckers, Frelick was promoted again and made a great first impression on his new ballclub.
Ch-ch-changes
There are Fourth of July fireworks and Second of August fireworks. We got plenty of the latter at the Trade Deadline.
Before the final salvo came and went at 6 p.m. ET, multiple blockbusters were completed across Major League Baseball. The biggest of them all was, of course, Juan Soto's move from the Nationals to the Padres, which brought two talented rookies, two Top 100 prospects and a rising electric arm to the Washington system.
Seven total Top 100 prospects -- including two more in a Mariners-Reds swap for Luis Castillo -- moved to different organizations Tuesday. That's an increase from four a year ago, and marks the most at any Trade Deadline since seven Top 100 talents were acquired before the final bell in 2017.
MLB Pipeline ranked all 47 prospects who are either on a club's top 30 list or were at the time of their trades. Full story »
New places for familiar prospect faces.

We ranked the top young talent on the move during a frenzied Trade Deadline: https://t.co/MEoStTrGKX pic.twitter.com/0UpruDAGiK

— MLB Pipeline (@MLBPipeline) August 3, 2022
Everyone's loss
Vin Scully, the Hall of Fame voice of the Dodgers for 67 years, has died, the club announced. He was 94.
"We have lost an icon," said Dodgers president and CEO Stan Kasten. "The Dodgers Vin Scully was one of the greatest voices in all of sports. He was a giant of a man, not only as a broadcaster, but as a humanitarian. He loved people. He loved life. He loved baseball and the Dodgers. And he loved his family. His voice will always be heard and etched in all of our minds forever. I know he was looking forward to joining the love of his life, Sandi. Our thoughts and prayers go out to his family during this very difficult time. Vin will be truly missed."
Reaction was swift around the baseball world and across all levels of the Minor Leagues. No matter what the affiliation, the loss hit hard for those who love the game and Scully's treasured way of presenting it. Full story »
Rest in Peace to one of the greatest voices in the game.

Our thoughts and prayers are with Vin Scully's family and friends, and the entire baseball community.

💙🤍 pic.twitter.com/hDOjsOoZav

— Minor League Baseball (@MiLB) August 3, 2022
Back down to business
With the stress of the Trade Deadline officially over, Ronny Mauricio got back to doing what he does best.
Baseball's No. 50 overall prospect slugged a go-ahead homer in the 10th inning, drove in three runs and fell a triple shy of the cycle to lead Double-A Binghamton past Somerset, 14-9, at TD Bank Ballpark. Mauricio's 19 home runs -- in 84 games -- is one shy of the career-high 20 he hit last year in 108 contests with High-A Brooklyn and Binghamton.
Having already singled and doubled for his third consecutive multihit performance, the 21-year-old yanked a 3-1 pitch over the right-field fence for his third home run in five games. Mauricio completed an rather underwhelming July with a .225/.286/.437 slash line. Overall, the switch-hitting shortstop is batting .254 with a .780 OPS, 61 RBIs and a career-high 41 extra-base hits for the Rumble Ponies.
The week that was
Back from a shortened week due to the All-Star break, prospects picked up right where they left off in the final days of July. Prospects were on the move, as the Orioles summoned infielder Terrin Vavra to the big leagues and others moved up in their respective systems, like top Brewers prospect Jackson Chourio, who headed to High-A. On the field, it was a homer-packed week. Second-ranked White Sox prospect Oscar Colas flashed his power while breaking out in his early days with Double-A Birmingham, and a pair of A's catching talents showcased their hit tools as well. In the Mets organization, No. 2 prospect Brett Baty smacked a grand slam while driving in seven for Double-A Binghamton, and third-ranked Mets prospect Ronny Mauricio belted a pair of homers -- though it wasn't enough to sink Toronto's No. 2 prospect Orelvis Martinez and New Hampshire. Top Cardinals prospect Jordan Walker crushed two homers for Double-A Springfield -- twice. Top Yankees prospect Anthony Volpe homered in both ends of a doubleheader and showed off his impressive defense. In other words, it was just another typical wild week in the Minors. Take a look at all the action.