Blue Crew Blanked Second Night in a Row
Rocks Have Not Scored a Run in Last 23 Innings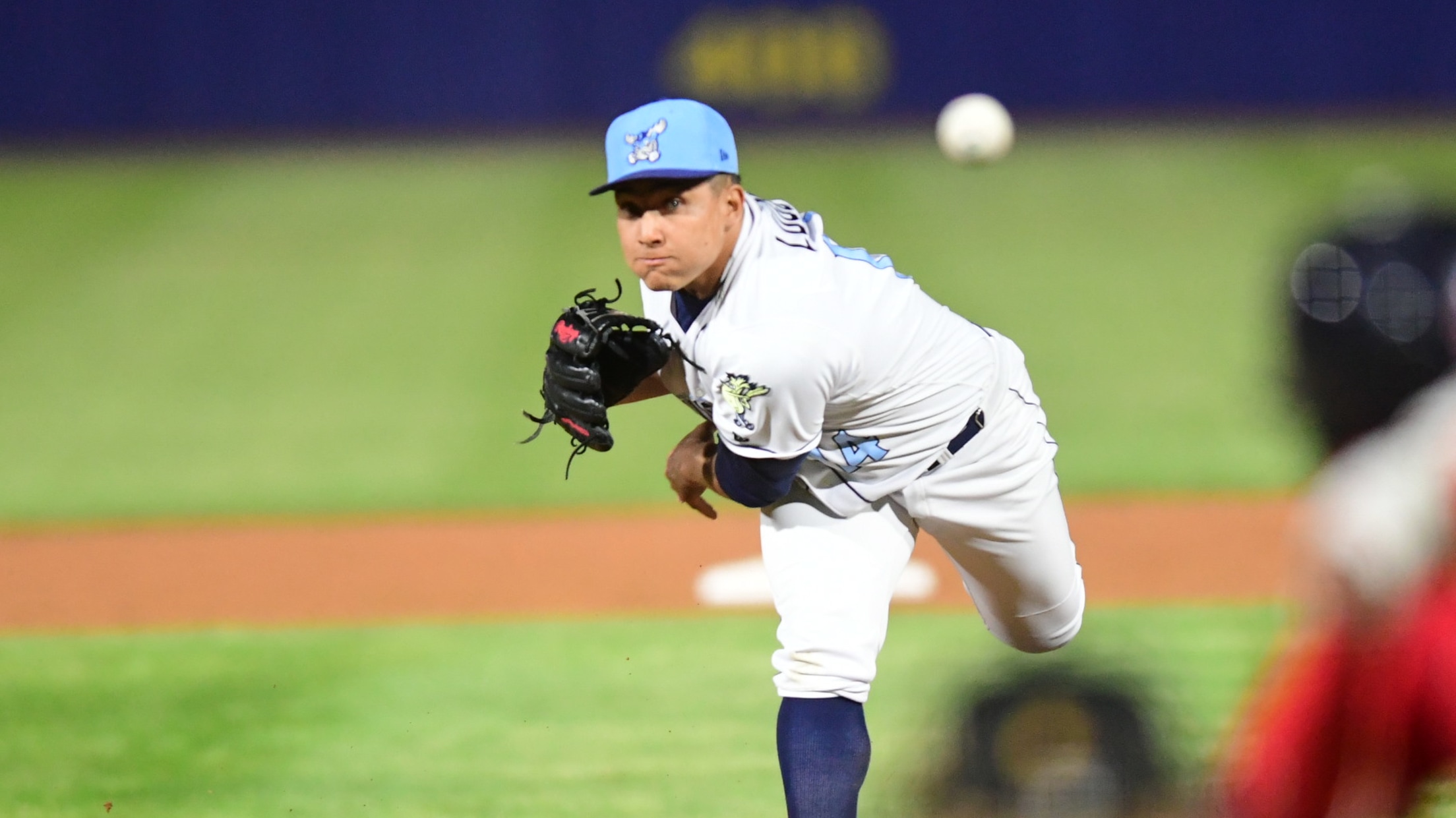 Rito Lugo matched a career-high with six innings of work in a no-decision Wednesday night at Frawley Stadium (Brad Glazier)
Wilmington, DE- Offense was hard to come by in the middle game of the three-game series between the Fayetteville Woodpeckers and the Wilmington Blue Rocks on Wednesday night at Frawley Stadium, but the Rocks ultimately fell in tough fashion 1-0. It was the second straight game the Blue Rocks were
Wilmington, DE- Offense was hard to come by in the middle game of the three-game series between the Fayetteville Woodpeckers and the Wilmington Blue Rocks on Wednesday night at Frawley Stadium, but the Rocks ultimately fell in tough fashion 1-0. It was the second straight game the Blue Rocks were held without a run.
The Woodpeckers generated the first true threat of the night by loading the bases in the top of the eighth inning against Austin Lambright , which chased the lefty out of the game. Collin Snider came in to try and get Wilmington out of the inning unscathed, but was unsuccessful as he walked in the eventual game-winning run on a borderline pitch to Jonathan Arauz who drew the bases loaded RBI walk to put the Rocks in the 1-0 hole.
Both starters excelled on the mound as Wilmington's Rito Lugo and Fayetteville's Jojanse Torres exchanged six scoreless innings each. Lugo matched a career-high with six innings of work in his eighth spot start of the season to keep the potent Woodpeckers offense at bay. Torres answered Lugo inning for inning, while matching a career-high with nine strikeouts. It was the second time this season that Torres fanned nine Wilmington batters, the first of which came back on May 30 in Fayetteville.
Wilmington's offense mustered only two baserunners after the third inning with a single by Sebastian Rivero in the eighth and then in the ninth Blake Perkins drew a walk, stole second, but was left stranded as Nick Pratto went down on strikes to end the game.
The Rocks look to avoid the series sweep as they take om Fayetteville in the series finale on Thursday at 6:35 p.m. Fans can catch all of the action with the Voice of the Blue Rocks, Cory Nidoh, on 89.7 WGLS-FM. Tickets are available at www.bluerocks.com
Pebbles of Knowledge:
Colby Schultz extended his hitting streak to five games during the loss on Wednesday night. The streak began back on July 26 in Down East, where Schultz picked up two hits and scored a run. In the last five games Schultz has accumulated eight hits, with three of them being doubles. In July, Schultz is batting .245 and has five extra-base-hits, which is three more than he had in the entire months of May and June combined.
The Blue Rocks offensive woes continue as they have now gone 23 consecutive innings without scoring a run, establishing a new season-high. The new mark surpasses the previous season-high of 14.2 innings, which was set back in May. The Rocks were shutout for just the fifth time this season with three coming from Salem and two now by the Woodpeckers.