Griffin Conine Extends Own Experience Of Community Impact At Blue Wahoos Fish Fest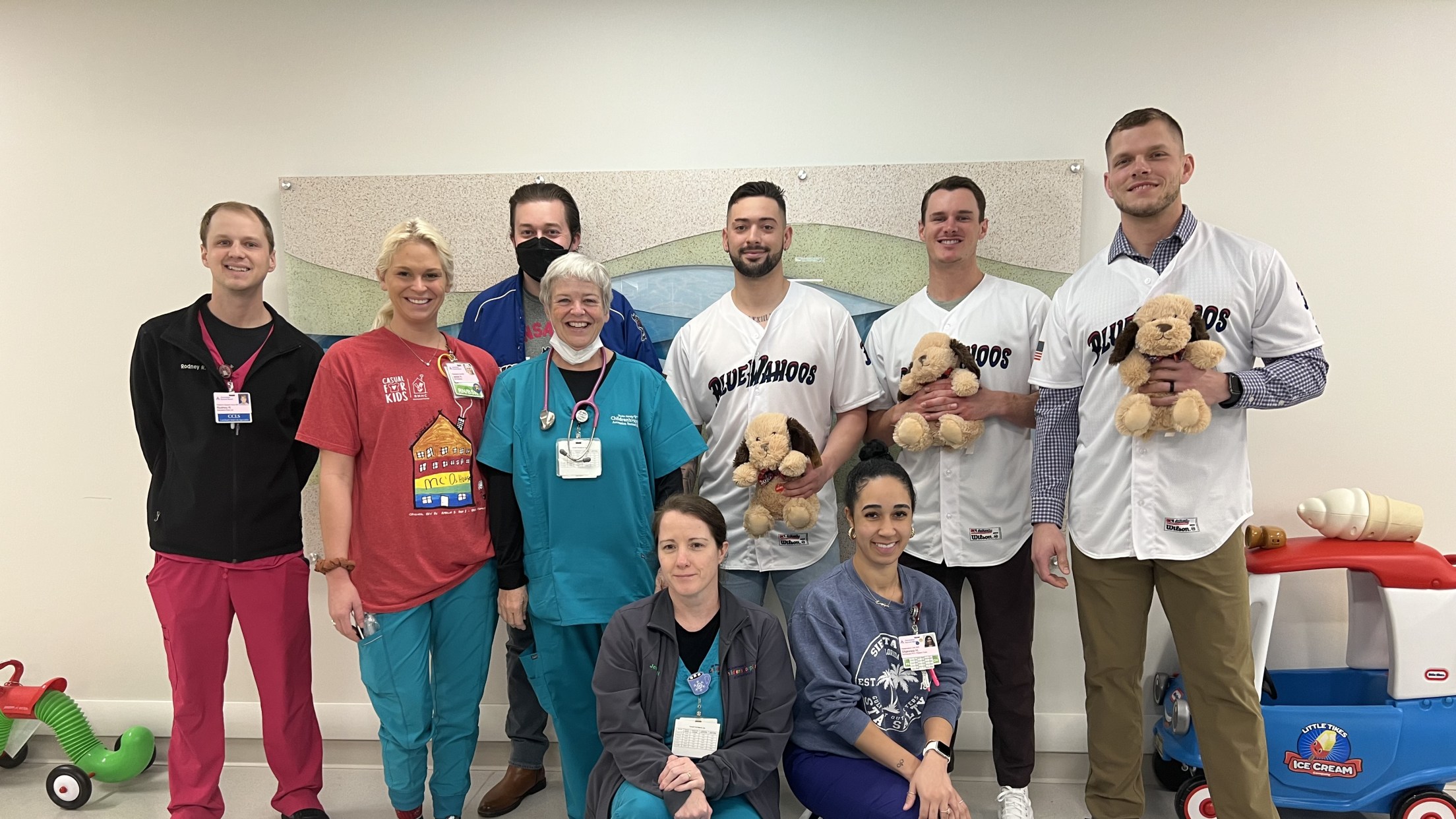 Blue Wahoos broadcaster Erik Bremer (back row, far left) along with returning players Will Banfield and Griffin Conine, along with new hitting coach Matt Snyder (far right) visited The Studer Family Children's Hospital at Ascension Sacred Heart on Jan. 19 as part of day-long activities with the Fish Fest event. (Bill Vilona/Pensacola Blue Wahoos)
Griffin Conine clutched a teddy bear and lit into a smile as he entered the young patient's hospital room. The Blue Wahoos' home-run king just produced the biggest hit. "I just think this helps bring happiness to kids in a time when they need it and it is really important,"
Griffin Conine clutched a teddy bear and lit into a smile as he entered the young patient's hospital room.
The Blue Wahoos' home-run king just produced the biggest hit.
"I just think this helps bring happiness to kids in a time when they need it and it is really important," he said. "It can't be stated enough how much it can change their outlook and bringing a little positivity in their life."
Joined by catcher Will Banfield, along with the Blue Wahoos new hitting coach Matt Snyder, the trio recently visited young patients in Pensacola at the Studer Family Children's Hospital at Ascension Sacred Heart.
It was part of a full day of giving back to the Pensacola community, which included the second "Fish Fest" event at Blue Wahoos Stadium as a winter, fan-gathering, prelude to the team's 2023 season which starts April 7.
Conine, 25, who set the Blue Wahoos franchise record in 2022 for single-season home runs (24) and RBI (74), while helping Pensacola win its first outright Southern League championship in the ballclub's 10th anniversary season, was a grateful participant.
He also has a unique perspective.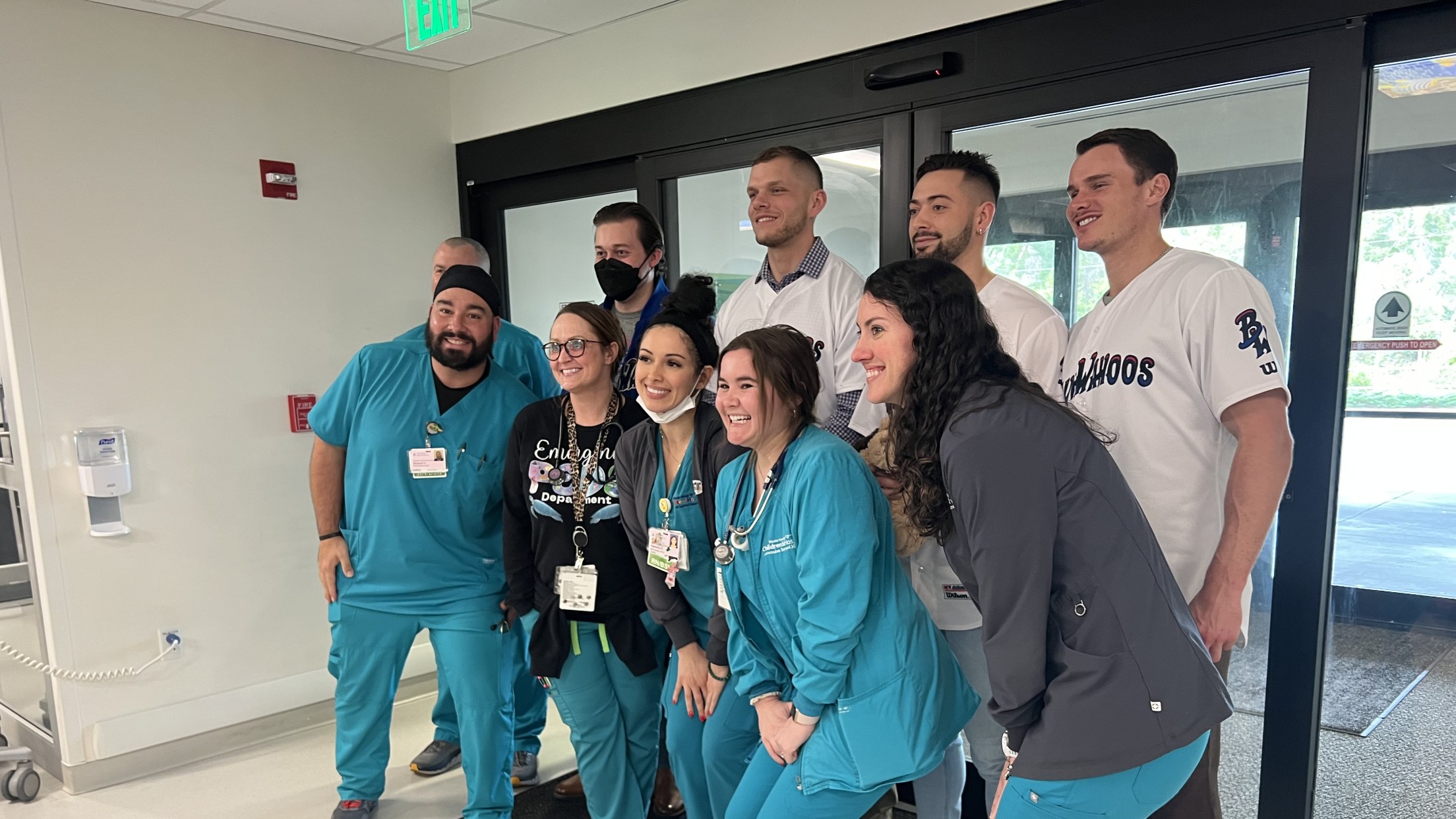 Two months before Conine was born, his parents Jeff and Cindy Conine in May 1997 opened "Conine's Clubhouse,'' at the renown Joe DiMaggio Children's Hospital, located in Hollywood, Florida, just south of Fort Lauderdale.
Located on the hospital campus, Conine's Clubhouse, provides accommodations for parents and families with children needing hospital care. The private rooms are part of lodging that includes a children's play area and food options and next-door availability to their sick or injured children at Joe DiMaggio Children's Hospital.
"They are able to stay free of charge and be close to their loved ones," said Griffin Conine, whose home run total last season was the second-highest in all levels of Minor League Baseball. "I've been helping out as long as I can remember. I do a lot with them. We do a toy drive every year and I try to (visit) there whenever I can.
"So being able to do something like this in Pensacola is a blessing."
Ironically, later in 1997, Jeff Conine led the Miami Marlins (then Florida Marlins) to a stunning World Series championship. The outfielder later returned to the Marlins in 2003 when the team went from the bottom of the standings in early season to a wild card playoff berth and wound up winning a second World Series title
The twin feats forever earned the elder Conine the title as "Mr. Marlin," after he played for the Marlins in eight of his 17 major-league seasons. He recently rejoined the front office as advisor to team majority owner Bruce Sherman.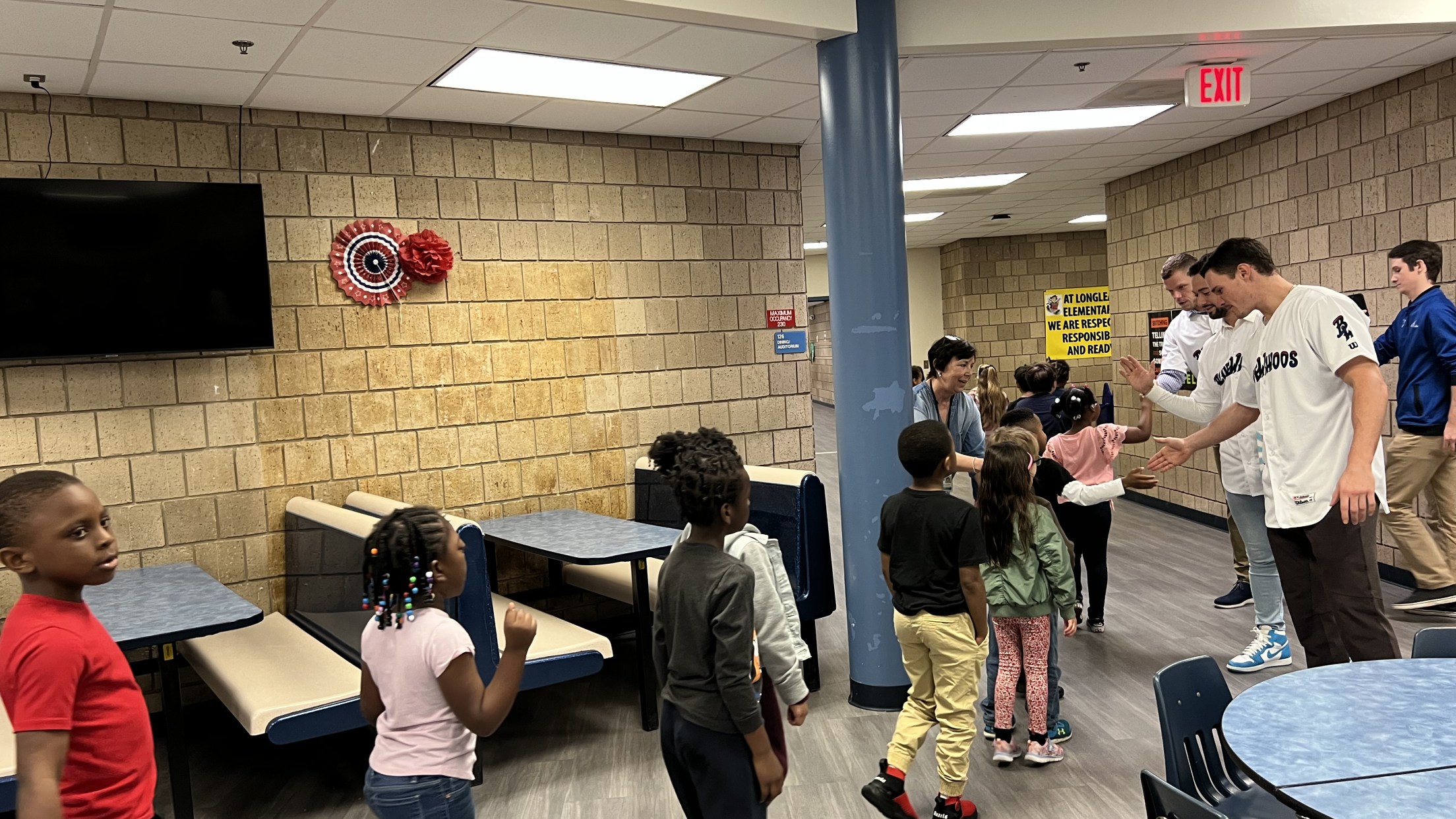 Griffin Conine is expected to be part of the Blue Wahoos lineup on opening day in April with a hopeful move upward later this season and chance to eventually follow his father into the big leagues with the Marlins.
Growing up, watching how his father connected to the South Florida fans with community involvement, has Griffin thankful he can help now as well.
"My college coach at Duke (Chris Pollard) was a big preacher of helping someone else out, helps you get out of your own head, your own body," Griffin Conine said. "I think in baseball we become so mentally wrapped up in how things are going, and if they are going well, and this kind of puts everything into perspective of how lucky we are to be playing baseball for a living.
"Any time we get to share that with these kids it almost helps us more than it helps them. It just kind of bring things in perspective."
Conine, Banfield and Snyder began the Blue Wahoos "Fish Fest" day on Jan. 19 at Longleaf Elementary School adjacent to Pine Forest High School. They helped kick off the school's Literacy Week program, which began this week, by interacting with the grade school kids and joined by Blue Wahoos beloved mascot Kazoo.
"I think this is important for getting the kids hyped up and letting them enjoy something at school that is tied to literacy and learning, but shows hometown connection and sports," said Wesley Gordon, curriculum coordinator at Longleaf Elementary School. "It really gets them excited. It's a nice little break from what they are used to.
"We have activities coming up (this week), so having this is kind of a pep rally thing to get them going is great."
The players and coach spent two different assemblies at the school answering questions, posing for photos and signing autographs. From there, the group took a quick break before arriving at the Studer Family Children's Hospital.
Later in the afternoon, they were joined by Pensacola Catholic grad Jordan McCants, 20, who will be in his first full season of Minor League Baseball, after being drafted by the Marlins in 2021 and spending last year as infielder with the Florida Complex League (FCL) Marlins in Jupiter, which is a half-season league.
McCants will be at the Class A level this year while on the ladder to try and get to the Blue Wahoos sometime in 2024.
When the Fish Fest event began that night for fans, the four players signed autographs for nearly two hours as 1,500-plus fans streamed through the stadium. The event also enabled children to run bases, families to toss baseballs in the outfield, young children able to play in bounce houses, all simultaneously on the field.
In addition, visiting fans had opportunities that night to tour the Blue Wahoos clubhouse, listen to interviews with team president Jonathan Griffith, the three players and Snyder moderated by Blue Wahoos announcer Erik Bremer in the season-ticket lounge, The Blue Wahoos team store sold new merchandise as well.
"Very blessed to be able to come in here and give back and meet more people in the Pensacola community," Banfield said. "We are very blessed to be able to play the game we love every single day. Not everybody gets to do that, obviously, and I'm very fortunate and humbled by the fact I get to do that.
"So, taking time out to go meet kids and giving back to the community means everything to me and I love doing that. I know that makes other people excited."
This will be Conine's third season if he begins in Pensacola. He joined the Blue Wahoos in the second half of the 2021 season, then played all last season with the team. He's been able to embrace the community.
"Pensacola and the Blue Wahoos as an organization… they are more involved in the community that most teams I have been a part of," he said.
"I think that goes to show you the type of city and the type of team they have built here and everything around it. So it's pretty special. It is a lot of fun being able to play here."