Remembering When Blue Wahoos Honored Pensacola Team Breaking Little League Color Barrier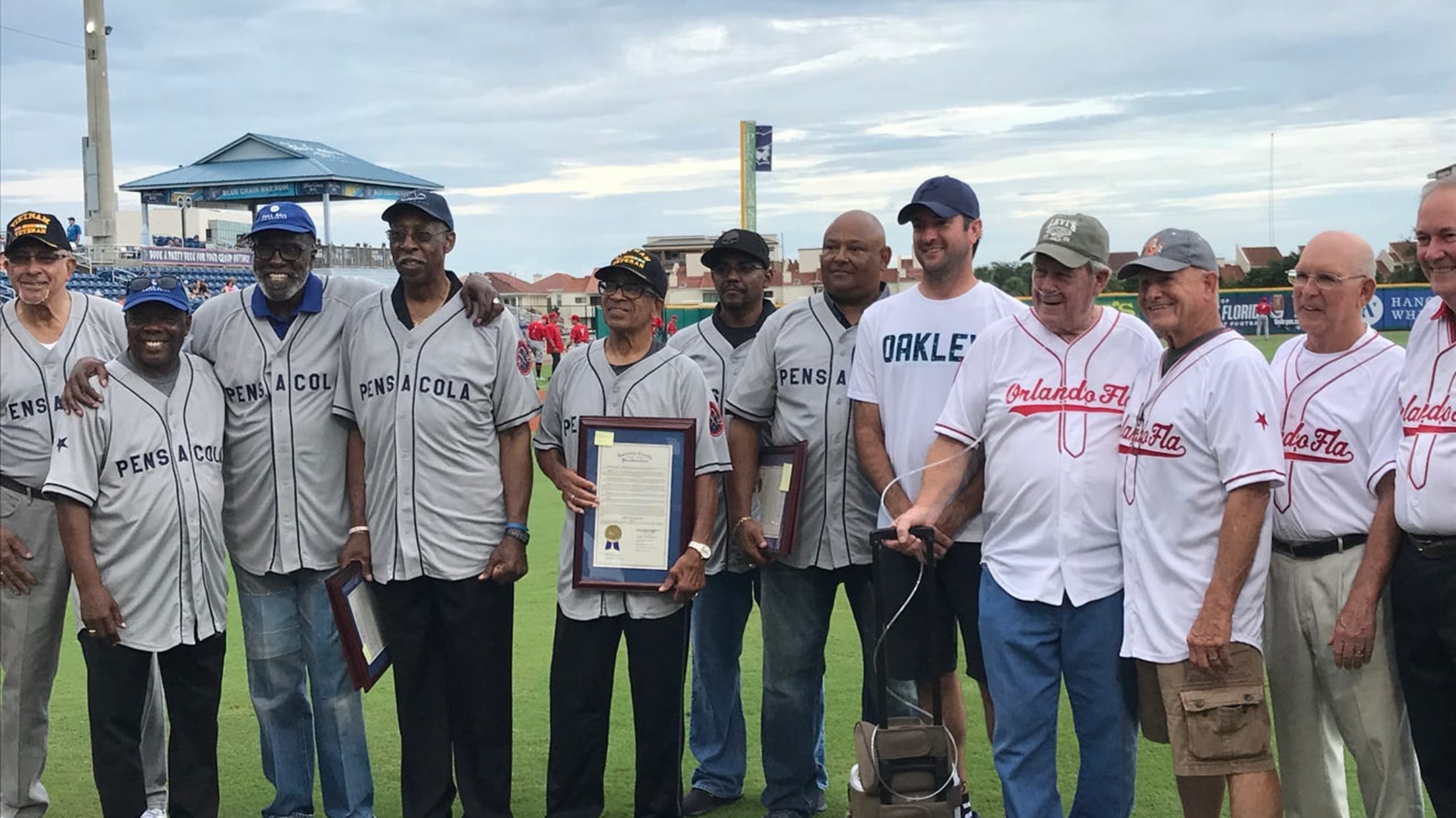 Members of the Pensacola Jaycees, left, and the Orlando Kiwanis teams from the 1955 Florida Little League state tournament gather on Aug. 19, 2018 at Blue Wahoos Stadium when honored for breaking a color barrier in their historic state semifinal game. (Photo courtesy of Pensacola News Journal)
On an August night in 2018, Jerry Cowart had traveled more than 750 miles from West Virginia to Pensacola, so he could reconnect with special history. He was a pitcher-infielder on the 1955 Orlando Kiwanis, an 11-12-year-old Little League team, which agreed to play the Pensacola Jaycees in a game
On an August night in 2018, Jerry Cowart had traveled more than 750 miles from West Virginia to Pensacola, so he could reconnect with special history.
He was a pitcher-infielder on the 1955 Orlando Kiwanis, an 11-12-year-old Little League team, which agreed to play the Pensacola Jaycees in a game which shook youth baseball in the southeast.
The Pensacola Jaycees were a team of all Black players. Orlando's team was all White players. Their Florida Little League state semifinal game on August 10, 1955, at Orlando's Lake Lorna Doone Park broke the game's color barrier
That game, that moment, and those players, which spawned the movie "Long Time Coming: A 1955 Baseball Story," were honored August 18, 2018 by the Pensacola Blue Wahoos prior during their game at Blue Wahoos Stadium.
It was something the Blue Wahoos and team owner Quint Studer made happen as a well to honor the moment 63 years earlier, but also remind of its significance.
As Major League Baseball celebrates the final day of Black History Month in February 2022, this story is a fitting way to recognized Pensacola's history with baseball and great Black players in the community's history.
"I would have never missed this," said Cowart, who engaged in embrace with fellow 70-year-old men who played for the Jaycees. "It's very special. I know back then, we wanted to play that game. We didn't care. We just wanted to play baseball.
"We didn't think one bit of the implications," said Cowart, whose team won the game 5-0 to advance to play Miami for the 1955 state title, which Miami won 1-0. "I know (Jaycees) were scared. And we were uptight too. But it was fun. We had a good time."
On that night in 2018, PGA Tour star and Pensacola resident Bubba Watson, a co-investor with the Blue Wahoos, returned from his busy schedule to hand out commemorative plaques to all players and show his support.
That was a joyous surprise to the members of both teams and their families. Blue Wahoos players and Jacksonville Jumbo Shrimp players applauded from both dugouts during the ceremony.
The cheers became louder during the second inning when a sellout crowd (5,038) had filled the seats.
"I almost wish I could have been a part of it back in that era," said former Blue Wahoos manager Jody Davis, who grew up in Gainesville, Georgia, and went on to become a Major League All-Star catcher with the Chicago Cubs and Atlanta Braves
"But I wasn't born until '56, so it was just a little bit ahead of my time, but this game of baseball has kinda smoothed over a lot of rough times.
"That bunch from Orlando did the right thing, we all know that. It is historic. I was glad to be part of it and see those guys out here. I hope they had a good time."
The Blue Wahoos wore replica home jerseys of the Pensacola Jaycees.
The players from both the Jaycees and Orlando Kiwanis gathered on the concourse that night, signing autographs, posing with fans for pictures, or just taking in the whole experience.
At one point, Escambia County commissioner Lumon May approached four of the Orlando team members and hugged each one. It was his emotional way of saying "thank you" for what they accomplished.
"It was baseball that brought it all together and baseball is doing it again here (Saturday)," said Ted Haddock, the film's producer.
The game was eight years after Jackie Robinson, who was born in Cairo, Georgia, made his debut with the Brooklyn Dodgers to break Major League Baseball's color barrier.
"One of our own coaches quit before we played that game, because he didn't want to go against a black team," Cowart said.
The Pensacola Jaycees reached the state Little League semifinals, because teams from Fort Walton Beach and Panama City both forfeited playoff games after refusing to play against black players.
"We really didn't know, because we had baseball fields to play on," said Willie Robinson, a shortstop on the Jaycees and nephew of former Booker T. Washington principal Sherman Robinson. "There were baseball fields everywhere in Pensacola back then."
"But people outside of us didn't know we could play so well. We weren't the best ballplayers, necessarily, in the south, but other teams didn't get the same opportunity."
The team traveled in three cars to get to Orlando. Only one gas station company in Florida — Phillips 66 — permitted African-American travelers to use their restrooms and drink from their water fountains.
"There were some very rough towns back then ... racist places," said Rev. Freddie Augustine, a second baseman on the Pensacola Jaycees. "We couldn't just stop anywhere."
But they made it happen. And 63 years later, so did the Blue Wahoos.
Blue Wahoos Stadium provided a fitting venue. It was only blocks away from where the Pensacola Jaycees played at their field that once existed on the corner of Government Street and Intendencia.
"This all goes back to our covenant about bringing the community together," Studer said that night. "But it is also to let people know we have a ways to go. We've always wanted to make this ballpark like a neighborhood.. an integrated neighborhood."
The players from both teams met for the first time two years ago in Pensacola to film the documentary. It was their first meeting since 1955. It was at a ballpark near A.K. Suter Elementary School — a field that was off-limits to the Jaycees in 1955.
Neighborhood kids saw the film crews and the production. The youth players asked the former players, all now in their 70s, about what was going on.
When they found out, the kids began asking for autographs and bonded with the men in a way that touched their hearts.
"I thank the Lord for what happened," Robinson said. "My only disappointment is that (the local African-American community) never recognized us back then. That is my disappointment.
"But I am overwhelmed now because they are finally getting to know what we did. It's just they can't really feel the full impact."