Eder Back On Mound, But Blue Wahoos Blanked By Lookouts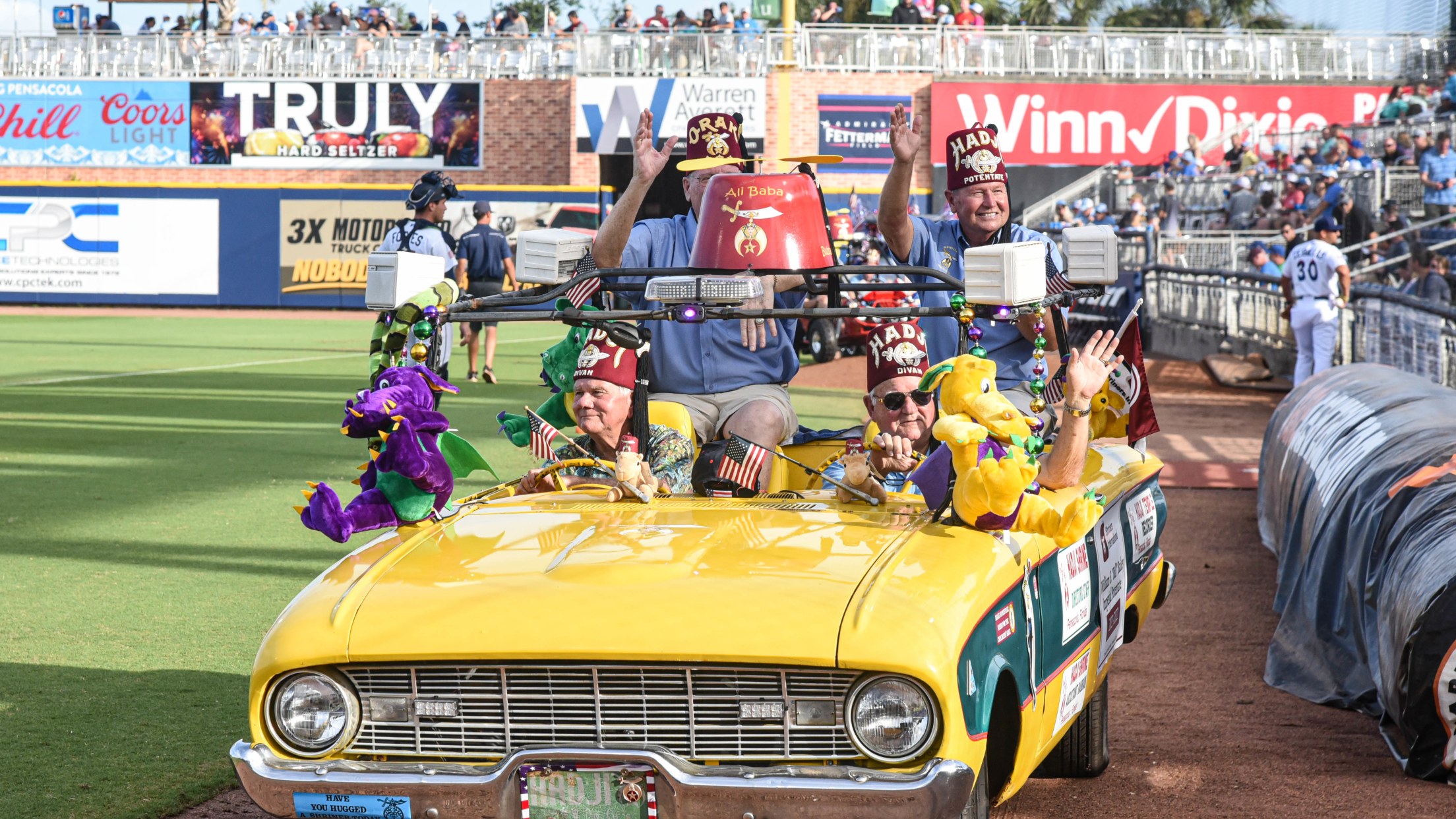 Pensacola's Hadji Shriners joined with Grand Poobah in making appearance for on-field parade before Friday night's Blue Wahoos game as part of festivities. (Daniel Venn)
The Blue Wahoos went the first five innings Friday night without a hit. They spent the rest of the game with multiple baserunners, but similar frustration. After getting three early runs off Blue Wahoos starter Jake Eder, the Chattanooga Lookouts finished off a 4-0 win Friday night amid a capacity
The Blue Wahoos went the first five innings Friday night without a hit.
They spent the rest of the game with multiple baserunners, but similar frustration.
After getting three early runs off Blue Wahoos starter Jake Eder, the Chattanooga Lookouts finished off a 4-0 win Friday night amid a capacity crowd of 5,038 at Blue Wahoos Stadium.
It evened the series at 2-2 heading into the final two games Saturday and Sunday. After the Blue Wahoos (36-28) opened the homestand with an 11-3 win Tuesday, including nine runs in the first inning, they have been unable to generate another big inning against the Lookouts (34-27).
Five Chattanooga pitchers combined Friday on a 3-hit shutout with 13 strikeouts. The bullpen followed a strong start from the Lookouts' Mac Sceroler, who pitched an inning in Tuesday's game.
Sceroler faced only two batters above the minimum in his four-inning outing Friday, yielding just a pair of walks and getting three strikeouts.
He left with a three-run lead, after Chattanooga took advantage of a couple mistakes by Eder to build a lead.
Making his first extended start since July 1, following an appearance Sunday with Blue Wahoos teammate Max Meyer in the SiriusXM Futures All-Star Game in Denver, Eder (3-3) absorbed the loss Friday.
He entered the game with the second lowest earned run average (1.33) among all qualified pitchers throughout Minor League Baseball.
On Friday, however, Eder got off to a rough start. He walked leadoff batter Brian Rey, then threw a pair of wild pitches, along with an error to enable Rey to score without a hit.
In the third inning, Eder gave up a one-out double, then hung a pitch that right fielder Lorenzo Cedrolo blasted out of the park a two-run homer.
But from that point, Eder, who worked 1.2 innings in a planned short start July 7 against the Mississippi Braves, got into a good rhythm in his final three innings.
He retired the last five batters he faced in order, including three strikeouts.
That kept the Blue Wahoos in striking distance. Demetrius Sims got the Blue Wahoos first hit in the sixth inning on an infield single. He moved to second on a two-out walk, but a groundout ended the inning.
In the seventh, the Blue Wahoos had two runners on with one out. In the eighth and ninth, they had two on with two out, but were unable to get a big hit.
Galli Cribbs' Jr. liner was the only base hit to leave the infield. Peyton Burdick reached on an infield single.
Blue Wahoos reliever Tyler Stevens worked two scoreless innings in relief.
Since Tuesday's 11-run win, the Blue Wahoos offense has been quieted and held to just three runs in the past three games.
The series continues Saturday with Chattanooga throwing its ace, Nick Lodullo, who also appeared in the Futures Game and has a 0.84 ERA as one of the top prospects in MILB. The Blue Wahoos will Zach McCambley making his second Double-A start after being promoted from High-A Beloit Snappers.
GAME NOTABLES: The first 2,000 fans through the gates Friday received a pink/blue Blue Wahoos "Fanny Pack," sponsored by game sponsor Woodlands Medical Specialists.
There was a pregame parade by Pensacola's Hadji Shriners outside the stadium, along with a pregame introduction of the National Shriners "Grand Poobah."
The National Anthem was performed by the Spanish Fort United Methodist Church
The Blue Angels had a large group among their crew, along with families, attending the game.
BLUE WAHOOS WEEKEND
WHO: Chattanooga Lookouts vs. Blue Wahoos.
WHERE: Blue Wahoos Stadium
WHEN: Saturday and Sunday.
GAME TIMES: 6:05 p.m. on Saturday; 4:05 p.m. on Sunday.
RADIO: ESPN-Pensacola (99.1 FM, 1330 AM), Chris Garagiola on play-by-play.
PROMOTIONS: Saturday: Post-game fireworks. Plus Flight Suit Auction.
Sunday: Family Sunday with kids able to run the bases after the game, plus family toss in the outfield.
TICKETS: Available on www.bluewahoos.com, the stadium box office, or by calling 850-934-8444.