McCambley Dazzles In First Home Start, But Lookouts Rally For Win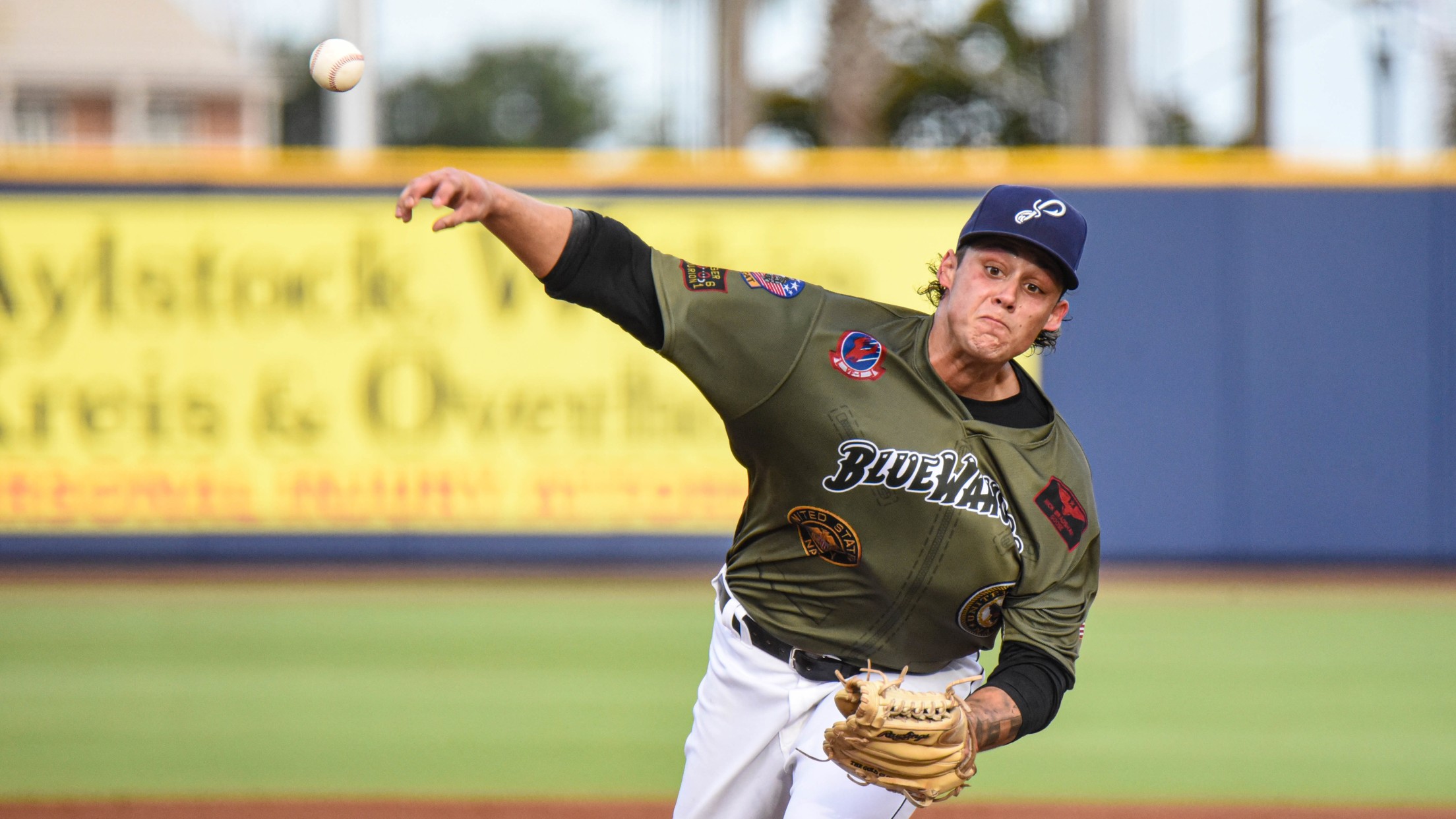 Wearing custom-designed Flight Suit jersey, Blue Wahoos pitcher Zach McCambley made his debut at Blue Wahoos Stadium with six strong innings. (Daniel Venn)
Zach McCambley got his first experience with the kind of festive atmosphere that occurs on a Saturday night at Blue Wahoos Stadium. "I felt the energy from the crowd for the first time this whole season," said McCambley, the Miami Marlins' third-round pick a year ago, who earned a recent
Zach McCambley got his first experience with the kind of festive atmosphere that occurs on a Saturday night at Blue Wahoos Stadium.
"I felt the energy from the crowd for the first time this whole season," said McCambley, the Miami Marlins' third-round pick a year ago, who earned a recent promotion to Double-A. "It was good."
The rookie righthander added to the memory with a six-inning start that was full of superlatives, except for how the game eventually ended.
Chattanooga's T.J. Hopkins hit a two-run, ninth-inning homer off reliever Dylan Bice, then closer Hector Perez sealed the Lookouts 3-2 comeback win against the Blue Wahoos.
Another sellout crowd (5,038) at Blue Wahoos Stadium, along with a regional television audience on Cox Sports Television, was treated to a duel of touted pitchers and outstanding defensive plays from both teams.
The game also featured an emotion-tugging, Ascension Sacred Heart "Home Run For Life" moment by a young boy in the fourth inning, post-game fireworks and an outfield camp-out by area Girl Scouts and their moms.
Lookouts lefty Nick Lodolo, the Cincinnati Reds' No. 1 pick in 2019, who appears soon destined for a major league future, showed his arsenal and was followed by three relievers in holding the Blue Wahoos (36-29) to just four hits.
The Lookouts (35-27) took a 3-2 lead in the series as well, after the Blue Wahoos were again unable to take advantage of opportunities with baserunners in seven of the nine innings.
McCambley, however, was dialed in
His first Double-A start a week ago at Mississippi resulted in a short night, working 3.1 innings and allowing six runs, as two M-Braves pitchers combined for a no-hitter in the win.
"I feel like it was a bounce back night," said McCambley, recently promoted from the Marlins' High-A affiliate in Beloit, Wisconsin. "It was awesome to get back here, in front of the home crowd, the home stadium. The Wahoos have a wonderful spot here.
"Me coming from Wisconsin back to Florida means a lot. I feel like I kinda earned my place being able to pitch here."
McCambley was in line for the win after the Blue Wahoos got a second-inning run on catcher Jhon Nunez' to out single to score J.D. Osborne. They regained the lead in the bottom of the fifth on a bases loaded walk.
The Lookouts issued eight free passes, but the Blue Wahoos weren't able to seize the chances to pad a lead.
Hopkins' line drive homer soared just about the leaping try from Blue Wahoos left-fielder Tristan Pompey, who earlier in the game made a sensational catch in the left field corner.
"It is a little different being here," said McCambley, who became a standout college pitcher at Coastal Carolina, before becoming the 75th overall player taken in last year's COVID-19 shortened draft.
"Guys make plays that you don't necessarily think will be made at a level below this," he said. "I was pretty confident we were going to win the game."
The teams close out the week with a 4:05 p.m. game Sunday at Blue Wahoos Stadium.
GAME NOTABLES: The Blue Wahoos honored Carter Harrison, a preschooler, who is battling one of the rarest diseases, Takenouchi-Kosaki Syndrome -- a condition so rare only 16 people in the world have been diagnosed with it.
With his parents holding each arm, they together jogged around the bases with both teams' players clapping from the dugout and crowd providing a standing ovation. The moment occurred after the fourth inning.
The National Anthem was performed by three members of the local Girl Scouts chapter. They were part of an on-field-parade, that was followed in post-game by the Girl Scouts enjoying a late-night movie on the stadium video board.
This was the third Blue Wahoos game broadcast on New Orleans-based Cox Sports Television.
The Blue Wahoos wore olive-green, custom-designed "Flight Suit" jerseys in the game that were auctioned for charity.
BLUE WAHOOS HOMESTAND FINALE
WHO: Chattanooga Lookouts vs. Blue Wahoos.
WHERE: Blue Wahoos Stadium
WHEN: Sunday, 4:05 p.m.
RADIO: ESPN-Pensacola (99.1 FM, 1330 AM), Chris Garagiola on play-by-play.
PROMOTIONS: Family Sunday with kids able to run the bases after the game, plus family toss in the outfield.
TICKETS: Available for Sunday online at www.bluewahoos.com or at stadium box office.