Bring Your Dog to the Park this Summer Thanks to Humane Pennsylvania
Fightin Phils to Host Five Bark in the Park Games this Season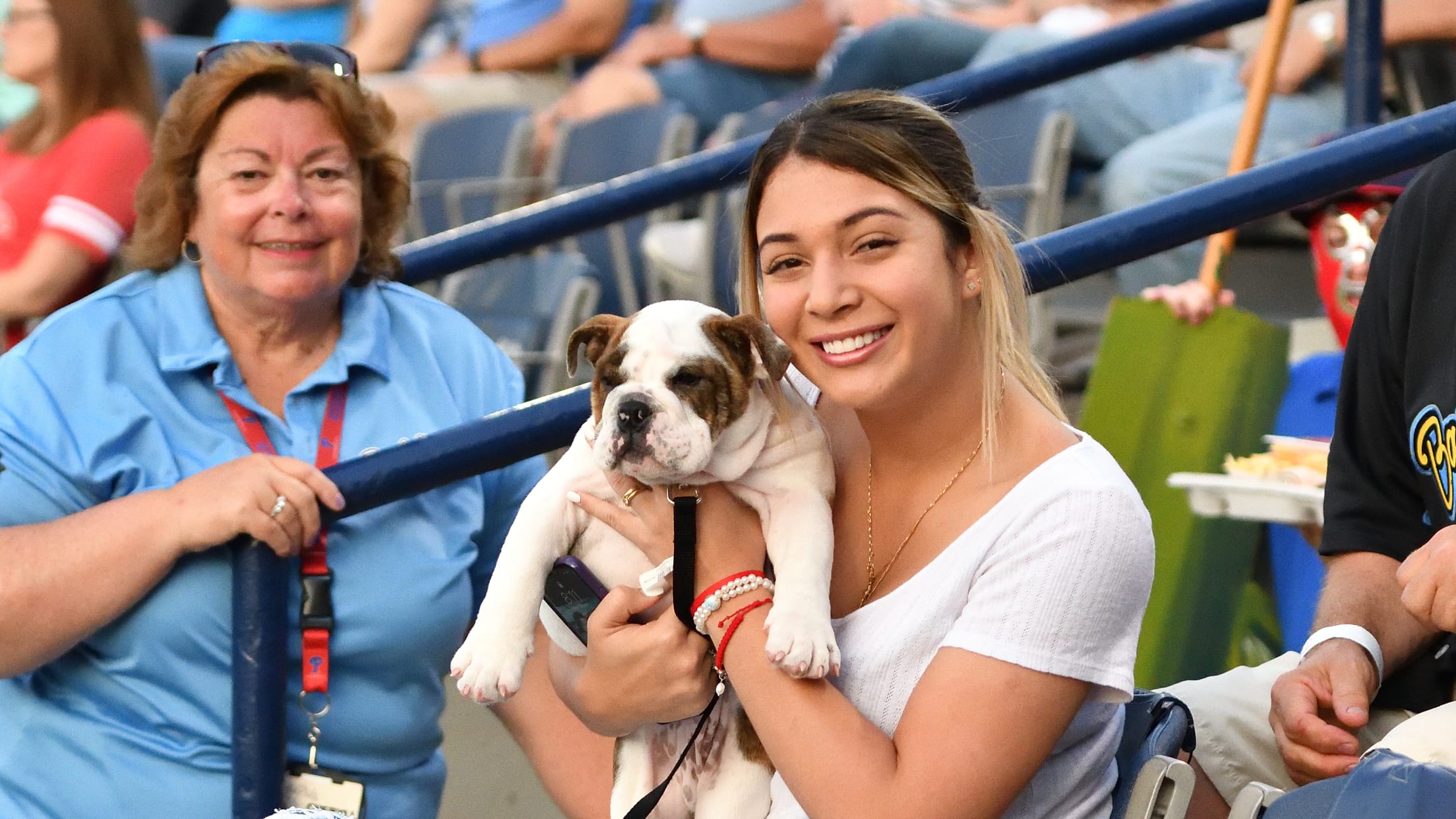 (Reading, PA) - The Reading Fightin Phils will welcome canine companions at five Bark in the Park games this summer at FirstEnergy Stadium, thanks to Humane Pennsylvania. Dog tickets are available for just $5 at these select games. Humane Pennsylvania will have a table set up in the VIST Bank
(Reading, PA) - The Reading Fightin Phils will welcome canine companions at five Bark in the Park games this summer at FirstEnergy Stadium, thanks to Humane Pennsylvania.
Dog tickets are available for just $5 at these select games. Humane Pennsylvania will have a table set up in the VIST Bank Plaza at all Bark in the Park games, featuring information and raffles.
All Sunday home games are also Berks Packing Sunday Family Fun Days, presented by Bojangles' and Classic Harley-Davidson, with four tickets, four hot dogs, and four sodas available for only $50 when purchased in advance.
Bark in the Park days in 2020:
Sunday, June 14th
Sunday, June 28th
Sunday, July 26th
Sunday, August 2nd
Sunday, August 9th
The first Bark in the Park day is June 14th, when the R-Phils host the Hartford Yard Goats at 5:15 p.m. The first 2,000 kids in attendance take home a Screwball "Snowman" Bobblehead, and there will be a "Frozen" and Princess tribute with sing-alongs and photos at 3:30 p.m.
June 28th is "The Office Night" with first pitch at 5:15 p.m. against the Bowie Baysox. The evening will feature a special appearance from Kate Flannery, who played "Meredith Palmer" on the hit show. It's also Belated Father's Day with a post-game catch on the field, plus a Minions photo session at 3:30 p.m.
July 26th features a Rhys Hoskins & Crazy Hot Dog Vendor Hamper giveaway and free hot dog for the first 2,000 kids when the R-Phils battle the New Hampshire Fisher Cats at 5:15 p.m. Plus, $1 hot dogs are available for all fans. It's also the Crazy Hot Dog Vendor's birthday party, where he'll read "Green Eggs & Ham" to kids at 4 p.m. and sign autographs during the game, and a Kids Magic Show will take place at 3:30 p.m.
On August 2nd, the first 2,000 kids receive a Scotty Jetpacks Spaceman Bobblehead as the Fightins take on the Binghamton Rumble Ponies at 5:15 p.m. There will be a First Responders autograph session and vehicle display, and a photo session with "Toy Story" characters "Woody" and "Buzz Lightyear" at 3:30 p.m.
The final Bark in the Park day will be on August 9th, when Reading battles the Erie SeaWolves at 5:15 p.m. The first 2,000 kids take home a 20th Anniversary Mascot Band t-shirt, and the mascot band will perform a pregame concert. It's also "Bring Your Camera" Photo Day for kids featuring a photo session with R-Phils players and the Crazy Hot Dog Vendor at 3:30 p.m.
Humane Pennsylvania represents the region's largest partnership of animal welfare organizations, combining the efforts and resources of managed intake and adoption guarantee animal shelters, adoption centers, non-profit veterinary hospitals and clinics, equine rescue, emergency animal service organizations, animal welfare management services, an animal focused charitable foundation, and even a free public dog park.
Humane Pennsylvania empowers the people in our communities to increase their capacity to care for animals so that all animals are healthy, safe, and treated humanely.