Bubba Watson's Diamond Disc Golf Challenge A Home Run With Local Fans
Hundreds visit Blue Wahoos Stadium for the opening weekend of the ballpark's disc golf course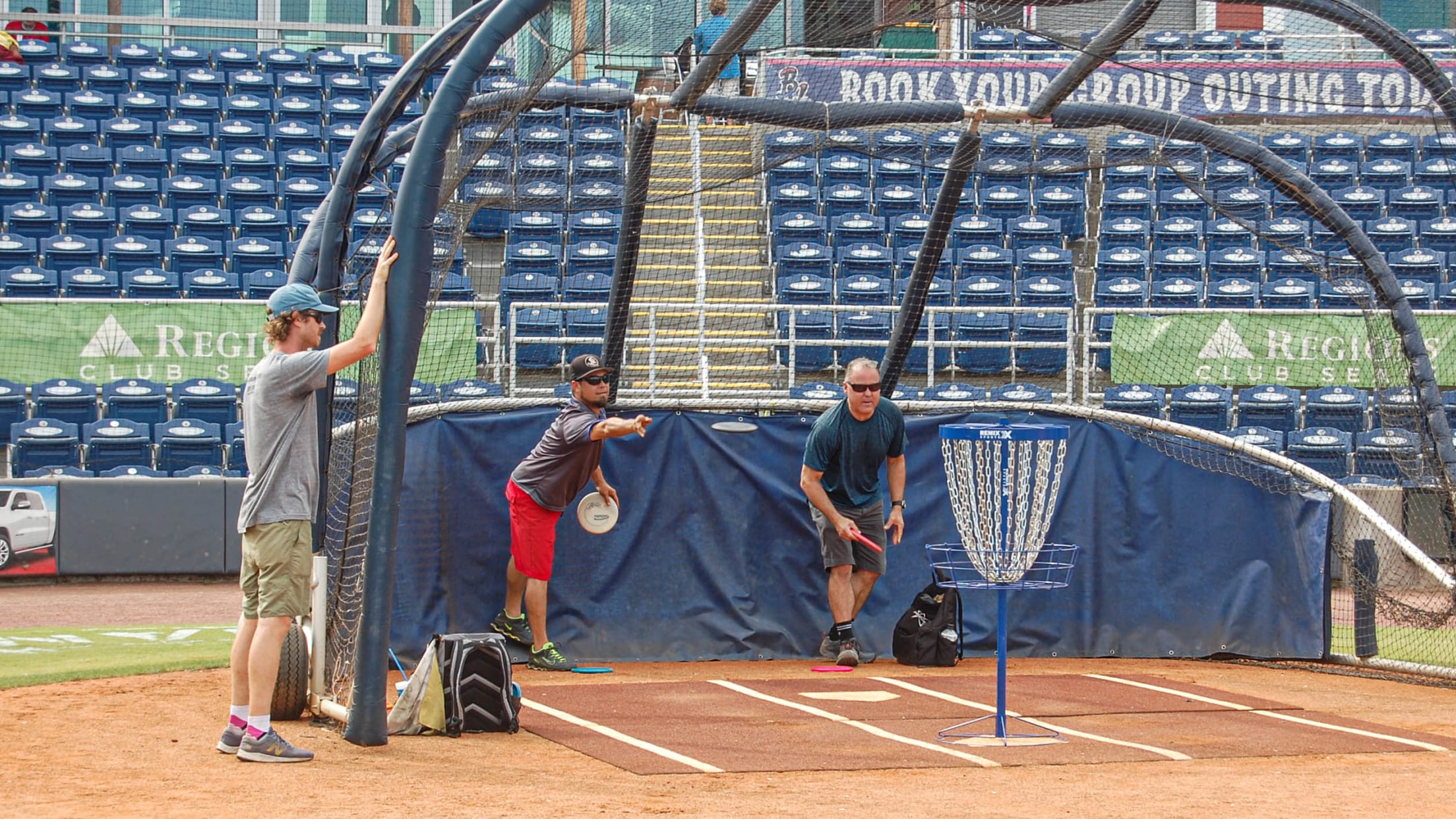 Having been part of the first-day wave of disc golf players, James Ripolio stood on the concourse at Blue Wahoos Stadium with special reflection. He's got a unique connection to the course designer, PGA Tour star Bubba Watson, a Blue Wahoos co-owner, who last week finalized the Bubba Watson Diamond
Having been part of the first-day wave of disc golf players, James Ripolio stood on the concourse at Blue Wahoos Stadium with special reflection.
He's got a unique connection to the course designer, PGA Tour star Bubba Watson, a Blue Wahoos co-owner, who last week finalized the Bubba Watson Diamond Disc Golf Challenge on a flat course normally featuring professional baseball.
The nine-hole disc golf course opened Friday and attracted hundreds of players and their positive reviews during its opening weekend.
"Look at this" said Ripolio, who goes by "Jimmy Rip," showing a picture stored on his cell phone with Watson, after the two played the Sunset Disc Golf Course in Gulf Breeze.
Here's the funny story behind it: Ripolio was unaware it was Bubba Watson when the two joined on the course that day.
After watching Watson play a couple holes, Ripolio complimented his form and asked if Watson had ever played "ball golf" – the disc golfers' vernacular for the sport's traditional version.
"Yeah, I've played a few rounds," Ripolio recalls Watson telling him, adding that he liked ball golf, too. Later, when Jimmy Rip introduced himself, he remembers Watson replying, "Hi, Bubba Watson, two-Masters champion."
"I had no idea," Ripolio said, laughing Friday after he and three of his buddies played multiple rounds Friday on the opening day of the Bubba Watson Diamond Disc Golf Challenge.
For many of the players, especially the young children, who joined their parents or family members this past weekend playing disc golf at Blue Wahoos Stadium, the course designer's celebrity status may have been unknown as well.
But the experience, the thrill of throwing Frisbee style discs to hole cages around an infield, an outfield, along both baselines, then the closing hole from pitcher's mound to home plate, generated universal excitement.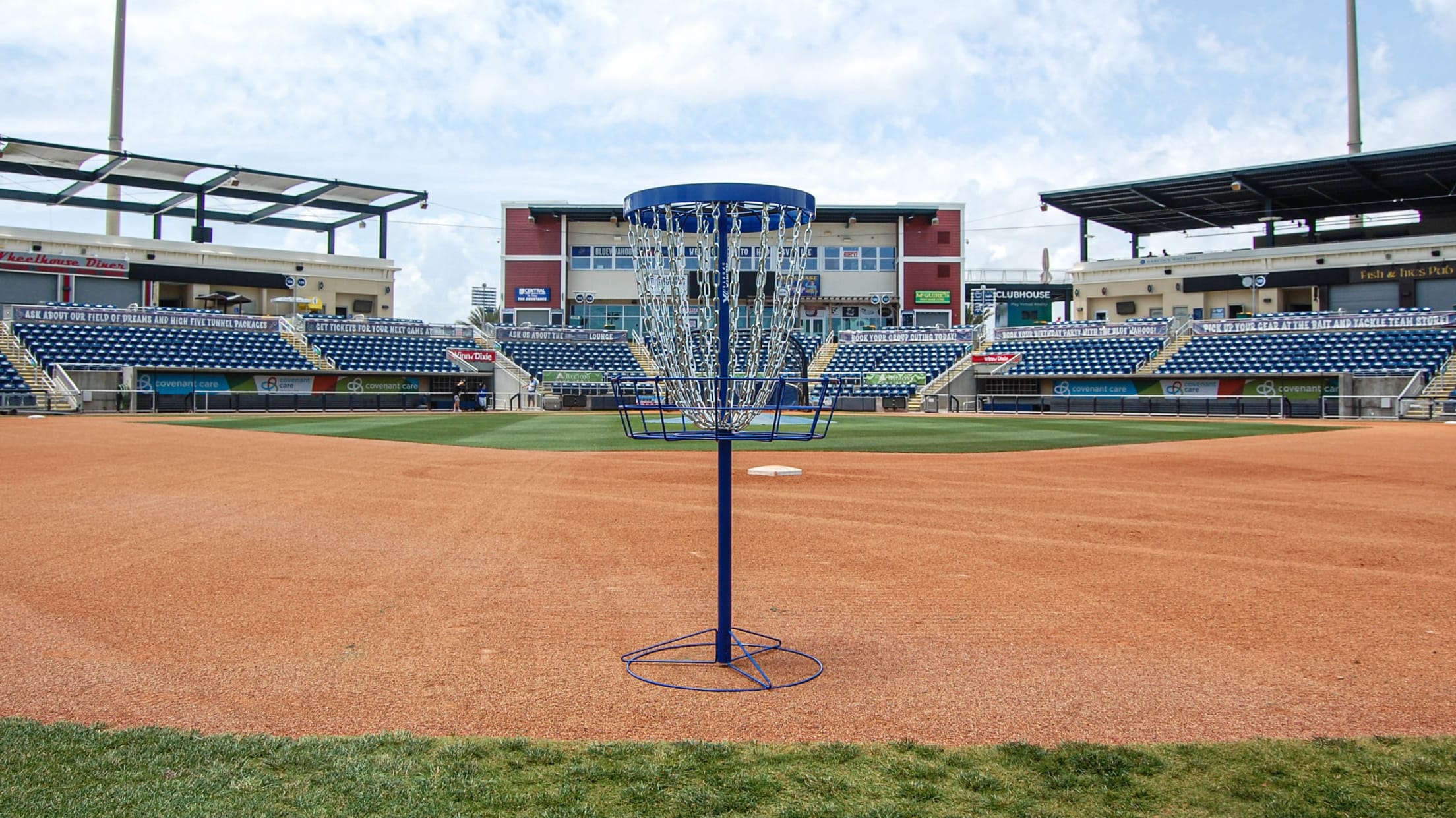 "It was great because, people have set up temporary courses before, but here you have all the atmosphere of this setting, the ballpark, all the things going on at the stadium," said Dan Harper, who traveled 60-plus miles with his playing partners from Niceville, where they are avid disc golfers.
"So that's really cool. It's a nice course and a good one for beginners. I am going to bring my 13-year-old son (Saturday) and we'll do this again."
Harper and his group met with players who traveled from Mobile. Between Destin and Mobile, there are many disc golf courses in this region.
Many of those are part of the Emerald Coast Disc Golf Club, which was formed in 2005. The organization supports courses from Brewton (Ala.) and Orange Beach (Ala.) to Pensacola, Milton and Fort Walton Beach.
The serious players toted bags of multi-colored discs, specifically designed for various distances. It's the same way a "ball golfer" may have 14 clubs in a golf bag.
Dylan Allmon, a senior at Gulf Breeze High, was playing with his father, Joe, when producing a hole-in-one on the course's longest hole, No. 5, which begins at the 400-foot mark in straightaway center at Blue Wahoos Stadium and goes to a hole location just behind second base.
Dylan began playing recently at urging of his father.
"Now, he can beat me," Joe Allmon said.
The idea of transforming the bayfront ballpark into a disc golf course was formulated by Rick Appleyard, video editor and cinematographer for The Appleyard Agency, the Blue Wahoos marketing and advertising partner. With the Blue Wahoos baseball season in limbo, the quest has been to find ways to utilize the stadium, drive some revenue and help with staff employment.
Appleyard's vision was supported by Watson, who readily agreed to design the layout, which begins on the first base line and circles the ballpark.
Greg Liebbe, first-year group sales executive with the Blue Wahoos, has carried the project into production. Liebbe first began playing disc golf in 2010. He was at the stadium all weekend during the Noon to 8 p.m. course operating hours.
"We had nearly 300 disc golfers visit the ballpark during the opening weekend," Liebbe said. "It was great to see that kind of interest. We might be the only minor league baseball stadium in the country to have disc golf right now.
"I know it's been done at Dodger Stadium in Los Angeles and there are several NFL stadiums that have tried it. But I don't know of another minor league baseball stadium with disc golf. People have been excited to play it."
The par-25 course itself is about half the length of most disc golf courses, according to well-experienced players. Naturally, it doesn't have the trees and terrain differences that other courses possess.
But the beauty is the backdrop of Pensacola Bay, the ambiance of the stadium itself, and the swirling winds off the water provide the biggest challenge while the stadium's safety netting adds an unusual wrinkle to the playing course, allowing deft players to bank their shots off the net while serving like bowling bumpers for less experienced players.
"It's cool man, it's a nice little novelty," Ripolio.
"The wind that comes off the sound right there is where the bay is really strong," said Terrell Morris, who played in the same group. "And it can be challenging when you have to deal with that. Because sometimes when you are playing in the woods, trees block it (wind)."
The opening weekend featured hundreds of players of all ages and skills levels.
Julia Lang and her husband Max were among those who tried the course Friday night as the sun was setting. On the finishing hole, Julia had a perfect throw that hit the cage pole and just missed a hole-in-one on the signature No. 9.
Alas, just like in traditional golf, the shot has to remain inside the hole, or cage, to be an ace.
"I got really excited," said Julia Lang, who has only played disc golf a few times. "I'm new to Pensacola, so I thought it was fun to get to experience the city of Pensacola. That was neat.
"And I think for families, it is really fun and for little kids, they get to run around and have a good time."
That is what makes Bubba Watson's Disc Golf Challenge all the better.
Want to play?
The course is open on Fridays, Saturdays, and Sundays from 12:00 PM until 8:00 PM. Admission is $5. Children 12 and under, seniors, and military members receive a $1 discount. Children 5 and under receive free admission with a paid adult. Golfers are encouraged to bring their own discs. No disc rental is available for safety and sanitation reasons, but discs may be purchased at the stadium. Interested players should enter through the stadium's main gates and register to play in the Bait & Tackle Shop behind home plate.