Eastern Shore Legends: Don Zimmer
Baseball lifer began 65-year odyssey in Cambridge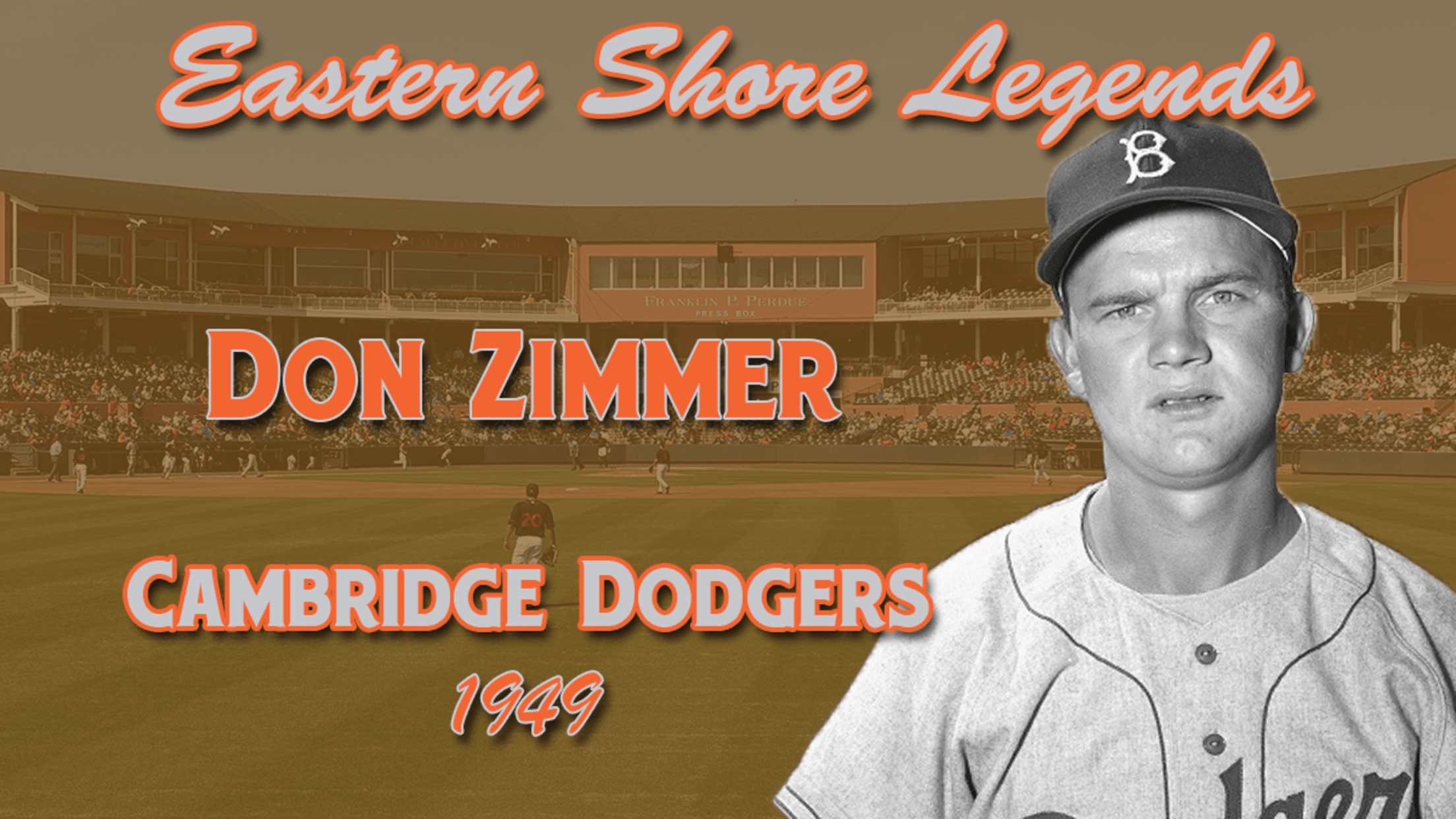 Many people eat, sleep, and breathe their favorite sports, spending their every second learning and enjoying everything it has to offer. When it comes to baseball, Don Zimmer is its best example. He spent 65 years in the baseball world, wearing multiple hats (and helmets) while playing and coaching from
Many people eat, sleep, and breathe their favorite sports, spending their every second learning and enjoying everything it has to offer. When it comes to baseball, Don Zimmer is its best example. He spent 65 years in the baseball world, wearing multiple hats (and helmets) while playing and coaching from 1949 to 2014. After whetting his appetite with one season in a dying Eastern Shore League, made two All-Star Games, won two World Series as a player and four as a coach, and helped represent his game internationally.
Born in Cincinnati, Ohio, to a food distributor dad and a stay-at-home mom, Donald William Zimmer entered the world on January 17, 1931. Nicknamed "Popeye" thanks to his resemblance to the famous cartoon sailorman, he played both football and baseball during his days at Western Hills High School, a star quarterback and a wizard with the glove at shortstop. Spinach or not, Zimmer was strong to the finish on the gridiron and the diamond.
Zimmer's love of baseball and pursuit of a professional career was second to none. He drew interest from his hometown Cincinnati Reds, but the Brooklyn Dodgers proved willing to reach into enemy territory for him. After a secret tryout with Hall-of-Famer George Sisler in 1949, Zimmer signed with Branch Rickey and the Dodgers, who outbid Cincinnati by offering him a $2,500 signing bonus.
Zimmer reported to the Class-D Cambridge Dodgers, two years removed from one of the great seasons in Eastern Shore Baseball League history, and played with them in their final season before the league folded due to financial trouble. By 1949 the ESBL was down to six teams in Cambridge, Easton, Federalsburg, Rehoboth Beach, Salisbury, and Seaford. All six of these towns got to see the makings of Cambridge's 18-year-old rookie shortstop. In 71 games, Zimmer batted .229 with 21 extra-base hits, including four home runs.
Over the next four years Zimmer steadily climbed the Dodgers' minor league ladder, reaching Triple-A St. Paul by 1953. His playing career took a turn for the worse, though, that summer. On July 7, Zimmer took a pitch from Columbus' Jim Kirk in the head. It knocked him out cold, sending him into a coma for 10 days. The accidental beaning, which took place in an era before batting helmets and helped spur their universal adoption, required Zimmer to have holes drilled and three titanium buttons inserted into his skull. Told he would never play baseball again, Zimmer proved prognosticators wrong and showed up in Vero Beach for spring training the next year.
By the summer of 1953 Zimmer earned his first major-league callup, debuting on July 2 at Connie Mack Stadium in Philadelphia with a triple off the Phillies' Curt Simmons. Blocked from a full-time shortstop role by future Hall-of-Famer Pee Wee Reese, he stuck around as a useful utility infielder on a team that helped define Baseball's Golden Age. Zimmer helped the Dodgers win their only World Series in Brooklyn in 1955 and their first in Los Angeles in 1959.
After departing the Dodgers following that second championship season, Zimmer caught on with the Chicago Cubs, representing the team in both of the 1961 All-Star Games. The next year he played one month for the expansion New York Mets before being shipped off to his hometown Reds. Zimmer returned to the Dodgers for the latter half of 1963 and played his final three big league seasons for the Washington Senators. He then spent the 1966 season with the Toei Flyers of the Japan Pacific League.
Sensing his playing days coming to an end at age 36, Zimmer decided to continue working in baseball. He rejoined the Cincinnati organization in 1967 and became a player-manager for Double-A Knoxville and later Triple-A Buffalo. That offseason he spent some time in Puerto Rico and learn more about managing, taking under his wing a handful of major leaguers, including future Oriole ace Pat Dobson and the immortal Roberto Clemente.
Zimmer's tenure in a coaching role spanned over 45 years. He managed four ballclubs, winning National League Manager of the Year with the Cubs in 1989. In all he served on staff for eight teams, winning four more World Series rings as the Yankees' bench coach in the late 1990s. Never one to fade entirely into the background, Zimmer infamously locked horns with Boston ace Pedro Martinez during the 2003 American League Championship Series. Martinez won the tussle, but Zimmer and the Yankees had the last laugh by winning the pennant.
Zimmer spent his last 10 years as senior advisor to the Tampa Bay (Devil) Rays, sharing his baseball knowledge with a team that played just miles from his Dunedin home. His uniform number increased every season, keeping up with the number of seasons he spent in baseball.
Don Zimmer died from heart and kidney problems on June 4, 2014, at age 83. The next season the Rays retired the No. 66, which would have been his final uniform number. With Zimmer's passing went one of baseball's great living time capsules, a man who, starting with the peanuts he played for that summer in Cambridge, never earned a paycheck in any other profession.