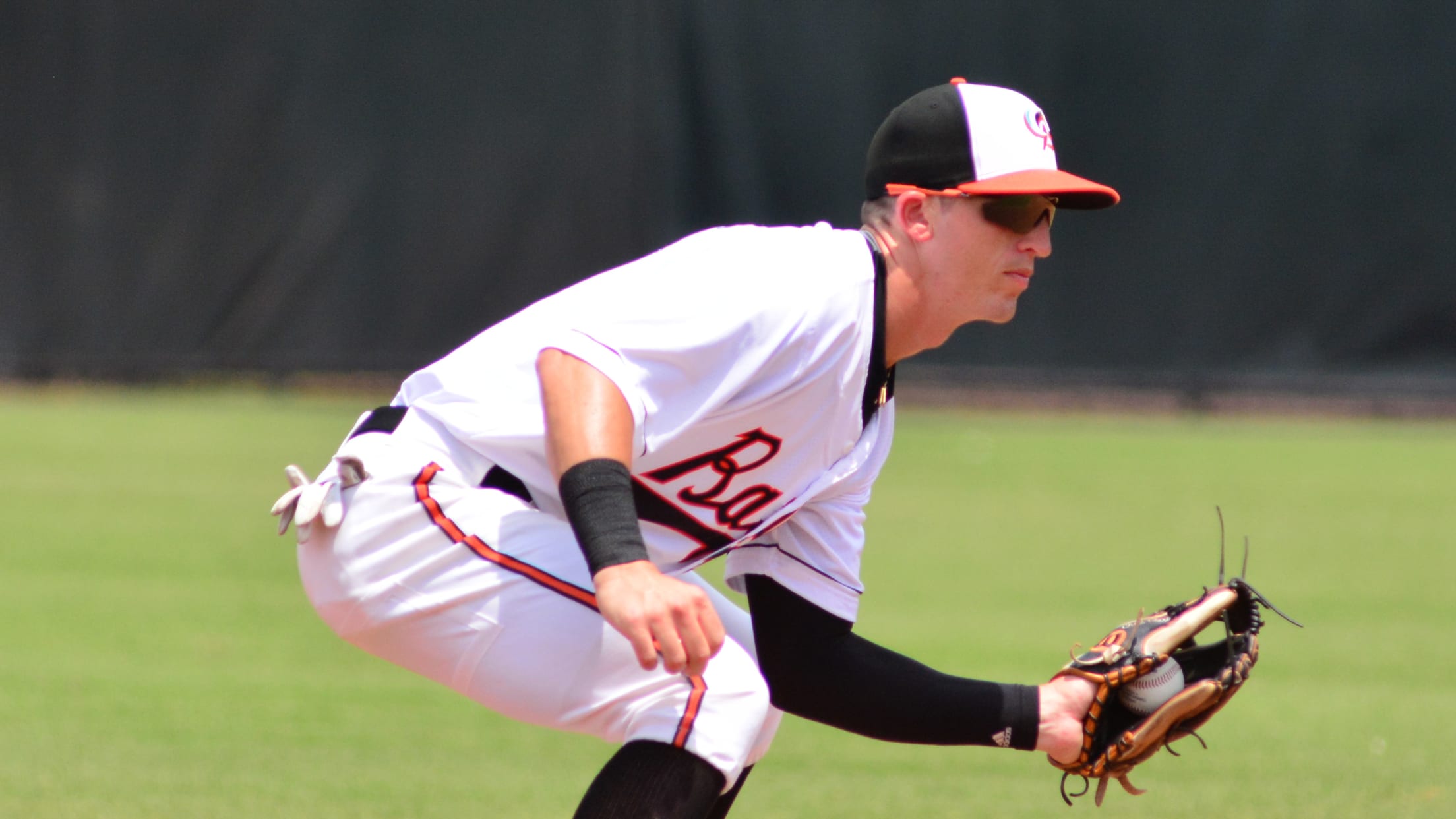 (BERT HINDMAN )
July 6, 2019. Charlotte, North Carolina. BB&T Ballpark.Baysox infielder Chris Clare started for the Norfolk Tides in the No. 8 spot of the lineup, playing second base in his first career Triple-A game. Down 4-0 after one inning, the Tides rallied for four runs in the second, fueling an 8-4
July 6, 2019. Charlotte, North Carolina. BB&T Ballpark.
Baysox infielder Chris Clare started for the Norfolk Tides in the No. 8 spot of the lineup, playing second base in his first career Triple-A game. Down 4-0 after one inning, the Tides rallied for four runs in the second, fueling an 8-4 victory.
Clare fell behind 1-2 to former big-league starter Héctor Santiago before unleashing a deep game-tying two-run home run to left field for his first long ball of the season at any level.
Among the silence of the Knights fans was a sizable eruption of noise from the Chris Clare fan section, complete with family and friends watching their own play professional baseball in his hometown.
The 21st-round selection of the Orioles in 2016 hails from the Queen City. With his chiropractor dad, church receptionist mom and younger brother, Clare moved across the border to Fort Mill, South Carolina, as he was starting high school. He would then stay in the Carolinas for college, heading north to High Point University.
Close enough to home, yet far enough to create his own identity.
"A baseball family takes you in," said Clare. "You're busy every single day, so you don't really have time to think about being away from your family. Obviously, I talk to them [Mom & Dad] every day, but being with the baseball team and the coaches allows you to feel like you're with family, surrounded by brothers."
Comfortable in his new home, the infielder focused on the sport to which a large portion of his life has been dedicated.
"I started playing baseball as young as you can be," said Clare. "I started with tee ball and played every single year until now-23, 24 years I've been playing. It's always just been a part of my life.
"Towards seventh and eighth grade, I made the middle school team and I was like, 'Ok, that's a good start.' (In high school) I made the JV team, played travel ball, got a college letter my freshman year, got a call my sophomore year and was like 'Ok, I want to go play.' (During) my junior year, I hung up playing basketball and focused on baseball.
"Every year, I tried to get better. I didn't start the first three games (my freshman year at HPU), and then I started the fourth game and every single game through my junior year. My goal coming into college was to get drafted."
During his junior year in purple and white, Clare started 55 games for the Panthers and led the team with a .345 batting average and 39 runs scored, propelling him to All-Big South Conference honors. He also became one of four High Point baseball players in team history to record a hitting streak of at least 20 games.
That didn't hurt his prospects come draft day.
"Draft day? It was the most nerve-wracking thing in the world," said Clare. "I had decided to go play summer collegiate ball because I wasn't 100% sure if I was going to get drafted or not. The weekend of the draft, my family came and picked me up and went to the beach because I picked the brains of my coaches who had gotten drafted and they said, 'just try not to get stressed out. Do something you enjoy.'
"So, we went down to the beach and, sure enough, I couldn't not think about it and not get stressed out. As the time went on, I kept checking my phone. We were driving around after eating lunch and I checked my phone. The Orioles called and said, 'pay attention.' I got picked by the Orioles the next pick and the car erupted. We went to Lids, bought some Orioles stuff, and just celebrated the night. It was a good time."
The celebration was relatively short, however.
"I packed up all my stuff when I got back to the collegiate team," said Clare. "I went home for a couple days, celebrated with family, and then drove up to Maryland. I went up to Aberdeen for a little meet-and-greet and, the next day, we were on a bus heading to Hudson Valley."
The first bus trip up Interstate 95 to the counties north of the Big Apple made it official: Chris Clare was now a professional baseball player in the New York-Penn League.
"It didn't sink in for a while for me," said Clare. "It's the same game of baseball, just at a professional level-you're getting paid to do it. I watched how they played, how they do BP, how to carry myself. The first game was so nerve-wracking. We were in Staten Island and I remember the day exactly. I remember everything about it and it was kind of surreal, but at the same time it still didn't hit me.
"You're playing a lot of guys who basically have gone the same route you have. Either they were really good in high school and got drafted or they played college ball at a very high level and got drafted."
Having completed his fourth professional season in 2019, Clare has matriculated up the Orioles' ladder. Through the ups and downs of being a baseball player, the infielder continues to revert to one part of his life in Charlotte.
"I was raised Catholic, went to church every Sunday with my grandparents and parents. We usually had breakfast after as one family. It's really nice to just relax and thank God for all he's given us.
"Growing up, it's one of those tedious things that you don't want to do. Around high school time, I started to really find my faith and started to rely on Him. Going to college and leaving my family, it became an even bigger part. As things got harder and things pile on, the only way I got through it was through Him. It's a big part of my life."
In a job field where so many aspects of the game are out of his control, it's been that faith that has helped keep Clare balanced and calm.
"I think baseball is so important because it teaches you so many life lessons and how to handle adversity every day. (While) playing baseball, you get tested every single day and it's one of those games that really humbles you and teaches you to appreciate things."
"There are times where you don't know what the plan is and so you have to take a step back and realize that it's kind of up to you (and) how much work you put in. At the end of the day, it's God's plan. I ask Him every night, 'I put my faith in You. I trust that Your plan will work out, whatever it's meant to be.' It gives you a sense of peace and allows you not to get caught up in all the negative stuff that's going on. It just gives you a sense of calmness.
"Sometimes it'll feel like life's piling on and you just got to escape it and enjoy the moment, even if it's tough. Find something that you're grateful for, something that makes you enjoy that day and then get back to it. It'll ease up."
The infielder has continued to move up the Orioles' minor league ladder as the 2020 season approaches. By sticking to the faith that has brought him to this point, Clare is primed to tackle any new wave of hurdles en route to Baltimore.