Flying Chanclas Ink TCU Quartet
Conner Shepherd and former Reagan HS star Porter Brown highlight Horned Frog additions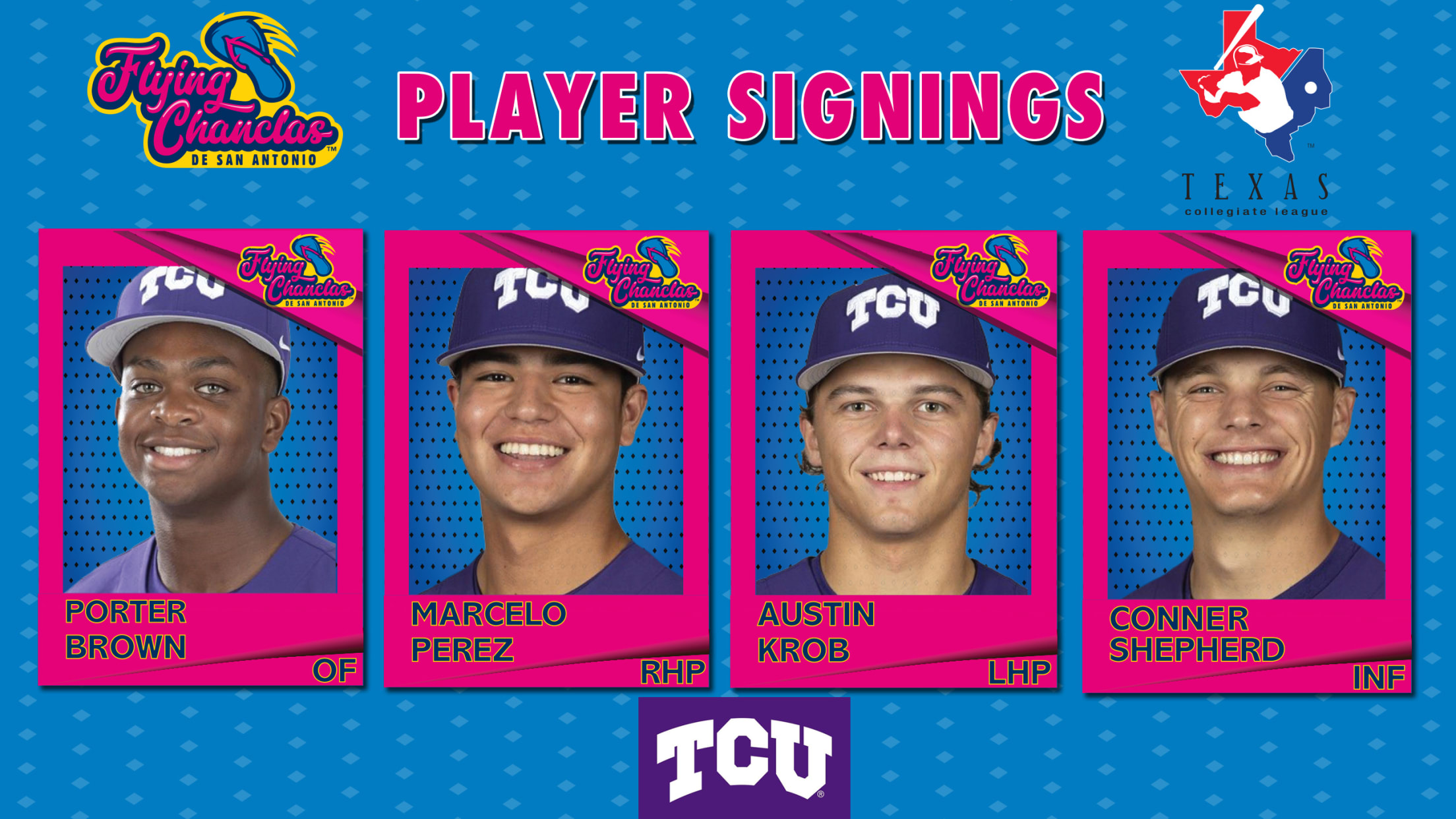 San Antonio, TX – The Flying Chanclas de San Antonio are excited to announce today the signing of four more players, all from Texas Christian University, to its roster for the upcoming 2020 Texas Collegiate League season. Shepherd, a redshirt senior from Upland, CA, was an Honorable Mention All-Big 12
San Antonio, TX – The Flying Chanclas de San Antonio are excited to announce today the signing of four more players, all from Texas Christian University, to its roster for the upcoming 2020 Texas Collegiate League season.
Shepherd, a redshirt senior from Upland, CA, was an Honorable Mention All-Big 12 performer in 2019. In 126 games (116 starts) for TCU in his career, Shepherd is batting .255 (108-for 424) with 17 doubles, four triples, 17 homers and 62 RBI. The corner infielder had three, three-hit games for the Horned Frogs during the shortened 2020 season.
Brown's addition is a homecoming, as the outfielder grew up in San Antonio, earning three letters at Reagan High School. Brown was a member of the state all-tournament team as a junior and a senior for the Rattlers. His true freshman season at TCU in 2019 was cut short due to injury, causing him to redshirt. However, Brown made his mark in that limited time, earning Big 12 Newcomer of the week (Feb. 18) and Big 12 Academic All-Rookie Team. His 2020 season was highlighted by a three-hit effort at Minnesota on February 22 and a pair of three-run performances.
A pair of pitchers round out the TCU additions to the Chanclas roster. Righty Marcelo Perez enjoyed a strong freshman year in 2019, earning Big 12 All-Freshman and Big 12 Honorable Mention honors. The Laredo, TX native was even better during his six games in 2020, going 1-0 with a 2.84 ERA and nine strikeouts against just two walks over six and a third innings. Austin Krob (Lisbon, IA) is another talented member of the TCU bullpen. In seven games (11.2 IP) this season, the southpaw did not allow a run, while punching out 15 and walking just four.
More info on the Flying Chanclas roster will be announced in the coming days.
San Antonio will open the 2020 TCL season in Amarillo with a three-game set from June 30-July 2. The club's home opener is slated for Friday, July 3 vs. Acadiana. First pitch will be 7:05 PM with a post-game fireworks show to follow.
Social distancing protocols will be in effect during all games at The Wolff. For more information on Wolff Stadium's COVID-19 Readiness Plan and protocols, click https://bit.ly/2BRnd40.
Fans can purchase TCL tickets at www.samissions.com or at the Wolff Stadium Box Office. For TCL questions or more information, please call 210-675-7275.
ABOUT THE TEXAS COLLEGIATE LEAGUE
The TCL is currently represented by 250-plus players from 91 different colleges and universities. Some of the more nationally-recognized schools sending their standouts to the TCL include Alabama, Arkansas, Baylor, Cal State Fullerton, Dallas Baptist, Houston, Long Beach State, Oklahoma, Oklahoma State, Oral Roberts, Pacific, Rice, Texas, Texas A&M, Texas-Arlington, Texas State, Texas Tech, and Wichita State, among others.
The formation of the Texas Collegiate League was announced on September 24, 2003. The league is owned and operated by the Haddock Foundation, a section 501(c)3 organization. Gerald Haddock, a minority owner and General Counsel of the Texas Rangers from 1989-98 and a passionate baseball fan, became the league's Chair and CEO. Since the league was established, 88 alumni with ties to the Texas Collegiate League have been drafted by Major League teams or signed by professional independent baseball squads. Notable alumni include Paul Goldschmidt, Hunter Pence, Jake Arrieta, Matt Carpenter, Chris Davis and Brandon Belt.
The Texas Collegiate League exists to provide the best summer league experience for the best professional prospects from colleges throughout the country. The league will allow those players with eligibility remaining to showcase and improve their skills in a wholesome, minor league-type atmosphere using wooden bats. The league is committed to providing quality, inexpensive entertainment in a small-town, intimate atmosphere that is distinctively Texan, while helping promote the game of baseball in the communities involved. For more information, visit www.texascollegiateleague.com.
The league comprises 10 total teams made up of active college players (rising sophomores to seniors) from different colleges and universities across the nation. Four teams already affiliated with the TCL include the Acadiana Cane Cutters (Lafayette, LA), Brazos Valley Bombers (Bryan-College Station, TX), Texarkana (TX) Twins and Victoria (TX) Generals. Joining the league in 2020 are five MiLB organizations, including Double-A Amarillo (two teams), Frisco and Tulsa, and Triple-A Round Rock and San Antonio.