Grizzlies drop series opener in El Paso 14-12
6 Fresno batters have multi-hit game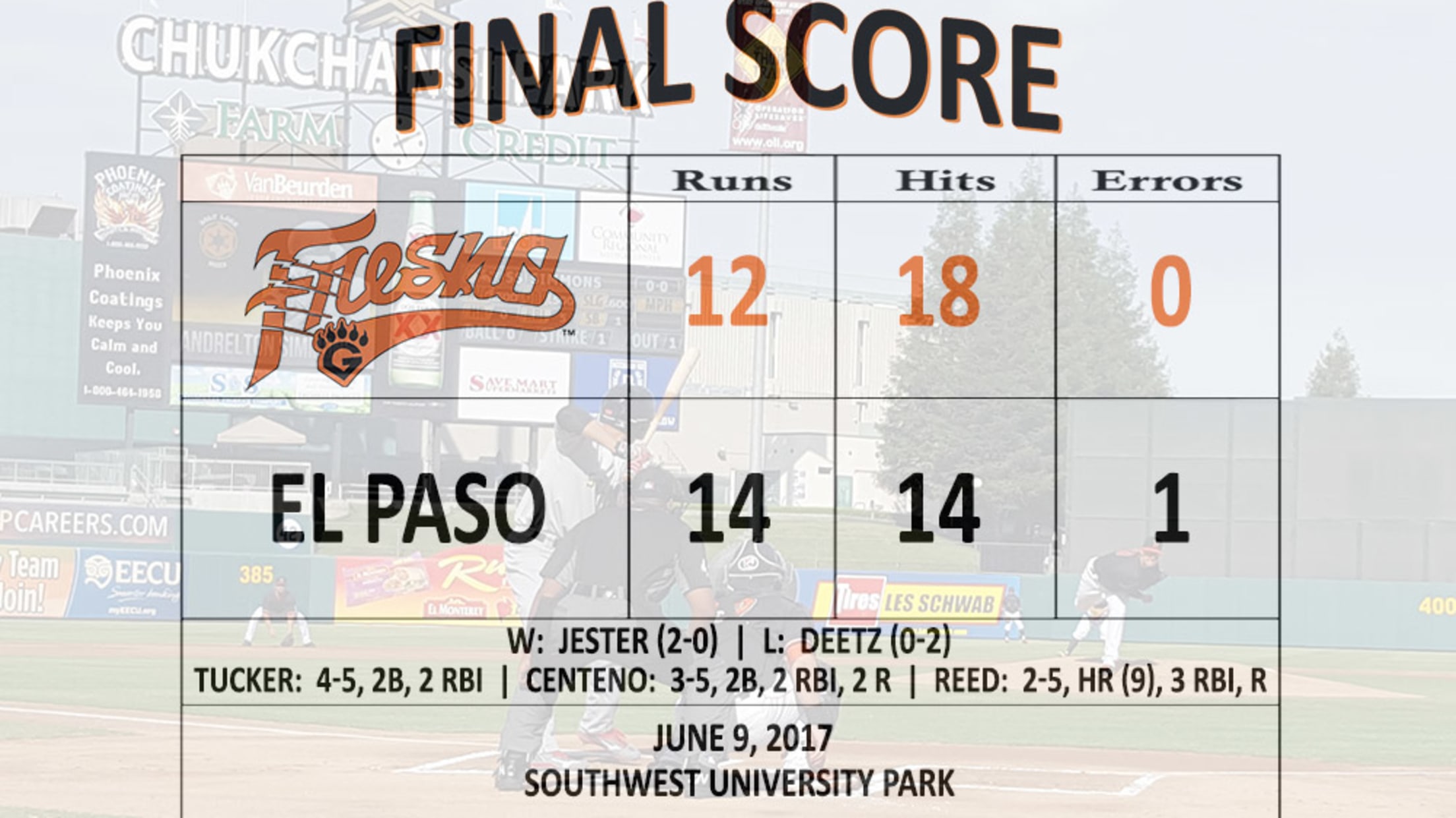 The Fresno Grizzlies (29-33) fell 14-12 to the El Paso Chihuahuas (30-32) in the series opener of a three-game set at Southwest University Park on Friday night. Every Grizz batter registered at least one hit with six having multi-hit efforts. It was the longest nine-inning game played by the Grizzlies
The Fresno Grizzlies (29-33) fell 14-12 to the El Paso Chihuahuas (30-32) in the series opener of a three-game set at Southwest University Park on Friday night. Every Grizz batter registered at least one hit with six having multi-hit efforts. It was the longest nine-inning game played by the Grizzlies this season, at 3:36. The contest was also one shy of the most combined runs in a game for Fresno this season, which was 27 on April 11 at Las Vegas. The combined 32 hits is a new 2017-high, with the 18 for the Grizzlies a season-high as well.
The Chihuahuas got off to a quick start in the first inning with a bases loaded double from Diego Goris (2-for-4) that cleared the bases. Rafael Ortega (3-for-5) singled, while Carlos Asuaje (2-for-3) and Nick Buss both walked before scoring to give El Paso a 3-0 lead.
In the second, a Reid Brignac RBI single scored Juan Centeno (3-for-5) to put the Grizzlies on the board, 3-1. In the third, Tyler White (2-for-4) reached on a fielder's choice that allowed Jon Kemmer (2-for-3) and Tony Kemp to score on an error. White then scored on a Preston Tucker (4-for-5) RBI double to give the Grizzlies a 4-3 lead, their first and only lead of the contest.
A 13-batter, eight-run bottom of the fourth gave the Chihuahuas an 11-4 lead. Asuaje, Jabari Blash, Buss, Goris, Dusty Coleman and Nick Schulz all notched a RBI for El Paso, while Rocky Gale (2-for-5) drove in two in the inning.
El Paso increased their lead to 14-4 in the fifth when Blash hit a three-run homer to right. Asuaje (walk) and Christian Villanueva (single) scored on Blash's eighth long ball of the season. The home run gave him four RBI on the night, joining Goris with a four-RBI game.
The Grizzlies had a 10-batter, six-run sixth to cut the Chihuahuas lead to 14-10. A.J. Reed (2-for-5) led off the inning with a solo shot out of the ballpark to right for his ninth home run of the season. Tucker notched his team-leading 47th RBI while Centeno knocked a two-RBI single to tack on more runs. For Tucker it was his first four-hit game of the season. In Reed's second at-bat of the inning, he hit a two-run single to cut El Paso's lead to four runs.
Tony Kemp (2-for-5) cut El Paso's lead to a 14-12 final in the ninth when he hit his second home run of the season. Kemmer was hit by a pitch to get on and scored on the two-run shot to right center.
Chihuahuas RHP Jason Jester (2-0) earned the win with 2.1 innings of relief. He allowed five runs on three hits and two walks with one strikeout. El Paso starter Zach Lee did not strike out a batter in 3.1 IP while allowing four runs (three earned) on eight hits and a walk.
Fresno starter Dean Deetz (0-2) tossed three innings in his second Triple-A start of the season for the Grizzlies. He allowed five runs on five hits and four walks with two punch-outs in the loss.
The Grizzlies and the Chihuahuas will play the second of a three-game series on Saturday at 6:05 p.m. PT. Probable starters are RHP Trent Thornton (2-2, 4.71) for Fresno, against RHP Matt Magill (3-3, 3.79) for El Paso.