Hitting his way into the big leagues
Hiura's promotion sparks pride within his Asian American family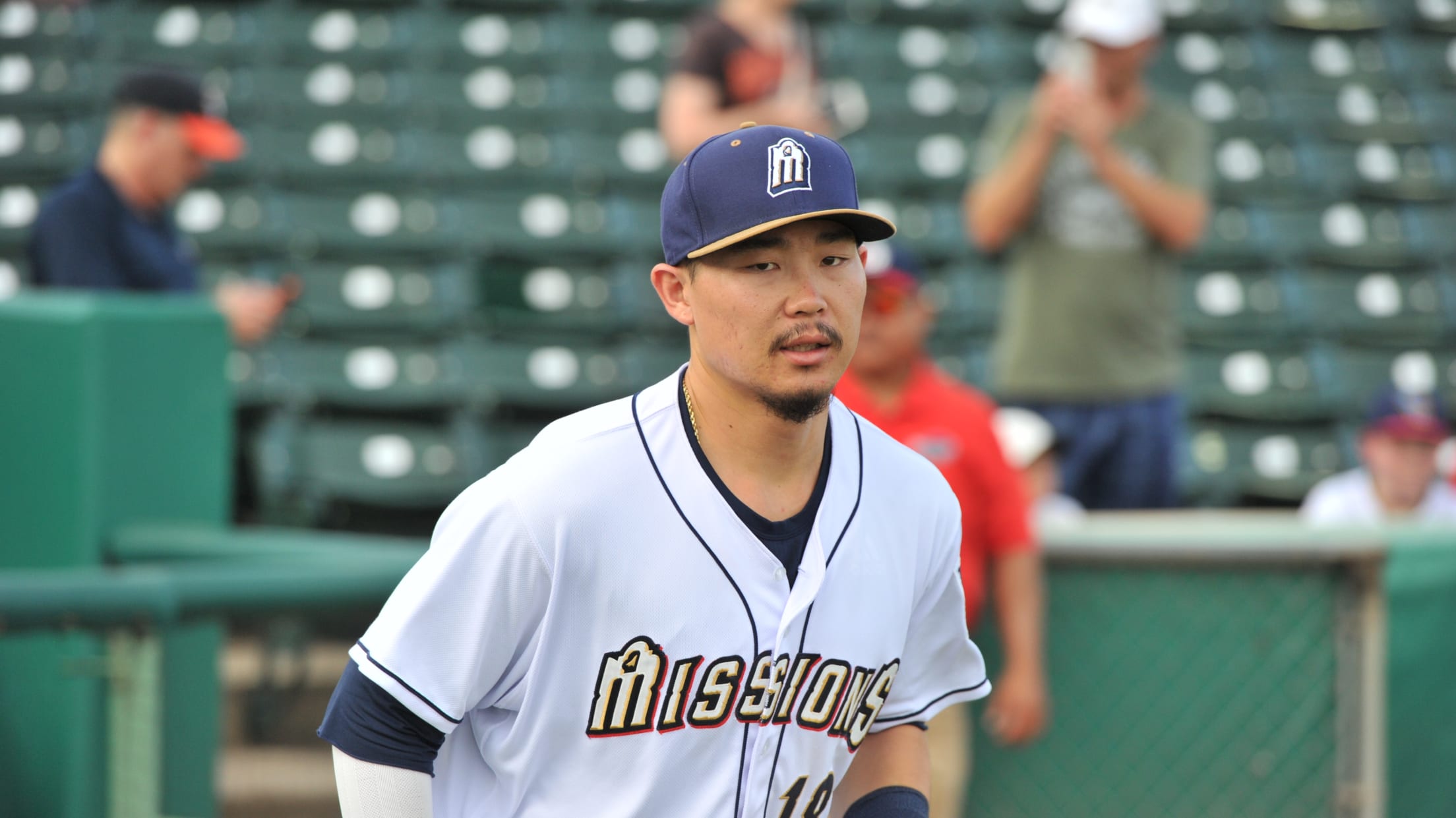 (Reynaldo Holguin )
I've got a question today. Will Keston Hiura evolve into the best second baseman ever to come through San Antonio on the way to the major leagues?It's fair to ask, considering how the 22-year-old Californian crushed the baseball the past few months for the Triple-A Missions.I can still remember the
I've got a question today. Will Keston Hiura evolve into the best second baseman ever to come through San Antonio on the way to the major leagues?
It's fair to ask, considering how the 22-year-old Californian crushed the baseball the past few months for the Triple-A Missions.
I can still remember the one he smashed to the batter's eye in center field a few weeks ago at Wolff Stadium.
It was a screaming liner that seemed to be ascending slightly when it hit the green screen more than 400 feet away from home plate.
Still, arguing that Hiura might be the best at his position eventually suggests that we have forgotten why Joe Morgan and Steve Sax are so important in the city's baseball narrative.
Sax, who played for the 1981 San Antonio Dodgers, made five National League all-star teams with the Los Angeles Dodgers.
Morgan, a member of the 1964 San Antonio Bullets, won an MVP with the Cincinnati Reds and later was enshrined in the Hall of Fame.
For Hiura, who has played in only 18 games with the Milwaukee Brewers, he's got a lot of work to do to get to Cooperstown.
But I have to say, after watching him for a few months, he does inspire your imagination.
At the very least, Hiura's success story among players I've covered in San Antonio ranks among the most unique that I can remember.
I say this because in Hiura, we have not only seen a young man blossom into a player with legitimate star potential, but we have also seen a significant cultural development in the game - the emergence of a new Asian-American standout.
When the spotlight shines on Japanese players in baseball, it usually illuminates the likes of Shohei Ohtani of the Los Angeles Angels or Masahiro Tanaka of the New York Yankees.
Previously, it was on Ichiro, a batting star who retired earlier this year, or on Hideo Nomo. But all those stars were born in Japan.
Chan Ho Park and Shin-Soo Choo came through San Antonio years ago as Korean-born prospects on the way to the show.
Hiura, on the other hand, was born to a Chinese mother and a Japanese father in Southern California. He grew up in Santa Clarita and attended Valencia High School in the Los Angeles area.
It's hard to know how many Asian American players are in the majors today, but Kirk Hiura, the player's father, said he knows of only a few.
Kirk admitted to feeling pride in that distinction.
"I usually don't mention it unless I am specifically asked about it," Kirk Hiura said. "But, to me personally, I think that is a very honorable compliment and achievement for him."
Now starting at second base for the Brewers after his call-up on Friday, Hiura joins an Asian American baseball honor roll that includes the likes of Kurt Suzuki of the Washington Nationals, Tommy Pham (Tampa Bay Rays), Kolten Wong (St. Louis Cardinals) and Sam Tuivailala (Seattle Mariners).
Hiura isn't the only Asian American player in Missions history.
The late Bobby Balcena, from San Pedro, Calif., played for the Missions from 1952-53. He reportedly became the first Asian American (of Filipino descent) in the majors with the Cincinnati Reds in 1956, according to MLB.com.
According to an article published by the Society of American Baseball Research, Mike Lum was the first American of Japanese ancestry to play in the big leagues in 1967. Lum played for 15 years, mostly with the Atlanta Braves.
Now there's Hiura, who may be the highest-drafted, Asian American in history, as the ninth overall choice of the Brewers out of UC Irvine in 2017.
It's not surprising that Kirk Hiura's son has made it.
For starters, he had the hand-eye coordination to become a good hitter. Also, he had parents with an easy-going approach.
"They never pushed him or prodded him," said Sean Thompson, Keston's long-time hitting instructor. "They were never uptight, or worried about what team he was on. They were just cool people."
Thompson also discovered after a few years that Keston was unique as an athlete, as well.
"There came a time when I just couldn't throw it by him anymore," said Thompson, the owner of the On Deck Baseball School in Los Angeles.
Eventually, Keston started playing the travel ball circuit, with most destinations between two- to five-hour drives from the family's home.
"We did a fair amount of traveling," said Kirk Hiura, who works as a pharmacist. "It was kind of on the expensive side. But we felt like it was worth it, because it gave us an opportunity to spend time with him, on the road, and do family stuff.
"I would rather have him do this type of thing than turn him loose at the park, or in the mall, or hanging out on the street corner."
With the experience, came a rapid improvement in his game. As a senior at Valencia, Keston led the state with 14 home runs and batted .500.
Some of his success was attributed whimsically to an unconventional routine of eating two chocolate donuts before each game.
"My wife travels (for work), so I'd play Mr. Mom for three-four days in a row," Kirk Hiura said. "I'd try to come up with breakfast ideas, and I started to buy Entenmann's donuts. He'd start eating two of them before every game, and he'd do really well.
"Even when he kind of got tired of it, I'd say, 'Nah, superstition.' I said, 'It's going good. You got to eat two chocolate donuts.' He liked it. He kept on eating."
Even though he wasn't highly recruited out of high school, Hiura attracted the notice of coaches at West Coast power UC Irvine.
With the Anteaters, Hiura batted .442 as a junior in 2017 to win the NCAA Division I batting title, leading to his selection in the first round by the Brewers.
"The ball comes off (his bat) different," former UCI coach Mike Gillespie told the Orange County Register in the days leading into the draft that summer. "It's a louder sound. His line drives, they carry farther than the normal human being."
Hiura also hits for average, as he evolved into a career .317 hitter in a little more than two seasons in the minors. This year, he capped it all with a .329 average in Triple-A.
Between the 19 homers he hit for the Missions and five earlier this summer with the Brewers, he has 24 for the season.
Thompson said it's "1,000 percent true" to say that part of Hiura's success at the plate can be traced to how he studies the game and his opponents.
"That's how he operates," Thompson said. "He sees a little bit beyond."
Called up to the Brewers initially on May 14, Hiura spent 17 games with the team and acquitted himself well, batting .281. On his last day, he hit in the cleanup spot.
Regardless, Hiura didn't take it personally when they sent him down in the first week of June, saying that he'd continue to focus on team success and individual skill-development with the Missions.
Hiura got his reward Thursday afternoon when he learned before batting practice at Wolff Stadium that he was being called up again.
When it became official on Friday, Hiura spoke with reporters in Milwaukee and said he was happy to return to the majors.
"The goal was obviously to get back here and stay here," he said. "(In) my stint here (before), I was very grateful for it, just to be given the opportunity. When they originally told me it was going to be a temporary thing, I kind of just told myself to make the most out of it.
"(It was a) 'kind of get the feet wet a little bit and, the next time you get back up here, (you) kind of know what to do.' "
Meanwhile, in Southern California, Hiura's father says he hopes that young men in Southern California are watching his son, who stands only 5-11 and weighs 190.
"One of the things that's kind of amazing, is that you see Keston walking down the street (and) he doesn't appear to be one of these athletes who stand out," Kirk Hiura said. "He is a regular-type guy who can blend in, and no one would notice him.
"You know, that is one thing that, hopefully, some of these younger Asian American kids can see. It's that, 'Hey, he is just like us. He's just like my mom and dad (and) that we may have a shot at doing something like this.'
'' 'We're not going to be 6-3 or 6-4 or have huge muscles. But with the right break, and with a little bit of luck, and with hard work, you never know.' "