Howard, Bohm Among Slew of Former R-Phils to Receive Non-Roster Invites
Familiar Faces Will be Abundant at Phillies Spring Training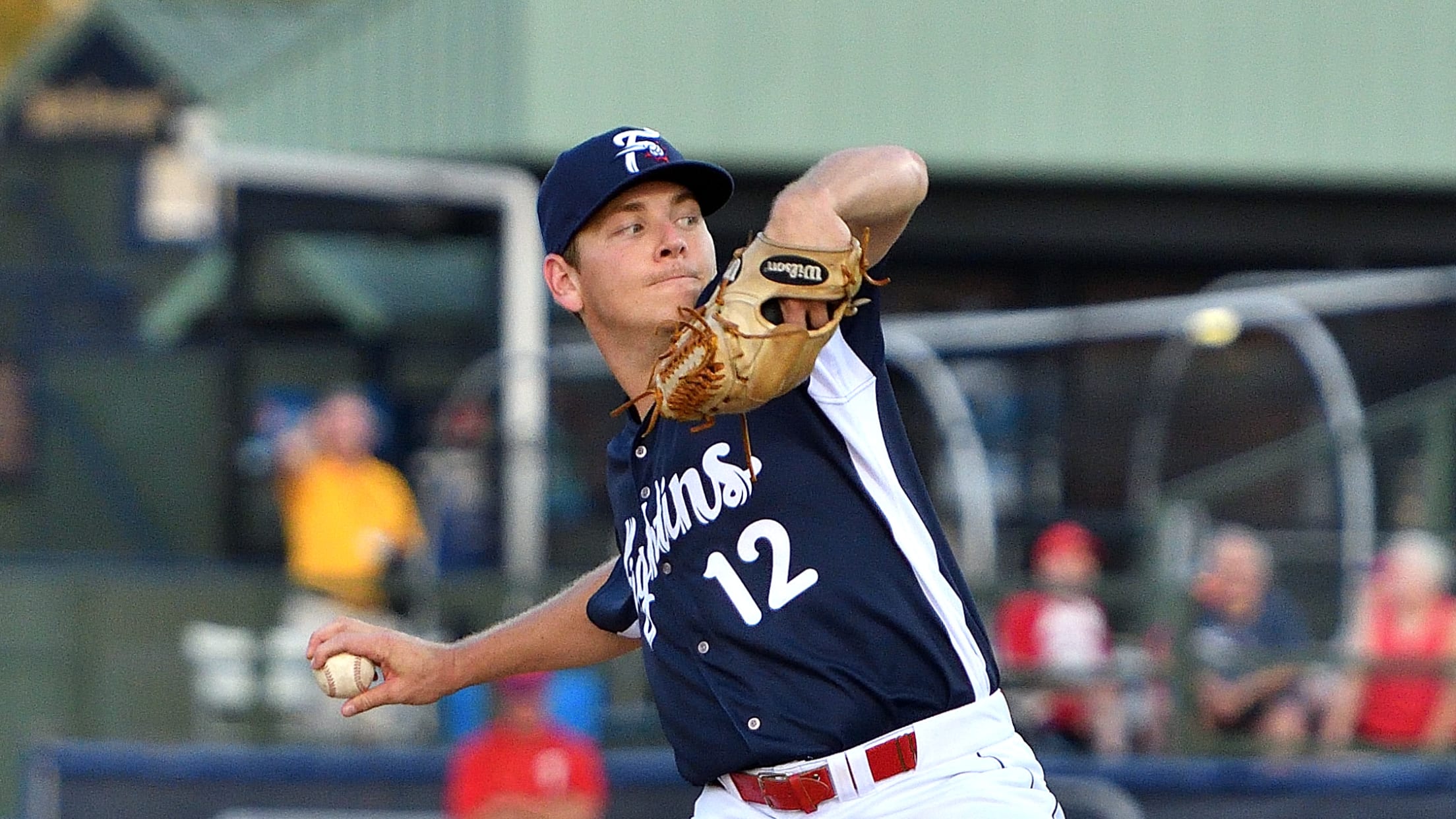 (George Youngs Jr.)
(Reading, PA) -- Alec Bohm and Spencer Howard highlight a lengthy list of former R-Phils who will get their first taste of big league camp this spring, as the system's top prospects are among 19 non-roster players invited to Phillies Spring Training.In total, 14 former Fightins players will participate in
(Reading, PA) -- Alec Bohm and Spencer Howard highlight a lengthy list of former R-Phils who will get their first taste of big league camp this spring, as the system's top prospects are among 19 non-roster players invited to Phillies Spring Training.
In total, 14 former Fightins players will participate in Phillies Spring Training as non-rostered players, joining 24 other previous Fightins on the Phillies 40-man roster.
Howard, 23, impressed in his six starts with Reading in 2019. After missing two months on the IL midseason, Howard was promoted to Double-A on July 26th. The right-hander hurled 30.2 innings and struck out 38 batters for the R-Phils, limiting opponents to a .180 average while posting a 2.35 ERA. Howard struck out 10 batters in his Fightins debut, and surrendered one run or less in four of his six regular-season starts. His best outing came in the East Division finals vs. Trenton on September 4th, when the former second round pick whiffed 12 batters across seven innings of one-run, two-hit ball in a no-decision.
Bohm has set himself apart as the top offensive prospect in the system, rising through three levels last summer. The 23-year-old third baseman spent 22 games in Lakewood, 40 in Clearwater, and 63 in Reading, combining to hit .305/.378/.518 with 21 homers and 80 RBIs. Bohm, a first round draft pick out of Wichita State in 2018, smacked 14 of those home runs in Double-A, finishing 13th in Eastern League despite playing just half the season in Double-A. Perhaps most impressively, Bohm struck out only 73 times total across 125 games.
With the Phillies bullpen situation in flux, a few familiar arms may have a shot at the big leagues with a strong showing this spring.
Right-hander Connor Brogdon and lefties Kyle Dohy and Tyler Gilbert are all relievers who spent time in Triple-A Lehigh Valley last season. Brogdon, 24, opened the year in Clearwater and appeared in 15 games in Reading before moving on to the IronPigs on June 28th. After some initial bumps in Triple-A, Brogdon settled in and permitted only one earned run in his final 14.1 innings, finishing with a 3.06 ERA in Lehigh Valley.
Dohy, 23, dominated in his brief stint in Reading this past year, striking out a whopping 22 batters in 11 innings while posting a 0.82 ERA. He quickly headed to Lehigh Valley on April 25th, where his strikeout totals continued to impress (83 Ks in 56.2 IP) despite the ERA rising to 6.19. Gilbert, 26, was limited to 36 games last year due to injuries, but put up a 2.83 ERA with the IronPigs. He appeared in 23 games for Reading in 2018, finishing with a 2.86 ERA in 23 games before a midseason promotion.
Lefty Damon Jones and righty Ramon Rosso both spent time in the Fightins rotation before a bump up to Triple-A last season, with Jones dealing a 0.82 ERA in a brief four-start stint with Reading, and Rosso putting up a 3.15 ERA in 10 starts to open the year with the R-Phils. Closer Addison Russ spent all of 2019 with the Fightins and was third in the Eastern League with 22 saves, finishing with a 2.54 ERA in a league-high 55 games.
On the offensive end, seven players who played for Reading in 2019 will begin Spring Training in camp with the Phillies.
Joining Bohm are outfielder Mickey Moniak, first baseman Darick Hall, infielder Nick Maton, catcher Henri Lartigue, and infielder/outfielders Austin Listi and Luke Williams.
Moniak, the first overall selection in the 2016 draft, turned in a solid season in his first in Double-A. The 21-year old hit .252 with a career-high 11 home runs, a league-high 13 triples, and a career-best 67 RBIs - which tied for fourth in the league - while his .439 slugging percentage ranked fifth. Moniak will be the youngest player in Phillies camp.
Hall gets his first shot in Major League Spring Training after slugging 20 home runs (T-2nd in EL) and driving in 67 (T-4th) in a full season in Reading. The 24-year-old hit .241 in the second half while immensely increasing his walk rate, from 17 BBs in 63 first half games to 43 BBs across 69 games in the latter half.
Maton, 22, spent his final 21 games in Reading last year after batting .276 in Clearwater, while Lartigue threw out 34% (23-of-67) of opposing basestealers in a full season with the R-Phils.
Listi, 26, rebounded from a transitional April and earned a midseason promotion to Triple-A, combining to hit .252 with 19 homers and 83 RBIs across both levels. Primarily a first baseman/outfielder, Listi converted to third base to open the 2019 season. Williams, 23, has seen time at every defensive position except catcher and pitcher. His 30 stolen bases in 2019 were a career high, and ranked fourth in the Eastern League, while his 30 doubles ranked third. Williams also finished with a career-best 11 home runs.
In addition to the former Fightins, Zach Warren, Phil Gosselin, Josh Harrison, Mikie Mahtook, and Matt Szczur also received invites to Phillies Spring Training.
Pitchers Garrett Cleavinger, Mauricio Llovera, and JoJo Romero - all of whom played for Reading in 2019 - were added to the Phillies 40-man roster in November and will attend big league camp.
Pitchers and catchers report on February 11th, with the first full squad workout in Clearwater scheduled for February 17th. The Phillies open their Spring Training schedule on the road against the Detroit Tigers in Lakeland, Fla. on Saturday, February 22nd at 1:05 p.m.