IronBirds, Orioles Name Manager and Coaching Staff for 2019
Kevin Bradshaw returns to Aberdeen with a new staff this season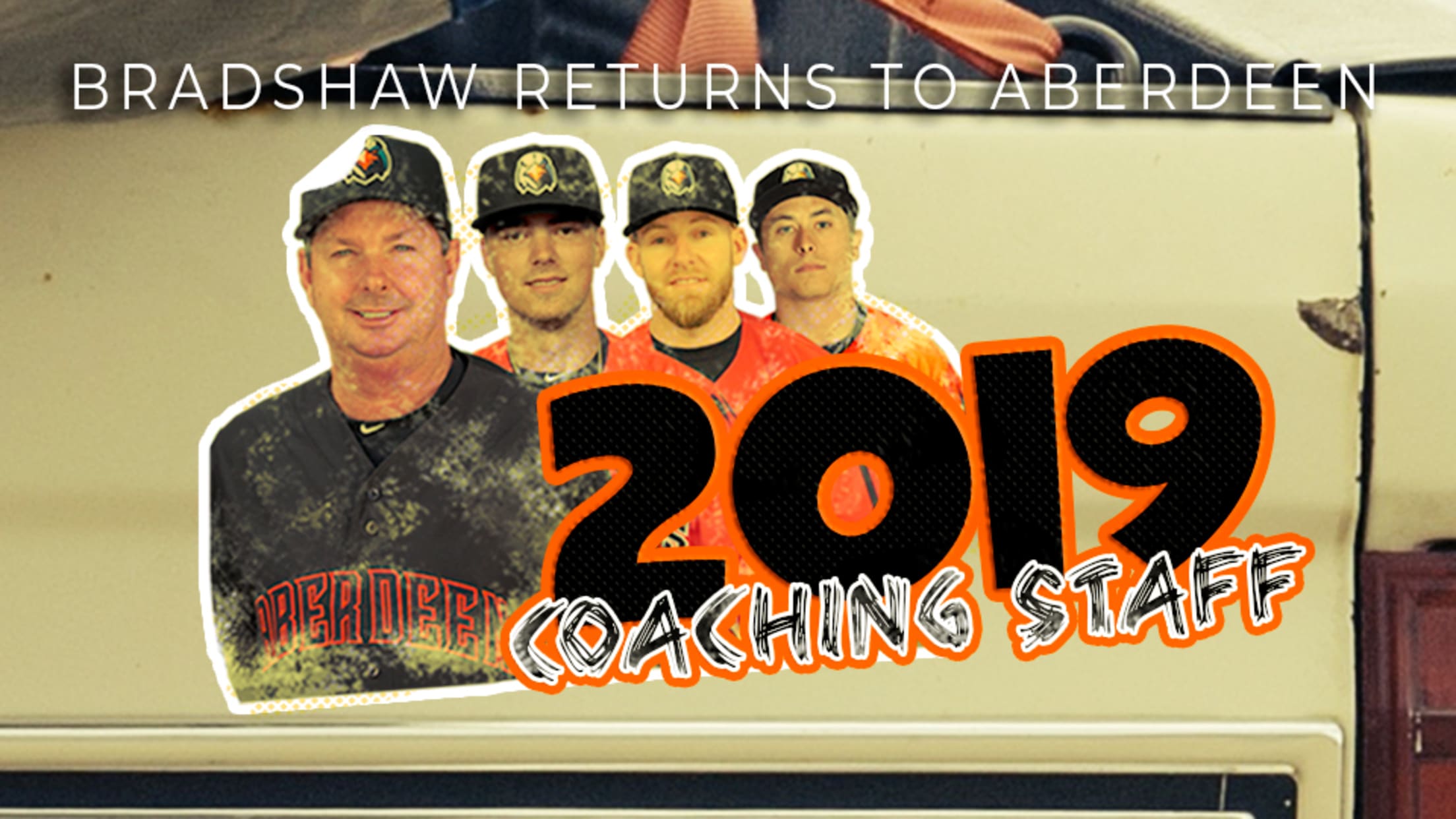 Late Friday morning the Aberdeen IronBirds and Baltimore Orioles officially announced their manager and coaching staff for the 2019 season. A familiar face will be returning to Aberdeen this summer as Kevin Bradshaw has been named the IronBirds manager after fully recovering from injury. Rising Sun native Tom Eller (Hitting
Late Friday morning the Aberdeen IronBirds and Baltimore Orioles officially announced their manager and coaching staff for the 2019 season. A familiar face will be returning to Aberdeen this summer as Kevin Bradshaw has been named the IronBirds manager after fully recovering from injury. Rising Sun native Tom Eller (Hitting Coach), Robbie Aviles (Pitching Coach) and Jack Graham (Development Coach) are all anticipated to report to Sarasota, Florida as Orioles spring training is set to kick off full-squad activity on Sunday, February 17th.
KEVIN BRADSHAW enters his fourth season as manager of the Aberdeen IronBirds. 2019 marks his 30th season in professional baseball as a coach or manager. Bradshaw, 55, was set to manage the IronBirds this past season. However, after suffering a season-ending injury in early June, Bradshaw remained in Florida to recover. In need of a refresher on KB's baseball career? Don't worry we got you covered.
Originally from Webb City, Missouri, Bradshaw began his baseball journey as a player in the Detroit Tigers' organization as an infielder. Bradshaw would spend four seasons in the minor leagues before beginning his career on the other side of the game as a hitting coach for the Bristol Tigers in 1991. By the time he was 30 years young, Bradshaw took over as the manager of Bristol in 1994 and never looked back. After replacing Luis Pujols in 2016, the 2019 season will be his 18th as a minor league skipper. Bradshaw returns to Aberdeen with 582 career wins under his belt.
ROBBIE AVILES will serve as Pitching Coach. Aviles, who has been a Pitching Coach at Rockland Peak Performance since 2017, pitched in Cleveland's minor league system for six years. Baseball America had Aviles ranked 58 on the top 200 draft list for 2010. Originally projected a 1st or 2nd round pick, Aviles would partially tear the elbow ligament in his right arm just one week before the draft. However, Cleveland scooped him up in the 7th round that year. After fully recovering from Tommy John surgery, Aviles began rookie ball with the Arizona League Indians in 2011. Aviles progressed through the Indians system and reached the highest level in minor league baseball with the Columbus Clippers in 2017.
TOM ELLER will join the IronBirds as the Hitting Coach for his first professional coaching season. For the last 12 years, Eller has been Head Coach of the Harford Community College (Md.) baseball team. Eller grabbed the reins for the Fighting Owls in 2007 after assisting Division II Wilmington University with a second-place finish in the Central Atlantic Collegiate Conference and the number six ranking in the region. Eller led the Fighting Owls to their first playoff appearance in 10 years his first year. The program took a complete turnaround in 2010 after finishing 33-16 and secured their first playoff win in Harford's history.
Eller would go on to lead the Fighting Owls to a 433-230-2 record and five Region XX Championships. He mentored the best player in program history, Joe Harbach, who shattered school records. Harbach would be named NJCAA First-Team All-American. Eller would also go on to mentoring two former MLB Draft picks, Rob Bryson (31st Rd 2006, MIL) and Brett Oberholtzer (8th Rd 2008, ATL). Overall, Eller managed 56 players earning All-Region XX accolades and 29 MDJUCO All-Conference honors.
Eller was an accomplished player on the diamond to boot. He helped Rising Sun High School to a state championship title in 2000 and continuing at Cecil, where he was named MDJUCO All-Conference, and at Wilmington University. Tom graduated in 2005 from Wilmington University with his bachelor's degree in general studies. Furthering his education, Eller received his master's in sports management from Millersville University and is currently working on his second master's degree in turf-grass management. Tom currently resides in Elkton with his wife Kim, daughter, Teagan, and two dogs Diggy and Kerbie.
JACK GRAHAM begins his first season as a Development Coach for Aberdeen after serving in the same capacity with Frederick last season. Graham also served as a player/coach in Delmarva (2017) and Aberdeen (2016). Graham was drafted in the 38th round of the 2015 draft out of Slippery Rock University as a second baseman. Graham began with the GCL Orioles in rookie ball and moved up to play for the IronBirds after 11 games in Florida. In 2016, Graham would end up playing 10 games for the Delmarva Shorebirds, for a total 23 career minor league appearances.
#WheelsUp for your 2019 summer with Friday night fireworks as the Aberdeen IronBirds open up the season on Friday, June 14th against the Hudson Valley Renegades! Be on the lookout for single game tickets for Opening Night 2019, going on-sale this April.