Minor League Baseball Announces Cancellation of 2020 Season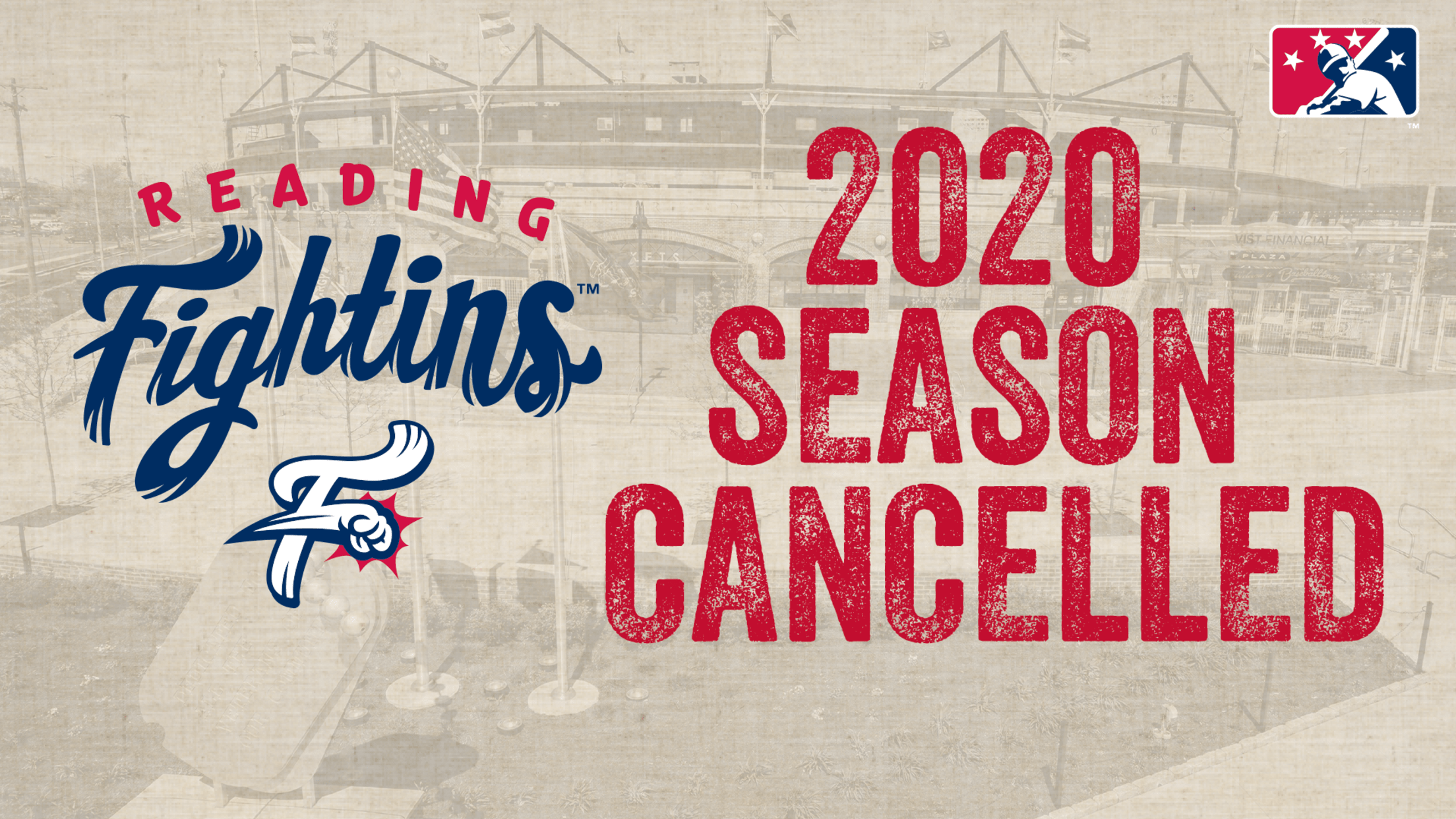 Dear Fans and Partners – Minor League Baseball announced today that the 2020 Reading Fightin Phils season has officially been cancelled as a result of the Covid-19 pandemic. The decision made by Minor League Baseball was based on public health concerns beyond our control. This official announcement comes with great
Dear Fans and Partners –
Minor League Baseball announced today that the 2020 Reading Fightin Phils season has officially been cancelled as a result of the Covid-19 pandemic. The decision made by Minor League Baseball was based on public health concerns beyond our control.
This official announcement comes with great sadness, as we know how much R-Phils baseball means to you, and to us. We miss seeing all of our Phillies Double A players – working hard toward their dream of making the big leagues. We know how much those players are missing baseball right now and we are excited to see them play again next season. And most of all, we miss all of you, our fans, for you are the reason that we all love working here – throwing 70 baseball parties for our fans each season is what drives us to be great. But we will work through this together and focus on better days ahead when we can all return to America's Classic Ballpark for an R-Phils ball game.
The R-Phils full-time front office is still fully intact, as our experienced and passionate front office staff have all remained with us throughout this time and all will continue to work with us this offseason. Our front office team will continue to communicate with all of you, as we are already working hard to make sure the 2021 R-Phils season will be the best season ever. Our focus is on providing you with the best affordable family entertainment beginning again with R-Phils Opening Day 2021.
All R-Phils fans and partners can rest assured that the R-Phils will do right by them. We will treat you the way that we would want to be treated. We will make sure that all fans and partners are accommodated and ready to enjoy R-Phils baseball again in the Spring of 2021.
The R-Phils will work with all ticket holders and corporate partners to "rollover" their ticket package or corporate partnership to the 2021 R-Phils season:
Season Ticket and Mini Plan holders will receive the same ticket package for 2021
Group Leaders will be able to reschedule their group outing for 2021
Corporate Partners will be able to rollover their advertising package to 2021
General Admission Ticket Book, Fundraising Ticket Book, and Community Angel Ticket Book holders will be able to use their existing 2020 Ticket Book tickets for any game in 2021 (no exchange necessary)
Individual Game Ticket Purchasers can exchange their game tickets for their choice of any R-Phils game in 2021, once the 2021 R- Phils schedule becomes available
More information can be found at milb.com/reading/events/cancellation.
The process for all package rollovers to 2021 and ticket exchanges will be individualized, as the R-Phils pledge to provide maximum flexibility to all of our fans and partners. If any of the above stakeholders are unable to rollover their ticket package, advertising partnership, or group outing to 2021, the R-Phils will refund their ticket or advertising partnership money.
In the case of Individual Game Ticket purchasers, those fans should please hold on to their tickets for now. Once the 2021 R-Phils schedule becomes available, those fans will be given preferential treatment to exchange their 2020 tickets for the games of their choice in 2021, before tickets go on sale to the general public. Further, if fans eventually decide not to exchange their tickets for a game in 2021 and instead prefer a refund, the R-Phils will grant that refund. So for now, please just hold on to your 2020 individual game tickets until the 2021 R-Phils game schedule becomes available.
For those of you that would still like a reason to visit FirstEnergy Stadium, we will be hosting amateur baseball games at the ballpark beginning with the Baseballtown High School Senior Classic on Monday, July 13th. That game will feature 58 local high school baseball seniors who did not have a chance to play their final high school season. Additional baseball games are scheduled for America's Classic Ballpark on most days from July 14th thru August 16th. Those games will include the Baseballtown Charities High School Baseball Showcase (featuring 12 high schools), and the Rip It Baseballtown Charities Showcase (featuring many travel baseball teams). All of these amateur games are at FirstEnergy Stadium and are FREE to attend. The R-Phils concession stands will be open. Please consider coming out to the ballpark for some great food and some great amateur baseball. A full schedule of games can be found at rphils.com/events.
In addition, several Thursday evenings will feature a "Party with a Purpose" Food and Music event. These Thursday evenings feature live music, stadium food and drink, and the opportunity to play catch on the field. Each Party with a Purpose is only $5 to attend and proceeds benefit local non-profit groups. A full schedule of Party with a Purpose Thursday night events can also be found at rphils.com/events.
Thank you for your patience and your understanding. The Reading Fightin Phils are very proud to have been an integral part of your community for a long time and we are excited to host you and your family again at FirstEnergy Stadium for what will be an exciting 2021 R-Phils season. As a community we will all pull through this together, and in the Spring of 2021, families will be able to come to America's Classic Ballpark again and enjoy an R-Phils ball game.
If you have questions, please feel free to email them to [email protected]. Please visit milb.com/reading/events/cancellation for more information.
We send our best wishes to all individuals and communities that have been impacted by this global pandemic. And we wish a special thank you to all of the health care workers and front line workers. Please hold tight to those you love, and we can all work through this – together.
Sincerely,
Scott Hunsicker
General Manager
Reading Fightin Phils