Mississippi Braves All-Decade Team
The M-Braves unveil the top players from 2010 to 2019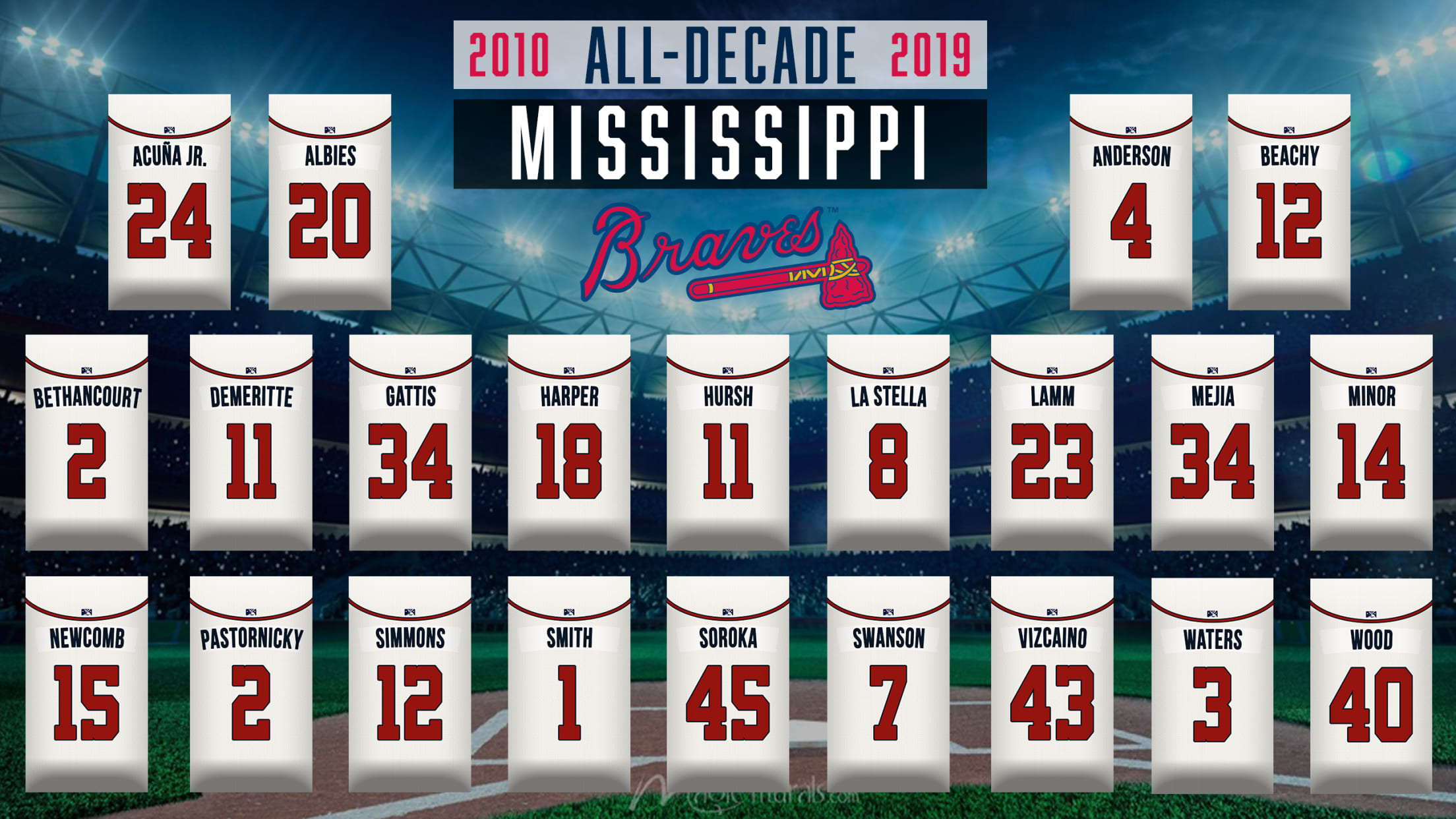 The Mississippi Braves, Double-A affiliate of the Atlanta Braves celebrated the end of the decade by unveiling the All-Decade squad from 2010 to 2019. The criteria for being named to the team are production while playing in Mississippi - weighed equally to results in major league baseball. The players selected
The Mississippi Braves, Double-A affiliate of the Atlanta Braves celebrated the end of the decade by unveiling the All-Decade squad from 2010 to 2019. The criteria for being named to the team are production while playing in Mississippi - weighed equally to results in major league baseball. The players selected were compiled by current and former M-Braves staff, broadcasters, and the fans.
We begin with what was the most challenging category to trim to a five-man rotation. Arguably, the Braves have produced the best starting pitchers in baseball for the last three decades. During the decade, no M-Braves pitching staff finished worse than fifth in the Southen League in pitching - ending the year second, four times, and first, twice. These five pitchers have combined for three Futures Game selections, three Baseball America Double-A All-Star selections, three MLB All-Star Selections, and 160 MLB wins.
Selections in alphabetical order: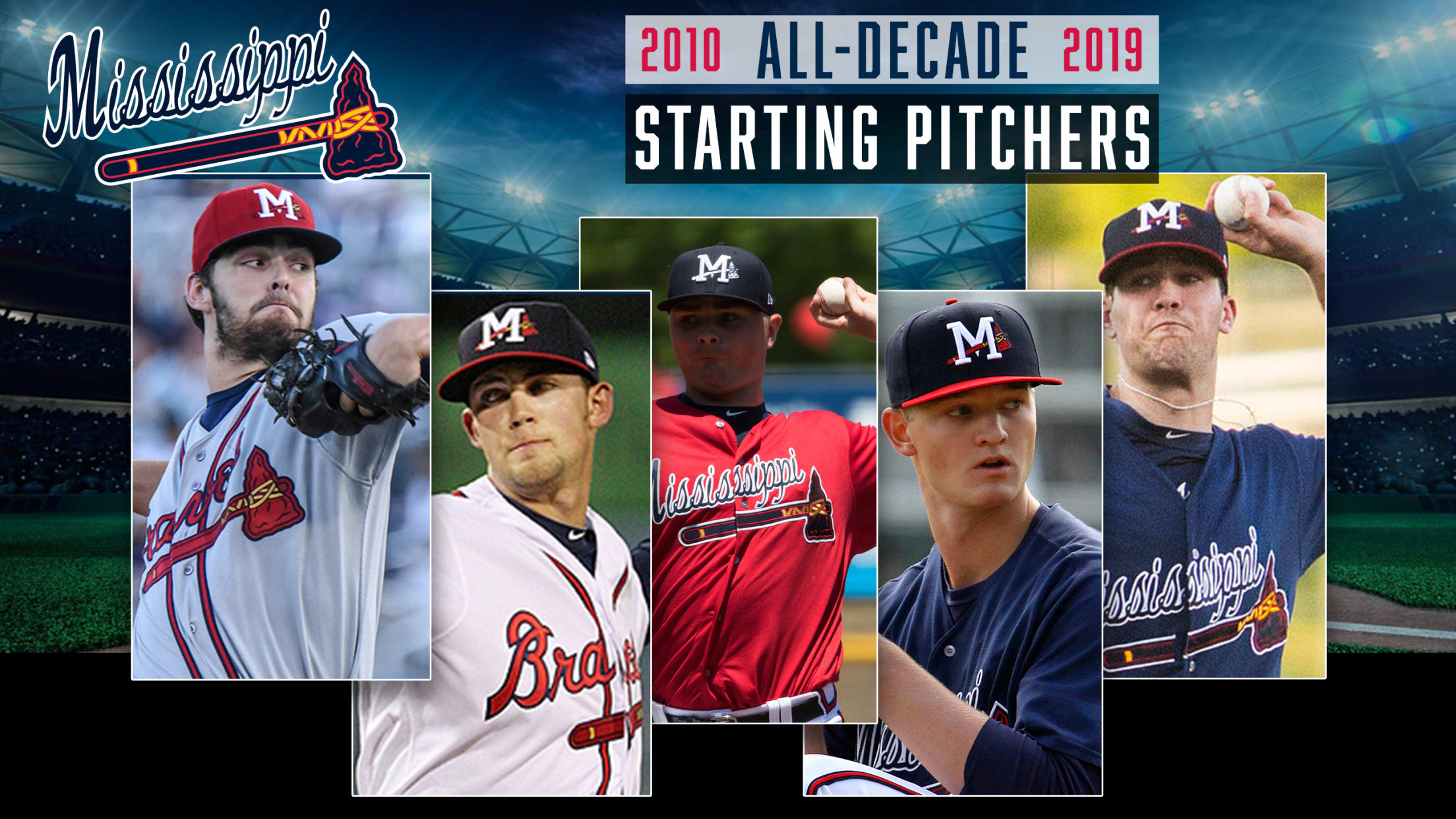 Ian Anderson - The top pitching prospect for the Atlanta Braves went 7-5 with a 2.68 ERA, 147 strikeouts, 47 walks in 111.0 innings during the 2019 season. Anderson started the past July's Futures Game in Cleveland, was named a Southen League Midseason All-Star and a Baseball America Double-A All-Star and Braves Minor League Pitcher of the Year. Anderson, who turned 21 in May, limited opponents to a .202 average, the second-lowest mark in the Southern League, while leading the league in strikeouts through Aug. 4. He made the third-most starts in the league, logged the eighth-most innings, and the sixth-best WHIP (1.16). Anderson capped his season combining with Jeremy Walker for a combined no-hitter on June 28, matching Tommy Hanson 's club record with 14 strikeouts in a single game.
Mike Minor - The two-time M-Braves Opening Day starter (2010 and 2014) was a no brainer for this spot, more so because of what he has done since leaving Double-A. Ironically, despite just 15 M-Braves starts, Minor is the only player to make two Opening Day starts for the club. The seventh overall pick in the 2009 draft out of Vanderbilt went 2-6 with a 4.03 ERA in 87.0 innings over 15 starts for the M-Braves, logging 109 strikeouts to just 34 walks over that period. Minor represented the Braves in the 2010 Futures Game.
Minor is coming off an All-Star season in 2019 for the Rangers, joining Lance Lynn on their pitching staff with 200 innings and 200 strikeouts. It's the first Rangers duo to do so since 1990 when Nolan Ryan and Bobby Witt both accomplished the feat. Minor threw 126 pitches in his final start, the most since Yu Darvish threw the same more than five years ago. Since making his major league debut in 2010, Minor has posted a 70-60 record and 3.90 ERA and six saves over 1,095.2 innings for Kansas City, Texas, and Atlanta in 236 games and 170 stars. He has posted 986 strikeouts and 315 walks.
Sean Newcomb - The big left-hander pitched one season for the M-Braves and set the single-season strikeout record with 152 punch outs during the 2016 campaign. He led the league in strikeouts and topped the club in virtually every pitching category. Newcomb made 27 starts and went 8-7 with a 3.86 ERA, 152 strikeouts, 71 walks over 140.0 innings.
In three seasons for the Braves, Newcomb is 22-21 with a 3.87 ERA, 333 strikeouts, 167 walks over 332.1 innings in 105 games, and 53 starts. Newcomb finished ninth in the National League in 2018 with a .226 opponents' batting average.
Mike Soroka - Like Newcomb, Soroka made the most of his one season in the Southern League. The right-hander is currently fourth in M-Braves history with a 2.75 ERA, which was second-best during the 2017 campaign. Over 26 starts, he was 11-8 with 125 strikeouts, 34 walks over153.2 innings pitched, Soroka represented the Braves in the Futures Game and was a Baseball America Double-A All-Star. Soroka posted the longest scoreless streak in club history at 27.1 innings from June 5 to June 15.
In Soroka's first two MLB seasons, he is 15-5 with a 2.79 ERA, 163 strikeouts, 48 walks over 200.1 innings in 34 starts. After a shoulder injury limited his 2018 season, Soroka was named to the Baseball America All-Rookie Team in 2019, was an NL All-Star, and finished third in the NL in ERA at 2.68. His 13 wins were good enough for 10th in the NL. Soroka's 2.68 ERA led all rookies and ranked fifth in the major leagues, and he did it while holding up over 174.2 innings, tied for third-most among rookies. He proved especially adept at keeping the ball in the park. His home run rate of 0.72 per nine innings was second-lowest in the majors.
Alex Wood - The final starting spot goes to Wood, who only made ten starts for the M-Braves during the 2013 season, but made the most of the opportunities. Wood was 4-2 with a 1.26 ERA, 57 strikeouts, 15 walks over 57.0 innings. Wood was a Southern League Pitcher of the Week and was promoted to Atlanta directly from Mississippi, becoming 13th player to do so in club history. He also worked 19.1 consecutive
innings without allowing a run (33.2 IP without giving up an earned run) during his M-Braves tenure.
On July 30, 2015, in a three-team trade, the Dodgers acquired Wood, Mat Latos , Michael Morse, Bronson Arroyo , Jim Johnson , Luis Avilán, and José Peraza, while the Marlins acquired minor league pitchers Victor Araujo , Jeff Brigham , and Kevin Guzman , and the Braves received Héctor Olivera, Paco Rodríguez , minor league pitcher Zachary Bird and a competitive balance draft pick for the 2016 draft. What a trade. His 2017 season began in the bullpen and moved to the rotation after an injury to Rich Hill . He won the National League Player of the Week Award for the week of May 8-14 after he pitched 11 scoreless innings with 21 strikeouts over two starts that week. A few weeks later, he was also awarded the NL Pitcher of the Month Award after he went 5-0 with a 1.27 ERA and 41 strikeouts in May. Wood eventually had his scoreless innings streak snapped at 28 on June 10. On July 5, Wood became the first Dodgers starting pitcher to begin the season 10-0 since Don Newcombe in 1955.
In 179 games and 136 starts from 2013 to 2019, Wood is 53-43 with a 3.40 ERA, 768 strikeouts, 238 walks over 839.0 innings for Atlanta, Cincinnati, and the Dodgers. Wood was a 2017 NL All-Star for the Dodgers and finished ninth in the Cy Young award voting, posting a 16-3 record, with a 2.72 ERA over 27 games, 25 starts, and 152.1 innings.
Honorable Mention: Tucker Davidson , Randall Delgado , Scott Diamond Aaron Northcraft , Wes Parsons , Lucas Sims , Julio Teheran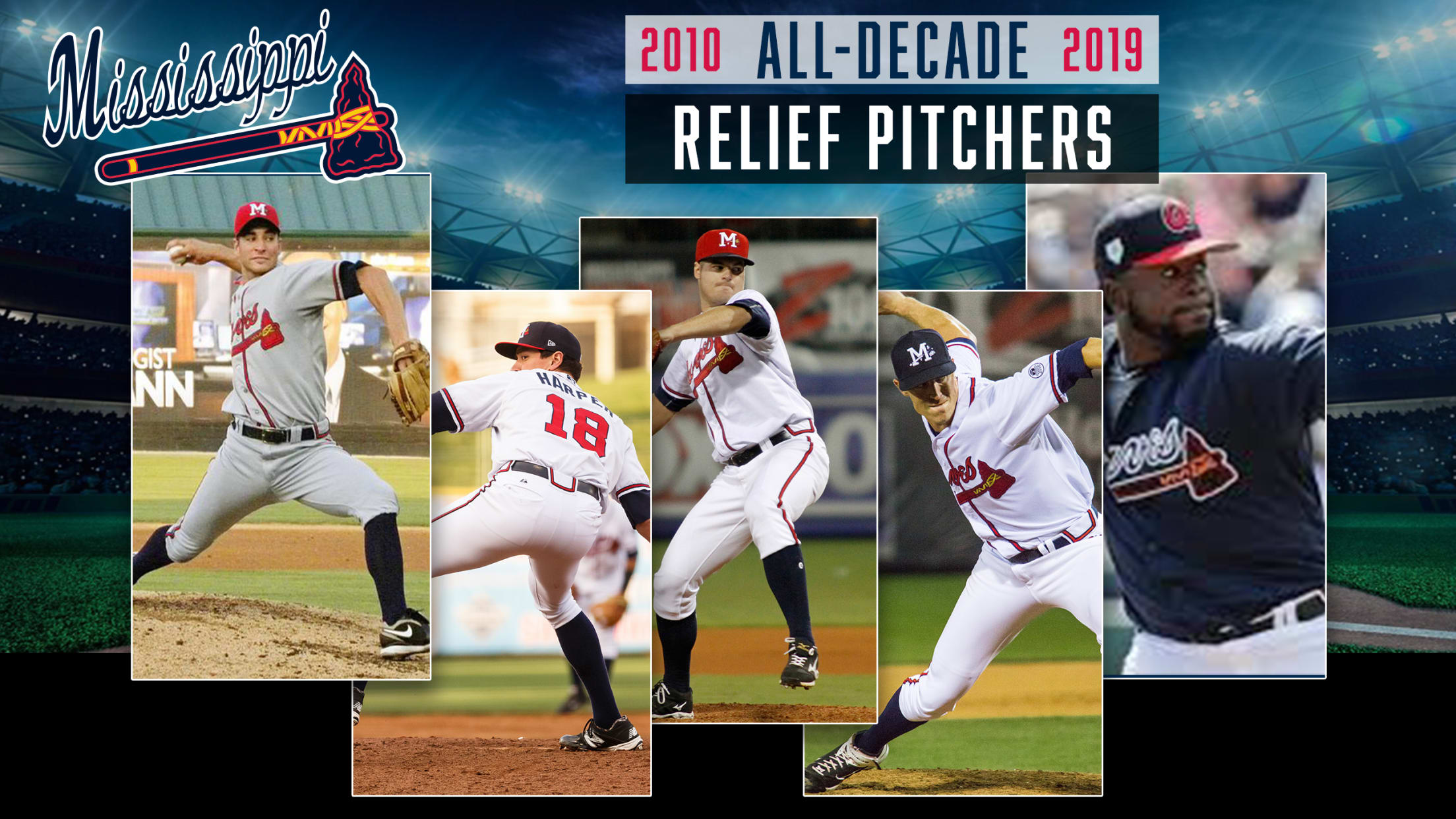 Brandon Beachy - A 2010 Southern League All-Star, Beachy began the decade by splitting the season between the rotation and the bullpen. The right-hander went 3-1 with a 1.47 ERA over 27 games and six starts, logging one save and posting 100 strikeouts to just 22 walks over 73.2 innings. Beachy moved to the M-Braves rotation in June, and his top performance of the season occurred on July 15 when he struck out 13 of 19 batters against the Huntsville Stars.
Over parts of five seasons at the major league level, Beachy went 14-12 over 48 games with the Braves and Dodgers, posting a 3.36 ERA with 280 strikeouts and 92 walks over 275.2 innings. Beachy was named to the 2011 Baseball America All-Rookie squad after going 7-3 with a 3.68 ERA in 25 starts that season for the Braves.
Ryne Harper - The right-hander appeared in 112 games for the M-Braves from 2013 to 2015 and went 15-9 with an impressive 2.17 ERA, logging 12 saves. He struck out 187 batters and walked just 53 over 165.2 innings. Among qualified pitchers, Harper is the M-Braves all-time leader in ERA (2.17), second in wins (15) and games (112), third in strikeouts (187), and logged 11 saves during the 2013 season.
On December 11, 2015, Harper was sent to the Seattle Mariners to complete an earlier trade for José Ramírez. Harper was called up to the majors for the first time on May 28, 2017. He was outrighted on June 17, 2017, without making an appearance. He elected free agency on November 6, 2017. In 2019, Harper was given a non-roster invitation to Minnesota Twins major-league spring training. Harper made the Twins' Opening Day roster out of spring training. He made his major league debut on March 31, 2019, against the Cleveland Indians, recording one scoreless inning of relief. He got his first career save on May 28 against the Milwaukee Brewers and finished his rookie-season 4-2 with a 3.81 ERA over 51 games with 50 strikeouts and ten walks over 54.1 innings.
Jason Hursh - The 2015 Opening Day starter, Hursh holds the M-Braves career record for innings pitched (236.0), wins (17), appearances (144), starts (41), strikeouts (240) while standing fifth in saves with 17. Over parts of six seasons in Mississippi, the free-agent is 20-19 with a 3.55 ERA over 144 games and 41 starts, logging 240 strikeouts, and 125 walks in 365.1 innings. The Madison, MS native was a 2019 Southern League All-Star and went 3-3 with a 3.45 ERA and two saves in 34 games this year.
The Braves' first-round selection in 2013 appeared in 11 games for the Atlanta Braves over 2016 and 2017, being promoted to Atlanta for the second time in 2016, he replaced the injured Bartolo Colon on the roster. Hursh posted a 1-0 record with an 8.25 ERA, eight strikeouts, seven walks over 12.0 innings in 2016 and 2017.
Mark Lamm - The 2013 Southern League All-Star is the lone member of this section that did not make a major league debut. Lamm made his mark on the franchise with the second-most appearances (114) and fourth-most saves (21) in club history. Lamm finished 7-11 with a 3.22 ERA, and 21 saves over parts of three seasons in Mississippi. The former sixth-round selection out of Vanderbilt struck out 124 and walked 61 over 114 games and 148.1 innings.
Lamm had ten saves and posted a 2.56 ERA 35 games in 2013 and earned a promotion to Triple-A Gwinnett late in the season.
Arodys Vizcaíno - Vizcaíno was traded from the Yankees to the Atlanta Braves with Melky Cabrera , Mike Dunn , and $500,000 in exchange for Javier Vázquez and Boone Logan on December 23, 2009. The hard-throwing right-hander made his way up to Double-A in 2011 and went 2-3 with a 3.62 ERA primarily as a starting pitcher, striking out 62 and walking just 18 over 15 games, eight starts, and 54.2 innings.
Vizcaíno was called up to the majors for the first time on August 10, 2011. He made his MLB debut that day, pitching in relief, walking two batters and hitting another in the ninth inning. Vizcaíno earned his first MLB win in the Braves' 2-1 extra-inning victory over the San Francisco Giants on August 16. In 17 games with the Atlanta Braves, Vizcaíno had a 1-1 record, 4.67 ERA and 17 strikeouts in 17.1 innings. After a stint with the Cubs, the Central Division club traded Vizcaino back to Atlanta in 2014, and three international signing bonus slots to the Braves for Tommy La Stella and an international signing bonus slot. In parts of seven MLB seasons, Vizcaino is 13-11 with a 3.01 ERA, 50 saves, with 218 strikeouts, 90 walks in 206 games over 194.1 innings.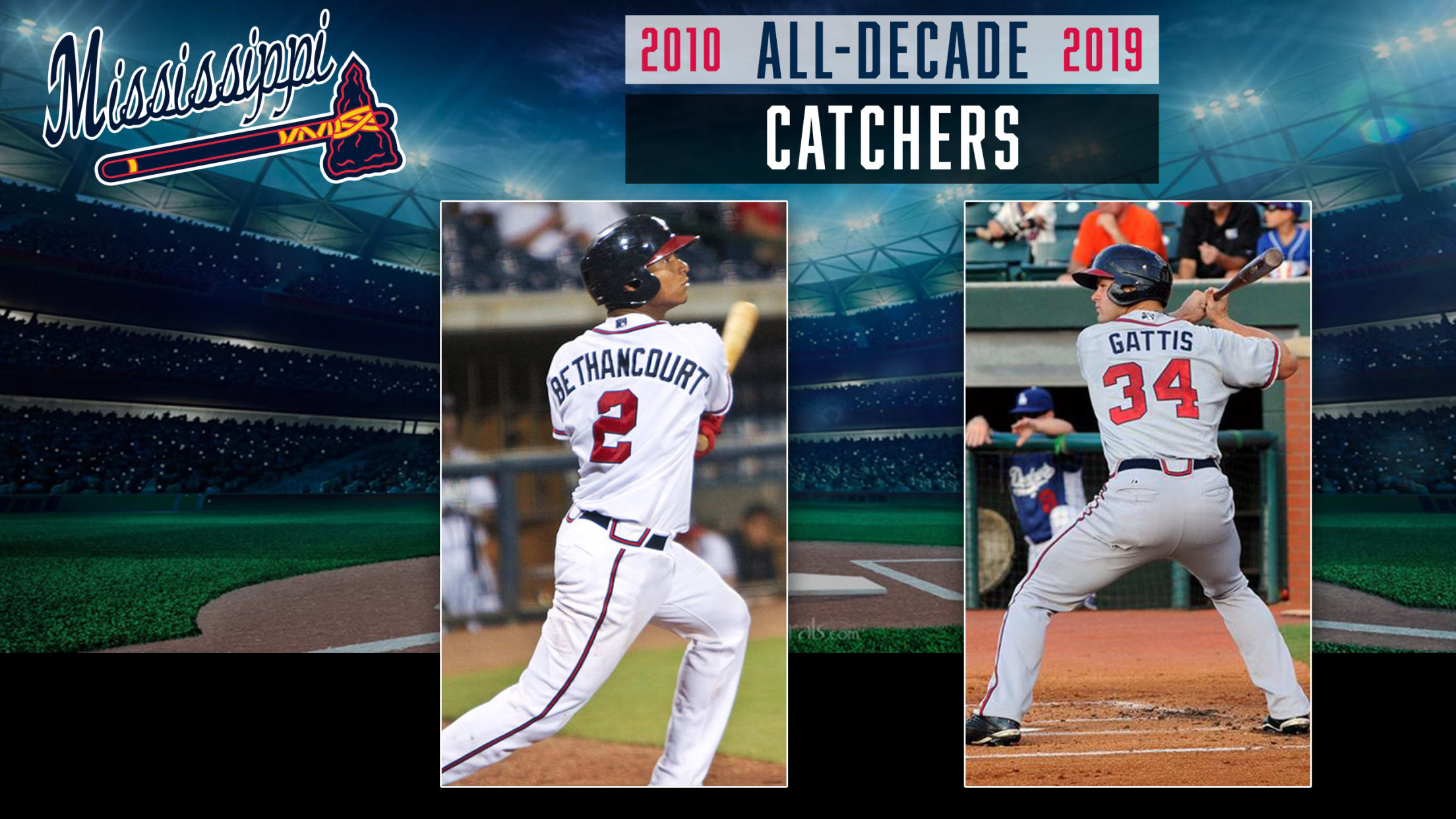 Christian Bethancourt - Arguably the best catching prospect of the decade for the Braves, Bethancourt, a native of Panama, went to three straight Futures Games, two of which were in 2012 and 2013, while with the M-Braves. Bethancourt posted big numbers, despite his 2012 season being cut short after breaking his left hand after being hit by a pitch. Over 161 M-Braves games, Bethancourt hit .262 with 26 doubles, 14 home runs, and 77 RBI.
Ironically, Bethancourt played in 161 major league games from 2013 to 2017 for Atlanta and San Diego, batting .222 with 20 doubles, eight homers, and 46 RBI. In 2014, Bethancourt was promoted to the major leagues when fellow All-Decade catcher Evan Gattis went on the disabled list on June 28. He recorded his first major league RBI on July 1, against Daisuke Matsuzaka. Bethancourt hit .240 with the Braves in 13 games and was demoted to the minor leagues on July 21, when Gattis was activated from the disabled list. He was to be promoted back to the Braves on September 2. On December 10, 2015, Bethancourt was traded to the San Diego Padres for right-hander Casey Kelly and Ricardo Rodriguez .
Evan Gattis - The Texan and World Series champion began his 2012 season with a .385 batting average, nine home runs, and 29 RBI in High-A for the Braves and was promoted to Mississippi at the end of April. With Brian McCann starting for the Braves and top prospect Christian Bethancourt regarded as an excellent catcher, Gattis was shifted to left field. Gattis made 17 appearances behind the plate and 30 appearances in left field for the M-Braves. Gattis was the top power hitter in the league over his Double-A stretch, batting .258 with 13 doubles, four triples, nine home runs, 37 RBI, and .865 OPS in just 49 Southern League games. His numbers made him a Baseball America Double-A All-Star at the end of the season.
The Braves invited Gattis to spring training in 2013 as a non-roster player. With a 19-for-53 (.358) performance in the Grapefruit League and McCann starting the season on the disabled list, the Braves added Gattis to their Opening Day roster to share catching duties with Gerald Laird . On April 3, 2013, Gattis made his major league debut. He recorded his first hit as a major leaguer, a home run off of Roy Halladay, in his second at-bat. He batted .333 in his first eight games, also homering off of Stephen Strasburg . Gattis was named NL Rookie of the Month for April 2013, in which he batted .250 and led all major league rookies with six home runs, a .566 slugging percentage, 16 RBI, and 43 total bases. Gattis hit 43 home runs over his two seasons with the Braves before being traded to Houston in 2015, with James Hoyt for Mike Foltynewicz , Andrew Thurman , and Rio Ruiz . Battling injuries and another move to left field, Gattis still provided plenty of big moments for the Braves, including being the first catcher in club history to have 20+ homers in his first two seasons. Gattis went on to win a World Series for the Astros in 2017 and finish his career with 139 home runs, 116 doubles, 12 triples, and 410 RBI over 706 MLB games.
Honorable Mention: Matt Kennelly , Braeden Schlehuber , Barrett Kleinknecht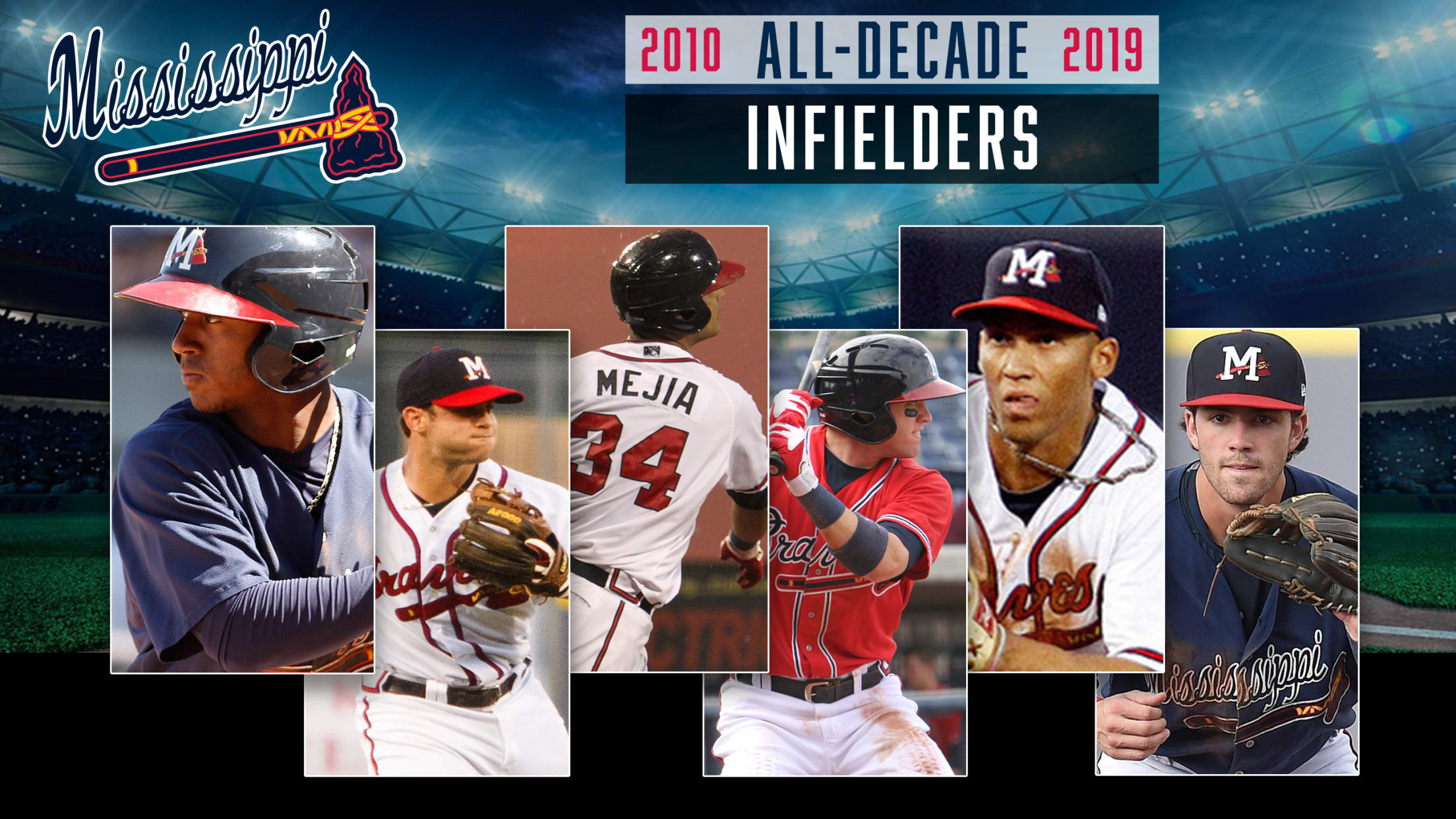 Ozzie Albies - The 2016 Southern League batting champ and Baseball America Double-A All-Star hit a club-record .321 for the M-Braves with 22 doubles, seven triples, four home runs, 33 RBI, 21 stolen bases and a .858 OPS over 82 games before a promotion to Triple-A.
The Braves brought up Albies on April 25, 2017, and he made his MLB debut that night at Cincinnati at the age of 20 years, 128 days. He became the youngest player to debut for the Braves since Julio Teheran debuted at the age of 20 years, 100 days on May 7, 2011. The last younger position player was Wilson Betemit in 2001, Albies has posted a .279 career batting average with 92 doubles, 18 triples, 54 homers, 186 RBI, 37 stolen bases, and a .806 OPS in 375 games. The Braves' second baseman was a 2018 NL All-Star, 2019 NL Silver Slugger winner, and led the NL in hits in 2019 with 189.
Tommy La Stella - Had La Stella tallied 21 more plate appearances in his 2013 season for the M-Braves, he would have held the Southern League batting title and posted the best average in franchise history. Over 81 games, La Stella hit .343 with 21 doubles, two triples, four homers, 41 RBI, seven steals and a .896 OPS. After the season, he was named a Topps Double-A All-Star. The former eighth-round selection out of Coastal Carolina posted a club-record 23-game hitting streak from July 5 to August 5.
La Stella debuted at the major league level on May 28, 2014, hitting two singles in his first game. La Stella hit his first major league home run on August 8 against Stephen Strasburg of the Washington Nationals. He finished the year with a .251 batting average in 93 games. On November 16, 2014, the Braves traded La Stella, along with an international signing bonus slot, to the Chicago Cubs for Arodys Vizcaíno and three international signing bonus slots. Over 476 games with the Braves, Cubs, and Angels, La Stella is a .272 career hitter with 58 doubles, two triples, 26 home runs, and 138 RBI. He was named to the 2019 AL All-Star squad but did not play because of a tibia fracture. Before the injury, La Stella had been one of the Angel's most productive players. He had a .300 batting average with 16 homers and 44 RBIs in 78 games.
Ernesto Mejia - The only infielder on the All-Decade team to not make a big-league debut is Mejia. Regardless, the power hitter made the most of his 137 games in Mississippi during the 2011 campaign. With a two-homer night on September 3, 2011, the first baseman became the M-Braves career home run leader with 25 home runs. He broke Matt Esquivel (2006-07) and Michael Rosamond's (2005-06) previous number of 24 career home runs. Mejia finished the season with 26 homers, raising the bar for both career and single-season records. The Southern League All-Star is the club's single-season record holder in homers, games (137), hits (148), runs (82), RBI (99), slugging (.531) and OP (.906).
Tyler Pastornicky - The star shortstop capped off his stellar tenure with the M-Braves by completing what is still the only cycle in club history on July 5, 2011. He did so with an eighth-inning triple to right-center against the Jackson Generals. After striking out in his first at-bat, Pastornicky launched a homer to left in the third inning, singled in the fourth and doubled in the fifth. He lined out in the seventh before the history-making triple. Pastornicky led the club with five triples and 20 stolen bases during an All-Star season. On July 15, 2010, the Blue Jays traded Pastornicky along with Álex González and Tim Collins to the Braves for Yunel Escobar and Jo-Jo Reyes . The fifth-round pick of the Jays finished 2010 with Mississippi. In total, he hit .257 in 115 games with 35 stolen bases in 44 attempts. Pastornicky played 2011 mostly with Mississippi, but also played 27 games for Triple-A Gwinnett. With Mississippi, he hit .299 in 90 games and stole 20 of 28. He was named to the Southern League All-Star Game. In 127 games in Mississippi, Pastornicky hit .286 with 18 doubles, seven triples, eight home runs, 51 RBI, and 31 stolen bases.
Pastornicky was called up to the majors for the first time on September 28, 2011. He made his major league debut on April 5, 2012, as the Opening Day shortstop for the Braves against the Mets. Pastornicky recorded his first hit that day, a triple off of Ramón Ramírez. He was sent back down to Triple-A Gwinnett and was replaced by Andrelton Simmons , who was called up from Mississippi on June 2. Pastornicky was designated for assignment on January 8, 2015, and never played in the majors again. In parts of three seasons, he posted a .243 MLB batting average with 11 extra-base hits, 15 RBI, and two stolen bases in 124 career games for Atlanta.
Andrelton Simmons - The run of top prospect shortstops continued for the M-Braves in 2012 with Simmons. The Braves' second-round selection in 2010 was promoted to Atlanta on May 31 after just 44 games in Double-A. He became the 12th M-Brave to be promoted straight to Atlanta. The youngster made the most out of those 44 games, batting .293 with nine doubles, two triples, three homers, 21 RBI, ten stolen bases, and a .791 OPS.
The Curacao native made his Major League debut on June 2 against the Washington Nationals. He got his first hit, a double, on June 3. Simmons was named National League Rookie of the Month for June 2012 after hitting .333 with six doubles, three home runs, and 14 RBIs in June. He led all NL rookies in batting average and on-base percentage. In 2014, the Braves signed Simmons to a seven-year deal worth $58 million. On November 12, 2015, Simmons, along with catcher José Briceño, was traded to the Angels for Erick Aybar , Sean Newcomb, and Chris Ellis . The M-Braves alum is a four-time Gold Glove award winner and five-time Wilson Defensive Player of the Year. In 1,030 games for Atlanta and LA, Simmons has a .268 career batting average with 67 homers, 396 RBI, and 65 stolen bases.
Dansby Swanson - It's only fitting that another M-Braves star shortstop is the final member of this list. After 84 games in 2016, the former first overall pick in 2015 became the 20th M-Brave to be promoted to Atlanta, directly from Pearl. He joined the M-Braves at the end of April and posted a .261 average with 13 doubles, five triples, eight home runs, 45 RBI, six stolen bases and .745 OPS. The former Vandy star represented the M-Braves in the MLB Futures Game and Southern League All-Star Game in 2016.
On August 16, the Braves announced that Swanson would be promoted to the major leagues the next day. Upon his call-up, He went 2-for-4 in his MLB debut, including his first career hit off of Twins pitcher Kyle Gibson . Swanson hit an inside-the-park home run against the Nationals on September 6, his team's first such home run since 2001. With the hit, Swanson followed Paul Runge as the second Brave to make an inside-the-park home run his first career home run. Swanson finished the year in the majors, recording a .302 batting average, .361 on-base percentage, and a .803 OPS. So far, Swanson holds a career .245 batting average with 81 doubles, ten triples, 40 homers, 192 RBI, 26 stolen bases in 445 career games.
Honorable Mention: Cedric Hunter , Kyle Kubitza , Dustin Peterson , Johan Camargo , Emerson Landoni , Christian Marrero , Joey Meneses , Joey Terdoslavich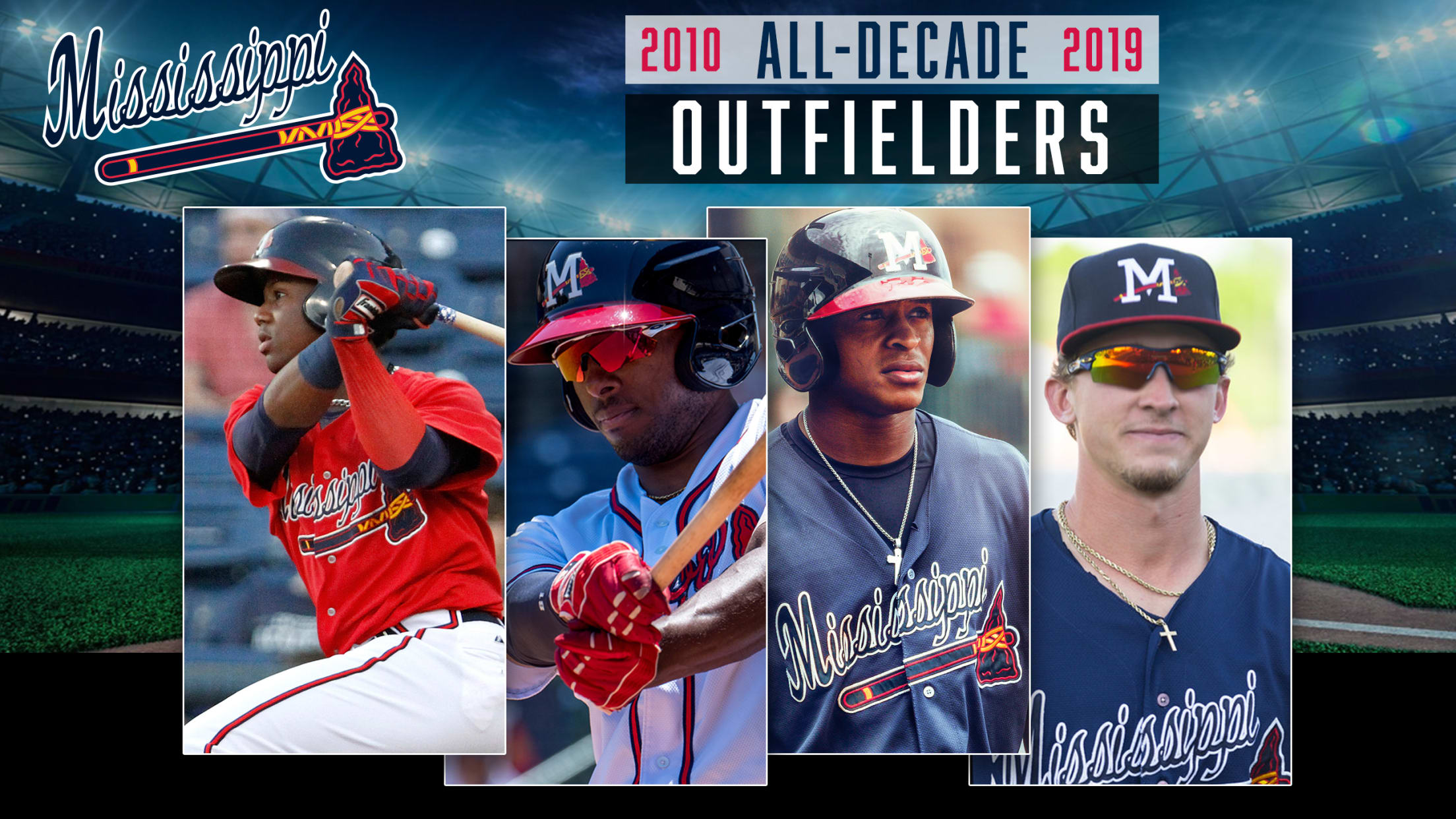 Ronald Acuña Jr. - Quite possibly the MVP of the All-Decade squad, Acuña swiftly made his way through the Atlanta farm system on his way to the majors in 2018. Acuña played just 57 games with the M-Braves in 2017, but those two months were quite possibly the most productive 62 days in club history. The 19-year-old was twice named Southern League Player of the Week, first earning the honor after batting .560 with six runs and 10 RBI from May 9-14, his first week in the league. He garnered the award again two weeks later after hitting .417/.400/.667 from May 22-28, also earning Southern League All-Star honors, despite not playing the first month in the league. Acuña hit .326 with 14 doubles, a triple, nine home runs, 30 RBI, 19 stolen bases, and a .895 OPS for the M-Braves before being promoted to Triple-A Gwinnett on July 13, after participating in the Futures Game.
Acuña was named Minor League Player of the Year by both Baseball America and USA Today, Hitting Prospect of the Year by MLBPipeline.com and Organizational Player of the Year by the Braves.
Acuña was promoted to Atlanta on April 25, 2018, and he made his MLB debut that night at Cincinnati at the age of 20 years, 128 days. Acuña finished his first major league season, hitting .293 with a team-high 26 home runs and a .917 OPS in 111 games. He won the National League Jackie Robinson Rookie of the Year Award, collecting 27 of 30 first-place votes. In his first two seasons, the young phenom has hit .285 with 48 doubles, 67 home runs, 165 RBI, 53 stolen bases, and a .897 OPS in 267 games. This past season, Acuña was named an NL All-Star, Silver Slugger, and led the league in stolen bases (37), runs scored (127), and finished fifth in home runs (41). He also finished fifth in NL MVP voting, and the dynamic leadoff man fell just short in his pursuit for a 40-40 season, smacking 41 homers with 37 steals.
Travis Demeritte - In just two seasons with Mississippi, Demeritte set the career home run record with 32 long balls. Splitting time between second base and third base in 2017, he hit 15 home runs in 124 games and hit 17 blasts in 2018 over 128 games as an outfielder. Demeritte became just the fourth M-Braves player since 2005 to record 16 homers in a single season and was named a Southern League All-Star. He led the club in runs (69), extra-base hits (44), home runs (17), RBI (63), total bases (178), games (128), and walks (57). Demeritte had 43 doubles, 11 triples, 32 homers, 108 RBI and a .720 OPS over 252 games.
On July 31, Demeritte was traded along with Joey Wentz to the Tigers in exchange for Shane Greene . At the time of the trade, he was hitting .286 with 24 home runs and 74 RBI for Triple-A Gwinnett. On August 1, the Tigers selected Demeritte's contract and promoted him to the major leagues to take the place of outfielder Nicholas Castellanos , who was also traded on July 31. He made his major league debut on August 2 against the team that drafted him, the Rangers, hitting a triple off Lance Lynn for his first MLB hit. On August 8, against the Royals, Demeritte hit his first major league home run. In 169 at-bats for the Tigers, Demeritte hit .225 with three home runs and 10 RBI.
Mallex Smith - Like Acuña, Smith made the most of his time in Mississippi - and then some. Over 57 games at the beginning of 2015, Smith hit .340 with five doubles, two triples, two home runs, 22 RBI, 23 stolen bases, 35 runs scored and a .830 OPS. Smith was named a Southern League All-Star but was promoted to Triple-A before the game was played. Smith came back to Mississippi for five rehab games in 2016 and hit .438.
The Braves promoted Smith to the major leagues on April 11, 2016. He debuted that night against the Nationals, starting in center field, going 1-for-3 in his first game, with a strikeout and a single against Max Scherzer . On January 11, 2017, the Braves traded Smith, along with Shae Simmons , to the Mariners in exchange for minor-league pitchers Luiz Gohara and Thomas Burrows . On November 8, 2018, the Rays traded Smith back to the team that drafted him, the Mariners. In 2019, Smith led the majors with 46 stolen bases and, in 2018, finished second in the AL with 40. He led the league in 2018 with ten triples. In 428 games for the Braves, Rays, and Mariners, Smith is a career .259 batter with 61 doubles, 27 triples, 13 homers, 111 RBI, 118 stolen bases, and a .696 OPS.
Drew Waters - The final member of the All-Decade squad is the only M-Brave ever to be named league MVP and just the second to win the batting title. In 2019, Waters led the Southern League in several offensive categories, despite a promotion to Triple-A Gwinnett on August 5. In 108 M-Braves games, the 20-year-old finished the season by leading the league in batting average (.319), hits (134), doubles (35), triples (9) and extra-base hits (49). He finished among the top ten in slugging (2nd, .481), OPS (2nd, .847), total bases (3rd, 202), runs (T-5th, 63) and OBP (8th, .366).
Waters' MVP award was the first for the franchise since Ryan Klesko and Javy Lopez won league MVP in 1991-92 for the Greenville Braves. Waters was the youngest, at 20, to win MVP since Montgomery's Delmon Young claimed the honor in 2005. He became the first player in the Southern League and Double-A baseball to the 100-hit mark on June 30 and the first player in MLB and MiLB to 120 hits on July 13 in his 89th game. The Woodstock, GA native ended the season with 134 games between Mississippi (108), and Gwinnett (26) ranked among the MiLB leaders in doubles (T-3rd, 40), hits (5th, 163), at-bats (6th, 163) and games (T-7th, 134).

In a pitcher's league, Waters had a league-best 18-game hitting streak that began on June 4, batting .417 with eight doubles, two triples, two home runs, nine RBI, 12 runs, four walks, and a .462 OBP. The streaks were the longest this season in the Southern League, and the on-base streak was third-longest in club history. Waters has extended his streak 14 times during his first at-bat.
Honorable Mention: Willie Cabrera , Todd Cunningham , Mycal Jones , Connor Lien , Tyler Neslony , Cristian Pache , Antoan Richardson