Oviedo Talks Green Card, Citizenship
Chiefs right-hander has had long, unique journey
    Of all the players on the Chiefs roster, no one has experienced a journey quite like that of Johan Oviedo. Born in Cuba in 1998, Oviedo's journey to Peoria took him through Ecuador, Haiti, the Dominican Republic and finally to Florida. Last month he spent two days between starts
Of all the players on the Chiefs roster, no one has experienced a journey quite like that of Johan Oviedo. Born in Cuba in 1998, Oviedo's journey to Peoria took him through Ecuador, Haiti, the Dominican Republic and finally to Florida. Last month he spent two days between starts away from the team, traveling to Florida to finalize paperwork for residency to receive a Green Card.
"I went back to Jacksonville where I live with my aunt, uncle and cousin" said Oviedo in an interview exclusive to PeoriaChiefs.com "I went to a meeting there and they looked over all my forms, my information and I got approved (the green card has since arrived) for residency, which is big for me."
It is no coincidence that since returning with his residency in tow, Oviedo has shined on the mound. In four August starts he has a 2.38 ERA, a 1.15 WHIP and has held opponents to a .198 average while extending a streak of eight straight starts to last at least five innings.
Oviedo has lived in Jacksonville with his aunt and uncle since signing with the Cardinals in July of 2016 and pitching in the Cardinals Instructional League that September. He has not seen his parents or younger sister in two years, but plans to change that this off-season.
"Now I can travel to Mexico and see them when our playoff run is over, I couldn't last year," Oviedo said. "And possibly I can go back to Cuba and see the rest of my family that I haven't seen since leaving. Hopefully someday they can see me pitch in person."
That is one of the biggest differences between players from the U.S. and those from Latin America. The American players get to play in front of their families, friends, former teammates etc. Players like Oviedo don't get that luxury.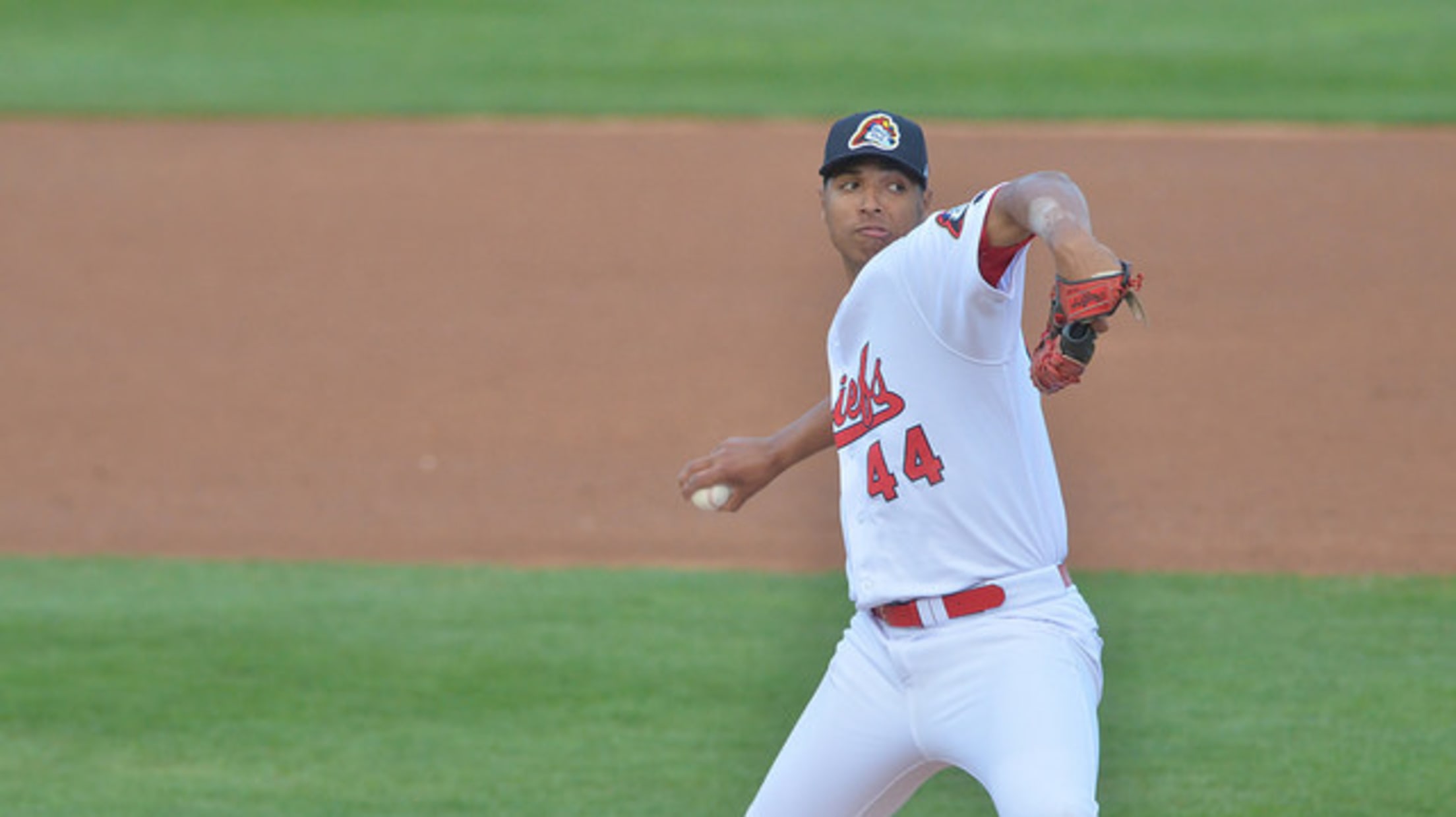 While communication back to Cuba has improved (Johan said two years ago phone calls were $5 per minute) it is still difficult for Oviedo's family to follow his starts. His mother Judith and father Lazaro do have an internet connection to follow along via MiLB.TV. But they don't speak much English.
"They watch all my starts, sometimes the picture is bad because of their connection, and they don't always know what is going on," Oviedo laughed. "Like last week in Quad Cities, that double play off the umpire's leg that was wiped out? Yeah they were confused for a while. After the game they ask, why not a double play? So I explained."
Now that he has a green card and has residency, Oviedo plans to take the next step as well. He wants to obtain U.S. citizenship which is a five-year process and includes a 100 question test.
"I need to improve my English and study because there is a test," Oviedo said. "But that's what I want. The green card was a goal and now citizenship is the next goal. A lot of people live here and they don't want to do that but it is better for me and what I want to do."
Oviedo credits his family in Jacksonville, Florida plus his girlfriend - former North Florida volleyball player Carina Hoff, and his host family Don Keeley for improving his English. "She (Carina) makes me speak English and it's getting better," Oviedo said.
During the interview he only had to look up one word (border) on his Spanish to English app and living with a host family in Washington, outside Peoria, has helped as well. Juan Yepez, who is bilingual, lived with Oviedo in April, returning to the Keeley house.

The journey for Oviedo was a long one. He, his father and sister left Cuba to get to the Dominican Republic. The trip took them via plane to Ecuador and then Haiti. They had to make another flight while in Haiti to get closer to the DR border after a planned ride didn't come through.
"We were told to wait for a ride outside the airport but that ride didn't show and everyone else was leaving, so we had to spend the night in the hotel and then another flight for an hour," said Oviedo, describing their journey. "We rode with one guy for two hours, then had to ride on motorcycles to the mountains and through the mountains at night, which was scary. Then we walked for a while and you couldn't see more than two feet in front of you. That got us to the river and I lost a shoe and a backpack on the way."
From there Oviedo met up with his agent and started to work out, mostly with other Cuban born players. He worked out at the academy for 10 months and his family went to every tryout with him before he signed with the Cardinals in July of 2016. His first taste of pitching in the US came in September 2016 with the Instructional League as his parents returned home to work on their house.
I asked Oviedo about the journeys other players have taken while leaving Cuba. Those of Yasiel Puig and his long adventures to freedom, the Hernandez brothers, Aroldis Chapman or Juan Contreras. He explained that his wasn't anything like those because rules have changed. Oviedo idolized El Duque growing up but didn't get to watch many Major League games saying with a laugh, "that was before the internet."
The way Oviedo has pitched the last six weeks, his journey is just beginning. After a slow start in cold weather, Oviedo is among the league's best since July 3. He rattled off six straight wins and prior to a loss on August 14 he was second in all of MiLB in wins since the MWL All-Star break.
Oviedo has one, maybe two home starts left this season as one of just four pitchers who have been on the Chiefs opening day and active roster. The 6'6, 245-pound right-hander heads into his August 24 start at 9-9 overall with a 4.53 ERA and a career-high 109 1/3 innings. He has racked up 110 strikeouts, the most by a Chiefs pitcher since Sandy Alcantara in 2016 and he is the 63rd player in team history to strike out at least 100 in a season. A 10th win would be big too, putting Oviedo as the 40th in team history to win double-digit games and the first since Ryan Helsley in 2016.
The journey to Peoria was not an easy one for Oviedo. But with a potential trip to St. Louis as the end of the line, its worth every step he's taken.