Prospect Q&A: Phillies catcher O'Hoppe
Club's No. 5 prospect discusses strong AFL, work with pitchers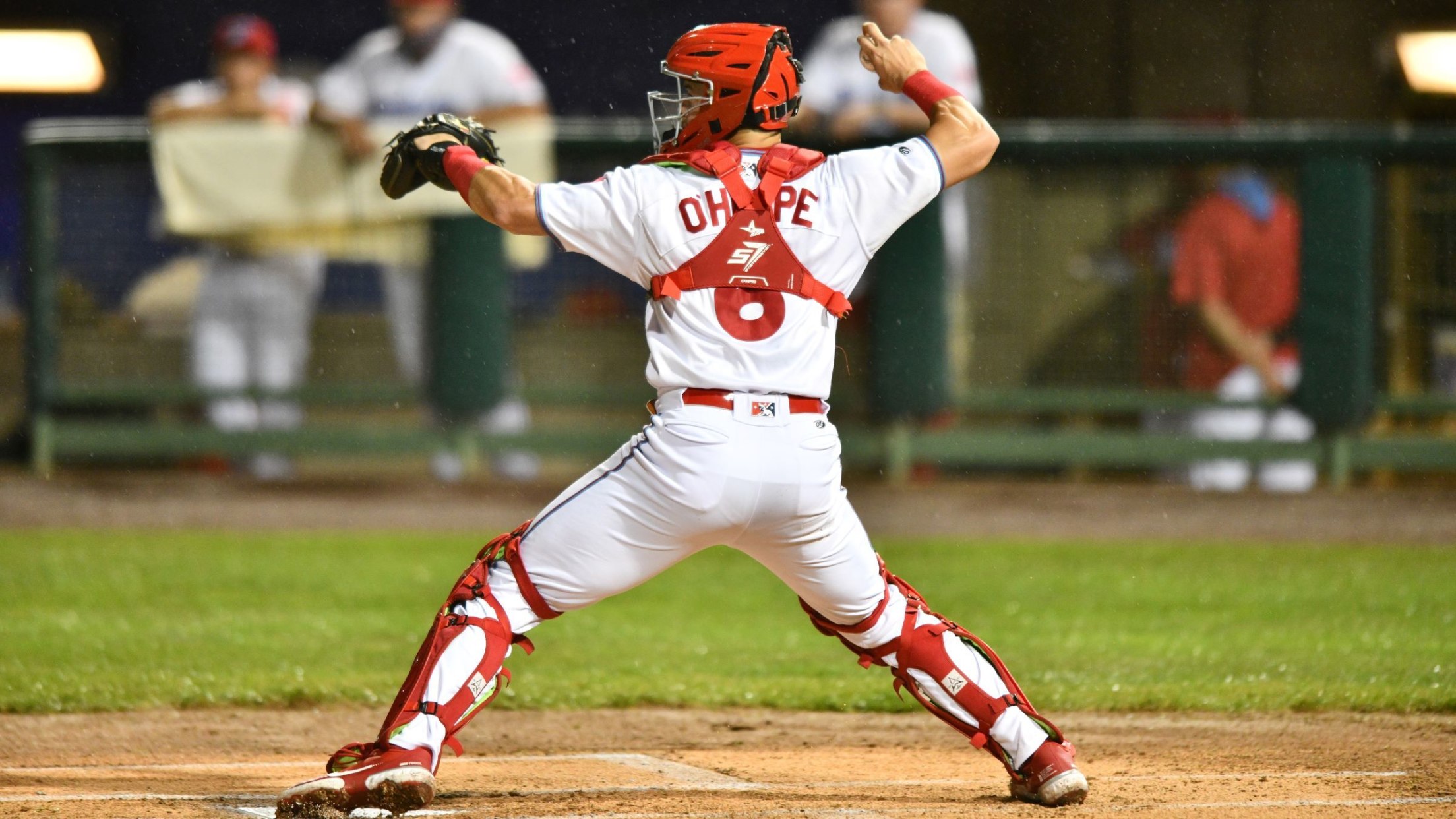 Logan O'Hoppe batted .270 with a .789 OPS across three levels of the Minors last season. (Ken Inness/MiLB.com)
Last season, Logan O'Hoppe learned that it's never too late to make a name for yourself. O'Hoppe was the recipient of the Dernell Stenson Sportsmanship Award for his work with Peoria in the Arizona Fall League. The backstop was constantly praised by pitchers and coaches alike for the way he
Last season, Logan O'Hoppe learned that it's never too late to make a name for yourself.
O'Hoppe was the recipient of the Dernell Stenson Sportsmanship Award for his work with Peoria in the Arizona Fall League. The backstop was constantly praised by pitchers and coaches alike for the way he worked with a staff. He also handled the bat quite well after playing at three different levels in the regular season.
The 22-year-old batted .270/.331/.458 with 17 homers, 19 doubles, 58 RBIs and 51 runs scored in 104 total games at High-A Jersey Shore, Double-A Reading and Triple-A Lehigh Valley. He followed that up with a .299 average and .960 OPS over 22 games in the AFL – during which he had more walks than strikeouts.
In his interview with MiLB.com, the Phillies' No. 5 prospect discusses the change in the club's player development regime and his one winter in the Australian Baseball League in 2019. He also talks about studying under one of the game's premier catchers, J.T. Realmuto, and the mental approach that put him on the doorstep to the Major Leagues.
MiLB.com: Camp has been open without restriction for some time now -- how has it been for you?
Logan O'Hoppe: As far as the COVID stuff is going, it's been much better. It's pretty much back to normal -- what it was in the past. And it's nice to not have that, I don't want to say distraction, but that burden to deal with in the morning. Some days you had to go in and get something or you obviously had to watch where you went if you wanted to go out and get lunch or something. So, it is nice to live a life where you don't have to worry about that anymore as far as the COVID stuff goes. Obviously, the lockout changed camp a little bit -- things were very sped up, and everyone had to get going. But as a whole -- this is my fourth Spring Training and I thought this was the best one by far. This was the most enjoyable and the most efficiently run. I enjoyed it, but I am looking forward to getting out of here.
MiLB.com: What made camp so much fun?
O'Hoppe: I give credit to Preston Mattingly, our new farm director. He really came in and was big on building a new culture, and I think he achieved that goal for sure. There are definitely people that were much happier this year than they were in the past with as far as how camp was run and how everybody was treated. He's done more than a great job doing that, and I'm really excited to work with him going forward.
MiLB.com: Is there anything in your game that's become a point of focus of your work this spring?
O'Hoppe: Yeah, this can apply to both offensively and defensively. My goal is to free myself up a little bit and then be a little bit more of an athlete. The way my brain works, I tend to want to know how something works or how to do something, and then I stick to it and live by it and tend to get a little robotic sometimes and try to force different things. So, my goal is just to play the game, man. And just be as athletic as I can be. I took that approach going into games the last week or two, and I felt really good. So, I'm just looking to build off that going forward.
MiLB.com: How can you accomplish that?
O'Hoppe: I'm really big on the mental side of the game and using mental cues with myself. So, if I can just keep finding the right cues, that I can keep telling myself that help me relax and kind of keep all the bad information out of my brain, then I'm going to keep doing that. I've worked with our mental strength coaches here on finding those and our catching coordinator, Bob Stumpo, he's been more than great with all aspects of it. But that's a big part that he helped me with as well. Those mental cues and keep telling myself the right things has really helped me so far.
MiLB.com: You were praised in the AFL for the way you worked with pitchers. Where did you best learn to do that part of the job as a catcher?
O'Hoppe: First, I would give credit to my parents, because at a young age they taught me just to be real with people and to always be kind to people and work with them. I enjoyed working with pitchers at a young age, and enjoy talking to a lot of people, and I give credit to Tom Downey, who was one my catching coaches growing up. He knew me since I was 10 or 11 years old. He really took me under his wing when I was young and taught me how to talk to people and always put me with older guys, so I knew how they operated and would go about their day. And I think that's something that really helped me going into pro ball if I had that foundation in high school and growing up and it became that much easier. Obviously, after the Draft and after I signed, you're doing it much more often than you are in high school. I think more experience, the better. And it's something I really enjoy.
MiLB.com: You've worked with one of the best catchers in the game, J.T. Realmuto, since he landed with the Phillies. What's that experience like, and what makes him so great?
O'Hoppe: Yeah, J.T. has been great. I'm so grateful that we have him so I can pick his brain. I'm sure I annoy him a little with asking him all those questions. But, I mean, why wouldn't you with a guy like that? He's the best in the game and it's something that I don't take for granted. I try to pick his brain as much as I can and still not try to step on his toes. The thing I notice most about him is similar to what I was saying before -- he just plays the game and it just looks so easy to him and it looks so slow and he's so in control. So, that's something that I've picked his brain about and something I still strive to achieve.
MiLB.com: Both your father and uncle went to East Carolina, where you were committed to play ball. What was it like to have this other path open?
O'Hoppe: They didn't play baseball there, but they did go there so I was around it a ton. This is the best way I can put it is that East Carolina is my dream school -- that's not a lie. And that was my dream since I was about 10 or 11 years old. But when my name was called in the Draft, everything got put in perspective, and I realize that being a professional baseball player was a dream of mine for as long as I can remember. It kind of just clicked on my head -- if I don't hop on this now, I might never get the chance to. In my head, I couldn't live with that, if that chance didn't come up again. I hopped right on it and I'm so grateful that I did.
Two games, three home runs, there's no stopping this hot streak for @logan_ohopp 💪 #StrongIsland #StandTall pic.twitter.com/xJTMAMa5pi

— Adelaide Giants Baseball Club (@AdelaideGiants) December 7, 2019
MiLB.com: You played in Australia in 2019, what was that like and how did that come about?
O'Hoppe: [In our winter], it's summer over there. So, we're playing and I walked out -- I think we had a game on Dec. 23 -- and they were doing pictures with Santa next to the locker room. And I was like, what the hell is going on? I just wasn't used to it. But the experience itself was great. Weird was definitely a more fitting word for that experience. But I definitely got comfortable with it. I would say that was a turning point in my career so far because that's when I was on my own for the first time. I had gone places on my own when I was younger or in high school for tournaments or scouting events or whatever. But, I mean, Australia, you can't fly home on a weekend. So, I was really on my own and at first didn't have many coaches with me to show me much of the structure. But, luckily, I met so many great people out there and really kind of made it into my own and it taught me a lot of lessons in my life. I would love to go back.
MiLB.com: How did last year go for you in the regular season? What was the challenge playing at three levels after a year off?
O'Hoppe: I don't know if weird is the word that I would use to describe it -- at first it was, don't get me wrong. There was always a common excuse that guys were feeling a little bit drained. Like, 'Ah yeah, you didn't play last year. You're not used to it.' I tried to keep that out of my head because I feel like it only takes a couple weeks to build up and it doesn't matter what I did the year before. ... I understand I was one of the lucky ones and I was able to go to the alt site and play a little bit and have somewhat of a season. As far as the promotions, it was a wild rollercoaster. It was something I didn't expect because it did happen later in the year. But I was really, really pleasantly surprised with how much I grew. ... It's something that I didn't take for granted and something I really enjoyed.
MiLB.com: What do you think was a catalyst for that growth?
O'Hoppe: Being open-minded. That's something that [then Williamsport manager] Pat Borders taught us in 2019. He always told me just to understand that you'll never have it figured out but in my head there's no reason you shouldn't try. I try to keep an open mind with everything I do, but especially last year. I felt like it was the time in my career where I really got comfortable playing the game. And I got over that initial fear of failure which I'm sure most players have when they sign and go pro.
MiLB.com: You had a really great AFL season, what was the key there? You walked more than you struck out, which is still difficult to do in a small sample.
O'Hoppe: The people I met out there helped me with that. Obviously, Mike Calitri, who was with us, I'd known him before, but I got really close with him out there. He helped me a lot as far as cutting down the strikeouts, seeing better pitches and being more patient in the box. [Anthony Contreras], our manager, who is now our Triple-A manager, is someone that I pick his brain quite a bit. He's helped me more so off the field than on. And Joe Thurston, our hitting coach [in the AFL], who luckily is with [the Phillies] now. He's in Triple-A too. He was with the Mariners when we were out there, but he had switched at the very end. Especially in Spring Training, Thurston has helped me a lot and I give credit to those three guys, man. They kept pressing and kept reminding us that it's late in the year, and anybody would get a little bit tired out there. But, when you play for guys like that you feel like even on the days that you're tired you've got to give it your all because you know they're giving their all back to you.
MiLB.com: How did they help and what was different? Was it a change in approach?
O'Hoppe: Nothing mechanical. I felt like I kept mechanics pretty consistent throughout the year. It was more a mind-set and just understanding what I was doing in the box. And I said this before, but something happened off the field last year that put a lot of things in perspective for me, so not being so worried about the result in things helped me a lot because then I can just focus on the task at hand and not what may happen or what happened in an at-bat before. I would say kind of perspective on the game really helped me as far as cutting down strikeouts.
MiLB.com: What does a successful 2022 season look like for you?
O'Hoppe: The same goal it was last year. Nothing too specific as far as numbers go or where I want to end up. But a successful year would be getting home in the offseason, looking back and realizing that I finished a much better player and person than I was when I started. And that's something that I'm always going to keep a constant in my life and I hope to achieve that going forward.