Round Rock promo rises from the grave
'Fear the Walking Dead' Night inspired by ballpark transformation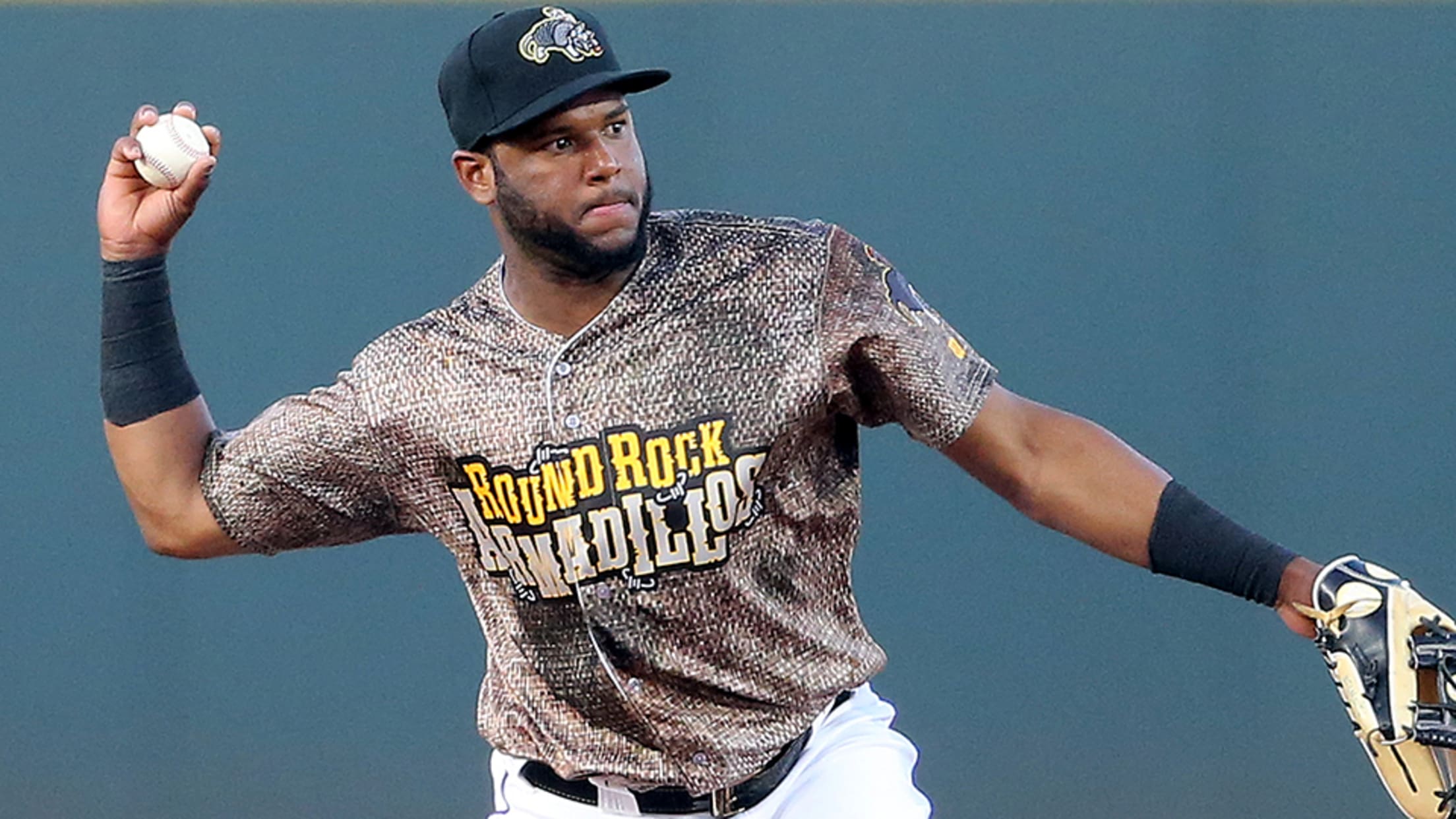 Rangers prospect Hanser Alberto and his Express teammates took the field at Dell Diamond as the Armadillos on May 5. (Jamie Harms/MiLB.com)
Last Sept. 4, Triple-A Round Rock capped its season with a 6-1 win over Omaha at Dell Diamond. Ten days later, the apocalypse arrived.For nearly the entire offseason, the home of the Express morphed from one of the Minors' most beautiful ballparks into a makeshift refuge for a band of
Last Sept. 4, Triple-A Round Rock capped its season with a 6-1 win over Omaha at Dell Diamond. Ten days later, the apocalypse arrived.
For nearly the entire offseason, the home of the Express morphed from one of the Minors' most beautiful ballparks into a makeshift refuge for a band of survivors that takes center stage in AMC's "Fear the Walking Dead," a companion show to the cultural phenomenon that shares part of its name. Complete with barns, vehicles, livestock, crops and, of course, a healthy population of undead, Dell Diamond provided a backdrop for the show's fourth season -- one that gives an unsettling glimpse into what a ballpark could be in the event of the unimaginable.
"We've come to the agreement as a team that should a post-apocalyptic thing happen, we're going to be here at the ballpark," Express general manager Tim Jackson said with a laugh. "You have the security of the gate all the way around. Our park, it's dug into the ground and we have a home run porch, so you can be elevated and see all around for several miles, 360 degrees. You've got the natural playing surface to grow crops. You want to have livestock, you could."
While the end of humanity at the hands -- or jaws -- of zombies remains fantasy, such a setting did in fact take shape this winter thanks to an ambitious undertaking and no shortage of imagination.

A mysterious suitor
The Express didn't have a particularly bad 2017 season, but in the middle of July, with the team unlikely ticketed for the postseason, Jackson got wind of something on the horizon. A call from a friend with the Austin Film Commission said a TV show was coming to town and looking to film at a baseball facility.
"They wanted to know if they could come to look at the ballpark, and I said, 'We're always open to doing all those things and certainly taking a look at it. When do they want to look?'" Jackson remembered. "And he said, 'Today.'"
Within an hour, representatives from the mystery program arrived at Dell Diamond, 20 miles north of downtown Austin.
"They walked in the home plate gate," Jackson said of the contingent he later learned was comprised of producers, writers and location scouts. "[They] didn't even tour the entire facility. Within five minutes, they said, 'Hey, we're interested. What do we need to do?'"
Jackson, still unaware what show it was, knew the crew intended to "dilapidate the stadium a little bit and grow crops on the infield, use suite levels as housing units and create a little city in the stadium."
Interest piqued, he ran it up the ladder to Express ownership.
"You fast-forward about two months and get some lawyers involved and comb through all the fine details," Jackson said of hammering out the deal. "It turned out they wanted to be here for six months."
Beginning shortly after the last out of the Pacific Coast League season, Dell Diamond wouldn't be the home of the Express anymore, nor would it host its usual offseason events and activities. It would instead be the abandoned confines of the Armadillos, a fictional team from a more innocent time before an infection ravaged society.
AMC and Stalwart Films, the production company behind "Fear the Walking Dead" and its namesake, took over the stadium on Sept. 15, and its descent into the end of days began.

Dead Diamond
"
Fear" takes place in a parallel timeline to "The Walking Dead," one of the most successful television franchises in history. Where the original began with its protagonist waking up in a hospital shortly after society's collapse, "Fear"
takes viewers through that collapse and its initial aftermath. In its fourth season, characters Madison, Nick and Alicia Clark along with Victor Strand find themselves at the ballpark in search of safety. Normalcy is long gone, and the show's crew had to make it look as such, starting with the field itself. Initially, that proved to be a challenge.
"We definitely don't like people walking or even just looking at the grass," said Garrett Reddehase, senior vice president of turf operations for RS3 Turf, the company that oversees Dell Diamond's playing surface. "But we kind of knew what we were getting into."
Still, it wasn't easy to process.
"As they started reaching out with their vision on not only the structures they're going to build, but driving cars and semis onto our field and these big water filtration systems, we're like, 'Yeah, there's no way we can preserve this field and get it back [playable] in time,'" Jackson said. "Thankfully [AMC] came onboard early and said, 'We're just going to go ahead and allocate to replace this field for you guys.'"
After the grass was destroyed -- an undertaking all its own given that the Express are one of the first teams to use a drought-tolerant Bermuda grass hybrid called TifTuf, which showcased its resiliency during the process -- AMC went to work. Structures went up on the infield and outfield. The park's swimming pool was turned into a holding tank with an improvised filtration system for irrigation. Reddehase's groundskeeper building was turned into the fictional settlement's main point of egress. Suites on Dell Diamond's second level became apartments for its residents.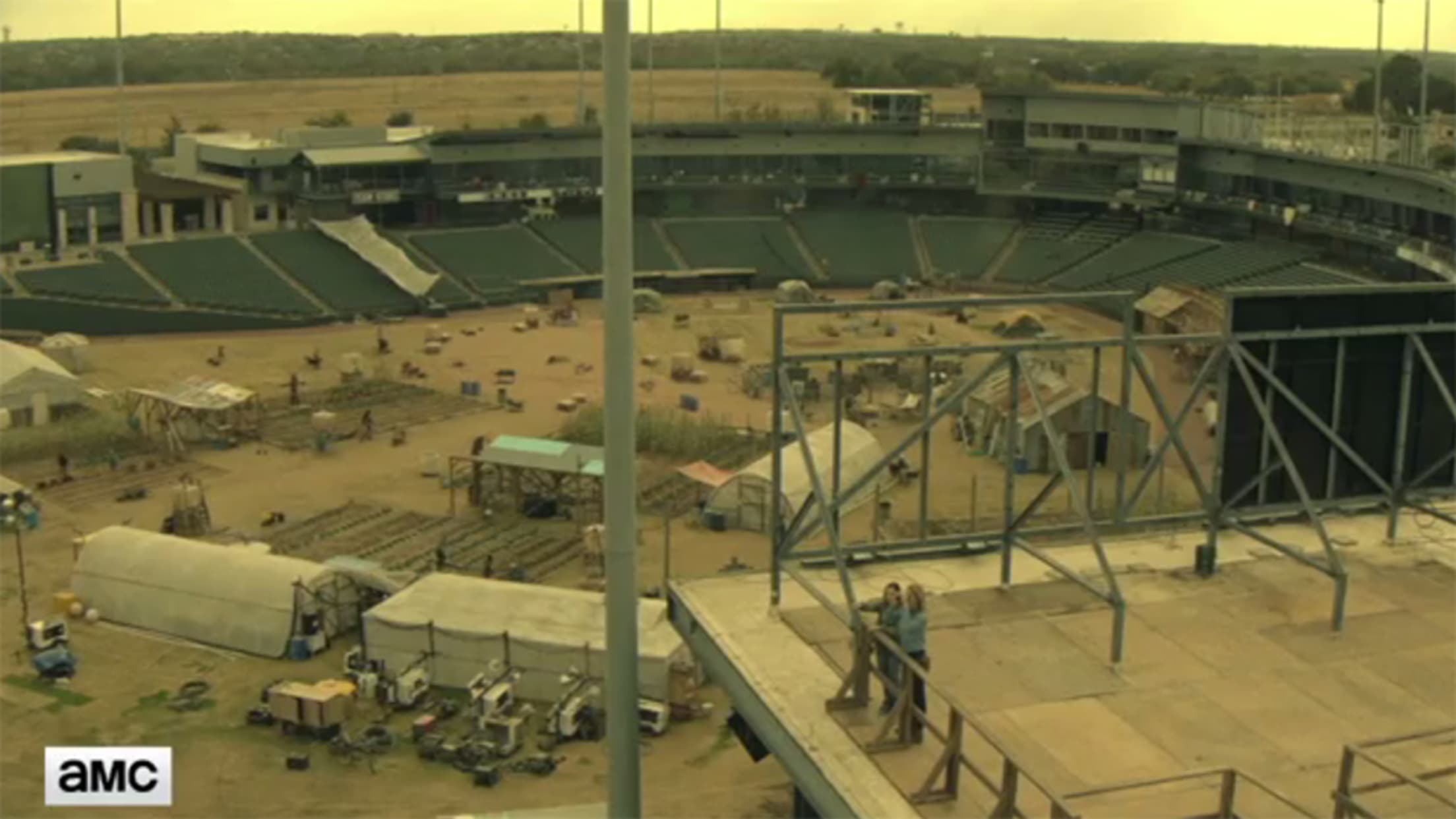 Given all that was going on, the Express and the show were sure to collaborate to ensure the field, while pushed to its limit, wasn't irrevocably damaged.
"When the set changed or the script changed or the weather changed, you kind of had to adapt and say, 'OK, we really can't be doing this, driving the trucks out onto the field after it rained two inches in the winter,'" Reddehase said. "We just worked as best we could with those guys to get what they needed, and obviously AMC was great. They obliged by every request we had. We destroyed the field -- don't get me wrong -- but for the most part not jeopardizing the integrity or the base structure or the foundation of the playing surface. That was a key."
As fall set in over central Texas, Express staff watched their home take on an entirely different identity. Little by little, the set grew. From a small settlement grew a veritable village, complete with an infirmary (the home clubhouse) and vegetation.
"We were really impressed with the guys [AMC] brought in because they were growing real lettuce, real corn, real tomatoes, the whole nine yards," Reddehase said. "Some of it was silk, but the majority was real. That was impressive to see those guys grow that through the months of filming and how meticulous the set was, how detailed it was. I've never been a part of a major filming shoot like that, but it was impressive, to say the least."
As time passed, though, novelty gave way to angst.
"September, October, November we're coming in like, 'Man, this is awesome,'" Reddehase said. "January ticks and February and we're like, 'OK, this is cool, but we've got to get this field back. When are these guys out of here?'"
In mid-March, shooting wrapped, and a sprint to Opening Day began.
"The day they were done filming, that next morning, I got about 20 of my full-time staff," Jackson said. "We joined those guys, the set decoration guys, starting to tear down structures, cleaning up, everything we could do to help speed this process up to get our turf team on the field to start sweeping and getting old sod out and new stuff laid."
That revival was no small job.
"We removed all 100,000 square feet of grass at about two inches in depth," Reddehase said. "We re-laser-graded, re-prepped it for sod, so we brought in new sod and did all the dirt work and warning track work and bullpen work up until pretty much Opening Day.
"We had roughly two weeks."
The new grass took. Dell Diamond returned to its immaculate form. At 7:10 on the evening of April 5, Round Rock's David Ledbetter fired the first pitch of the season to Memphis' Oscar Mercado. Baseball was back.
"It was all hands on deck," Reddehase said. "It was definitely one of those experiences, especially career-wise, that ranks at the top."

Return of the Armadillos
Like any notable Minor League offseason event, Round Rock's crossover with a cultural phenomenon was tailor-made promotional material. Express senior vice president of marketing Laura Fragoso was ready to capitalize.
"We knew we wanted to do [the promotion], but we also knew we were going to be on [AMC's] timeline of approval, and we didn't know what that looked like, working with a big studio and network and show and celebrities, all of that," Fragoso said. "They knew right off it was something we were going to want to do."
Given the go-ahead in late March, the Express announced May 5 as "Fear the Walking Dead" Night. On Saturday, the Express took the field as the Armadillos, sporting special uniforms and caps featuring a menacing armadillo logo.
"We worked with [design firm] Brandiose on the logo and for the uniforms," she said. "We didn't want to use their exact [logo] that they had in the show. We wanted to make it a little more Minor League fun and, since it was "Fear the Walking Dead," give him a zombie-fied feel, and the uniforms have that tattered, post-apocalyptic feel to them, as well, like this team had been through some things. That was a fun part of the creative process.
"That was a quick turnaround with New Era for caps and our specialty jerseys with Wilson, all of that stuff, but we made it work."
AMC came through with their own support, as well.
"We wanted to have walkers here, and that was a lot on them," Fragoso said. "They had to get their makeup trailer out here and their costuming and hire two actors that are walkers. They wanted to be sure that it was their walker.
"Being aware that those can be a little scary, we had to be creative in having this awesome photo op but also have it hidden so little kids aren't just walking by and seeing it and having nightmares for weeks. We actually did the photo op in our batting cages. We were able to get a sign that they used in the filming that was an old, worn-out sign that said 'Home of the Armadillos' and had the walkers in front of that in the batting cage."
The network sent plenty of props as well, including a blue El Camino that's become prominent this season and the Armadillos mascot used as a scarecrow by the settlers. They also sent their stars.
"A lot of the cast was here," Fragoso said. "A lot of times when we have celebrity guests, they'll come and stay for a couple of innings, and then they slip out. They stayed, most of them, until the end and for the [postgame] concert, too. They had a blast. Hearing and seeing their reaction, whether it was on their own social media accounts or just hearing them say, 'Oh my gosh, I can't believe how incredible this stadium is, because it was purely just dirty and gray when we were here. This is crazy.'"
By the end of the night, the Express had raised about $7,000 for the Round Rock Area Serving Center through an auction of the special jerseys.
"It was a busy night but super positive," Fragoso said. "All the work was worth it."
Tyler Maun is a contributor to MiLB.com. Follow him on Twitter @TylerMaun.