On the Road: In Binghamton, a 'Rowdy' Aussie
Eden Douglas, new to the U.S., brings Rumble Ponies' mascot to life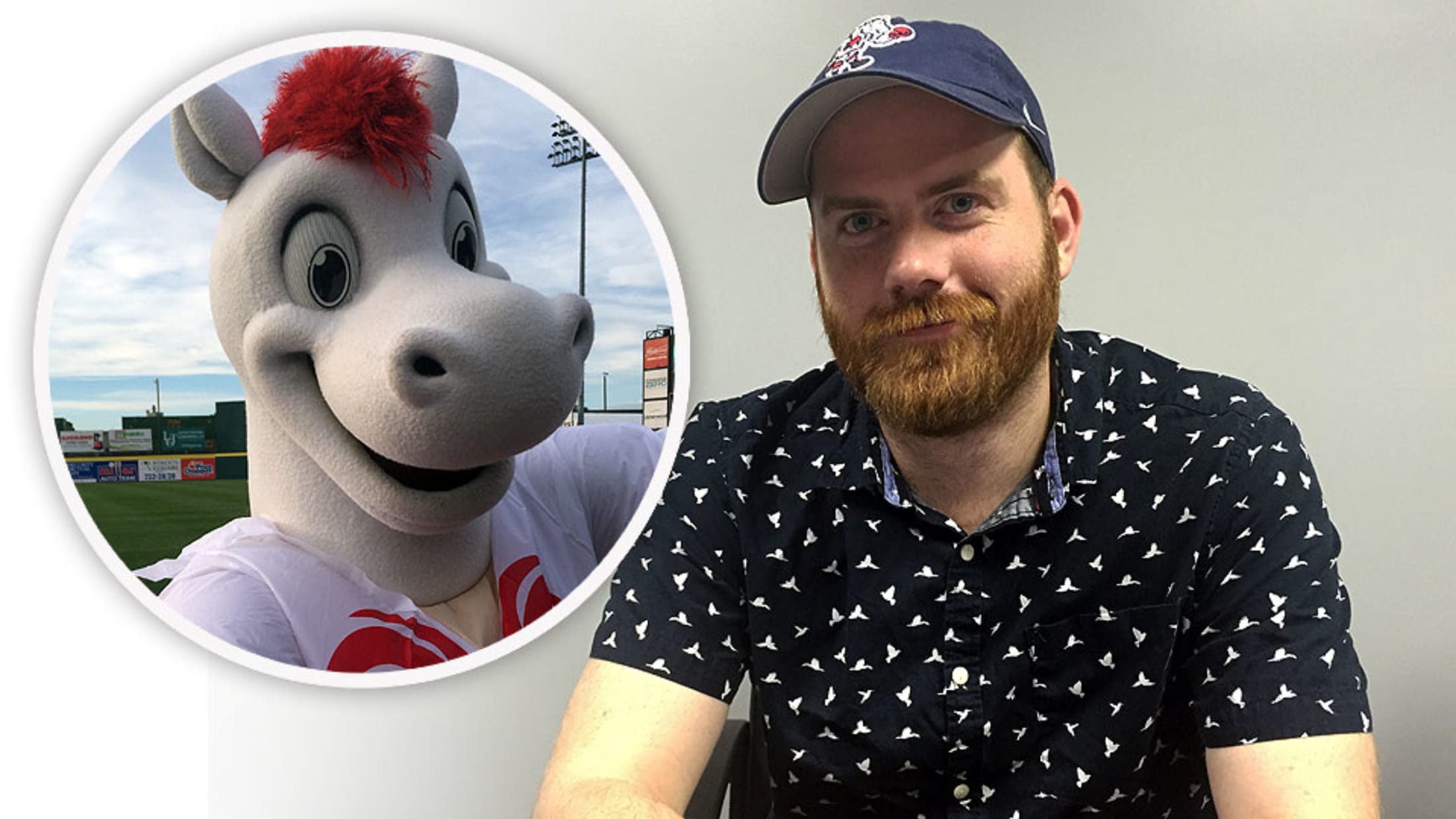 Born in Sydney, Eden Douglas worked in rugby, basketball, cricket and other sports prior to becoming the Rumble Ponies' mascot.
Eden Douglas, a native of Sydney, Australia, moved to Binghamton, New York, at the tail end of 2015. After successfully navigating the lengthy green-card process, he was able to obtain a job as a muscle-bound, bipedal, mohawk-wearing pony.Welcome to America. 
Eden Douglas, a native of Sydney, Australia, moved to Binghamton, New York, at the tail end of 2015. After successfully navigating the lengthy green-card process, he was able to obtain a job as a muscle-bound, bipedal, mohawk-wearing pony.
Welcome to America.
That pony is Rowdy, mascot for the Binghamton Rumble Ponies. The Rumble Ponies, Double-A affiliate of the New York Mets, were simply known as the "Mets" over their first 25 years of existence. Rowdy's debut, at Binghamton's 2017 St. Patrick's Day Parade, was a key component in the rebranding process. Douglas is the man who brings Rowdy to life.
While Douglas is new to America, he is no stranger to the world of mascots. One of his first jobs was as a mascot for the Parramatta Eels of Australia's National Rugby League, a position he says was an extension of his lifelong interest in acting and dance.
"[The Eels] were my first sort of big gig," he said, speaking before July 28's Rumble Ponies game. "And through that I started doing more character gigs, through an agency, which would handle the licensing. For the Simpsons, Looney Tunes, all that sort of stuff."
Douglas said his mascot career "really took off" after he graduated high school; at this point, he had made the southward move to Melbourne.
"I started working in the AFL, the Australian Football League, for the Richmond Tigers as well as the Brisbane Lions. I was actually working for two teams," he said. "And so that was like massive, massive crowds on a big sort of pro level…. When you put the costume on, you let all inhibitions go and you get to let loose and act wild. You couldn't really do that if you're not wearing these costumes."
Douglas supplemented his sports gigs by working in touring shows featuring licensed characters, eventually transitioning to behind-the-scenes production work. His involvement with these shows allowed him to meet performers from all over the world, and it was these far-flung social connections that brought him to the decidedly non-Aussie environs of Binghamton, New York.
"I actually got married. My partner is from Binghamton," he said. "We met through mutual friends, in 2009, became friends and went on from there.
"I was very lucky to find the Rumble Ponies at the time that I did, as they were starting to establish their new branding," he continued. "I reached out to them. It was actually [Rumble Ponies director of promotions and marketing] Eddie [Saunders] who wrote back to me. He said, 'We're having auditions at the local mall -- you should come along.' Due to freelance performing and things like that, I have my own costumes. I actually auditioned in one of my own costumes."
These are the circumstances that led Douglas to show up at the mall as Shiver, the polar bear. He did a dance routine to Taylor Swift's "Shake It Off" that thoroughly impressed the Rumble Ponies' front-office staff. They had found their Rowdy.
"Right when we saw it, we knew we had to get this guy," said Rumble Ponies assistant general manager John "JB" Bayne. "He's really, really good."
Douglas, some 9,500 miles away from his birthplace, now had a job in Minor League Baseball.
"I knew baseball from playing video games and watching TV and things like that," he said. "It's not really a massive sport in Australia…. I'd basically done every sport from Rugby Union; Rugby League; AFL; the NBL, which is basketball; cricket; tennis; field hockey. So baseball was definitely a new one.
"The one thing that surprised me is, with football season in Australia, usually they play one game home and then one game away the next weekend. I didn't realize that with baseball they play, like, five days in a row before going on the road. So, it never stops. It surprised me as a sport."
Baseball's nonstop nature has given Douglas plenty of opportunity to develop Rowdy's personality.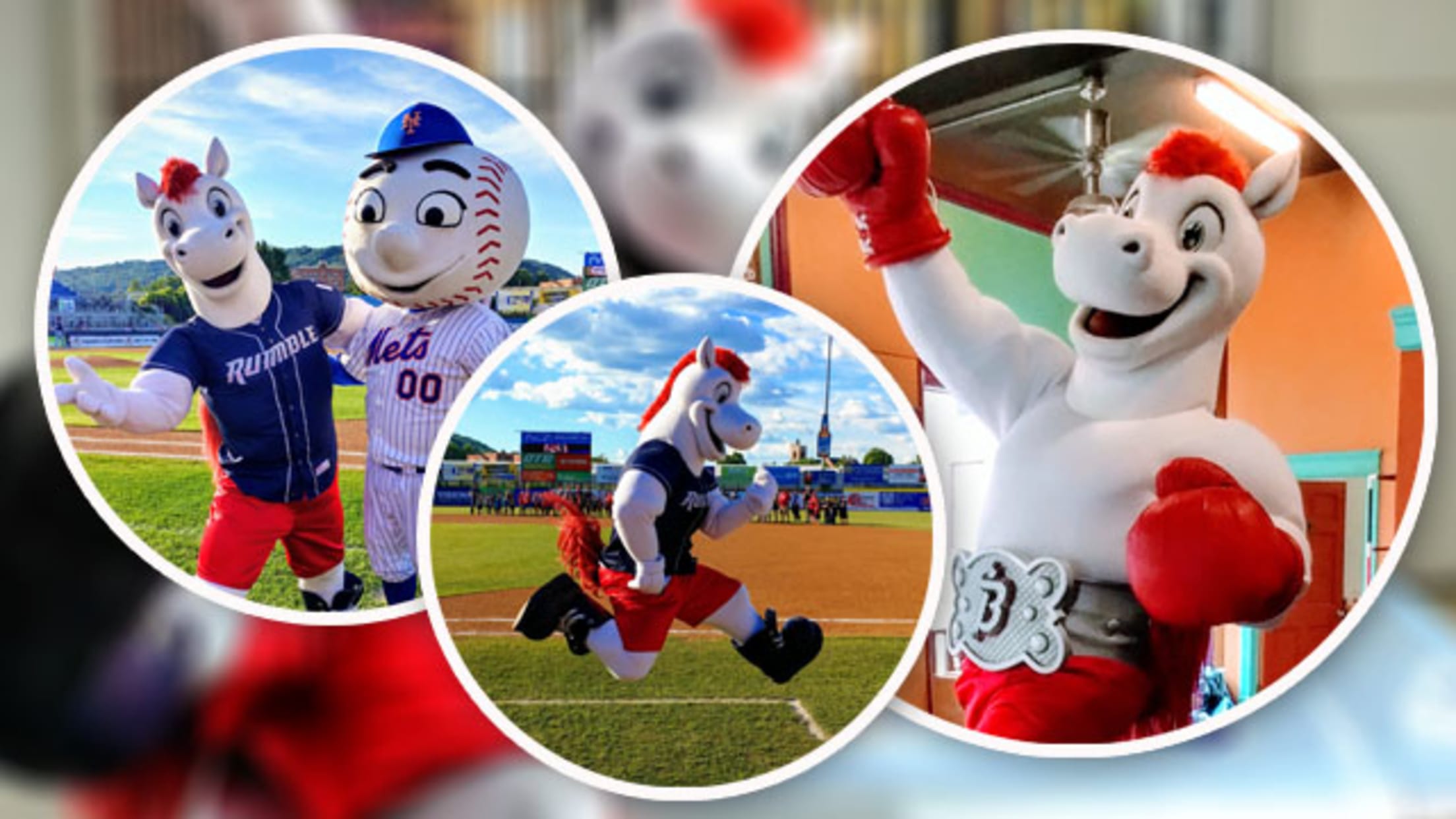 "When I've jumped into characters like Cookie Monster or something like that, you're told very specifically by the licensed brands how to act a certain way," he said. "So to put on the Rowdy costume, get a feel, and develop the personality from there, it's been great to be the first person to do that."
So who is Rowdy, this new pony on the Binghamton baseball scene?
"Rowdy's rowdy, that's for sure," he said. "Unlike other baseball mascots, which tend to be fat and big, he's a slender character. Because he's more of a slender character, he likes to dance. That allows me to get more body movement out of him, if that makes sense. And he walks more with confidence, rather than goofiness. He's very sure of himself, Rowdy."
Douglas, meanwhile, is sure he's found the ideal job for his new life in the United States.
"I'm very grateful for it," he said. "They've been a fantastic team to work for, and the crowd numbers are different, coming from Australia where there were 15,000 or 20,000 in a crowd. I'm really enjoying working in front of a few thousand. It's been a delight."
Douglas said he hopes to "keep doing Rowdy in the future" while also remaining open to other marketing and promotions opportunities that could arise with the Rumble Ponies. Should he ever give up the suit, however, his successor will have a lot to live up to.
"Future Rowdys will have to learn how to do the worm," he said. "That's one of his signature dance moves."