A Baseball Warrior, Scott Rolen is Remembered for his Tenacity
Rolen's work ethic made him one of Indiana's finest ballplayers and a potential Hall of Famer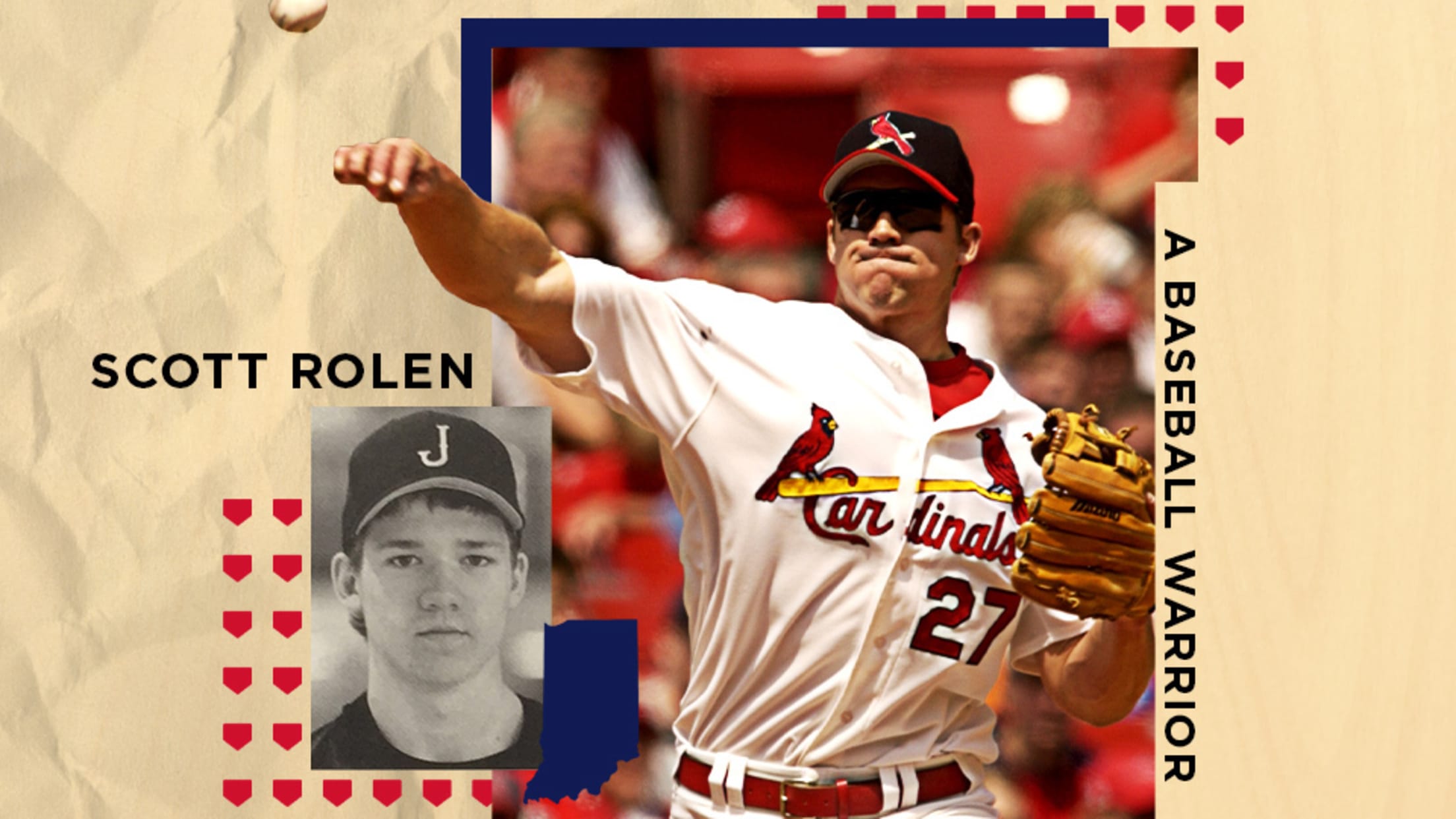 Before he was a major leaguer, Scott Rolen was an all-around athlete and star in Jasper, Ind. (Photos from St. Louis Cardinals and Jasper High School baseball coach Terry Gobert)
On Oct. 21, 2004, nestled in the heart of the Gateway City for Game 7 of the National League Championship Series vs. Houston, Scott Rolen found himself in a mindset that only manifested itself two or three times in his entire career.
On Oct. 21, 2004, nestled in the heart of the Gateway City for Game 7 of the National League Championship Series vs. Houston, Scott Rolen found himself in a mindset that only manifested itself two or three times in his entire career.
An Indiana native, he built the foundation of what would be a 17-year, Hall of Fame-worthy Major League Baseball career on hard work and a love for the game. Sure, he had talent and was inherently good – he hit .314 that season and finished fourth in MVP voting – but what got him there was a dedication to outworking anyone else on the field.
As his team trailed 2-1 with two outs in the bottom of the sixth against soon-to-be seven-time Cy Young Award winner Roger Clemens, something shifted. With Rolen on deck, one runner on base and a relief arm warming in the bullpen, the Astros met with their starter on the mound.
"If you leave him in, you lose," Rolen thought to himself. Astros manager Phil Garner stuck with his ace.
Albert Pujols tied the game with a double, and in stepped Rolen. Clemens hurled the right-handed batting Rolen a fastball, middle-in and level with the red 27 on his Cardinal uniform. Rolen turned on it and parked the baseball just inside the left-field foul pole to give his team a 4-2 lead.
"The thing about Scott is that his game was at such a high level every day that he played," former Cardinals manager Tony La Russa said. "It wasn't like he had to go to another gear in the postseason, the stances he had was so glaring and the thing about him was he was always a tougher out the more important the situation."
Rolen's absolute favorite memory from his entire major league career came eight years earlier on Aug. 1, 1996, before he had established himself as a great bat and an even greater third baseman. But first he had to get there, and that journey began in Jasper, Ind.
Rolen was a well-rounded athlete, and that only made him a better baseball player. He wrestled, ran track and field and played soccer growing up. He could throw a football 60 yards downfield into a receiver's arms as a freshman quarterback. He took up tennis when his football days were over. He went from the tennis court to the basketball court, and the basketball court to the baseball field. For four years at Jasper High School, he stood out.
"The difference with Scott is he truly loved baseball," Jasper head baseball coach Terry Gobert said. "That was his number one sport. He played tennis the rest of the way, and basketball and baseball. But baseball was just his number one love I think always growing up, and you don't get that a lot in Indiana."
Those skills he learned from other sports stuck with him, and those who taught him later in his career noticed. He had something that other tall and strong power hitters don't have, not even today. He was quick.
As he continued to grow through his major league career, this time putting on weight through muscle instead of height, the focus on agility and footwork from his days on the tennis and basketball courts led him to become an eight-time Rawlings Gold Glove award winner.
"You become more skillful in what your primary sport is if you can also play the other ones," La Russa said. "The thing about Scott, you know, Scott's really a big player, like a Cal Ripken as far as height and strength, but he had amazing agility. His first two, three steps on the defensive side were as quick as a shortstop that was 100 pounds less."
When Rolen stepped up to the plate, however, his baseball instincts and love for the game kicked into action. He grew up tossing the ball up to himself, hitting it, and running around his backyard in imaginary Dodgers vs. Cardinals games.
He never had a specified hitting coach. What he did – the work he put in – was all for the love of the game. With that, he just got better.
Rolen hit, by his own standards, a measly .351 as a sophomore, but just one year later he broke the school single-season record with a .500 batting average on 56 hits. His 18 doubles that year broke another record, which he alone owned until the feat was tied in 2006. He tacked on with a career-best season of two triples, nine home runs (to tie his sophomore total) and 58 RBI.
He broke the batting average record again when he hit .546 as a senior, a record that still stands.
Previous career records were demolished with Rolen's swing when the season came to a close in 1993, his three varsity years totaling to a record-setting .424 batting average, 137 hits, 39 doubles, 26 home runs, 125 RBI, 123 runs scored and 266 total bases, the last of which still stands.
Those numbers – as well as his time with the inaugural Indiana Bulls travel team – attracted attention to the small Indiana town by way of major league scouts, but that didn't change the way Rolen viewed or played the game.
"I just wanted to play baseball, be with my friends and my teammates," Rolen said. "I didn't worry a whole lot about it. I think it was probably more of a hassle, I didn't beat my chest a lot and think that I was pretty cool, I really just wanted to play.
"If they wanted me to do something, I would stay a little bit afterwards and hit with a wooden bat… it was more baseball for me in my mind. It wasn't [me] trying to show off or put on a show to get drafted, I really didn't even know anything about a draft. That they wanted me to hit after practice just meant that I got to hit with a wooden bat, which was cool."
Rolen attributes that worry-free mindset to him being young, immature and naïve at the time, which made him stand out even more to those who watched him. He didn't do things on the field because he felt like he was supposed to, he played hard because that's all he had ever done.
"I remember a game, we were playing a small school down here, and he hit a ball between third and shortstop in the hole, routine single, and he gets to second," Gobert recalled. "There were scouts there and I was talking to one of them after the game, he goes '[Rolen] just made 100 grand tonight, even more.'
"He didn't do that because scouts were there, that's the one thing I'm proud about him his whole career. He did that to the very end, he played hard."
Despite being named Indiana's Mr. Baseball and the state's Gatorade Player of the Year after his senior season, as well as being selected by Philadelphia in the second round of the 1993 First-Year Player Draft in early June, his focus shifted back to basketball when baseball ended.
As he grew through high school, shooting up from 6-foot-1 to 6-foot-4, the natural path formed by the state of Indiana led towards basketball. He was runner-up to Indiana's Mr. Basketball in 1993, had committed to the University of Georgia earlier that year on a basketball scholarship to play both sports and would face Kentucky in late-June as part of the Indiana All-Star team.
Basketball just wasn't quite done teaching him yet.
Rolen found himself two months removed from the basketball court and out of the shape he needed to be in. He was teammates with athletes who played basketball year-round, and he could feel himself falling behind.
After the first practice during a camp in Lafayette, Ind., Rolen called his dad and told him he couldn't keep up. His dad asked plainly, "Well, what are you going to do?"
The only thing Rolen could do was work harder than anyone else on the court.
"I was just driven to outwork everybody in that practice and on that floor, whether it was diving for balls on the floor playing defense, taking charges, whatever it was," Rolen said. "What got me there was I was the player that was scoring and making baskets and doing a lot of stuff, and now that left me for a little while and I was getting beat up, I just had to do something different."
In July, following the All-Star game, Rolen returned to his talks with the Phillies and signed to continue his future in professional baseball. What he had learned from his previous weeks in basketball was fresh in his mind, and ultimately shaped the way he worked in the minors.
"When I got to the minor leagues, guys were throwing harder than I had ever seen and things were different, things changed, so it was just this conscious effort," Rolen said. "I just physically worked, and I worked, and I worked."
Rolen rose quickly through the minor league ranks and on Aug. 1, 1996, just a little over three years after he was drafted and signed by the Phillies, took the field for his major league debut.
He knocked a double in his second at-bat for his first major league hit, but that's not what he remembers about that game. His parents traveled from Florida to Philadelphia as the Phillies were set to play a doubleheader vs. the Cardinals.
"Out of everything in my career, my favorite moment was in the sixth inning of game one, my parents made it to the ballpark and walked out to their seats," Rolen said. "I was out on the field and I watched them walk out to their seats in my first game, and the looks on their faces – nothing, nothing will pass that for me.
"That was the first thing that happened and the best thing that happened for me in my career."
Rolen spent part of seven seasons with Philadelphia before being traded to St. Louis in the summer of 2002, and in La Russa's mind that instantly made the Cardinals as good – if not better – than anyone else in the league.
The team that won 97 games, the NL Central division title and swept the Diamondbacks in the NLDS that year featured a glaring loss, a chip in Rolen's seamless career.
A collision between second and third base as Rolen went to field a ground ball in Game 2 vs. the Diamondbacks resulted in a moderate left shoulder strain in the main left socket. Another collision to the same shoulder in 2005 prompted him to end his season early after his second surgery that year.
The injury bothered him well into 2006, but as the year went on the Cardinals raced towards the pennant and Rolen felt like he had a job to do. He had grown up an everyday player and had the mentality that if he wasn't injured, he was going to take the field for his team.
"I wasn't going to take a day off," Rolen said. "I was going to stay on the field, and I was going to hand the pitcher the ball at the beginning of every game."
Exactly two years to the date of his go-ahead home run off Clemens, rookie Justin Verlander hung a 79-mph changeup down central on the biggest stage in baseball. He sent the baseball over the left-field wall like it was batting practice.
A lifetime .189 postseason batting average up to that point, Rolen's first – and only – World Series home run in two Fall Classic appearances tied Game 1. It sparked his own offense through the five-game set. The then-31-year-old went on to hit .421 (8-for-19) with four extra-base hits and five runs scored as St. Louis took the series from Detroit, 4-1.
He was traded to the Blue Jays prior to the 2008 season and spent the final five years of his career between Toronto and Cincinnati, earning the final two of seven career All-Star bids in 2010 and '11 with the Reds. He holds a lifetime .281 batting average with 316 home runs, 517 doubles and 1,287 RBI.
"Without the injury, he's a first ballot Hall of Famer," La Russa said. "And I think, even with the injury, I think he's still a Hall of Famer. It may take him some ballots to get in… but he still had enough success that I'm hoping, and all his teammates are hoping and expect, that he gets [into] Cooperstown."