Season Recap: 2019 Gwinnett Stripers
Stripers win IL South title in record-setting 80-win campaign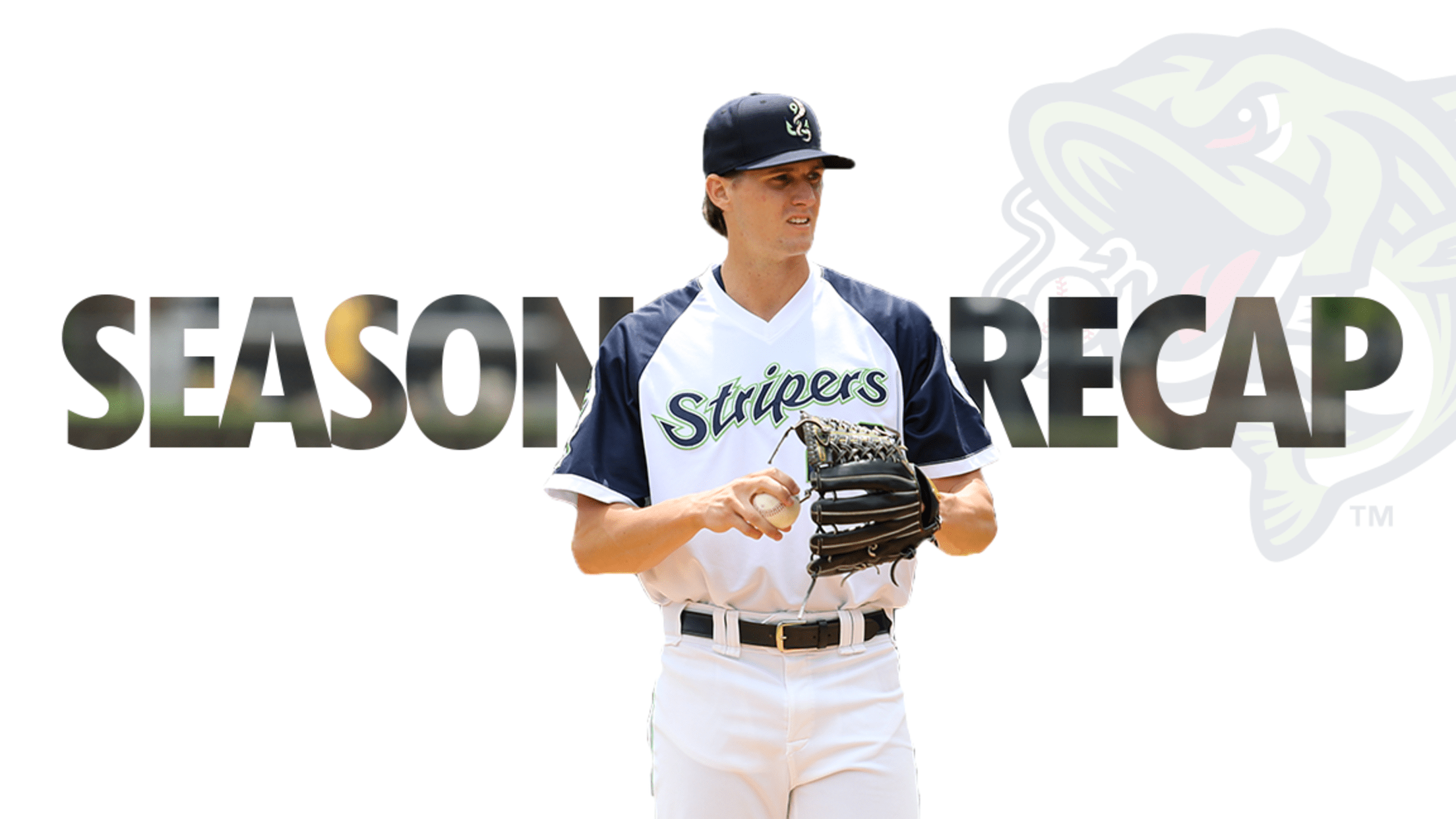 The 2019 Gwinnett Stripers season turned out to be one for the record books. The club won the International League South Division for the second time in franchise history, the first time since 2016. Gwinnett recorded 80 regular season wins, the most since the inaugural 2009 club won 81 games.
The 2019 Gwinnett Stripers season turned out to be one for the record books. The club won the International League South Division for the second time in franchise history, the first time since 2016. Gwinnett recorded 80 regular season wins, the most since the inaugural 2009 club won 81 games. The powerful Stripers lineup kept fans at Coolray Field on the edge of their seats as they clubbed 200 home runs in 139 games, the most ever by an Atlanta Braves Triple-A affiliate, shattering the previous record of 161 homers set by the 1993 Richmond Braves.
At all points of the season, the Stripers roster featured top prospects in the Braves organization. According to MLB.com, Gwinnett was one of only four Minor League clubs to have three or more Top 100 Prospects on its Opening Day roster. The Stripers opened the season with right-handed pitchers Mike Soroka (No. 24) and Touki Toussaint (No. 49), and outfielder Austin Riley (No. 37).
Soroka was not with the club long, however, as he made just two starts before the Braves called him up to join their rotation on April 18. In his two starts with the Stripers, the 22-year-old went 1-0 with a 3.86 ERA in 9.1 innings of work and won IL Pitcher of the Week on April 8. Soroka proved dominant in his return from a right shoulder injury in 2018.
"It felt really good to be back on the mound," Soroka said in April. "I got a good feel for all my pitches and just tried to make the best of it. The test runs are over and I am just out there to compete and to win."
The Stripers got off to a hot start in April, going 15-10 thanks to a lineup led by Major League veterans Adam Duvall, Andrés Blanco, Pedro Florimón, Rafael Ortega, Ryan LaMarre, and others. Gwinnett hit .277 as a team and crushed 33 homers during the month. Blanco won IL Batter of the Week on April 15 after hitting .476 with three home runs and 10 RBIs. Duvall led the potent Stripers offense batting .312 with 10 home runs and 21 RBIs.
"The guys were starting to settle in a little bit," Gwinnett manager Damon Berryhill said in April. "Duvall is really starting to find his swing now. We were hunting fastballs early and overall have a really good approach at the plate."
May saw the Stripers hit a Gwinnett record-shattering 61 home runs in 29 games while posting a 16-13 record. They also recorded their longest winning streak of the season, winning eight games from May 10-18. Riley was named IL Batter of the Week on May 13 (.296, four homers, eight RBIs in seven games) before having his contract selected by the Braves on May 15.
"I did some damage at the plate," Riley said in May. "I was really just focusing in on my approach. (Stripers hitting coach) Bobby Magallanes and I have talked about staying up the middle. When I am at my best, I am up the middle and in the right center gap."
Winder-Barrow High School graduate Travis Demeritte also came alive in May, hitting .317 with 10 home runs and 22 RBIs.
"I really am starting to settle in," Demeritte said in May. "I have been working a lot with Bobby, am I am not missing pitches that maybe I would have missed last year. I feel relaxed at the plate and am seeing the ball well."
The Stripers stayed consistent in June, going 15-12. Allard led the pitching staff, going 2-0 with a 2.43 ERA in six starts. Duvall (.261, nine homers, 27 RBIs) and Ortega (.309, four homers, 18 RBIs) continued to produce in Riley's absence. Jack Lopez hit a league-best .619 over six games from June 17-23, earning the IL Batter of the Week award. However, Gwinnett ended the month still 2.5 games behind first-place Durham in the IL South Division.
Something seemed to click for the Stripers after a 9-7 win over the Bulls in game two of a doubleheader on July 5. Sean Kazmar Jr. pitched in extra innings and won in his first career appearance on the mound, and Luis Marté hit a walk-off two-run homer. Riding the emotional victory, Gwinnett surged to a 19-9 mark in July and moved into first place on July 21. A pitching staff led by strong performances from Mike Foltynewicz (3-0, 2.77 ERA), Kyle Wright (4-0, 2.49 ERA), Patrick Weigel (4-0, 1.86 ERA), and Huascar Ynoa (1-2, 2.22 ERA) combined to post an IL-low 3.77 ERA in July.
On July 10, Demeritte and right-handed pitcher Ben Rowen participated in the Triple-A All-Star Game in El Paso, Texas. Demeritte also participated in the Triple-A Home Run Derby on July 8, hitting 37 homers in two rounds.
The Stripers' roster took a hit during the Major League trade deadline as Allard was traded to the Texas Rangers and Demeritte was traded to the Detroit Tigers. Additionally, the Braves recalled Duvall on July 27 and Ortega on August 13.
The Gwinnett roster received reinforcements in the form of four MLB.com top Braves prospects, as outfielders Cristian Pache (No. 1) and Drew Waters (No. 2), right-hander Ian Anderson (No. 3), and left-hander Tucker Davidson (No. 13) were all promoted from Mississippi on August 4.
All four showed flashes of talent during their Triple-A debuts. Pache reached base safely in 23 of 26 games while hitting .274 with one homer and eight RBIs. Waters reached base safely in 24 of 26 games and hit .271 with two homers and 11 RBIs. Anderson went 1-2 with a 6.58 ERA, and Davidson went 1-1 with a 2.84 ERA.
Though the Stripers' power numbers dipped slightly after the All-Star Break, the pitching trio of Wilson, Wright, and Weigel carried the club down the stretch. Those three combined to go 15-1 with a 2.90 ERA over 26 outings from July 11 through September 2.
Offensively, LaMarre batted .351 during a 35-game on-base streak that lasted until the end of the season, and Florimon hit an IL-best .338 after the All-Star Break as Gwinnett went 15-15 through August and September.
The Stripers officially clinched a spot in the Governors' Cup Playoffs on August 28 with a 14-8 rout of the Norfolk Tides, led by Alex Jackson's team-leading fifth two-homer effort of the year. Two days later, Gwinnett clinched the IL South Division as Charlotte lost 2-0 at Norfolk.
At season's end, Duvall was named the Most Valuable Player by the Stripers' coaching staff after setting new Gwinnett single-season records with 32 homers and 93 RBIs. In 101 games, the 2019 IL Postseason All-Star ranked in the Top 10 in slugging percentage (1st, .602), homers (2nd), RBIs (2nd), OPS (2nd, .966), extra-base hits (T-6th, 56), and total bases (9th, 222).
Wilson was named Gwinnett's Pitcher of the Year by the Braves after leading the IL in ERA (3.42) and ranking among the IL top 10 in wins (T-2nd, 10), BAA (3rd, .256), strikeouts (7th, 118), and innings (9th, 121.0). He went 6-0 with an IL-best 0.90 ERA over his final six starts from July 21 to August 27, becoming just the second Gwinnett pitcher to win six consecutive starts.
Ortega, named Gwinnett's Player of the Year by the Braves, ranked among IL leaders in runs (T-3rd, 83), doubles (4th, 34), extra-base hits (5th, 58), total bases (8th, 226), slugging percentage (8th, .524), and OPS (9th, .897).
Additionally, Wright led the IL in wins (11) and ranked among the top 10 in BAA (T-1st, .252), WHIP (2nd, 1.26), ERA (5th, 4.17), and strikeouts (9th, 116). LaMarre was tied for the IL lead in triples (8) and ranked in batting (6th, .311), on-base percentage (8th, .380), and stolen bases (T-9th, 19). Jackson ranked tied for fifth in homers (28), and Blanco ranked tied for sixth in runs (78).
Berryhill became the first Gwinnett manager to be named IL Manager of the Year after guiding the Stripers to their second IL South title and third Governors' Cup playoff berth.
The Stripers opened the Governors' Cup Semifinals at Coolray Field on September 4, losing 5-4 to the Columbus Clippers in Game 1 despite back-to-back homers from Riley and Duvall, who both briefly returned from Atlanta. Gwinnett dropped Game 2 by a 7-3 margin, and Riley and Duvall were recalled by the Braves. The Stripers extended the series with a 10-6 Game 3 win in Columbus thanks in part to a grand slam by Pache, but the season came to an end the next night with a 5-4 loss in Game 4.
Despite falling short of winning Gwinnett's first Governor's Cup, the Stripers did accomplish their main goal of sending players to Atlanta to help the Braves in their quest to win the National League East Division. Twenty-five players suited up for both Gwinnett and Atlanta in 2019, including Duvall, Foltynewicz, Ortega, Riley, Wilson, and Wright. Five Gwinnett players made their MLB debuts with the Braves: Jackson, Riley, Ynoa, Jacob Webb, and Jeremy Walker.
From the home runs in the beginning of the season to the dominant pitching performances at the end, the contributions of Major League veterans and 20-year-old prospects, the 2019 Gwinnett Stripers will be a team fans won't soon forget.