Spikes keep pace with 3-2 win over Black Bears
State College remains two games back of division lead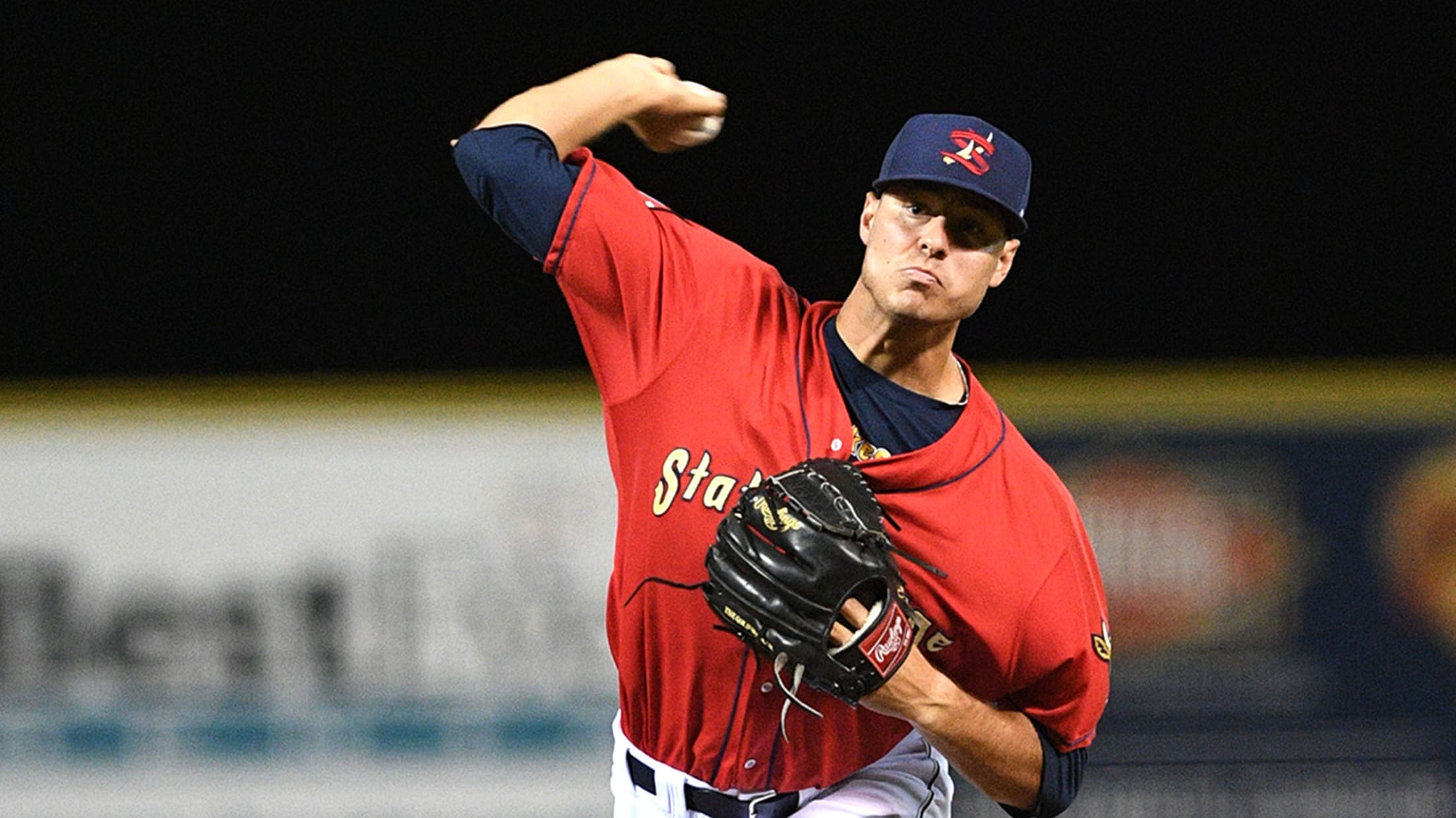 Cameron Dulle got the win with 2 2/3 scoreless innings of relief on Monday. (Steve Manuel)
UNIVERSITY PARK, Pa. - The State College Spikes used productive outs and a solid pitching effort from five different hurlers to stay near the top of the New York-Penn League Pinckney Division with a 3-2 win over the West Virginia Black Bears on Monday night at Medlar Field at Lubrano
UNIVERSITY PARK, Pa. - The State College Spikes used productive outs and a solid pitching effort from five different hurlers to stay near the top of the New York-Penn League Pinckney Division with a 3-2 win over the West Virginia Black Bears on Monday night at Medlar Field at Lubrano Park.
State College (36-33) stayed with two games of the division lead held by Batavia with seven games remaining on the regular season slate and got within a half-game of West Virginia (36-32) for second place in the division.
The Spikes took the lead in the first on an RBI groundout from Terry Fuller , then extended the lead to 3-0 in the second on a run-scoring groundout from Luis Flores and a sacrifice fly from David Vinsky.
Five pitchers combined to make the lead stand up for State College. NYPL All-Star Andre Pallante allowed two runs on three hits and two walks while striking out three batters over three innings in a starting role. Cameron Dulle (2-1) then took over in the fourth and delivered 2 2/3 innings of scoreless ball to earn credit for the victory. Dulle yielded one hit and one walk while striking out four batters.
Hector Villalobos then recorded two outs, but loaded the bases in the seventh. Connor Lunn got the Spikes out of that jam with a strikeout and a tremendous diving catch against the tarp by Shane Benes and then pitched a perfect eighth inning.
Jack Ralston (5) then retired the side in order in the ninth, striking out one batter in the process, for his fifth save in as many opportunities.
West Virginia starter J.C. Flowers (0-1) took the loss after giving up three runs, two of them earned, on three hits and a walk while striking out three batters over four innings.
The Black Bears scored both of their runs in the third with a Jared Triolo sacrifice fly and a Kyle Wilkie RBI single. Victor Ngoepe went 2-for-3 with a double to become the only player to produce multiple hits.
Tuesday, the Spikes look to keep their playoff hopes going in a 7:05 p.m. matchup against the Black Bears at Medlar Field at Lubrano Park to complete the three-game series. State College is slated to send right-hander Adrian Mardueno (3-2) to the hill. West Virginia will go with the Pittsburgh Pirates' 2019 first-round draft choice, Quinn Priester . The right-hander is making his first appearance for the Black Bears.
Fans can enjoy $2 Walking Taco Tuesday at the ballpark, presented by B94.5. Walking Tacos will be available for just $2 each at various ballpark locations throughout the next-to-last home game of the regular season.
Plus, fans of age can take part in the IC Light Mango Happy Hour, with IC Light Mango available at half-price from 6-8 p.m.
In addition, college students across Central PA can enjoy even more value with the College Student 3-2-1 Special. The College Student 3-2-1 Special offers any college student presenting a valid student ID at ticket and concessions windows $3 off their seat in any ballpark section, excluding the Pepsi Picnic Pavilion and Geisinger Champions Club, plus $2 regular sodas and $1 hot dogs all game long.
Tickets for both games remaining on the 2019 regular season home schedule are currently on sale through the Spikes Ticket Office. Tickets can be purchased by calling (814) 272-1711 or by visiting the Ticket Office in person from 9 a.m. to the end of the game on gamedays Monday through Friday, 10 a.m. to the end of the game on gamedays Saturday and Sunday, and 9 a.m. to 5 p.m. on non-gamedays Monday through Friday.
Fans can also buy and download single-game tickets by visiting StateCollegeSpikes.com.
Catch all of the action on Tuesday via the Spikes Radio Network, presented by Penn State Sports Medicine, Official Healthcare Provider of Penn State Athletics, at 6:35 p.m. with Spikes Live, presented by Mount Nittany Health, on the air from Medlar Field at Lubrano Park. The Spikes' radio broadcast can also be heard worldwide through the "Listen Live" link on StateCollegeSpikes.com, provided by the club's flagship radio home, NEWSRADIO 1390 WRSC, as well as the TuneIn Radio app.