Kieboom, Cate form next wave for Nats
Top talent replenishes system that built World Series champs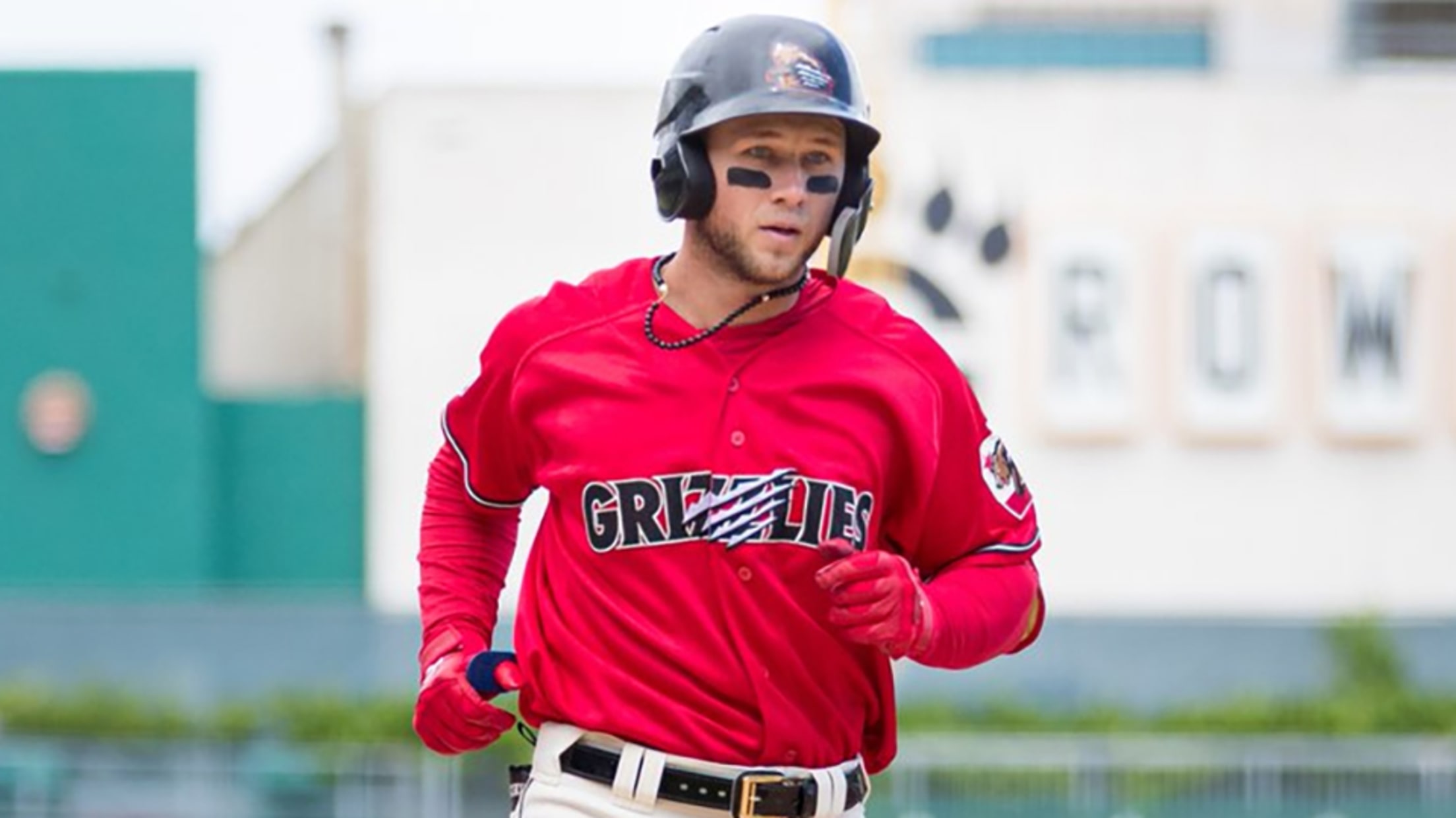 Each offseason, MiLB.com goes position by position across each system and honors the players -- regardless of age or prospect status -- who had the best seasons in their organization. Click here to locate your favorite club.The Nationals' first World Series-winning roster boasted a collection of several homegrown first-round picks,
Prospect Roundup: Games of August 15
Tigers' Manning strong; Nats' Stevenson reaches six times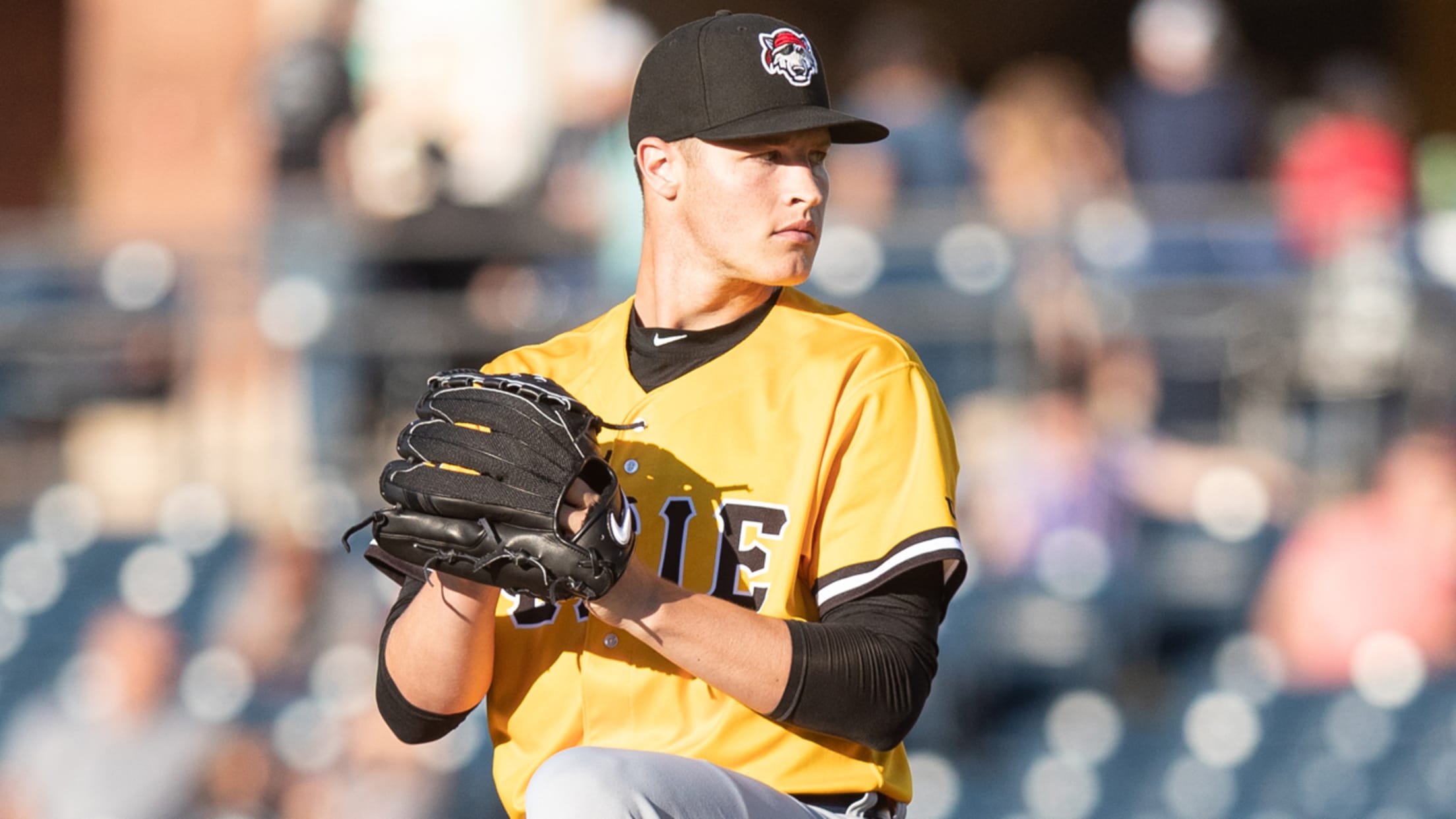 Tigers RHP Matt Manning, Double-A Erie: 5 IP, 1 H, 0 R, 0 BB, 3 K -- Detroit's No. 2 prospect put up his second straight outing without allowing an earned run in his first one-hit start since opening the season with two straight such efforts on April 5 and
Fresno sweeps Reno behind Brandon Snyder's huge afternoon
Snyder goes deep twice in 11-4 rout
Reno, Nevada (Sunday, July 21) - The Fresno Grizzlies (52-49) rocked the Reno Aces (42-59) 11-4 from Greater Nevada Field. Behind a six-run seventh, Fresno earned their first sweep of the 2019 campaign while extending the win streak to four games (ties season-long). The Grizzlies finished the 11-game road trip
Crowe dazzles as Fresno outlasts Reno 8-5 in 11 innings
Wil Crowe: 7.1 IP (ties career-high), 6 K; 1-3, 1B
Reno, Nevada (Friday, July 19) - In a back-and-forth contest, the Fresno Grizzlies (50-49) conquered the Reno Aces (42-57) 8-5 in 11 innings from Greater Nevada Field. The win improved Fresno to 7-4 in extras with a 4-1 mark on the road. Grizzlies starter Wil Crowe did not factor in
Grizzlies avoid sweep in classic Albuquerque slugfest
Fresno matches largest comeback win this season; rally from down 8-2 in 6th inning for 10-9 victory
Albuquerque, NM (Thursday, July 18) - The Fresno Grizzlies (49-49) halted a three-game losing skid on Thursday afternoon, surging past the Albuquerque Isotopes (43-55) for a 10-9 win after trailing 8-2 in the sixth inning. In avoiding being swept in a series for the first time in 2019, Fresno equaled
Grizz drop third straight to 'Topes on Wednesday in ABQ
Fresno OF Andrew Stevenson is batting .342 during a nine-game hit streak
Albuquerque, NM (Wednesday, July 17) - A pair of three-run homers in consecutive innings helped the Albuquerque Isotopes (43-54) defeat the Fresno Grizzlies (48-49) by 9-4 final on Wednesday evening. The Grizzlies have dropped three consecutive games to open the series, and will try to avoid being swept for the
Grizzlies begin post-break with an 8-5 loss at Sacramento
Opener of four-game set as rivals vie for division lead this weekend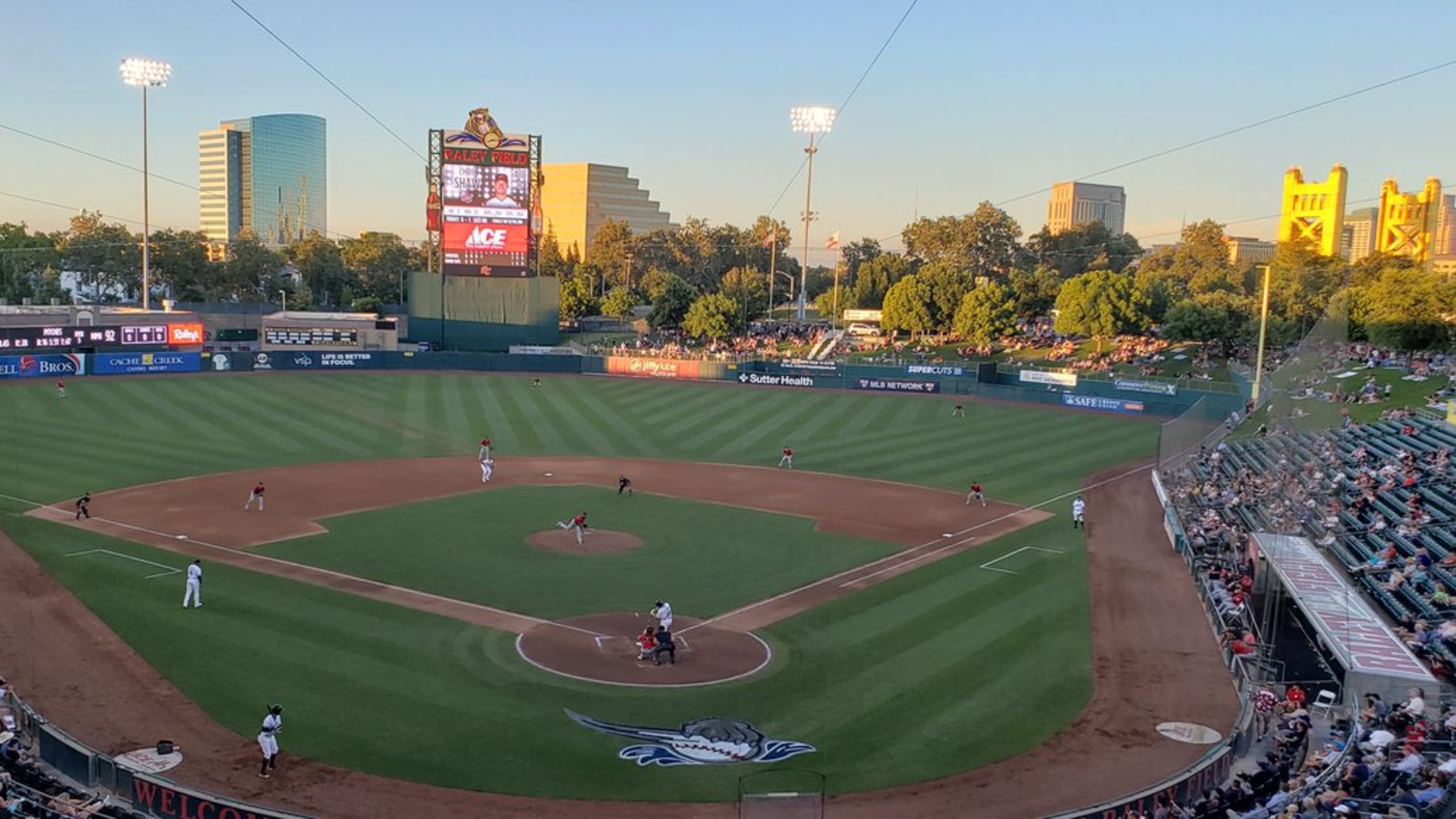 Sacramento, Calif. (Thursday, July 11) - The Fresno Grizzlies (46-45) endured a rare road loss to the Sacramento River Cats (47-43) on Thursday evening; Fresno dropped to 28-9 at Raley Field in West Sacramento since the beginning of the 2015 season (3-2 in 2019). The River Cats moved a game
Jose Marmolejos extends hit streak as Fresno defeats El Paso 9-4
Marmolejos demolishes his ninth homer of the season
El Paso, Texas (Saturday, June 29) - The Fresno Grizzlies (42-40) roared past the El Paso Chihuahuas (50-31) 9-4 from Southwest University Park. José Marmolejos headlined the Fresno offense, reaching base five times. Marmolejos homered for the second straight night and expanded the club-high hit streak to 14 games. In
Stevenson continues torrid streak in Tacos 11-5 setback to Aviators
Andrew Stevenson has hit safely in 11 consecutive games
Fresno, California (Tuesday, June 25) - The Las Vegas Aviators (43-35) flew past the Fresno Tacos (40-38) 11-5 from Chukchansi Park. Las Vegas tallied 15 hits with six batters recording multi-hit affairs. The offensive support gave Paul Blackburn his seventh win of the year. The righty hurled six innings, striking
M's Lewis headlines Players of the Week
No. 7 Seattle prospect went 11-for-21 with Double-A Travelers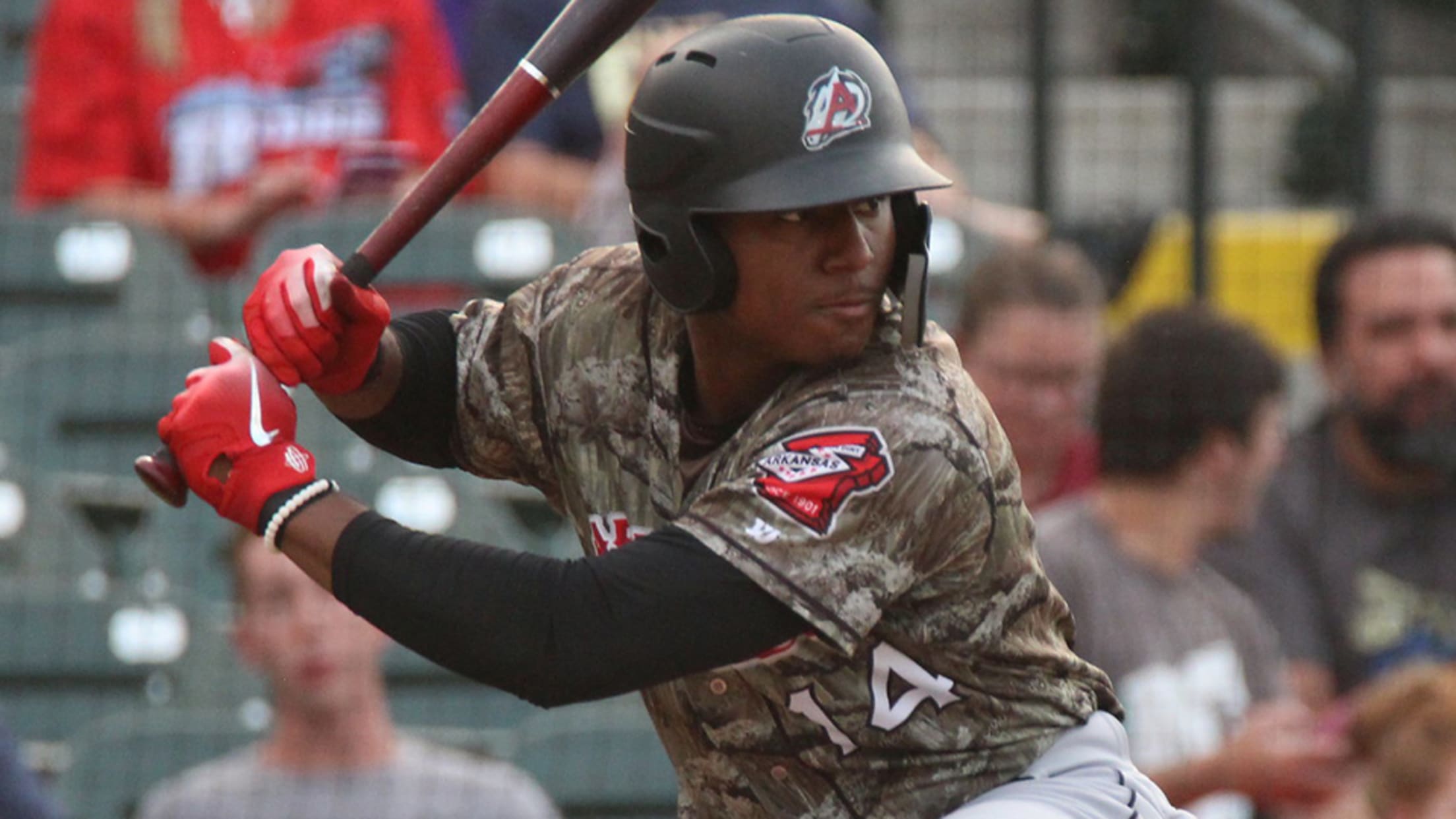 Thanks to his sustained health, Kyle Lewis is getting the most consistent playing time of his career, and lately, he's taking advantage. The Mariners' No. 7 prospect has been named the Texas League Offensive Player of the Week after going 11-for-21 (.524) with two doubles, seven runs scored and seven
Salt Lake outlasts Fresno 14-9 as Kieboom stays hot
Carter Kieboom homers and reaches base five times
Salt Lake City, Utah (Monday, June 24) - The Salt Lake Bees (35-41) pestered the Fresno Grizzlies (40-37) 14-9 from Smith's Ballpark. Bees righty Taylor Cole (3-0) mustered the decision after three shutout frames of relief. He struck out four. Henderson Alvarez (1-4) took the loss after hurling three innings.
Kieboom and Stevenson slam Grizzlies to 22-9 rout of Bees
Carter Kieboom and Andrew Stevenson swat grand slams for Fresno
Salt Lake City, Utah (Sunday, June 23) - The Fresno Grizzlies (40-36) roared past the Salt Lake Bees (34-41) 22-9 from Smith's Ballpark. Fresno tallied a season-high 24 hits with every starter recording at least one. Each batter logged two-plus runs while eight of nine hitters picked up at least
Grizzlies growl to 12-8 victory over Bees Friday evening
Wilmer Difo, Yadiel Hernandez and Carter Kieboom all homer for Fresno
Salt Lake City, Utah (Friday, June 21) - The Fresno Grizzlies (38-36) powered past the Salt Lake Bees (34-39) 12-8 from Smith's Ballpark. Both clubs combined for 26 hits with seven going for homers. Fresno notched 16 hits with five starters grabbing multi-hit affairs. Andrew Stevenson had four of the
Bees walk-off on Grizz 12-11 despite Raudy Read's grand slam
Fresno holds on to win suspended game but falls in scheduled contest
Salt Lake City, Utah (Thursday, June 20) - It took 70 days, but the Fresno Grizzlies (37-35) finally beat the Salt Lake Bees (33-38) 8-4 from Smith's Ballpark. After the game was suspended on April 10 due to rain, the two clubs resumed action in the top of the fourth
Tacos sizzle by Storm Chasers 8-6 in the series finale
Every Fresno starter records at least one hit
Fresno, California (Tuesday, June 18) - The Fresno Tacos (36-35) served up a series win with an 8-6 victory over the Omaha Storm Chasers (34-38) Tuesday night. Fresno tallied 15 hits on the evening with every starter notching at least one. Four players had multi-hits with a pair of batters
Hernandez creams two homers as Grizzlies beat Baby Cakes 10-4
Yadiel Hernandez goes deep twice in an 8-run 4th inning
Metairie, Louisiana (Wednesday, June 5) - The Fresno Grizzlies (29-30) conquered the New Orleans Baby Cakes (33-27) 10-4 from Shrine on Airline. Paolo Espino (6-1, win) took a perfect game into the sixth before giving up a one-out double. He finished the night striking out seven over five and two-thirds
No luck in NOLA: Fresno overwhelmed by Gallen in 5-1 defeat
Louisiana-native Andrew Stevenson smacks two hits in loss
Metairie, Louisiana (Tuesday, June 4) - The New Orleans Baby Cakes (33-26) beat the Fresno Grizzlies (28-30) 5-1 from Shrine on Airline. New Orleans starter Zac Gallen dazzled for seven innings of one-run ball. The right hander allowed four hits on two walks while tying a career-high with 11 strikeouts.
Bees swarm Grizzlies late in 10-9 victory
Fresno drops fourth straight game
Fresno, California (Wednesday, May 29) - The Salt Lake Bees (24-28) stung the Fresno Grizzlies (26-27) 10-9 from Chukchansi Park. Salt Lake rallied for five runs in the final two frames to secure the win. Roberto Peña blasted a double to deep center in the eighth to even the score.
Fresno topples Tacoma 9-6 as Hernandez continues HR tear
Yadiel Hernandez goes deep for the third time in the last two games
Tacoma, Wash. (Friday, May 24) - The Fresno Grizzlies (25-23) held on to defeat the Tacoma Rainiers (23-26) 9-6 from Cheney Stadium. With the win, Fresno leaves Washington with a series split. Yadiel Hernandez played hero for the second straight evening, going deep for the third time in the last
McGowin and Grizzlies claw past Chihuahuas 2-0
El Paso's 12-game winning streak comes to an end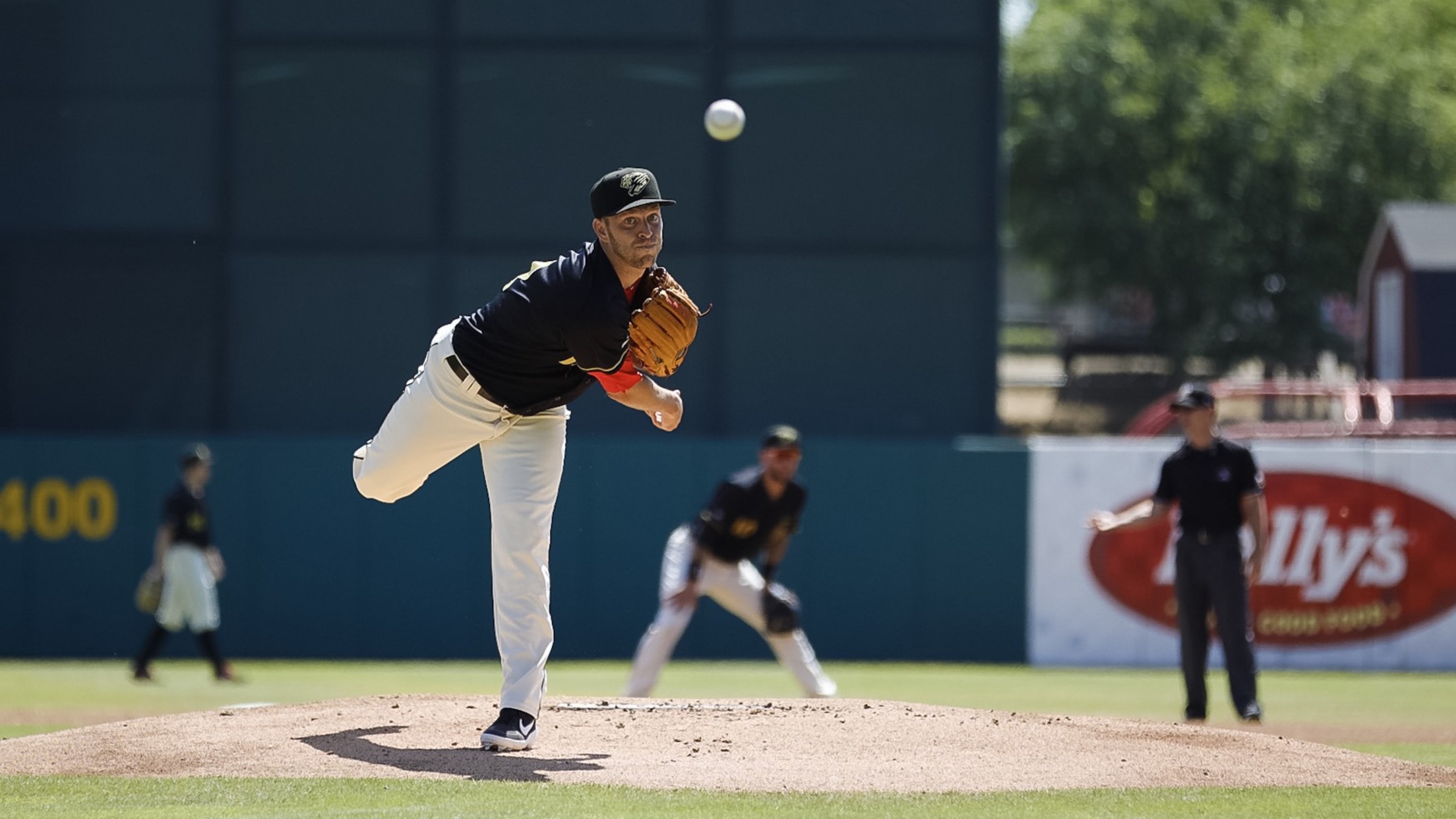 Fresno, California (Thursday, May 2) - Kyle McGowin and the Fresno Grizzlies (12-15) shutout the El Paso Chihuahuas (19-8) 2-0 Thursday morning from Chukchansi Park. The Chihuahuas 12-game winning streak and the Grizzlies seven-game losing streak both ended with the final result. McGowin (2-2, win) was exceptional on both sides
Andrew Aplin's walk-off grand slam stuns Grizzlies 14-13
Jake Noll and Jacob Wilson: 6-for-12, 2 HR, 2B, 8 RBI, 6 R
Reno, Nevada (Saturday, April 27) - The Fresno Grizzlies (11-11) couldn't close the door on the Reno Aces (8-14), falling 14-13 Saturday afternoon from Greater Nevada Field. A nine-run epic comeback in the ninth ended on a walk-off grand slam from former Grizzly Andrew Aplin. Despite the defeat, every Fresno
Chiefs fall on Opening Night
RailRiders' five-run ninth spoils Stevenson, Voth's big days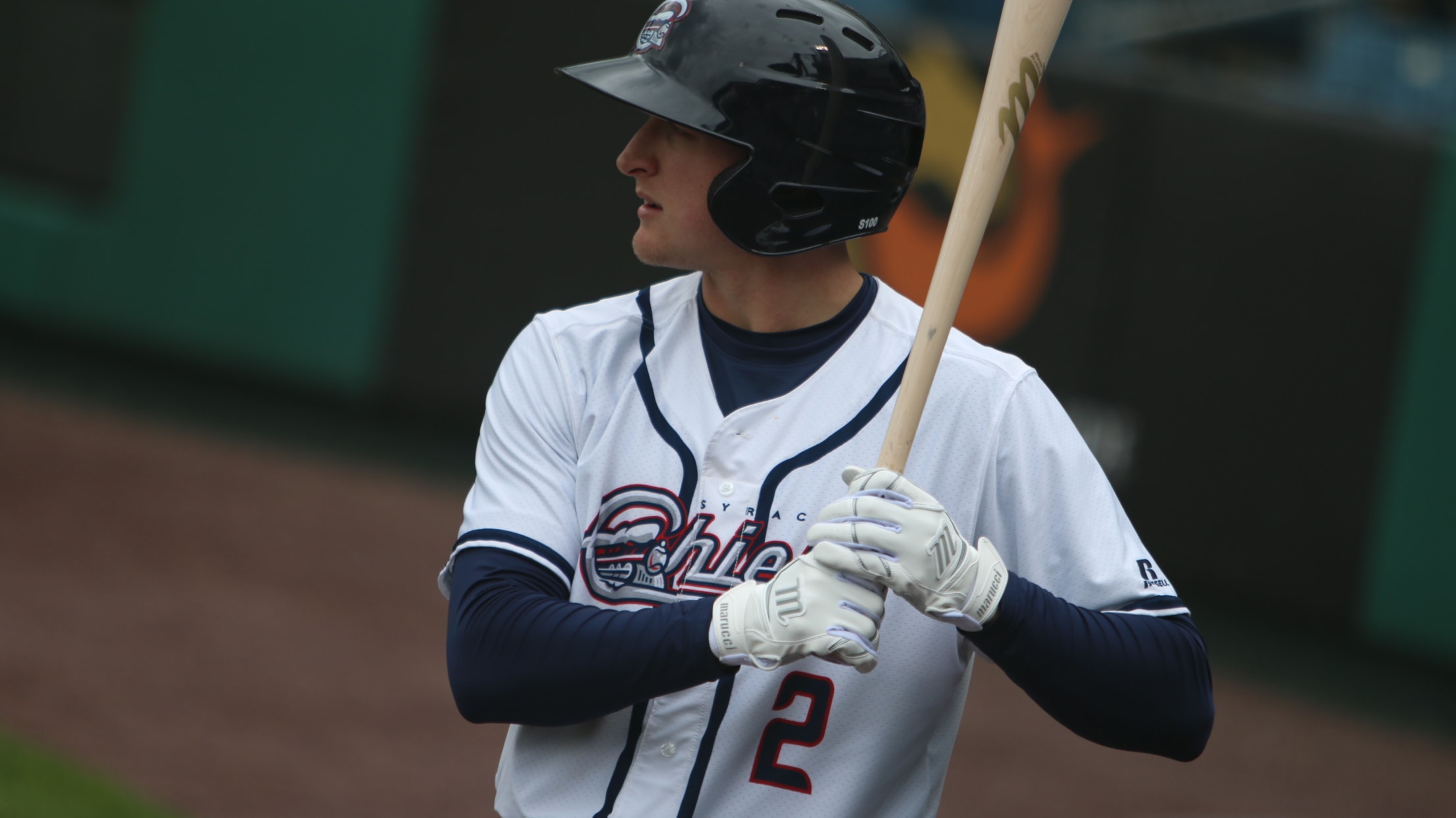 MOOSIC, PA (April 6, 2018) - After a promising start to the 2018 season opener, the Syracuse Chiefs allowed five runs in the ninth inning to fall, 6-5, to the Scranton/Wilkes-Barre RailRiders Friday night. Abiatal Avelino hit a walk-off three-run home run on a line drive over the right-field fence
Stevenson lifts Chiefs to walk-off win
Single marks seventh walk-off hit of season for Chiefs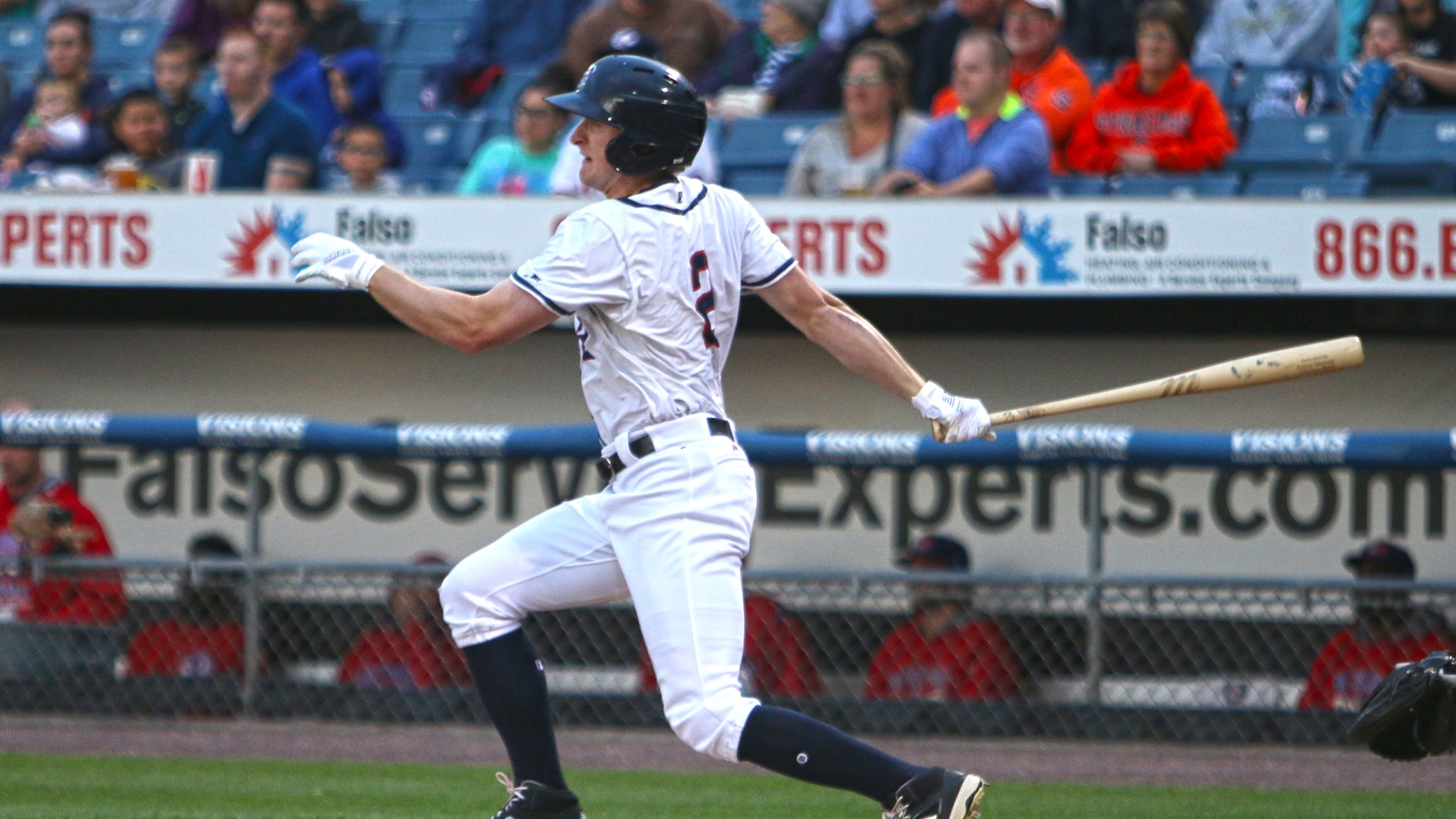 An Andrew Stevenson walk-off single in the bottom of the ninth inning led the Syracuse Chiefs to a 2-1 victory over the Buffalo Bisons on Saturday night at NBT Bank Stadium. The game was a pitchers' duel throughout with both starters allowing just an earned run each. For Syracuse, Esmil
Chiefs fall to IronPigs, 5-1, Thursday night
Chiefs bullpen fans six in loss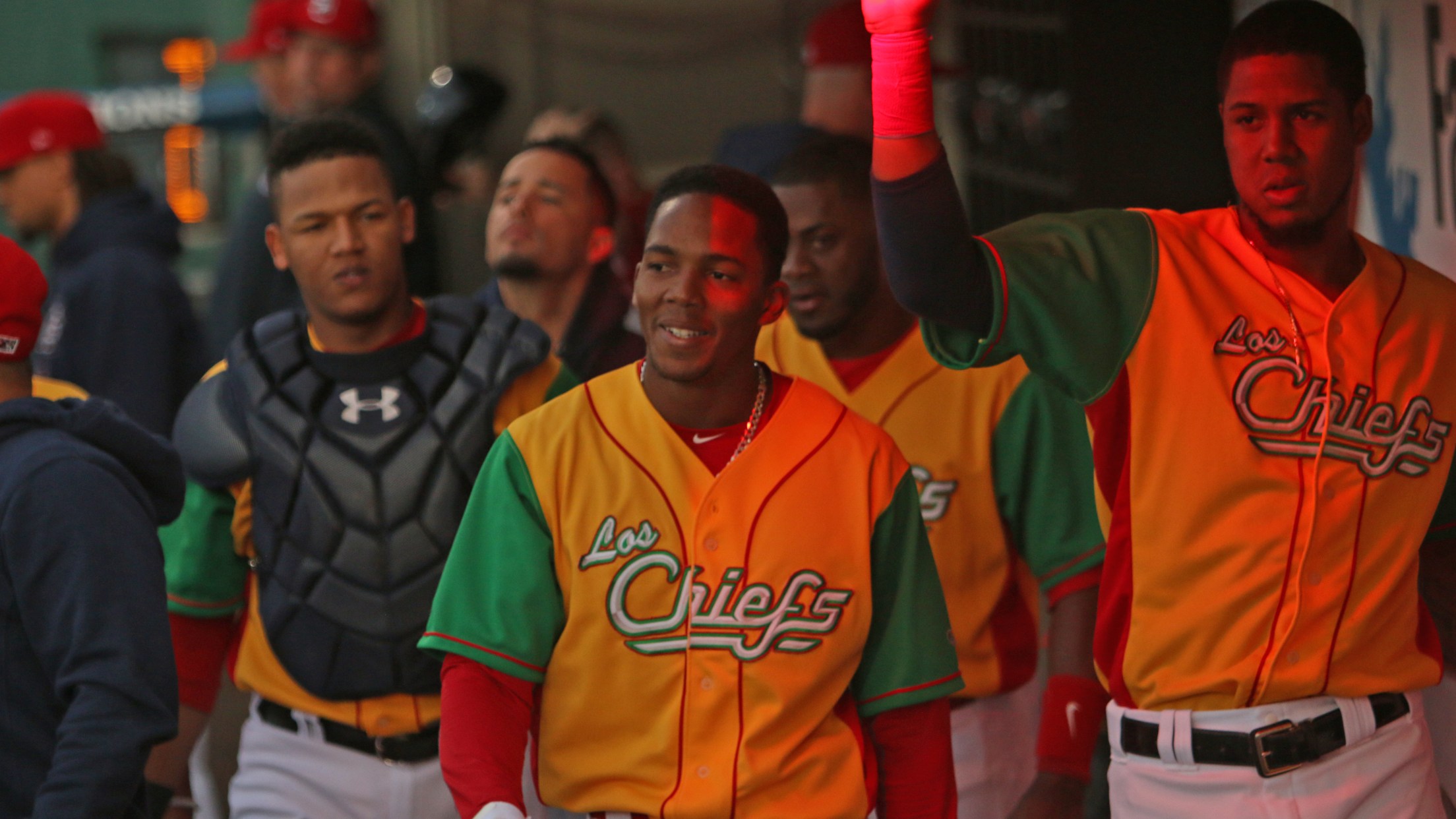 The Syracuse Chiefs fell to the Lehigh Valley IronPigs, 5-1, on Thursday night at NBT Bank Stadium. Logan Moore hit a three-run home run in the sixth inning to help the Pigs pull away. Meanwhile, the Chiefs bullpen combined to allow just one hit in three and one-third innings, striking
Chiefs clipped late in Columbus, 5-4
Stevenson, Robinson homer in loss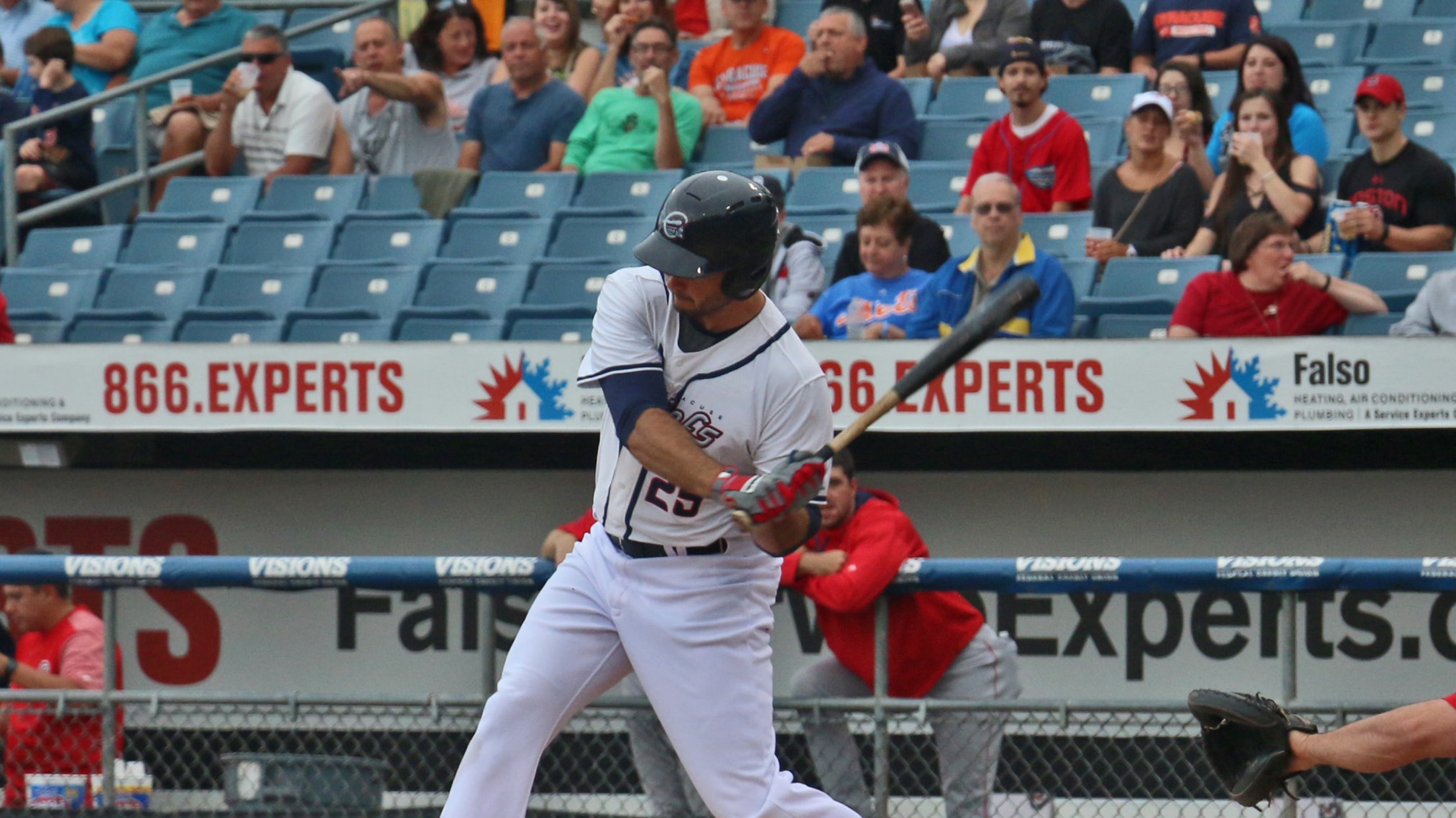 Columbus, OH (July 22, 2017) - An eighth-inning rally by the Clippers saw the Chiefs fall short in a 5-4 loss on Saturday night. Former Chief Michael Martinez tallied the winning RBI on a single, marring a pair of Syracuse home runs from Andrew Stevenson and Clint Robinson