The Miracle on 16th Street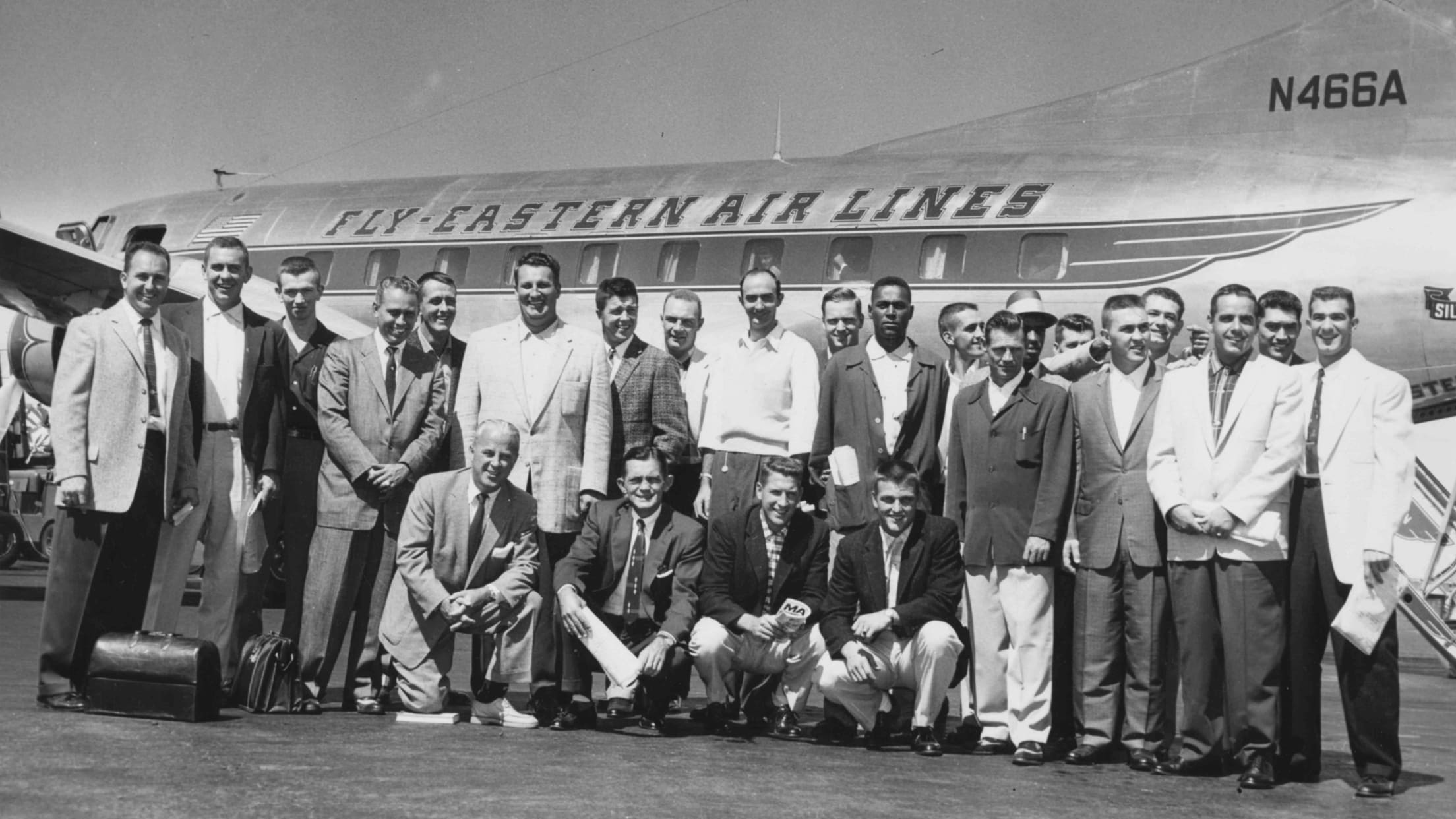 Without 6,672 shareholders keeping baseball in Indianapolis, Roger Maris (squatting front right) and the 1956 American Association Champion Indians could have ended up in Wichita, Kan. (Photo from Indians Archives)
Now taking the field, your Wichita Indians? Well, they could have been. There are 6,672 reasons why they aren't; 6,672 reasons why the Indians today are a vibrant slice of downtown Indianapolis life in the summer, with a jewel of a ballpark and an unbroken tradition.
Now taking the field, your Wichita Indians? Well, they could have been. There are 6,672 reasons why they aren't; 6,672 reasons why the Indians today are a vibrant slice of downtown Indianapolis life in the summer, with a jewel of a ballpark and an unbroken tradition.
Perhaps an explanation is in order.

It is the autumn of 1955, and the baseball skies are dark over Indianapolis. The just-completed season had been awful, with a 67-86 record and lousy attendance; under 184,000 for the entire schedule. The parent club-the Cleveland Indians - had raided the roster so relentlessly, there was a game when only 13 players were available to suit up for Indianapolis.
The front office in Cleveland claims they lost nearly a half-million bucks in Indianapolis in four years and want it to stop. Moving the franchise seems the only answer. Three cities are supposedly interested. A couple of published reports suggest Wichita is the frontrunner.

Hank Greenberg, the general manager of the Cleveland Indians, has some dire words: "Truthfully, personally I can't see any future for us in Indianapolis." But he also holds out the hope that maybe the community will do something. "If the people of Indianapolis want professional baseball, then why doesn't someone get the thing rolling?"

The first paragraph in a column in the Indy Star in October asks a rather blunt question: "Does Indianapolis want professional baseball here badly enough to pay the freight?"

The city was about to find out. And thus began the month that made 6,672 the magic number for the Indians.

Could the plan have been born over a card game? Maybe. On the north side of town lived a Chrysler auto dealer named Thomas J. O'Brien, a self-made successful businessman who had one year of high school education. A neighbor was Frank McKinney, who among other things had been chairman of the National Democratic Committee and a past owner of the Indians. O'Brien was a devout Republican, but they got along great. We'll let Shirley Creamer - O'Brien's daughter, who six decades later still lives in her father's house - take it from there.

"He and Frank McKinney knew each other. They used to play gin rummy. Dad just didn't want to lose baseball. He loved baseball. And he always had good ideas."

Whether the idea first came from McKinney and O'Brien over cards, or Robert E. Kirby, chairman of the athletic committee of the Chamber of Commerce, this was the strategy: They would go to the community and ask the public to buy stock -- at $10 a share. The goal was 16,000 shares, because they needed $160,000 to purchase the franchise from Cleveland, make some repairs at aging Victory Field and operate the next season.

And there wasn't much time. McKinney made the announcement on Nov. 4. The order forms came out on the 10th. At least 75 percent of the goal had to be reached by the 26th, or the whole deal was off. The Indianapolis Indians were on the clock.

O'Brien, fellow auto dealer William R. Krafft, attorney David M. Lewis and real estate magnate Thomas A. Moynahan each put up $200 for 20 shares and were named temporary directors of the civic corporation. But the public would decide if this worked or not, one share at a time. The three local newspapers agreed to print stock-order coupons and the name of every person who bought a share.

"Dad had a great confidence in people," Shirley Creamer said. "My Uncle John bought a few shares. A lot of the family did. They'd buy one or two shares, then they'd tell their friends."

Away in the service at the time was a young kid from Indianapolis named Max Schumacher. He loved the Indians and loved baseball and would have liked to have helped. But who in the Army in 1955 had an extra $10? Not Max.

Working in the Indians office at the same time was a young woman named Judy Whybrew. "I think people working for the Indians believed people like McKinney wouldn't let (the move) happen. They were going to give the public a chance to step up and help out, and they did do that," she said 63 years later, having spent most of her life as Mrs. Judy Schumacher, wife of Max. "My parents and I, we didn't have a lot of money, but we each bought a share of stock."

The envelopes began to come in. The total began to grow. The newspapers ran graphs charting the progress, and one day there was a picture of Kirby, Krafft and O'Brien - three men in business suits and Indians caps, with large bundles of envelopes in their arms. It looked like all the Dear Santa letters being dumped on the judge's desk in that famous scene in "Miracle on 34th Street."

If this was to be the Miracle on 16th Street, the pace had to quicken.

The amount was $20,700 on Nov 15 . . . $67,250 by Nov. 19 . . . $81,780 on Nov 21. The stock orders were coming from as far away as Jacksonville, Fla. But time was running out.

Then the last-minute buyers started rolling in. On Nov. 24, the total was $111,240, and edged over the 75-percent line at $121,050 on the 26th. That prompted a headline in the Indianapolis Times: "Our Indians Safe at Home."

The final deadline for postmarks was midnight, Nov. 28, and by the time the last orders trickled in, the total was $205,200. In the end, how many had stepped forward in a frantic call for help? Right . . .

6,672.

"We were three of those 6,672," Judy Schumacher said of her family.

A rousingly successful future in Indianapolis was thus free to happen. The Indians won the American Association and the Junior World Series in 1956, helped by the new bat of a prospect named Roger Maris. In the winter of 1956, the club needed a new ticket director and hired an eager young man fresh from the Army- Max Schumacher.

You know a lot of the rest of the story. Max was destined for a career filled with many highlights with the Indians, including meeting Judy Whybrew.

"The pride in that was tremendous," Schumacher said of the feeling in those days about the stock sale. "As I came to work there in January of '57, everything you looked at and everything they wanted to do, they wanted 6,672 on it. License plates for cars, the pocket schedule, the stationery, you name it.

"We did a survey on why they bought the stock. When the postcards came back, I don't remember any saying they bought it as an investment. They bought it for community reasons."

In a way, that would create its own problem. When the Indians tried to have a stockholders' meeting, they couldn't get people to attend or mail in a proxy. When they had a reverse stock split in 1985, they had a difficult time finding people to participate.

"What a lot of people did was mom and dad wanted to help the team, and in their minds, they were donating to keep baseball in Indianapolis," Schumacher said. "They didn't regard it as an investment. So, they'd buy the stock in the name of their children, put the stock certificate in a lock box, and forgot about it."

Maybe it wasn't exactly textbook stockholder behavior, but it was effective enough in keeping the Indians in Indianapolis -- and maybe out of Wichita. And that connection has carried to this day, with the new Victory Field a downtown landmark.

Thomas O'Brien left his shares to his kids. Shirley Creamer still has her 10, from the middle of last century. So does her sister-in-law, with the passing of her brother. And as far as she is concerned, she will never sell them. She wants them kept in the family.

"Just like this house," she said. "Dad bought this house 66 years ago."

She is an active woman who has had to deal with the scars that time can bring, having lost husband Jim of 56 years, a daughter, a grandson. But she still likes her baseball, even if she doesn't get to many games anymore, and still cherishes the memories of the nights spent in old Bush Stadium, with the father who helped save the team.

Meanwhile, Bruce Schumacher has taken over for his dad as chief executive officer, and still sees the relationship between community and team that made the 11th hour reprieve possible so long ago.

"I know how our city is now, and it rings very true. Just the way we work together in this community to bring in sporting events for the greater good, or transition from Republican to Democrat to Republican mayors without missing a beat," he said. "And I think that sense was there in 1955.

"I think it was a pivotal time. Some of the years that followed in the early '60s were really tough times, too; year to year wondering if you could make a profit. I tell people sometimes that dad was credited for getting this ballpark, which he deserves, but I think maybe even a bigger accomplishment might have been to keep things afloat in the '60s and '70s when times were really tough."

Indeed, Max Schumacher is the patron saint of this franchise and has been for eons. But he might not have gotten the chance without 1955, when he was too broke to buy one share of stock. Good thing there were 6,672 who could.