Toolshed: What Buffalo move means for bats, arms
Blue Jays' new home could tilt advantage to pitchers, righty hitters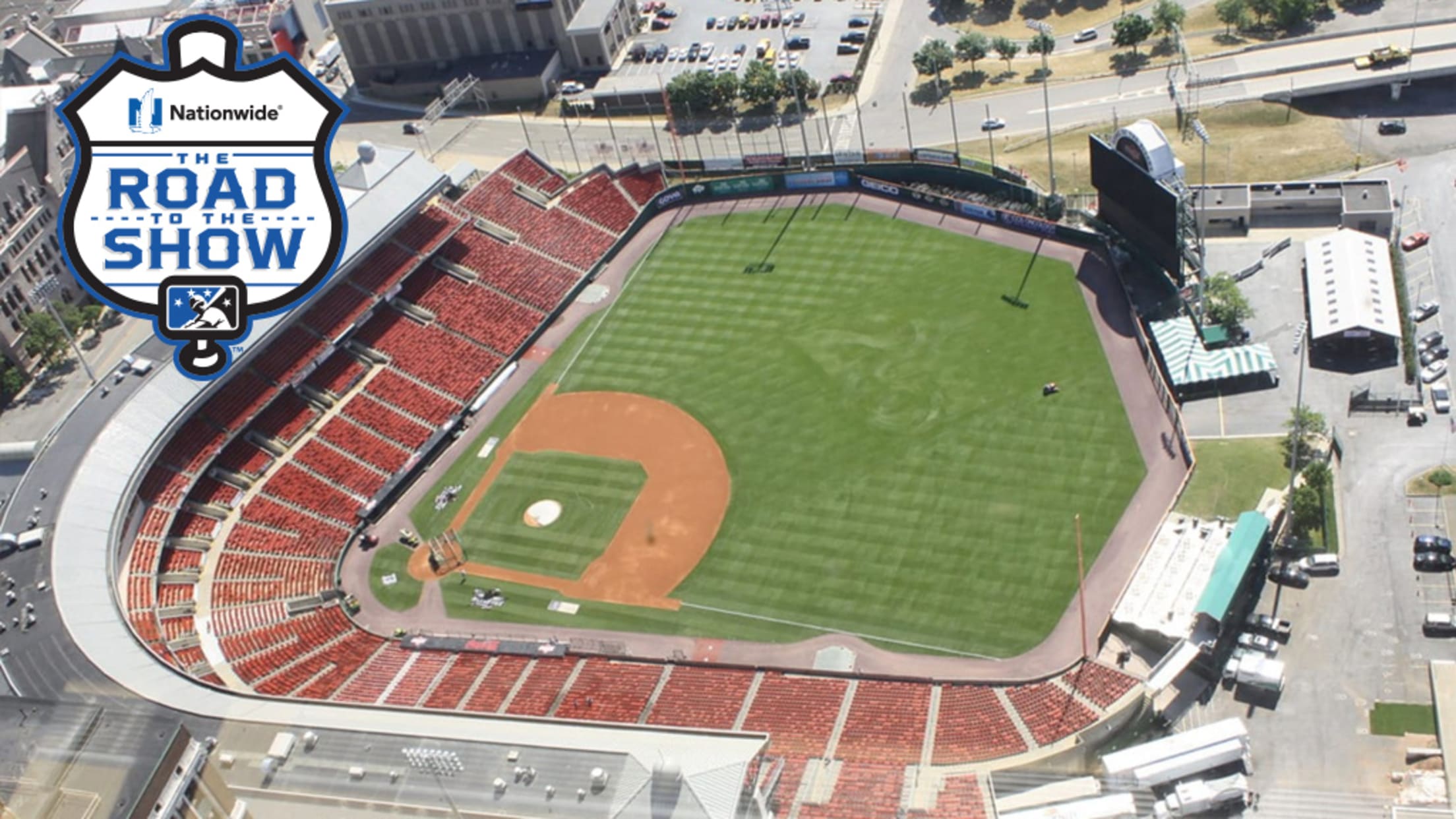 Sahlen Field will bring a new look to the Major League landscape when it becomes home to the Blue Jays for the 2020 season. (Buffalo Bisons)
Buffalo's Sahlen Field is preparing for its closeup, and in a few ways, that's been some time coming. Last Friday, the Blue Jays announced they would be using Buffalo as its home for the 2020 Major League season, beginning on Aug. 11 with a game against the Marlins. The club
Buffalo's Sahlen Field is preparing for its closeup, and in a few ways, that's been some time coming.
Last Friday, the Blue Jays announced they would be using Buffalo as its home for the 2020 Major League season, beginning on Aug. 11 with a game against the Marlins. The club had been scrambling for a ballpark after the Canadian government didn't grant it permission to host games at Rogers Centre in Toronto due to the ongoing coronavirus pandemic. After rumors floated about the possibility of sharing Major League facilities in Pittsburgh and Baltimore, the Jays finally came to an agreement to settle in the home of their Triple-A affiliate, thus allowing Buffalo to play a host to a "Major League" team for the first time since the Buffalo Blues ended their run in the short-lived Federal League in 1915.
Buffalo flirted with adding a Major League club in the 1980s and even built its current stadium (first called Pilot Field) in 1988 with an eye on recruiting an expansion or relocated club. Designed by HOK Sport (now going as Populous), Sahlen Field, which boasts a capacity of 16,600, was ahead of the retro stadium wave made popular by Baltimore's Camden Yards when it opened in 1992. In fact, it might look a little familiar to those watching Blue Jays games at home in the weeks to come.
"Sometimes, you'll see a center-field shot, and you'll say, boy, the way that's constructed behind home plate looks like some other ballparks I've seen on TV," Mike Buczkowski, president of Rich Baseball Operations, said on this week's Minor League Baseball podcast. "It's one of the things we're really proud of. This ballpark opened when there weren't too many Minor League, never mind Major League, ballparks being built. When it opened, every team that was in the market to build a new ballpark came and saw our ballpark, whether it was the Giants or the Reds or the Orioles or the White Sox. They all sent representatives here to see it. … It was really the first Major/Minor League project that was a retro ballpark."
So Sahlen Field might have the look of a Major League park -- especially with the coming upgrades to get the lighting system up to MLB standards -- but how will it play? According to park factors, some hitters could be in a bit of a rude awakening with the move away from Rogers Centre to Sahlen Field.
First -- like any good ballpark discussion -- let's establish some ground rules.
The park factors used for this evaluation compare the runs/homers/hits collected and allowed by the home team in its given park as compared to those collected and allowed by the same club on the road. They're put on a scale wherein 100 is average. Anything above that favors hitters. Anything below tips toward advantaging pitchers. Using that scale, this is where Buffalo's Sahlen Field ranked among its International League counterparts over the previous three Minor League seasons.
| Team | R | HR | H |
| --- | --- | --- | --- |
| Charlotte | 123 | 170 | 111 |
| Scranton/Wilkes-Barre | 109 | 109 | 104 |
| Columbus | 106 | 134 | 99 |
| Lehigh Valley | 106 | 102 | 106 |
| Rochester | 105 | 104 | 101 |
| Louisville | 103 | 91 | 105 |
| Durham | 101 | 103 | 99 |
| Gwinnett | 101 | 82 | 105 |
| Syracuse | 98 | 90 | 99 |
| Buffalo | 96 | 94 | 99 |
| Toledo | 94 | 78 | 99 |
| Pawtucket | 91 | 111 | 89 |
| Indianapolis | 86 | 70 | 94 |
| Norfolk | 85 | 75 | 92 |
Like we said, it was a fairly even ballpark, though its tilt favors pitchers over hitters.
But because these parks are only compared to those in the same league, it can get a little complicated to compare parks across other circuits. For example, a pitchers' park in the homer-happy California League could feature a lot more runs on average than a pitchers' park in the arm-friendly Florida State League.
That brings us back to Buffalo and Toronto. Buffalo's park factors are only coming from the International League, so it's important to know the offensive environment of the IL before delving deeper into other numbers. Consider the following table comparing the run, homer and hit averages from the IL, Pacific Coast League and Major League Baseball. These numbers come from 2019 because that was the season in which all three circuits used the same baseball -- a rules change that coincided with a big jump in offense across Triple-A. While the PCL won't figure into our direct Buffalo-Toronto comparison again, it's included to show readers just how extreme an environment can look compared to other leagues.
| League | R/9 | HR/9 | H/9 |
| --- | --- | --- | --- |
| International League | 5.4 | 1.3 | 9.3 |
| Major League Baseball | 4.9 | 1.4 | 8.7 |
| Pacific Coast League | 6.0 | 1.5 | 9.8 |
This establishes that, with some minor discrepancies, MLB and the IL featured fairly similar offensive environments on the whole in 2019. A typical IL game might have had one more run per game between the two teams, but it also had a near-negligible .2 more homers and 1.2 fewer hits. If we were talking about an MLB club using a PCL facility, this exercise would be a little more difficult because of the more extreme differences. As things stand, it's pretty safe to say Buffalo's park factors will be comparable to Toronto's and those from other Major League parks.
Below are those park factors, not only for Buffalo and Toronto but for every other AL East and NL East park the Blue Jays will play in during the abbreviated 2020 season. (Note: the Jays do not travel to the Mets' home of Citi Field, and thus, it was left off.) Like the IL data, this includes the numbers for the 2019, 2018 and 2017 seasons. Data from 2020 was not included.
| Team | R | HR | H |
| --- | --- | --- | --- |
| Washington | 110 | 116 | 110 |
| Boston | 106 | 89 | 106 |
| Philadelphia | 105 | 125 | 100 |
| Atlanta | 103 | 93 | 101 |
| Baltimore | 103 | 121 | 103 |
| Toronto | 98 | 112 | 98 |
| New York (AL) | 97 | 107 | 97 |
| Buffalo | 96 | 94 | 99 |
| Tampa Bay | 92 | 89 | 93 |
| Miami | 88 | 77 | 95 |
This is the real meat of the discussion.
It's one thing to see that Buffalo has a slight pitchers' advantage, and even compared to Toronto, the two are incredibly similar when it comes to runs and hits allowed. That's, in part, because they have comparable dimensions. Buffalo is 325 feet down the right- and left-field lines and 404 feet out to center. The left-center gap goes slightly farther back (371 feet) than in right-center (367), but for the most part, the "retro" design didn't allow for any odd nooks like Fenway Park's right-center triangle. By comparison, Toronto is 328 feet down both lines, 400 out to center and 375 to left- and right-center. Rogers Centre might have the advantage in foul territory -- leading to more easy outs that could fall harmlessly in the stands at other stadiums -- but for the most part, the layouts are similar enough, leading to equal run and hit rates.
Where things go to opposite extremes is the homer department. If the Jays had been allowed to stay in the Rogers Centre for the 2020 season, they would have played in the fourth-best spot in the East for long balls. Only Philadelphia's Citizens Bank Park, the aforementioned Camden Yards and Washington's Nationals Park would be better for home runs.
Instead, they'll move to Buffalo, which has been below-average for dingers by IL standards, and we can expect will be the same upon its brief "promotion" to the Majors. One big reason for that. One great reason, one could even say. Lake Erie.
Situated in downtown Buffalo, Sahlen Field is orientated so hitters stepping into the box at home plate are facing south. To the west (i.e., a few streets beyond the right-field pole) is the city's biggest neighbor in Lake Erie, and with it comes a breeze that can affect play.
"It's a park that favors righty hitters a little bit," said Corey Hart, who served as Triple-A Buffalo's hitting coach in 2018 and 2019 and is working with the Major League club during the Minor League hiatus. "The wind will blow from the right-field pole to the left-field pole, and that can be favorable to righties a little. Before they changed the ball [in 2019], right field could actually be kinda dead. The ball could get knocked down in right field. Guys hit it out a little more last year, but it can still be tough that way."
The Rogers Centre sits only 500 meters from its own Great Lake in Lake Ontario, but doesn't have many of the same issues with wind-defeated balls, mostly because of the dome. Hart noted how well the balls travel in Toronto compared to Buffalo, and if it's a day when the roof is closed, the difference is only heightened. In fact, the environment in Buffalo is something he used to use to his advantage as a coach when he was preparing Bisons to become Blue Jays.
"I like for all of my hitters to have an opposite-field approach anyways," Hart said. "So with the lefties, I'm telling them to go for left-center, and I could get them to buy in a lot more in a park like that. It was something that worked in my favor."
There will be more than a few Blue Jays already fully aware of Sahlen Field's tendencies when Toronto finally begins its home calendar on Aug. 11. Sixteen of the 30 members of the club's Opening Day roster called Buffalo home at some point in their careers, including some of the most prominent young names.
Notable right-handed hitterVladimir Guerrero Jr. got his most playing time with the Bisons in 2018 and hit five of his six homers on the season at home, where he had a .741 slugging percentage and a 1.197 OPS over 16 games in Buffalo compared to .365 and .732 respectively in 14 games on the road. In 2019, Buffalo hitters went deep 71 times at home compared to 85 on the road.
That said, there have been hitters who have found ways to fight through the Erie wind. Cavan Biggio, a left-handed slugger, similarly hit five of his six homers with the Bisons at Sahlen Field last season and slugged .682 at home compared to .361 on the road during his 43-game stay in the International League. As difficult as the breeze can be, it's not impossible to fight off the lake effect.
There's little question that pitchers could reap the greatest rewards from the move. Hyun-Jin Ryu, who signed in the offseason, is the perfect pitcher to fight off park effects, considering he had the Majors' ninth-highest ground-ball rate at 50.4 percent last season with the Dodgers, but top prospect Nate Pearson is much more of a flyball pitcher and wouldn't mind seeing left-handers have to face a Buffalo breeze to take him deep. Pearson made only one start at Sahlen Field last season and gave up only one long ball -- a line-drive shot to center by right-handed slugger Bobby Dalbec. Other members of the Jays rotation -- Matt Shoemaker, Tanner Roark and Trent Thornton -- might be just as welcoming to an opportunity to get out from under Toronto's dome, even if the conditions that forced them to do so are less than ideal. Then again, their starting-pitching opponents will be facing the same conditions, and those Jays starters still have to face the likes of Aaron Judge, Giancarlo Stanton, Xander Bogaerts, Pete Alonso, Ronald Acuña Jr. and other right-handed boppers in a stadium that favors righties.
The shortened 60-game season and delayed "home" debut to allow for Sahlen Field renovations mean the Blue Jays only have 25 games currently scheduled in Buffalo, and that length of time may be too short to have major impacts on Toronto's numbers in a weird 2020. Then again with expanded playoffs, one or two long balls to the Buffalo warning track in right that may have been a homer in Toronto could be the difference between a young Jays squad beating expectations and heading to the postseason or heading back north of the border for another offseason of rebuilding.
One thing's for sure, however. Opening Day in Buffalo should be a lot warmer in 2020.
"Oh my goodness, I remember last year it was June 6 and I still had every possible bit of clothing I could put on for our game that day," Hart said. "And that was June 6, never mind April or May. August should be a lot better."
Sam Dykstra is a reporter for MiLB.com. Follow and interact with him on Twitter, @SamDykstraMiLB.