Trade roundup: Giants add Dubon
Recapping prospect moves ahead of July 31 Trade Deadline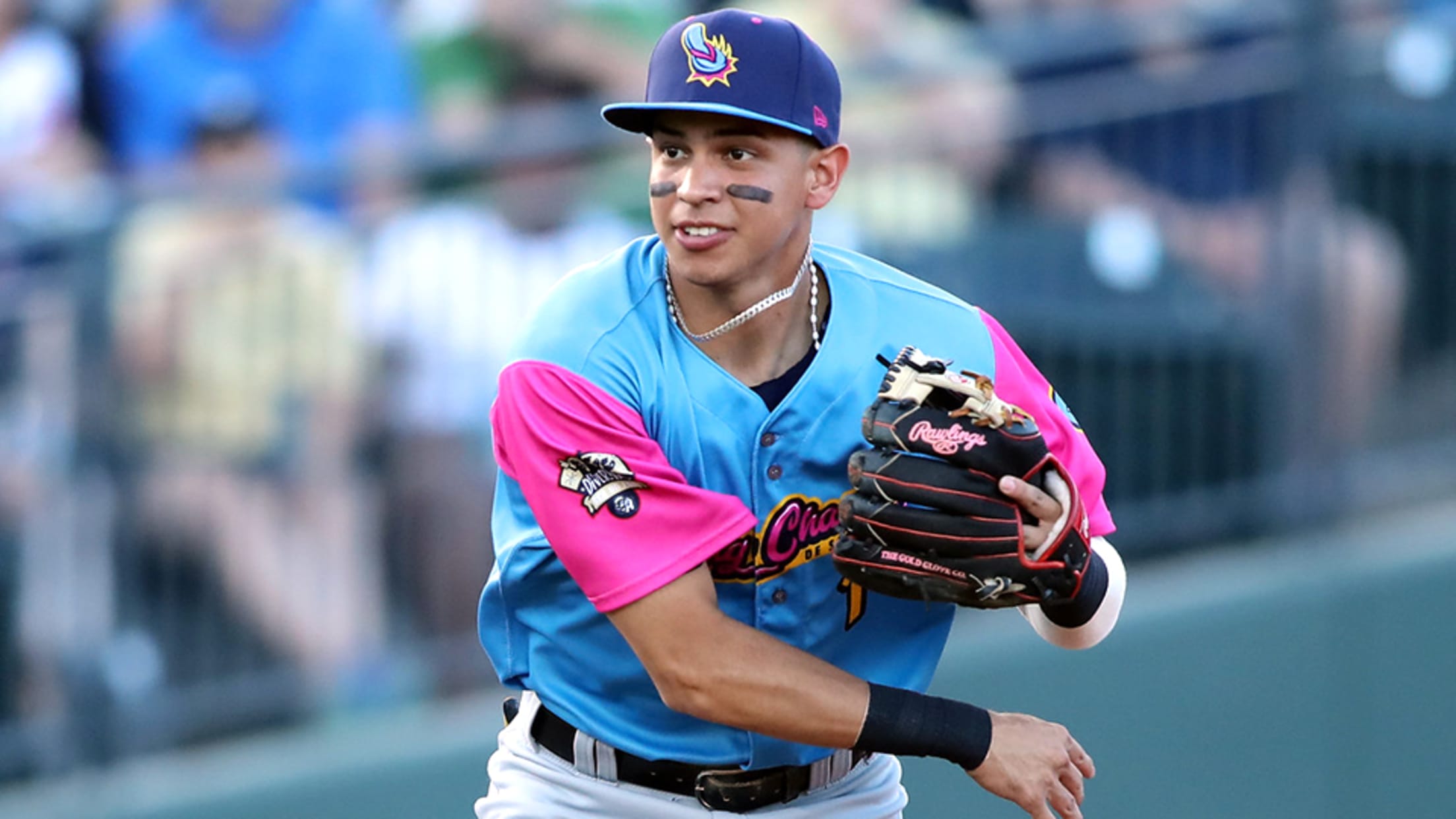 Mauricio Dubon is a career .299 hitter over 584 games in the Minor Leagues. (Jim Redman/MiLB.com)
Major League Baseball's only in-season Trade Deadline this year is Wednesday at 4 p.m. ET. With many moves expected before then, this is where MiLB.com will round up the group of notable prospects switching teams over the last two days of the deadline period. Rankings mentioned below come via MLB.com.
Major League Baseball's only in-season Trade Deadline this year is Wednesday at 4 p.m. ET. With many moves expected before then, this is where MiLB.com will round up the group of notable prospects switching teams over the last two days of the deadline period. Rankings mentioned below come via MLB.com.
Top Trades
July 31
Brewers send Dubon to Giants for Pomeranz, Black
The Brewers moved one of their most prized prospects to help out the bullpen Wednesday. Milwaukee sent No. 3 prospect
Mauricio Dubón
to the Giants to add left-hander
Drew Pomeranz
and right-hander
Ray Black
to its relief corps.
Dubon is hitting .297/.333/.475 with a career high 16 homers in 98 games with Triple-A San Antonio. He made his Major League debut on July 7 and played in two games for the big club before moving back down to the Pacific Coast League on July 13. The 25-year-old has primarily featured at shortstop this season but also has experience at second base and third. His hit, run and arm tools are all considered above-average, and he could be of use to a slightly rebuilding Giants system that lacks infield skill at the upper Minors.
Pomeranz had a 5.68 ERA in 77 2/3 innings with the Giants this season but recently found some success in the bullpen, having not allowing an earned run in his last four appearances. The hard-throwing Black had a 5.16 ERA with 36 strikeouts in 22 2/3 innings at Triple-A Sacramento.
Braves package Wentz, Demeritte for Greene
To shore up their bullpen, the Braves have traded away seventh-ranked prospect Joey Wentz and outfielder Travis Demeritte to the Tigers for reliever Shane Greene.
The lefty Wentz has a 5-8 record and 4.72 ERA in his first season at the Double-A level. The four-year pro is eighth in the Southern League with 100 strikeouts over 103 innings for Mississippi. His fastball averages around the low-90s while it can reach higher speeds at times and he can mix in a changeup and curve, both pitches he needs to control a bit better, to both left and right-handed hitters. Wentz missed a lot of the 2018 season, making only 18 starts due to an oblique injury.
Demeritte put together a .286/.387/.558 slash line with 20 homers, two triples, 28 doubles, 74 RBIs and 68 runs scored in 96 games for Triple-A Gwinnett. He was an International League mid-season All-Star earlier this month.
The 6-foot-4 right-handed Greene has earned 22 saves this season for the Tigers, posting a 1.18 ERA with 43 K's over 38 innings of relief. He has one more year of arbitration remaining before he hits free agency.
Jays add Johnston from Nationals in Hudson deal
Kyle Johnston spent his first two-plus seasons fighting his way from the Rookie level to Class A Advanced in the Nationals' organization. The righty has a new home now thanks to a trade that sent him to Toronto for relief pitcher Daniel Hudson.
The 23-year-old Johnston posted a 9-9 record and 4.03 ERA for Potomac in 20 starts this season. He ranks second in the Carolina League with 100 strikeouts while his 1.23 WHIP is tied for fourth. Johnston's control has improved this season -- he's walked only 37 batters over a career-high 105 innings -- while hitters have been hitting at just a .235 average.
Relying on a fastball that averages in the mid-90s and a slider that acts more like a cutter, Johnston could see himself as more of a long reliever in the future than as a starter.
The Nationals add Hudson as a key bullpen piece in their fight to earn a playoff spot. The right-hander had a 3.00 ERA with 48 strikeouts over 48 innings in 45 games this season for the Jays.
A's send Hannah to Reds for Roark
Oakland had top pitching prospects Jesus Luzardo and A.J. Puk in their 2019 rotation plans, but injuries have beset both southpaws to the point where neither is likely to make a big impact on the rotation until 2020. As a result, general manager David Forst dipped his toes into the trade market, sending 2018 second-round pick Jameson Hannah to Cincinnati for veteran right-hander Tanner Roark.
Hannah skipped Class A Beloit after spending 23 games at Class A Short Season Vermont in 2018 and posting a .279/.347/.384 slash line, and Oakland's No. 8 prospect was batting .283/.341/.381 with 30 extra-base hits (25 doubles, three triples, two home runs), six stolen bases in 13 attempts and 48 runs scored in 92 games with Class A Advanced Stockton.
Roark was 6-7 with a 4.24 ERA through 21 starts for the Reds, who acquired him for right-hander Tanner Rainey in an offseason trade with the Nationals. He went 9-15 with a 4.34 ERA for Washington in 2018.
Mariners, Nationals make swaps that send relievers to DC
The Mariners added some arms to their system as they acquired left-hander Taylor Guilbeau and right-hander Elvis Alvarado from the Nationals in exchange for relief pitcher Roenis Elías.
Guilbeau, the Nats' No. 15 prospect, brings a hard fastball that averages 95-96 mph along with a slider and changeup that he mixes in to hitters. He was called up to Triple-A Fresno on July 11 where he made seven appearances for the Grizzlies, allowing five earned runs over 8 2/3 innings and striking out six while walking five. At Double-A Harrisburg earlier this year, the lefty held hitters to a .213 average while posting a 2.31 ERA over 35 innings. He could make a career as a specialist against left-handed hitters. Last season, Guilbeau held left-handed hitters to a .184 average in the Carolina League.
Alvarado, in his second season since switching from a position player to pitcher, appeared in seven games (two starts) in the Gulf Coast League, giving up 10 earned runs over 15 innings while whiffing 19 and walking 10.
Elias puts another option in the Washington bullpen. The lefty appeared in 44 games for the Mariners this season, earning 14 saves and striking out 45 over 47 innings pitched.
The two teams also agreed on a trade that sent right-hander Hunter Strickland to the Nationals in exchange for lefty Aaron Fletcher. Strickland just returned on July 28 from the 60-day disabled list after suffering a lat strain in April. He made three rehab outings for Tacoma, throwing one inning each time and allowing just two hits.
Fletcher, the Nats' No. 21 prospect, is a 6-foot lefty whose fastball averages in the low-90s and uses an effective changeup to fool hitters. In 32 games over three levels this season, he has held hitters to a .171 average while fanning 69 batters over 60 1/3 innings and posting a 1.79 ERA.
Giants get two pitchers for Melancon
The Braves continued to bulk up their bullpen by acquiring Mark Melancon from the Giants for No. 17 prospect Tristan Beck and veteran hurler Dan Winkler.
Beck was Atlanta's fourth-round pick in 2018 coming out of Stanford but had been limited to 10 starts between the GCL and Class A Advanced Florida, due to a groin injury he suffered in April. At the higher level, the 23-year-old right-hander had a 5.65 ERA and 1.61 WHIP with 39 punchouts in 36 2/3 innings. When healthy, Beck combines a low-90s fastball with a plus changeup and an average curveball. He was hurt by a .414 BABIP in the Florida State League, and it could be interesting to see what happens to his numbers with a change of scenery, even if that is in the California League to begin his Giants tenure.
Winkler split time between the Majors and Triple-A Gwinnett in 2019, pitching exclusively in relief. He had a 4.98 ERA with 22 strikeouts over 21 2/3 innings with Atlanta but had been in the Minors since June 15.
Melancon, a three-time All-Star, should give Atlanta's bullpen a boost. He had a 3.50 ERA with 44 strikeouts over 46 1/3 innings during his third season with the Giants. The 34-year-old is signed through the 2020 season.
Cubs send two prospects to Tigers for Castellanos
Chicago dealt its No. 16 prospect Paul Richan and No. 23 prospect Alex Lange to the Tigers in exchange for right fielder Nicholas Castellanos, according to Craig Mish.
The Cubs selected Lange 30th overall in the 2017 Draft out of LSU. Since then, the 6-foot-3 starter has made a steady climb through the Minors, advancing to Double-A Tennessee in June. Although he possesses a four-pitch mix (including a cutter), Lange is 3-12 with a 5.82 ERA, 79 strikeouts and 45 walks in 82 2/3 innings over 18 starts across two levels this season.
Lange's former teammate, Richan has hit his stride in July for the Pelicans. Overall, the 2018 second-round pick is 10-5 with a 3.97 ERA, 86 strikeouts and 18 walks in 93 frames over 17 starts, but he has a 2.93 ERA in 30 2/3 innings this month.
Castellanos was a big hitting prospect in the Tigers system after being selected in the first round of the 2010 Draft. This season, Castellanos is hitting .273/.328.462 with 11 homers and 37 RBIs in 100 games while playing exclusively out of right field.
Giants nab McCarthy from Rays
It was a minor trade in almost every sense of the word, but a notable one involving a ranked prospect. The Giants acquired No. 28 Rays prospect Joe McCarthy in a deal that sent 21-year-old left-hander Jacob Lopez the other way.
McCarthy played 41 games for Triple-A Durham this season, batting .196/.335/.385 with six homers and 29 walks in that span. The 25-year-old played all three outfield spots with the Bulls with the plurality of his appearances coming in right field. He opened the season on the injured list with a back injury after missing time in 2018 with something similar. McCarthy was added to the Rays' 40-man roster last November ahead of the Rule 5 Draft.
Lopez was a 26th-round pick by the Giants in the 2018 Draft out of College of the Canyons (California) Junior College. The 6-foot-4 southpaw owned a 3.02 ERA and 1.15 WHIP with 39 strikeouts in 41 2/3 innings at Class A Short Season Salem-Keizer before Wednesday's swap.

July 30
Rangers get Allard from Braves for Martin
Kolby Allard
has been a top prospect in the Atlanta system since he was selected in the first round of the 2015 Draft. Now he's going to continue his journey in a new organization. The Rangers acquired the southpaw from the Braves for reliever
Chris Martin
.
"We're excited to welcome Kolby Allard to Texas. He's a young starter who already has significant experience at the upper levels," Rangers general manager Jon Daniels said in a statement. "His reputation as a competitor is well known, and we look forward to watching him compete as a Ranger for a long time to come."
The 21-year-old, who was the Braves' No. 10 prospect at the time of the trade, was dominant over his first four professional seasons and made his Major League debut on July 31, 2018. Allard struggled in four stints with Atlanta last year and had yet to find his groove this season with Triple-A Gwinnett.
Allard was 7-5 with a 4.17 ERA, 98 strikeouts and 36 walks over 110 innings in 20 starts for the Stripers. If the California native remains at Triple-A in the Rangers system, he will switch circuits to Nashville in the more hitter-friendly Pacific Coast League. His curveball and changeup are considered his best pitches, while his fastball grades out as average, according to MLB Pipeline.
The Braves hope Martin gives their bullpen the boost it needs for a postseason run. The right-hander had a 3.08 ERA and four saves in five chances in 38 appearances for the Rangers. He will be a free agent this offseason.
Cubs deal Hatch to Jays for Phelps
The Cubs have made it no secret that they needed relief pitching, so they went north of the border to aid the bullpen. Chicago acquired right-hander
David Phelps
from the Blue Jays in exchange for No. 29 prospect
Thomas Hatch
.
Hatch, a 24-year-old righty who spent the past two seasons at Double-A Tennessee, posted a 4.59 ERA over 100 innings in 21 starts for the Smokies this year. He was a third-round pick in 2016 out of Oklahoma State and, while he is currently working as a starter, could ultimately shift to the bullpen. His fastball (particularly his two-seamer) and slider are considered above-average, but troubles with control have held him back. His stock slipped from No. 17 in the Cubs system at the start of the season to No. 29 in MLB.com's midseason update.
Phelps joins a bullpen that is still looking for consistency in holding leads and getting the ball to
Craig Kimbrel
, who has had struggles of his own. In 17 appearances for the Jays, Phelps has allowed seven earned runs and 14 hits over 17 1/3 innings while holding opponents to a .222 batting average. With
Pedro Strop
removed from his late-inning role (and being placed on the injured list), Phelps might see opportunities in the seventh or eighth when the Cubs need a stop.