A Rocky Mountain ballpark drive-in 
Vibes host movie night for fans and their automobiles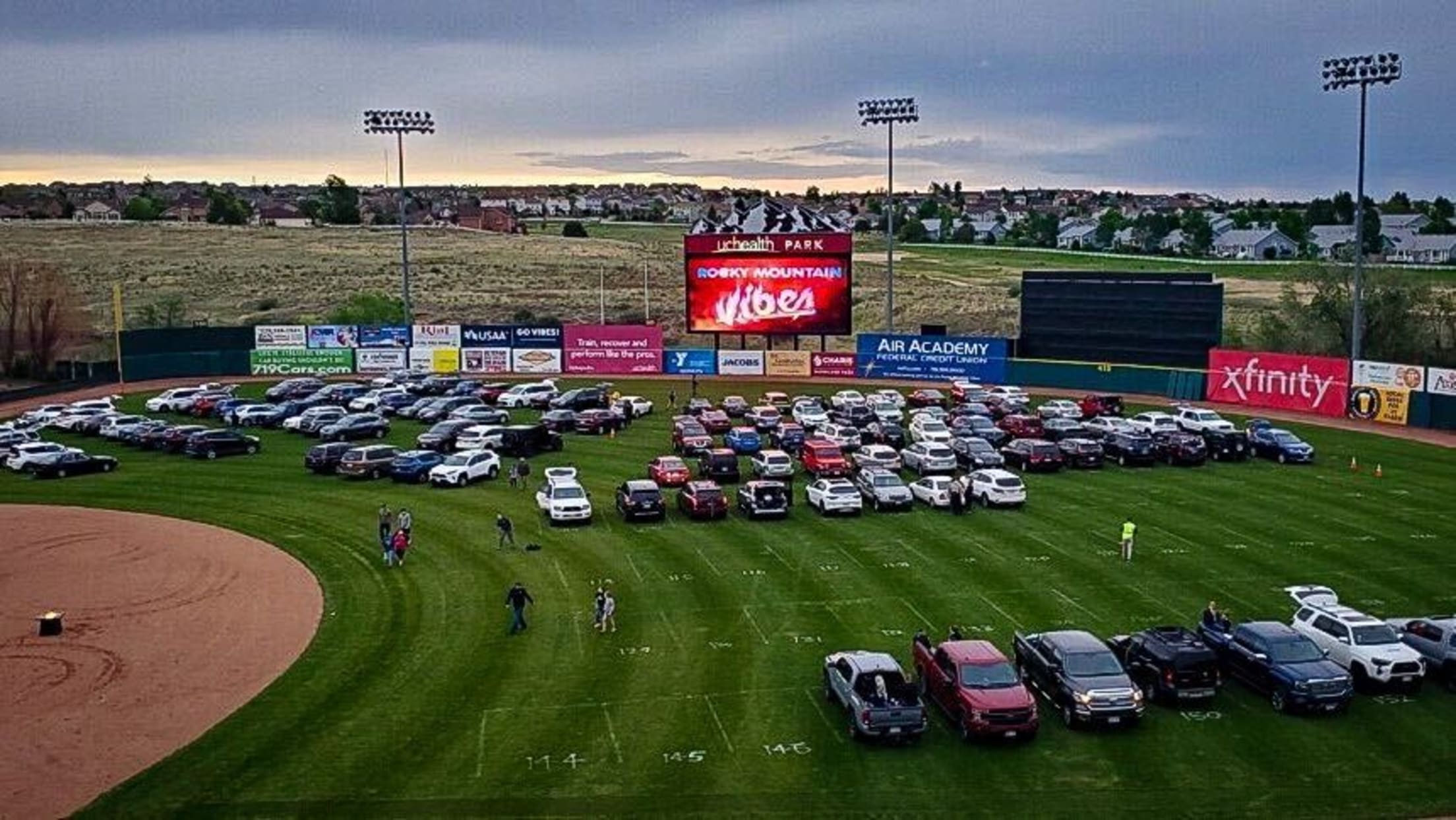 The Vibes' first drive-in movie night offered 160 spots and sold out in minutes. (Rocky Mountain Vibes)
The Rocky Mountain Vibes hosted a showing of Back to the Future on Saturday night, doing so in a way that reflects our very strange present. The Vibes, Rookie Advanced affiliate of the Milwaukee Brewers, screened the 1985 time travel comedy on the videoboard at UCHealth Park. Fans watched from
The Rocky Mountain Vibes hosted a showing of Back to the Future on Saturday night, doing so in a way that reflects our very strange present.
The Vibes, Rookie Advanced affiliate of the Milwaukee Brewers, screened the 1985 time travel comedy on the videoboard at UCHealth Park. Fans watched from the safety and presumable comfort of their automobiles, which were parked at strategic angles throughout the outfield. Yes, this was Minor League Baseball's first-ever ballpark drive-in.
"Necessity is the mother of invention. How can we be an asset to our community but still obey the rules about social distancing? What does that look like?" Vibes president Chris Phillips said.
Phillips and his staff eventually would like to follow the lead of the Daytona Tortugas and host a movie night with fans seated on the field. Colorado's current COVID-19 restrictions are much stricter than Florida's, however. The only way for the team to allow hundreds of fans into the ballpark in a safe and socially distanced manner was via their automobiles. Fans were encouraged to stay in the vehicles for the duration of the evening, listening to the movie's audio via FM radio. Restrooms were open and concessions were sold by gloved and masked vendors. The team charged $20 per vehicle, and the 160 available spots sold out within minutes.
"We were originally thinking about having a drive-in movie theater in the parking lot," Phillips said. "But we got a bunch of quotes, from people renting out screens and a projector. It looked like it was going to cost us three or four grand every time we wanted to show a movie. We'd probably start losing money on it. ... Eventually, it became, 'Well, we have a great asset in our videoboard. So let's do something. We're in the entertainment business, so we have to figure out a way to be entertaining.
"We worked with Dr. Leon Kelly from the El Paso County Health Department, sent him the plan for concessions and restrooms. He told us that it looks great, that we were on to something, and came to the event with his wife. ... It was great to have his support because hopefully this will be a long-term thing."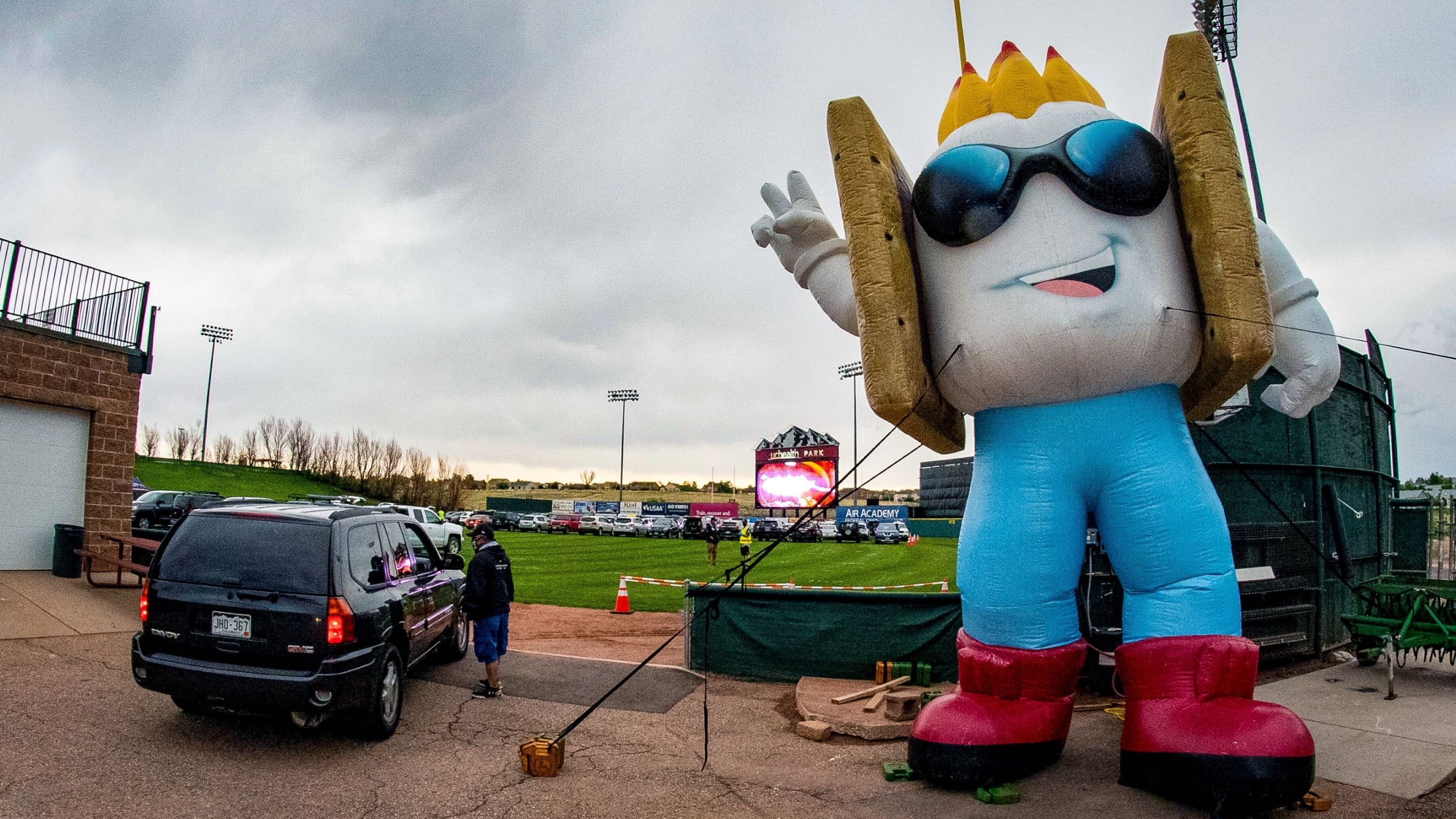 Perhaps the biggest challenge the Vibes faced was parking. As in, how to properly measure out spaces in the outfield that properly aligned with the videoboard's location in left-center. Kyle Fritzke, the team's director of marketing, spearheaded the effort by pulling up the ballpark on Google Earth.
"It was challenging. We had to make right angles out of these parking spots on a curved field," Phillips said. "That was way more challenging than anything else. Probably took eight hours to get it mapped out and measure everything. A day or two later, we chalked off the spots and then [on May 20] we went on sale with the tickets. We sold out in three minutes. It was insane. A, we must have undercharged -- it was only $20. And, B, it showed that people really were looking for something to do."
Fans entered UCHealth Park via the right field gate, not far from the groundskeeper's shed belonging to Vibes senior vice president of stadium and field operations Steve DeLeon. Fortunately for DeLeon and his crew, the evening's festivities did minimal damage to the outfield grass.
"There were heavy rains in the forecast, but fortunately, it missed us," Phillips said. "But then what if it starts pouring in the middle of the movie and people get caught out there? That's the scariest part, if it rained and then got really muddy and flooded quickly. We over-communicated with everyone about what the situation would look like. But there was no rain. The field looks great, a little bumpy here and there. But after every two screenings, we'll topdress it to smooth it out. This has all been relatively inexpensive to do."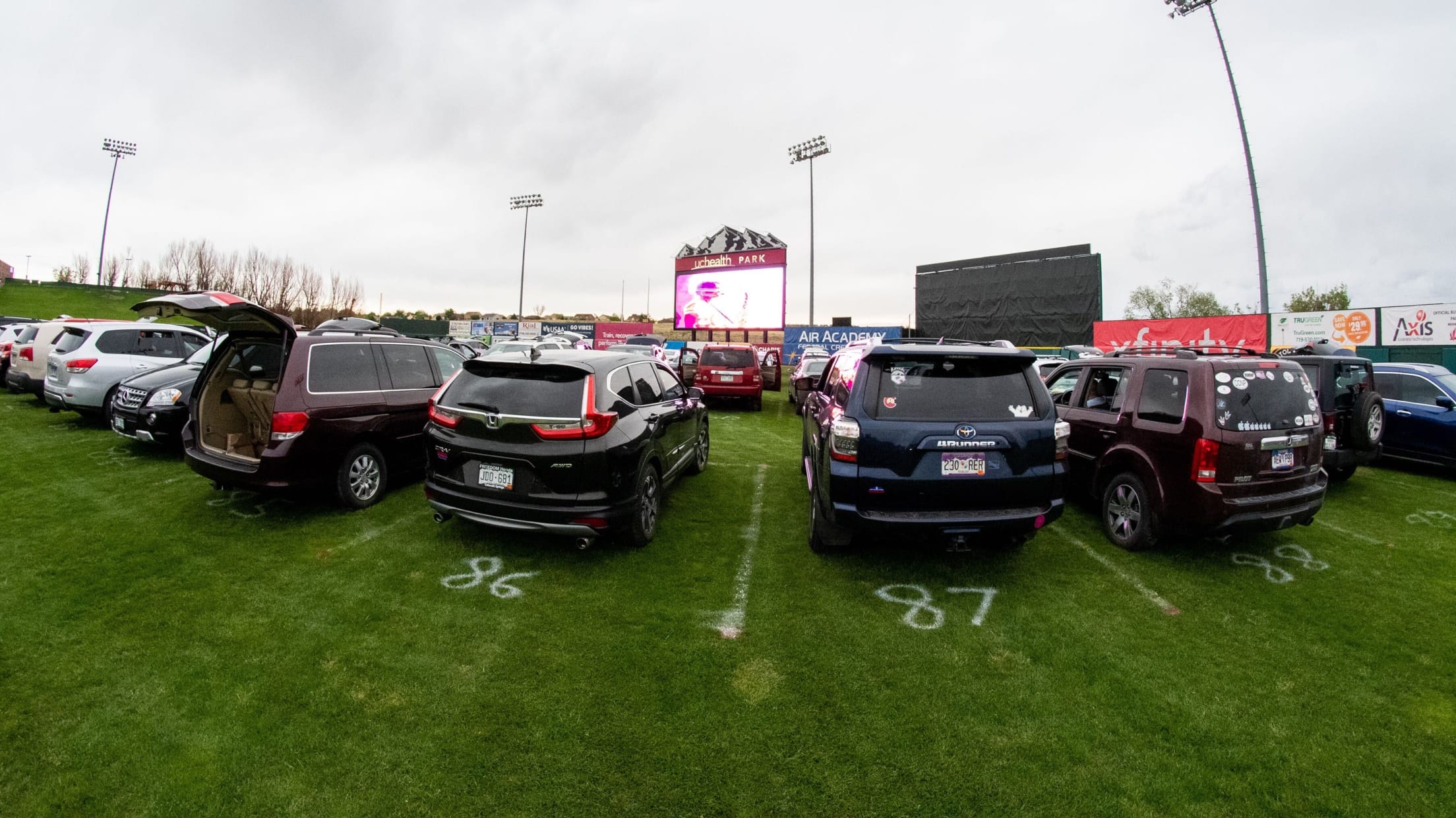 In a time devoid of baseball, the Vibes' movie night was able to imbue UCHealth Ballpark with a game day energy.
"We were a little stressed out," Phillips said. "Would people be [jerks]? Would they want to turn their car around? Were they going to try to bring in alcohol? It felt like game day. It got the adrenaline going. There was a lot of pregame. The movie started at 7:30, but the gates opened at 5:30 to make sure that the cars could be parked safely and efficiently. We had to keep people entertained for two hours. So we had pregame promos. Our Toasty inflatable [mascot] was out there, so that was a cool, welcoming thing to do. We had a lot of trivia on the videoboard. Toasty was out there running around between cars and there was a lot of '50s and '80s music, keeping with the Back to the Future theme."
The Vibes are hosting a second drive-in movie night on Friday, screening A League of Their Own. Again, the event sold out almost instantly.
"That's part of the reason that we want to do this, in addition to giving the community something fun to do," Phillips said. "We want to showcase the fact that our venue is open for business. We've got five different high school graduations booked. That's helping from a rental revenue standpoint, and we want to give kids that memory.
"We're in the memory-making business. And even moreso now that we don't have baseball. We have to figure out a way to keeping making those memories."