Like a boss: Jefes take over Coney Island
Guest correspondent provides account of Cyclones' Copa debut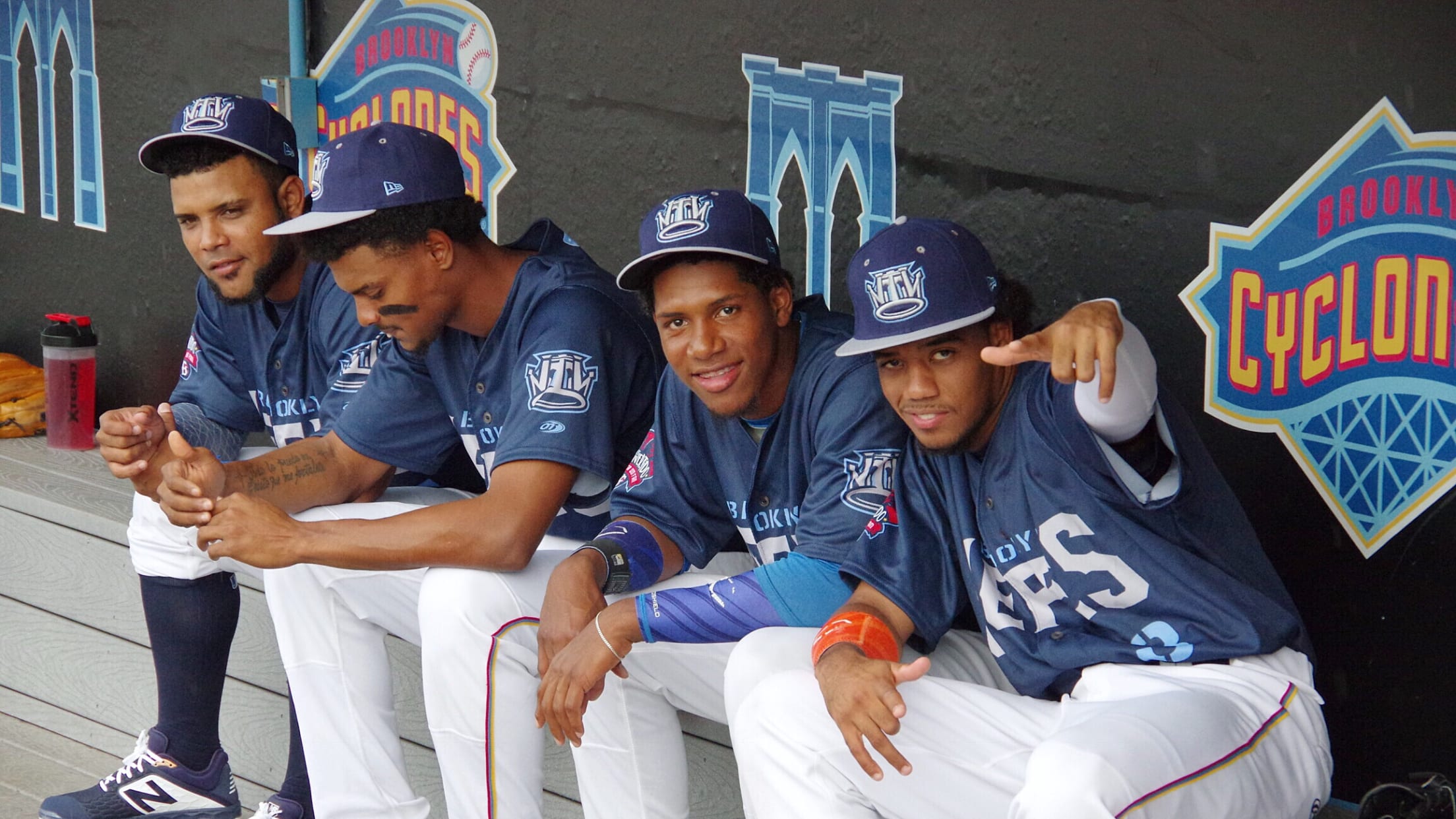 Members of the Brooklyn Jefes relax in the dugout prior to August 8's Mexican Heritage Night game. (Craig Canetti)
Jae Canetti, 16, is entering his junior year at the Washington D.C. area Thomas Jefferson High School for Science and Technology. On August 8, Jae joined traveling MiLB.com writer Ben Hill at the Brooklyn Cyclones' home of MCU Park. What follows is Jae's account of the evening. Want more coverage
Jae Canetti, 16, is entering his junior year at the Washington D.C. area Thomas Jefferson High School for Science and Technology. On August 8, Jae joined traveling MiLB.com writer Ben Hill at the Brooklyn Cyclones' home of MCU Park. What follows is Jae's account of the evening. Want more coverage of the Brooklyn Cyclones' experience? Check out the latest episode of the "Show Before the Show" podcast.
This past Wednesday, Coney Island's MCU Park took on a vibrant Latin flair. It was Mexican Heritage Night at the park, one of three consecutive Latin-themed promotions that the Brooklyn Cyclones hosted from August 8-10 as part of Minor League Baseball's Copa de la Diversión initiative.
A live mariachi band played as fans passed through the gates and picked up their sugar skull bobbleheads, inspired by Mexico's Día De Los Muertos holiday. "Ladies and gentlemen, damas y caballeros!" exclaimed the PA announcer, albeit with a strong American accent. Players, many of them Latino and Hispanic, came out to the dugout a few minutes early to take in the sights and sounds. A few even belted out the mariachi tunes as they signed autographs and prepared for the game.
Copa de la Diversion embraces Hispanic culture at the ballpark. Across 160 games in 2018, 33 Minor League teams are adopting Latin-themed names such as Chupacabras, Toros and Flying Chanclas. The Cyclones -- Class A Short Season affiliate of the New York Mets -- played as the Brooklyn Jefes, sporting sharp new uniforms and Latin walk-up music for the hitters.
When Hispanic players come to the United States they may have limited ability to speak English.The cultural and language barriers can be quite a rattling experience, making it difficult for them to focus on playing their best. Copa de la Diversion seeks to make these players feel just a bit more comfortable.
As Jefes pitcher Yeudy Colon, who is originally from Santiago in the Dominican Republic, explained, "I think that it's the same environment as every day, but I'm excited because we're far from home in a different culture and language, and we're a little happier feeling like we would back in our country."
Copa de la Diversion also aims to enhance the connection between the team and the local Latin community.
"I think it's great for the fans to come and see the Mets' farm system," said Jefes manager Egardo Alfonzo, a former Major League All-Star and Silver Slugger. "Most people don't know that they have a farm system, especially the Spanish people, because they're just thinking about the big leagues. That's what they see on TV and everything like that, but when you come here and watch these guys, in a couple of years they're gonna be in the big leagues."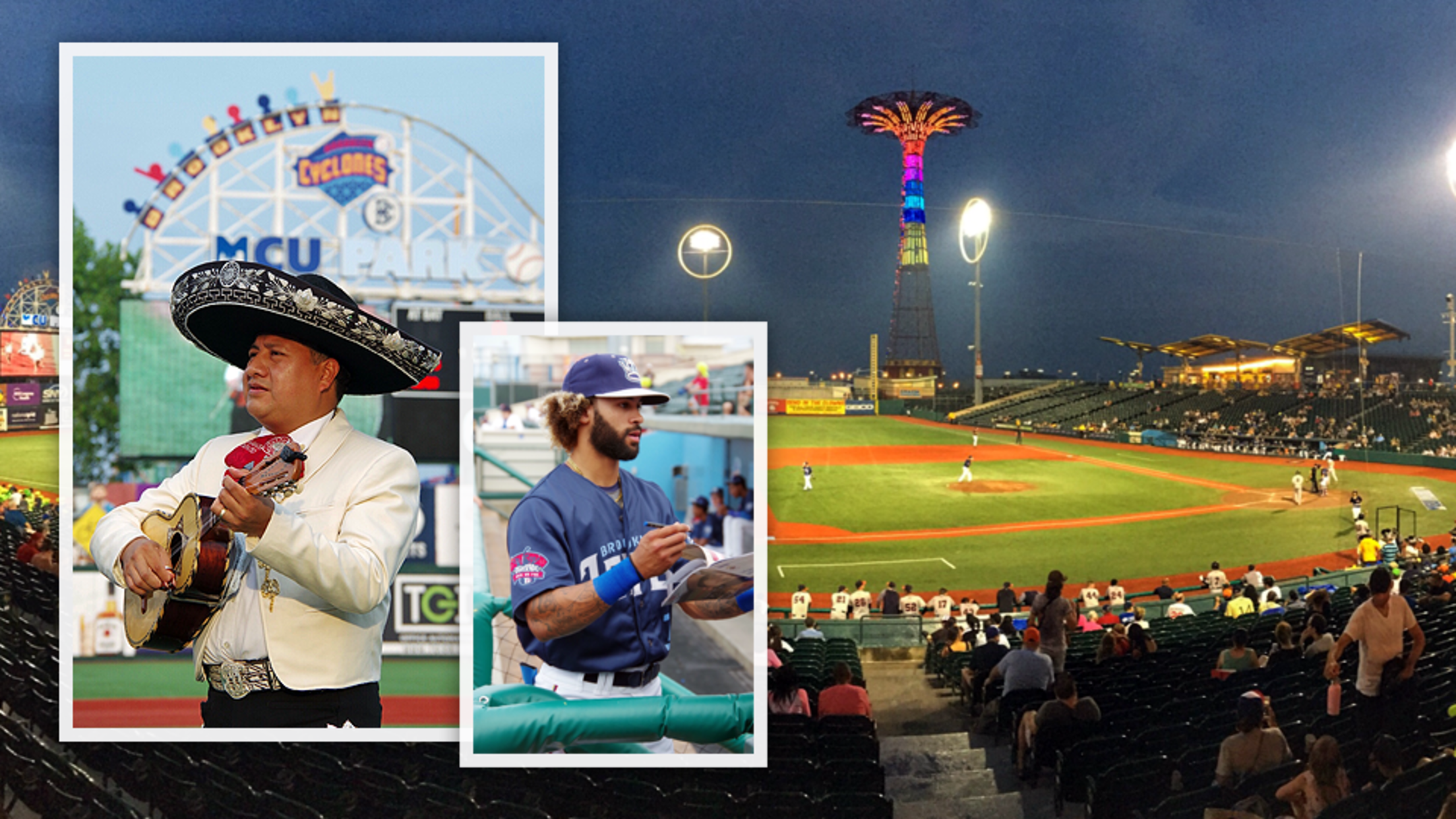 On the other side of the language divide, Copa de la Diversion also provides native English speakers the chance to learn a bit more about Latin cultures.
"That's a nice start, as far as it goes. The mariachi band was lovely," said Cyclones season-ticket holder and super-fan David "The Wolf" Pecoraro, who went on to suggest that the team should include more performances and further embrace authentic cultural elements such as dancers wearing traditional clothing.
And then there are the connections forged among teammates. Jefes shortstop Manny Rodriguez, a bilingual Brooklyn native, explained that "[A] lot of our American players are really excited to learn about our culture. A lot of guys try to learn Spanish from the other players, and it's pretty much a back-and-forth bridge.They teach the guys English, and the Hispanic guys teach them Spanish, so it's just kind of a great two-way road and these few days are going to help them actually understand what the culture is like."
Some players have gone further than picking up small phrases. Jefes pitcher Mac Lozer, hailing from Indianapolis, is a Spanish speaker who translates English for teammates in need of assistance.
And if there's one city that embodies the mentality of these players, it's Brooklyn. "El jefe" translates to "the boss," reflecting the borough's take-charge, enterprising spirit. Much like Latino baseball players, Brooklyn residents identify with toughness, fortitude, and an everlasting pride in where they come from.
"The Brooklyn mentality is just a boss mentality," said Rodriguez. "It's a concrete jungle and everyone walks around with a chip on their shoulder, so it's a perfect fit."
It must have been. Brooklyn won each of the three games it played as the Jefes, dominating the Connecticut Tigers 13-6 on Wednesday en route to a sweep.